A pop-up is a small window that appears while browsing a website. Marketers mainly use pop-ups for advertising and generating leads. With SendPulse, you can create smart pop-ups that are displayed according to certain scenarios. They will help you increase the engagement of your site visitors and lead conversion.
In this video, Anna, a SendPulse marketer, explains how to use smart pop-ups for your website to draw conversions.
Pop-ups are controversial — the inventor of this technology has even publicly apologized for his creation.
If you use a window that pops up out of nowhere, it will surely interrupt the user experience, and potentially irritate your audience. Nevertheless, if a pop-up is to the point, it may be a functional addition to your website, able to assist users and move them down the sales funnel.
So, let's discuss how crucial pop-ups may be for your business strategy.
Why are Pop-Ups Important?
Generate subscribers
Promote specific content
Reduce the bounce rate
Pop-ups are a multifunctional tool that can help you convert traffic on your website into marketing leads. Here's a shortlist of a pop-up's main functions:
Generate subscribers. Say your website has lots of visitors, and you have no idea how to involve them in communication with your brand. A pop-up subscription form where users can leave their email address does the trick. It allows you to grow your mailing list, build relationships with the audience via email, and speed up the buyer's journey.
Promote specific content. Though the primary purpose of pop-ups is to generate leads, you can promote your e-book, guide, or case study relevant to the page the visitor is on. It will show your expertise in the field and help your audience solve their problems. For instance, you can share your harvest predictions for the next year on an agricultural blog.
Reduce the bounce rate. This metric shows you how fast a user leaves your site. To reduce the bounce rate, many marketers use a pop-up, asking to share an email address, a phone number, or other information to enable further communication. Such a pop-up usually appears when a user is about to close the tab or leave the website.
Let's now have a look at some examples and visualize some functions of a pop-up.
Discover effective pop-up tips on our blog
Pop-up Examples
SmartBug. This pop-up looks natural because it has the same colors as the page it covers. It aims to move users to the next stage of the buyer's journey — the nurturing stage. However, this pop-up is far from perfect since it doesn't ask directly for an email address, but requires more clicks instead. Anything that makes signing up harder for the user will increase the chances of a bounce.
Wishpond. This pop-up is definitely designed to move the audience down the sales funnel. That's why it offers to "Get Started" with the service just after the brief introduction to the content. This pop-up is here because the company wants to point out how they are going to help users from the start. This increases their chances of conversions.
Medium. This pop-up appears immediately after the page is loaded. The tone of the message is polite, and it looks like they are offering more value for signing up, although their rush is questionable.
Now that you have seen some examples, it's time to move on and have some practice now!
How to Create a Pop-up with SendPulse?
Register with SendPulse
Create a project
Create a pop-up
Follow this simple guide to create a smart pop-up that will improve conversions, increase engagement, and reduce unsubscribes.
Step 1. Register with SendPulse
SendPulse is a marketing platform that provides a variety of tools and channels for building successful customer relationships. You can create a smart pop-up in less than half an hour to keep a visitor on the site and collect contacts of potential customers. To do this, register.
Step 2: Create a project
Before adding a pop-up, you need to create a project for which you want to set up a pop-up. A project is a workspace with specific settings. You can connect a site created in SendPulse or add a project script to your site for your project. You can create a separate project for each domain, which will allow you to track statistics for each site separately, or add several domains to the project to work with multilingual sites, for example.
So, to create a project, go to the "Pop-ups" and click "Create a project".
To install a pop-up on a site created in SendPulse, select the site created in the site builder, mini-landings, or when creating courses.
Click "Connect site" and the project code will be automatically added to the site settings.
To add a pop-up to a third-party site, enter a link to it.
Click "Get Code".
Step 3: Create a pop-up
You can create a pop-up that will be displayed according to a specific scenario. The trigger can be user behavior, a specific action, or information tracked during visiting the site. To create a personalized offer, you can activate a pop-up using one of the 20+ conditions or combine them with each other.
Click "Add pop-up" to create a widget.
All created pop-ups will be displayed in the "Display scenarios" tab. Select the desired pop-up to enable, disable or edit it.
Go to the created project in the "Display scenarios" tab and click "Create pop-up".
You can choose a pop-up template from the list of popular, festive, or based on your widget type or purpose.
Next, customize the appearance of the pop-up.
After selecting a template, go to the "Content" tab to edit its appearance and change the target action. Upload an image and select its position. Add a link to the video if needed.
Next, select the background color and position of the pop-up on the page.
On the right, you see how the pop-up will look like on your site.
Write a message. You can add links and use emojis.
Set up the target action expected from the user, for example, newsletter subscription, or phone number request.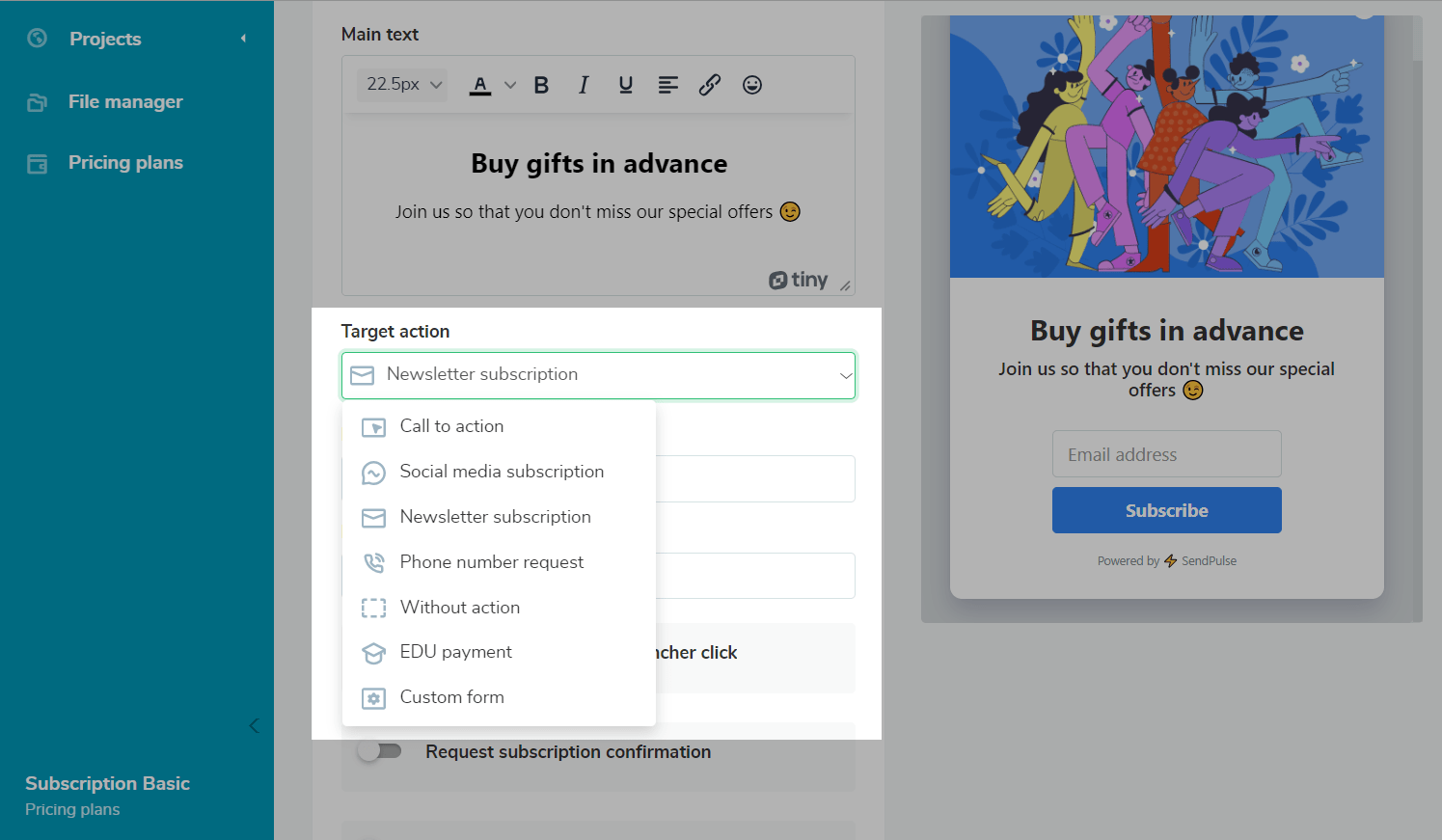 After setting the conditions, click "Save and publish".
For more information on how to create a smart pop-up, read this guide.
Now you know how to keep visitors on your site and collect potential buyer contacts with SendPulse. You can also collect all leads in CRM from SendPulse. Read our recommendations for creating a pop-up that converts.
Pop-up Best Practices
Only use pop-ups when necessary
Enrich user experience, don't interrupt it
Make your pop-up visually lightweight
Time pop-ups right
Put the right incentive
We've collected a list of general pieces of advice, so here they are:
Only use pop-ups when necessary. Pop-ups do work. Though it's not easy to make them work, it's not easy to overcome the conventional concept that pop-ups are annoying. Use this method only for a good purpose. Say you have a page with tons of traffic, but people mostly bounce without reading your content to the end. In this case, a pop-up form is a solution that may bring your communication to the next level.
Enrich user experience, don't interrupt it. Easier said than done, but still, there are plenty of ways to make pop-ups do the job without harming the user experience. Even if they read the page to the end, users are likely to leave once they find what they've been looking for. So, why not show a pop-up that enables communication via email? After all, it is a win-win for you and future customers.
Make your pop-up visually lightweight. It is essential to make the pop-up less abrupt. Remember the SmartBug example, when a pop-up looked almost equal to the content? To echo that style, choose the same background color as on the covered page, use small bits of text, and make the CTA button the same color as the links in the article.
Optimize your pop-ups for mobile devices. Proper mobile pop-ups are super important for converting mobile traffic. Responsive pop-ups designed for a desktop version of your website may not provide optimal mobile UX. In that case, it's necessary to create a mobile-first version that is optimized for mobile UX and progressively adapts itself to the desktop version of the website.
Time pop-ups right. There's no one-size-fits-all strategy, except "test, test, and test." If you decide a pop-up is worth adding, try different time frames for a pop-up to appear. Rely on real data, not on pure assumptions.
Put the right incentive. Use pop-ups that add value to the original content. For instance, when a user reads an article about materials for home improvement, it is really helpful to offer a video guide on how to start home improvement.
Congratulations, we hope you've learned something new today that will help you become a better marketer.
Last Updated: 12.09.2023