Bounce rate is the percentage of users who abandon a site in a couple of seconds after they land on it. They don't follow any links and don't interact with the page.
In this article, you'll find out why it's important to track your bounce rate, get to know factors affecting your bounce rate, and get some tips to reduce it.
Why is it important to monitor your bounce rate?
Website bounce rate is one of Google's ranking factors. The search engine' algorithms consider a page with a high bounce rate irrelevant to users' queries. It means that it doesn't help people find answers to their questions. As a result, this page moves lower in the SERP, giving way to other more relevant pages.
With Google Analytics, you can check your site bounce rate report. Go to "Behavior", then click "Site Content" and "All Pages." Alternatively, you can have a bounce rate of any specific site page.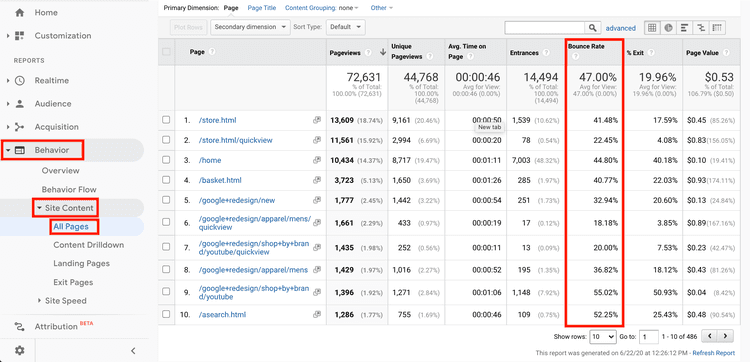 Now you might be interested in the acceptable bounce rate. There's no good or bad bounce rate because it depends on the industry and your type of website. For some businesses high bounce rate is okay. For example, if your site has only one page providing the prices of your services and your phone number, users will leave it immediately after they call you since they found what they had been looking for. The same thing is with blogs and stores selling several items. Users don't need to navigate the site more if they find the necessary answers. The bounce rate of such websites can reach 100% and it's okay.
If your site has hundreds of pages and the bounce rate of some of them makes you worry, check out some factors affecting it below.
8 Reasons Why Your Website Has a High Bounce Rate
Slow website speed, low-quality content, and links, excessive forms, errors, misleading meta descriptions make users bounce. These are just a few reasons influencing people's decision to leave a page. Let's take a closer look at each factor.
Slow website speed. 70% of clients admit their loading speed influences their buying decision. 46% of users wouldn't visit a poor-performing website again. The high competition allows consumers to be selective. It's very unlikely that a user opening your website for the first time would wait more than 5 seconds for your site to load.
Misleading title and meta description. Online users judge your site quality by assessing your title and meta description. If they promise to answer their queries, they will click through. Imagine their disappointment if the page provides no answers. Some marketers try to manipulate the search and create deceptive meta descriptions to work as clickbait. As a result, they have a high bounce rate and a big number of dissatisfied site visitors.
404 error. "Page is not found" provides users with the worst experience ever. As a result, the number of bounces increases dramatically and your page sinks very quickly to the bottom of SERP. You may not even be aware of 404 errors, so check them regularly in Search Console and eliminate them immediately.
Low-quality content. Ensure that the keywords chosen correspond to a user's intent. Meeting your site visitors' needs should be your top priority. Avoid stuffing a page with keywords to rank higher — this won't do. Pay special attention to your page structure. It should be easy for site visitors to scan the page without thorough reading. Make use of headings and subheadings, lists, tables, images. They will help you create easily digestible content.
Low-quality backlinks. Your backlinks and referral links can increase your bounce rate. Pay attention to the websites placing them, anchor text, and context. Building links in isolation from these factors will only hurt your site performance. Make sure that partners add links to your site on relevant pages the target audience of which is potentially interested in your site. Otherwise, you will have a high bounce rate, and Google may consider your activities as those manipulating the search.
Poor user experience. User experience is the way people feel scrolling your page. The abundance of pop-ups, subscription forms, and CTA buttons will disrupt their experience. Assess your page to ensure that nothing prevents users from navigating it and taking the desired action.
Requesting too much personal data. People are suspicious of sites that immediately ask them to enter their card number or share much information via a subscription form. Seeing your site for the first time, users don't even know why you need this data and requesting it will only scare them off.
Not mobile-friendly site. The lack of a mobile version of the site is a big omission today. Users don't need to spend half an hour navigating your site and using the horizontal scroll bars to make an order since they can go to a competitor's mobile-friendly site.

Now that you know why users can bounce from your site, check out the tips below to improve your performance.
5 Tips to Reduce Your Bounce Rate
Based on the factors affecting your website bounce rate, you already know what can be improved. Check some more essential issues below.
Analyze your customer journey. Examine the way your client goes through from exploring your website to making a purchase. Analyze why they drop off and what causes difficulties at each stage. They may face deceived expectations, too many forms, CTA buttons, or inconvenient payment methods. It's all about analyzing your customer experience as well.
Create more landing pages. Each landing page should have one goal. If you have only one page asking users to do this and that, they will feel frustrated and leave it immediately. So, if you sell several products or services, create a separate page for each one to describe its features.
Use one CTA button. Since every page has one goal, the CTA should also be the only one. Asking users for too much will make them feel confused. Ensure a single, clear, and eye-grabbing call to action. Users should understand why they should take this step, so be consistent when designing your landing page.
Format your content. Content formatting is as important as its quality since it allows readers to easily perceive and digest it. For this purpose, use proper headings and subheadings, lists, tables, paragraphing, images, charts, screenshots, bold keywords, white space, etc.
Provide smart internal linking. If you post articles regularly, internal linking will be useful for readers to understand the topic better. Internal linking means providing links to other valuable resources of the same topic to create a clear picture of it. It ensures the smooth structuring of the information. When you link to third-party websites, let them open in a new window. This way users won't need to click "Back" to read your article, which positively influences their user experience.
Congrats, now you know when it's important to monitor your website bounce rate and how to improve it. Track this website performance metric on a regular basis to improve your rankings!
Last Updated: 21.03.2023