Not only your copywriting talent matters but the email service you've chosen, as well. Its domain authority plays a great role as it allows to pass through the spam filters without a sweat. 
The video explains how to track email delivery rate in SendPulse.
How to calculate email delivery rate
Email delivery rate is calculated by dividing the number of emails sent minus bounces by the number of emails sent. You should remember that the number of emails sent is not the same as the number of emails delivered because when you send mailings, they may have bounces.

The bounces are emails that can't be delivered to recipients' inboxes.
Two groups of email bounces
Hard bounce
This happens when an email can't be delivered because the recipient's address is invalid or the email domain doesn't exist. Find out more.
Soft bounce
This happens when an email can't be delivered because of one of the following reasons: the recipient's inbox is full, your email is too large, or the server is down. Find out more.
As an email marketer you should always track the delivery rate of all your email campaigns. Your goal is to achieve a delivery rate of 95% or higher.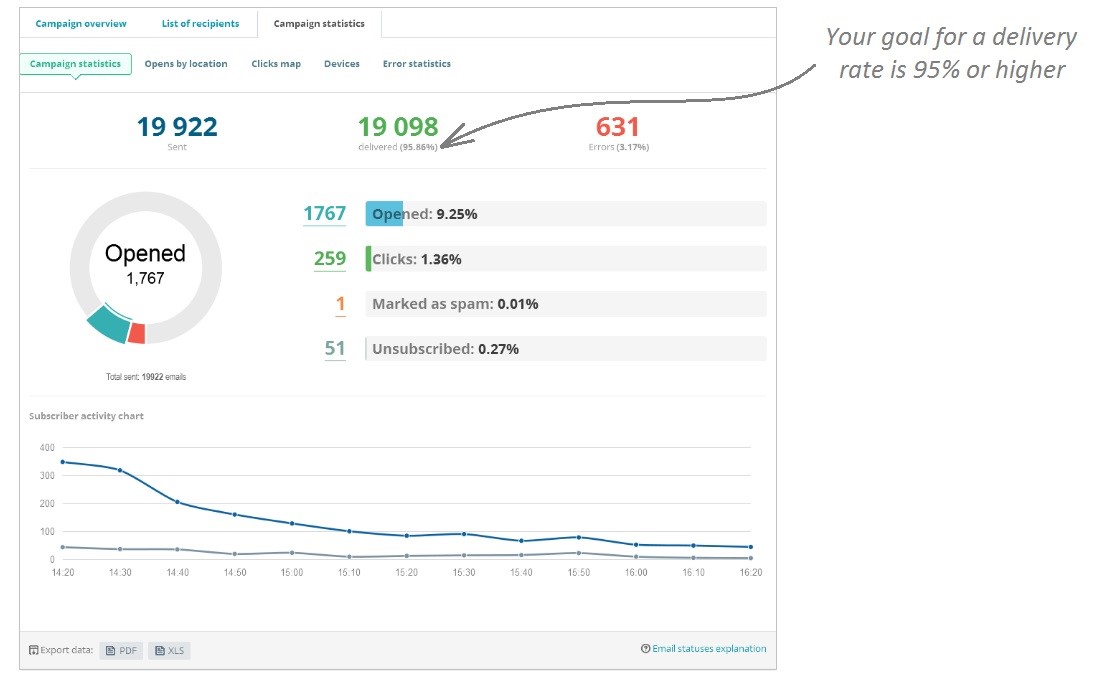 If the delivery rate of your email campaigns is reduced each time, then it's time to examine your mailing list. Maybe it has too many invalid email addresses. Also, pay attention to your subject lines and content. Maybe they consist of words that ESPs usually block, equating these messages to be spam.
In our service, tracking the delivery rate is a simple process. You just need to open your statistics report. 
SendPulse has high reputation score which helps increase email open rate of your campaigns.
Let SendPulse deliver your emails!
Our sender reputation score is high so there's no need to take extra measures, just send from SendPulse and enjoy high email deliverability.
Try it for yourself with our free pricing plan for small businesses. If your mailing list has less than 2,500 subscribers, send up to 15,000 emails totally for free every month. Make use of marketing instruments: personalization, segmentation, subscription forms, A/B testing, ready-made email templates. Enjoy them at no cost!
References
Last Updated: 2019-11-11