Delivery Rate
Delivery Rate
This email marketing metric is calculated by dividing the number of emails sent minus bounces by the number of emails sent. 
Want to know how to calculate the number of emails delivered? You should remember that the number of emails sent is not the same as the number of emails delivered because when you send mailings, they may have bounces.

The bounces are emails that can't be delivered to recipients' inboxes. There are two groups of email bounces:
This happens when an email can't be delivered because the recipient's address is invalid or the email domain doesn't exist.
This happens when an email can't be delivered because of one of the following reasons: the recipient's inbox is full, your email is too large, or the server is down.
As an email marketer you should always track the delivery rate of all your email campaigns. Your goal is to achieve a delivery rate of 95% or higher.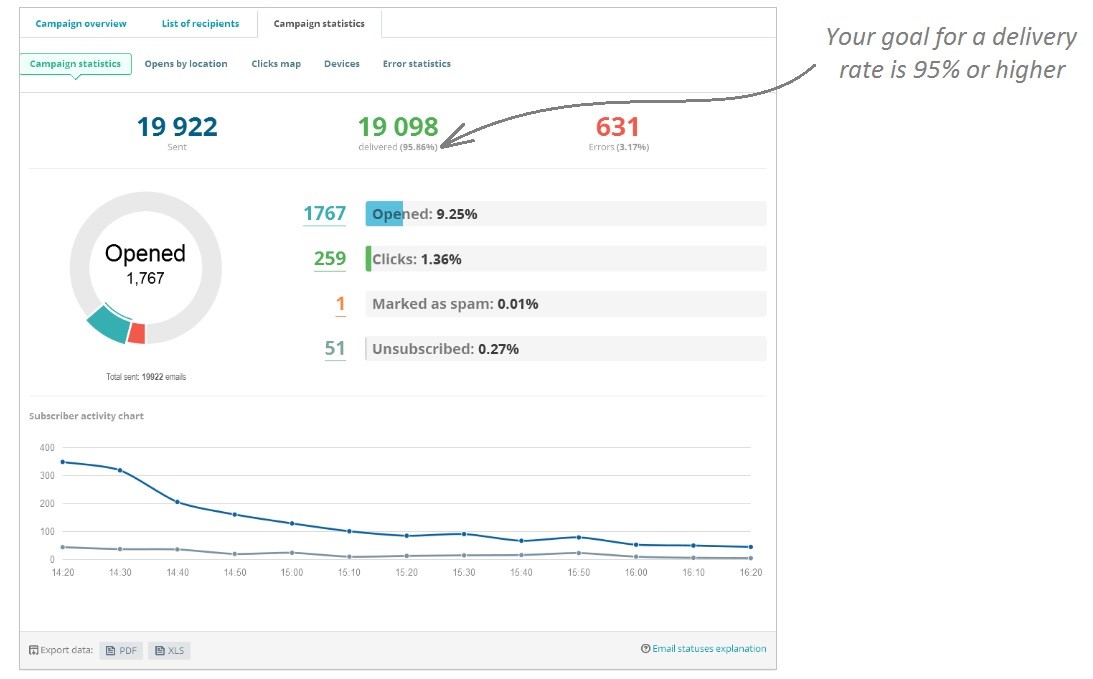 If the delivery rate of your email campaigns is reduced each time, then it's time to examine your mailing list. Maybe it has too many invalid email addresses. Also pay attention to your subject lines and content. Maybe they consist of words that ESPs usually block, equating these messages to be spam.
In SendPulse, tracking the delivery rate is a simple process. You just need to open your statistics report. 
Also searched with "Delivery Rate"
Newsletter - Newsletter is one of the forms of email marketing, performed as an informative email, which includes up-to-date information on promotions, new products, events, commercial offers...
Phishing - Phishing is network fraud...
Email Marketing - Email marketing is one of the most effective tools for a company to communicate with its customers...
Lead generation - Lead generation is building of consumers database who are interested in your product/service, or those, who are suitable for the right segment of target audience through various marketing practices...
Sender ID - Sender ID is the email validation system designed to prevent spoofing...
Rate this article about "Delivery Rate"
Try SendPulse today for free
If you are interested in "Delivery Rate" you might be interested in our bulk email service.
Sign Up