Delivery Rate
Delivery Rate
This email marketing metric is calculated by dividing the number of emails sent minus bounces by the number of emails sent. 
Want to know how to calculate the number of emails delivered? You should remember that the number of emails sent is not the same as the number of emails delivered because when you send mailings, they may have bounces.
The bounces are emails that can't be delivered to recipients' inboxes. There are two groups of email bounces:
This happens when an email can't be delivered because the recipient's address is invalid or the email domain doesn't exist.
This happens when an email can't be delivered because of one of the following reasons: the recipient's inbox is full, your email is too large, or the server is down.
As an email marketer you should always track the delivery rate of all your email campaigns. Your goal is to achieve a delivery rate of 95% or higher.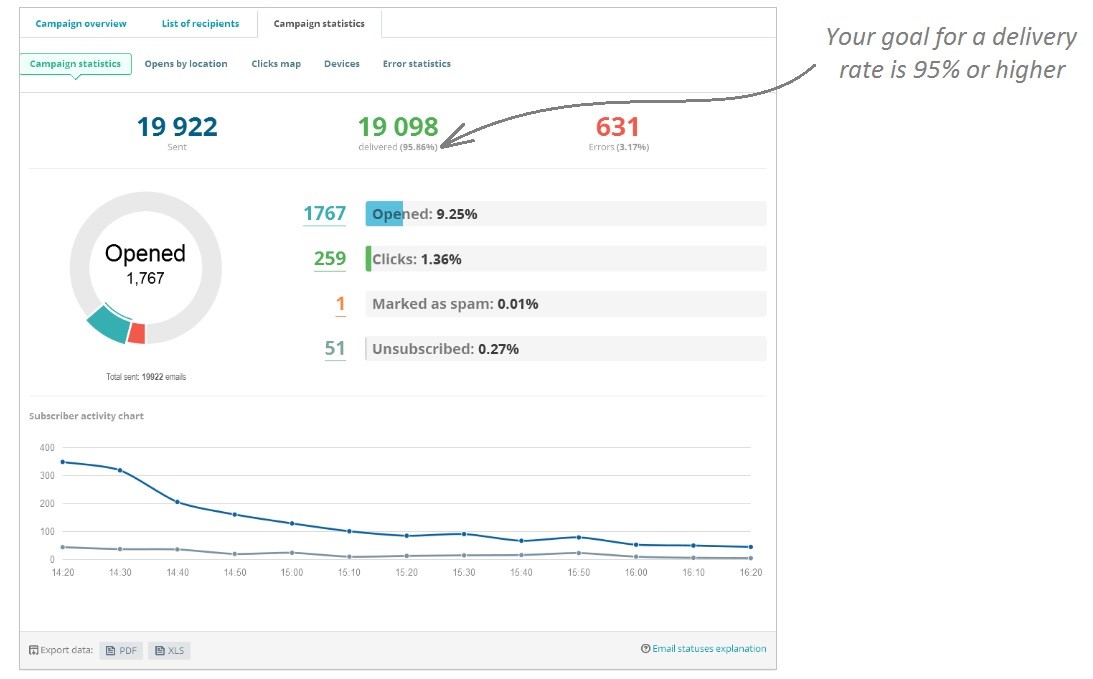 If the delivery rate of your email campaigns is reduced each time, then it's time to examine your mailing list. Maybe it has too many invalid email addresses. Also pay attention to your subject lines and content. Maybe they consist of words that ESPs usually block, equating these messages to be spam.
In SendPulse, tracking the delivery rate is a simple process. You just need to open your statistics report. 
Also searched with "Delivery Rate"
Custom-Coded Template - If you don't want to use ready-made templates, then you can import your own custom HTML code to create a unique custom-coded email template...
Personalized email - It is based on the personalization...
CAN-SPAM Act - The CAN-SPAM Act is a law that sets the rules for commercial email...
Confirmation email - Confirmation email  is a non-commercial notification, thanks to which the second participant of correspondence can receive information about the receipt by the first party of any sent material assets, information...
Hard Bounce - Hard bounce is a term that indicates that email delivery to a certain recipient fails on a permanent basis...
If you are interested in "Delivery Rate" you might be interested in our bulk email service.
---
Try SendPulse today for free