Soft Bounce
Soft bounce
Soft bounce means that the email reached the recipient's server but got bounced back without reaching the recipient's mailbox. Soft bounce indicates that email delivery failed for a temporary reason.
Reasons causing soft bounces to happen
Recipient's mailbox is full
Problems with the mail server of the recipient
Oversized email message
"Away" settings of the mailbox set by its owner. This usually happens when someone goes on vacation and does not wish to be disturbed by emails.
In SendPulse's campaign statistics you can find statistics of delivery errors, which include both hard bounces and soft bounces displayed as percentages.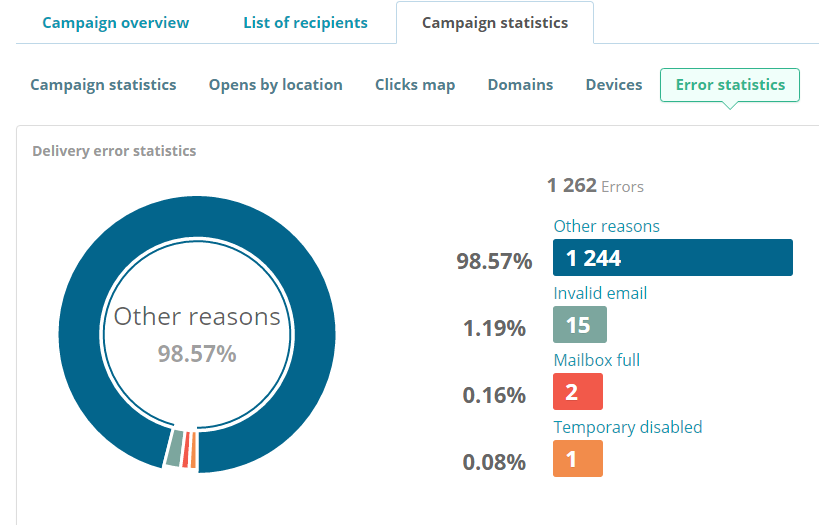 Unlike hard bounces, soft bounces still have a chance of delivery if the sender resends the soft-bounced email after a certain period of time. Depending on the reason for delivery failure, the messages can be delivered. 
For example, if the mailbox was full and then the owner cleared their inbox, the email can be delivered on the second try. 
Or, when the problems with the recipient's server have been resolved and it started functioning again, the soft bounce email can be delivered. 
Also searched with "Soft Bounce"
GetResponse - The most popular mailing service in the world...
Lead nurturing - Lead nurturing is the process of maintaining relationships with prospects in order to earn their business at the moment they are ready for it...
List (Subscribers' List) - In email marketing, the term List, or Subscribers' List, is used to define Internet users who have subscribed to receive emails from you personally, or from your business...
Abuse Complaint - Abuse complaints can occur when someone marks your mailing as spam...
Opt-in - Opt-in is one of the ways for companies to shape their mailing list for further marketing...
---
Rate this article about "Soft Bounce"
If you are interested in "Soft bounce" you might be interested in our bulk email service.
---
Try SendPulse today for free