Open Rate
Open Rate
The term "Open Rate" is used by internet marketers to indicate how many commercial emails were opened within an email marketing campaign.
The Open Rate is most commonly expressed as a percentage. It is calculated by dividing the number of email messages opened by the total number of email messages sent (not including the soft bounces and hard bounces). 
SendPulse provides Open Rate statistics, among other campaign statistics. You can find the Open Rate statistics in your campaign reports.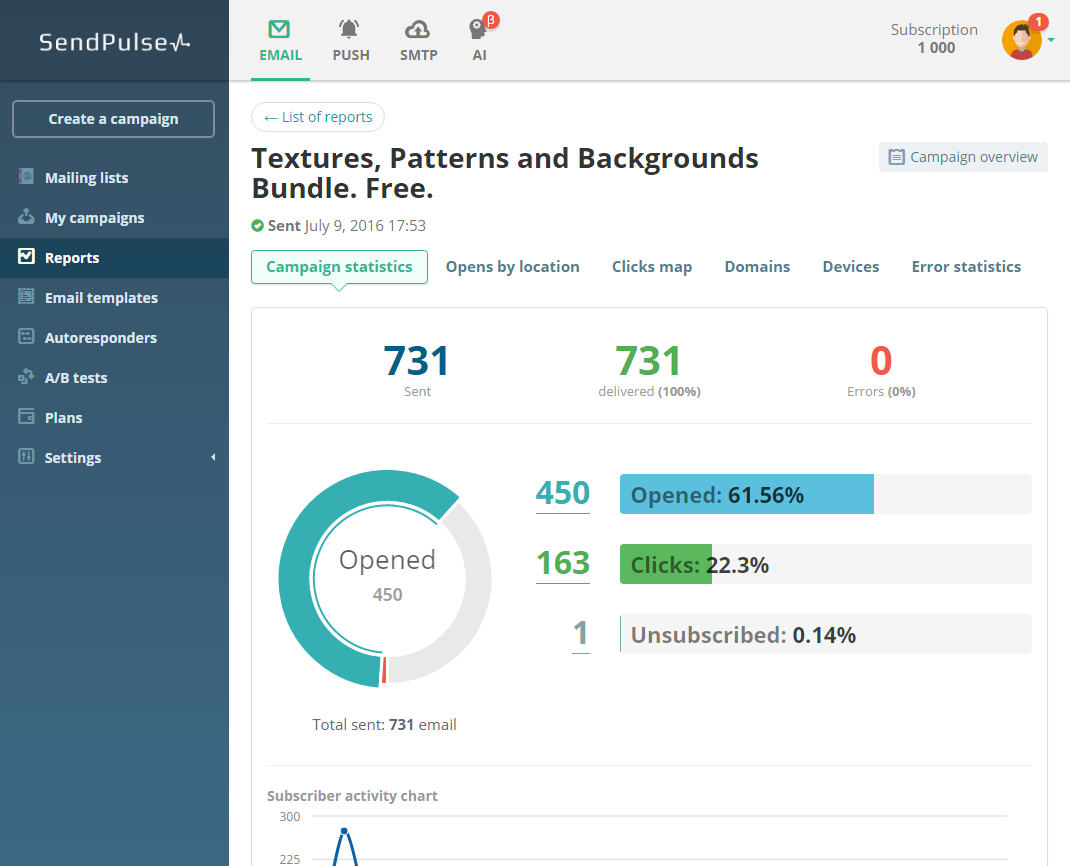 Open Rates vary throughout industries. If you are aware of your industry average, you can always compare your campaign results to it and assess the effectiveness of your campaign. 
Tracking the campaign Open Rates is among the earliest email marketing metrics. Today, many marketers doubt whether the Open Rate metrics can really help analyze the effectiveness of email campaigns. 
Opening an email does not necessarily mean that the reader clicked on the target links, clicked through to the target website, or made the target action. For this particular reason, it is better to analyze the Open Rate in line with other email marketing metrics, such as:
These are the most basic metrics that are analyzed by email marketers.
Also searched with "Open Rate"
Bulk email - Bulk email – is a method of mass communication, advertising and one of the instruments of Internet-marketing...
Inbound marketing - Inbound marketing is the promotion of the company in blogs, podcasts, videos, e-books, SEO, social media and through other forms of content marketing...
API - API is used to integrate SendPulse's distribution service capabilities with clients' personal projects...
Footer - A footer is an element of the email that is placed at the bottom of a letter and usually contains general information about a company, such as the address, telephone number, website, social media icons, and the unsubscribe button...
Sender ID - Sender ID is the email validation system designed to prevent spoofing...
---
Rate this article about "Open Rate"
If you are interested in "Open Rate" you might be interested in our bulk email service.
---
Try SendPulse today for free