An email marketing strategy is a set of procedures that a marketer identifies and follows to achieve desired marketing goals from email advertising. This plan of actions gives the businesses a direct channel of communication with prospects and customers for brand promotion.
In this video, Noah Kagan shares 7 strategies to grow your email list.
Given that for every $1 spent on email marketing, a business earns at least $40, more and more marketers are increasingly implementing this marketing approach. Nonetheless, it is important to note that weak marketing strategies are bound to fail and thus do not deliver the return on investment (ROI). A well-planned strategy with elaborate goals and easy-to-follow roadmap is a must for a successful email marketing strategy. Online business owners use SendPulse to effectively work through all stages of making successful email marketing strategies.
Why is an email marketing strategy important
A strategy is vital for several reasons. The most important and significant of them are as follows.
Helps in planning
Having an email marketing strategy in place allows marketers to lay out their email advertising process ahead of time. In turn, other business stakeholders can know what they need to do at each given time, thus ensuring synchronicity while implementing an email campaign.
With an email marketing strategy, a company can plan when to send time-based promotions or non-promotional emails. Time-based promotions are emails containing time-sensitive messages which prompt recipients to take action, for example, purchasing a discounted product, registering for a new class, or booking an appointment. For these promotions, marketers should consider planning a brief three-part marketing email series comprising of an announcement (preferably 2 weeks in advance), a reminder (1 week to the event), and the last chance (1 or 2 days before the event.)
Non-promotional emails are less timely and sales-driven. They are more for establishing relationships and giving value to customers. Contrary to promotional emails that tend to boost sales, non-promotional emails enable marketers to determine the interests of their subscribers, thus helping in mailing list segmentation. In turn, they can follow up with more personalized messages that aid in nurturing and strengthening relationships with prospects and customers respectively.
Allows to set goals and gauge progress
Email marketing strategies spell out all the goals businesses intend to achieve. It is essential for a business to have marketing objectives beforehand to give it a sense of direction when implementing an email campaign. Other than that, email marketing strategies enable marketers to evaluate the effectiveness of their email marketing campaigns.
Ensures that marketers pick the best tactics
In this context, tactics refer to the tips and tricks that a marketer will use to push their strategy and thus achieve the set goals. An example of a tactic could be, "to start a cart-abandonment program to cut down on the number of lost sales."
Let's implement your strategy!
We offer all the tools you need to succeed in email marketing. Send 15,000 emails every month for free and get instant results.
How to create an email marketing strategy
We will now look at the essential steps that marketers should follow to create excellent marketing strategies.
Set email marketing goals
Marketing emails serve to fulfill the following purposes:
To increase customer engagement
To raise loyalty
To maximize ROI
To maintain relationships with the clients
Marketers thus need to create emails that are in line with any of these or other desired goals.
Pick the necessary email marketing tools
Finding the right tools is the first step to setting up an email marketing strategy. A marketer will need an Email Service Provider (ESP) with an automation tool among other useful features.
SendPulse allows to create, organize, and send emails in a breeze. With Automation 360, marketers can follow up on their customers and send the right emails at the right time. For instance, you can set up welcome emails for onboarding new customers, abandoned cart emails to get customers to take action about the items they have left in the cart, and so forth. Register right now to launch your email marketing strategy with SendPulse.
Determine the target audience
Next, the marketer needs to build their email subscriber list. To do this, one has to identify the target audience that their company serves. Case in point, if a specific business deals with baby clothes, then its target audience primarily comprises mothers-to-be. Thus, it makes sense to use conventional means to get the email addresses of this demographic.
Identify the appropriate list building tactics
An excellent way of building mailing lists is through subscriptions. In SendPulse, you can add subscription forms to your site and thus collect quality subscribers who are ready to hear from the brand. Marketers can embed subscription forms on high-traffic sections such as the footer of the website, sidebar, or at the end of a blog post.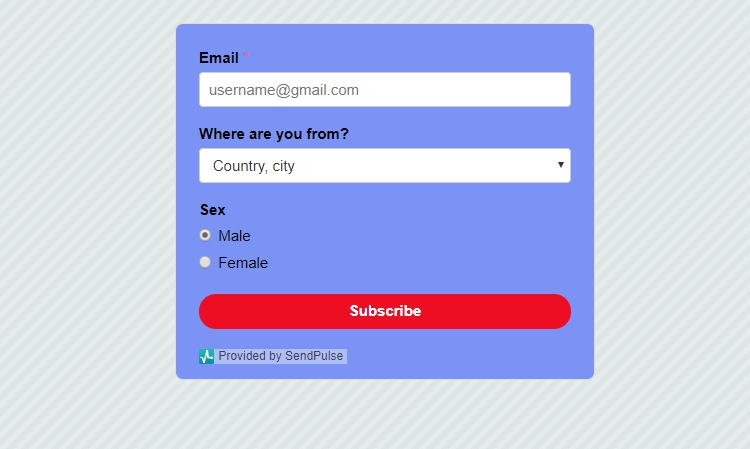 Divide your mailing list into segments
Segmenting is an effective tactic that allows to send highly targeted email campaigns. In SendPulse, marketers can segment their mailing lists based on location, gender, occupation, age, behavior, etc. In turn, they can be sure of delivering appropriate and customized messages that appeal to their customers.
Identify the types of emails to send
There's a great variety of different emails that marketers send. The choice depends on a particular email campaign aim. For example, if a user has just joined your mailing list, send them a welcome email. It a great chance to explain the benefits of working with you. Or, if clients had added some items to their shopping cart and didn't buy, send them an abandoned cart email to increase sales. Discover more about email campaign types.
Create a schedule for sending emails
To ensure that subscribers read promotional emails, marketers should find out the best time for sending. It is, therefore, necessary to experiment in order to determine the time when subscribers are most engaged. A/B testing here proves useful.
Format the email content
For email marketing to be a success, messages in the promotional emails should be presented well. Marketers should choose formats, fonts, and text sizes depending on the type of emails that they are creating. In SendPulse, marketers can use a drag-and-drop editor to create beautiful email templates that are customized to match their brand.
Optimize the emails
A 2017 study by Adestra concluded that about 83.8 percent of mobile device owners open emails on them. It, therefore, makes sense to optimize email content for mobile to reach this audience. Some of the ways for ascertaining that email content is mobile-friendly include:
Creating short subject lines.
Limiting emails to a width of 600px.
Using single column templates.
Displaying small images.
Writing distinct CTAs.
Testing on multiple mobile devices.
Avoiding menu bars.
Using a large font size (ideally 13-14 pixels).
Conduct split-testing
With A/B testing, marketers can determine what copy works best by swapping out different aspects of their email such as subject lines (the most popular option), images, CTAs, headlines, offers, and so forth.
Monitor email performance reports
Adjusting the strategy based on the reports and feedback a marketer has gathered is the last step of developing an email marketing strategy. SendPulse provides users with a set of analytics that aids in gauging the effectiveness of email campaigns. Track email open rate, unsubscribes, click-through rates, email deliveries, email bounces, spam complaints, and more.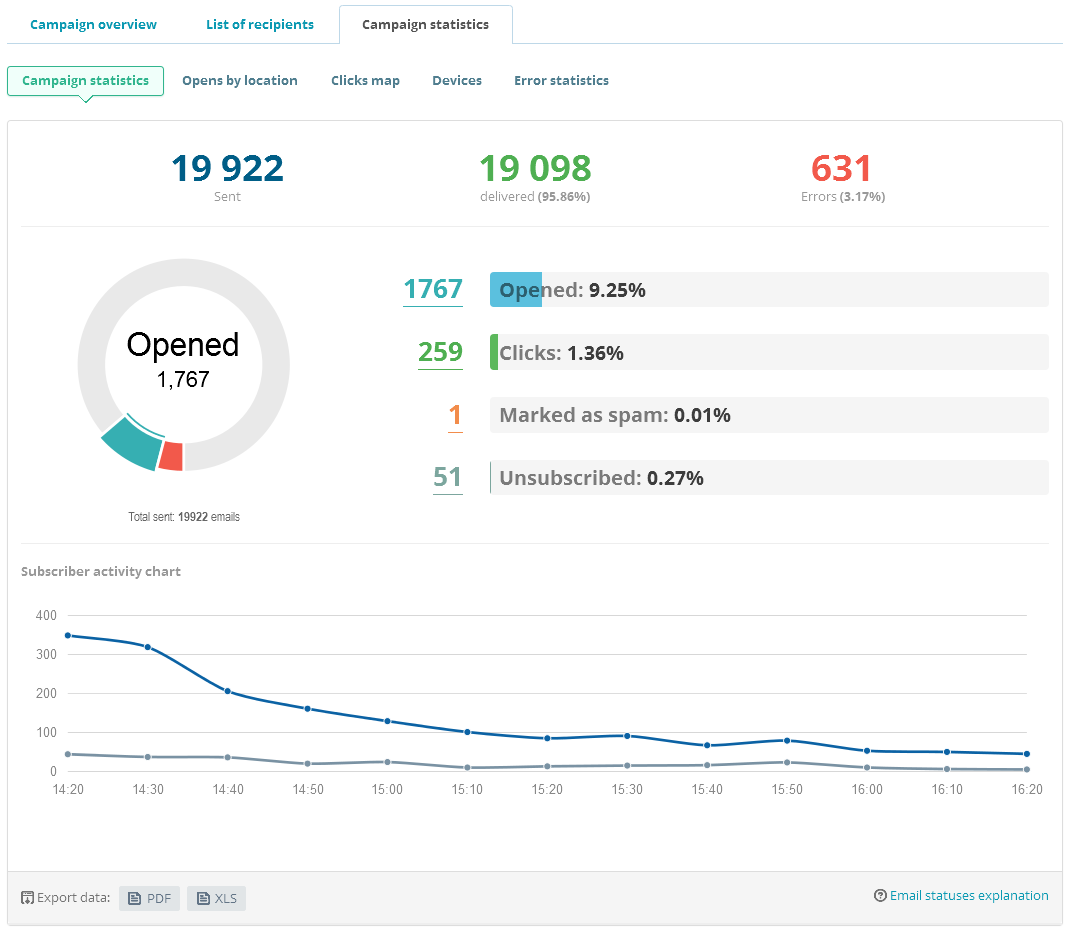 Tips for effective email marketing strategy
Here are essential tips for an excellent email marketing strategy:
Provide incentives via email that encourage customers to review the products they've purchased.
Run A/B testing to optimize click-through and open rates.
Offer rewards to loyal customers.
Re-engage dormant customers.
Be ready for holidays and product seasonality with a newsletter calendar.
Sign up to develop an email marketing strategy with SendPulse!
References
The article "Email Marketing Strategy: A Data-driven Guide (with Original Case Studies)" on SupoerOffice blog offers 5 strategies for better email campaigns.
The article "5 Email Marketing Strategies to Try in 2018" on Marketo blog provides a list of proven email marketing strategies to use.
The article "8 Effective Email Marketing Strategies, Backed by Science" on Buffer gives insights into effective strategies and provides examples.
Last Updated: 2019-10-09