Referral marketing is a strategy that entails a brand offering perks to its current customers for recommending it to their friends and rewarding new clients for joining the company's customer base. It helps reach more consumers and enhances customer retention, engagement, and reputation.
In this article, we'll uncover the importance of referral marketing, its types, benefits, examples, and how it works. We'll also compare affiliate and referral marketing and provide a guide on how to create a successful referral program and implement it into your marketing strategy.
Why is referral marketing important?
To reach SMART goals and increase their customer base, marketers often turn to referral marketing, as it helps grow quality leads in droves quickly. Brands get referrals — the most valuable prospective customers who stay loyal to them and purchase often. According to Social Media Today, 78% of B2B marketers admit that referral programs help grow high-quality leads.
By turning customers into word-of-mouth promoters, companies increase the volume of potential clients, reduce their cost per lead, establish credibility and trust, and boost customer loyalty, which also brings higher ROI. One of the primary referral program benefits is that they don't require any additional costs and generate new prospects effectively.
This marketing technique is exceptionally effective for driving prospects to brands' websites since it helps boost organic traffic. The strategy is also beneficial for startups that just have started collecting their customer base.
Now that you know more about the importance of referrals, let's proceed to the next section to review how the strategy works.
How does referral marketing work?
The approach works based on promotion with the help of existing customers. Brands ask their clients to recommend their products and refer friends. As a reward, these companies provide customers with attractive gifts. Referral programs can be presented in a variety of forms. The majority of businesses offer their leads to fill in forms where they mention people they want to refer.
Trust is the basis of brand-customer relationships, and loyal clients are the driving force of the strategy. They promote companies and increase their customer base. As you know, word-of-mouth marketing is the most effective approach since recommendations from friends are the most credible source of information when it comes to purchasing. To be precise, 92% of people say that they rely upon the advice of their close people.
The process is clear, so it's time to unveil the types of referrals. You need this information to understand which of them suits your business purpose.
Types of Referral Marketing
Although referrals are beneficial for both parties, you should still bear in mind that there are different types of referral marketing that bring different results. Let's explore each of them in more detail.
Direct referrals. This type of referral marketing is a perfect choice if you want to promote your company cost-effectively. The approach implies asking your customers for word-of-mouth promotion and referrals. Since 92% of consumers rely on recommendations, direct referrals are the most valuable source of new customers. You can also consider hiring a brand ambassador to present your company to a broader audience and instantly see a visible increase in your number of new consumers and revenue.
Email referrals. The power of email marketing can't be underestimated, as the number of active email users amounts to 4 billion. 64% of marketers turn to email campaigns to reach their consumers. With email marketing, brands can engage their potential clients by informing them about promotions and updating them on new product launches and referral programs. To increase the level of customer engagement, companies also send email newsletters.
Referrals from reviews. Product reviews can serve as referrals as well, meaning that you can ask clients to leave their feedback for your potential customers to see and purchase your reviewed products. According to Oberlo, 79% of shoppers equally trust online reviews and personal recommendations. Consider letting your customers leave reviews under product cards or creating a dedicated page for reviews and feedback. Think of also allowing shoppers to leave reviews on special platforms people use to find certain brands and products.
Social media referrals. Some people can't even imagine their everyday lives without 

social media

because of the opportunity to communicate, share photos and videos, shop for various products, and explore profiles of influencers who always recommend something useful. Since social media platforms are crucial for our society, entrepreneurs use them for referrals. They select advocates who have established profiles and enough influence to share a brand's content, attract its target audience, and encourage people to become customers.
Incentive-based referrals. The main feature of these programs is that companies reward customers for their loyalty with incentives like coupons, gift cards, and digital rewards. It's always a good idea to reward people who invite friends and those who accept their referrals.
Now let's find out what opportunities these types of referrals provide.
Benefits of Referral Marketing
Marketing departments use new channels and methods to attain new consumers, which often makes people too overwhelmed with advertising clutter to be influenced by brands' messaging. Since the competition is high, some startups don't have an opportunity to effectively reach their target audiences. People have little trust in brands they find in ads, and that's precisely when referral marketing steps in — people are more inclined to listen to the recommendations of their family and friends. Apart from increased customer trust, this marketing strategy brings some other advantages.
The benefits of referral marketing include:
higher customer retention rate;
larger customer base;
better customer lifetime value;
increased ROI;
skyrocketed customer loyalty;
enhanced customer engagement;
improved brand awareness and reputation;
wider social media reach.
Marketers leverage the approach due to the pros it provides for their companies, and now you know them all. The terms "affiliate marketing" and "referral marketing" are often misinterpreted and confused, so we need to shed light on some features that help differentiate them.
Affiliate Marketing vs. Referral Marketing
These terms are widely used by marketers, and we hear them all the time in our business surroundings. However, they often evoke confusion since some people don't understand the key difference between these two terms.
The main difference between affiliate and referral marketing is that the first one implies using the services of third-party brand advocates who bring clients to your company and get paid for it, whereas referral marketing entails brands rewarding current customers for inviting their friends to become clients as well.
Now that you know the key difference between these terms, let's proceed to the next section to discover how to develop a successful referral program.
How to Create a Successful Referral Program
Now when you understand the value referral programs bring to businesses, it's time you develop your own. We'll show you where to start.
Develop a program that can make your leads convert. Once you have a clear objective, understanding of your customers' needs, and high-quality product, you can start developing a referral program. You should create a program that has a clear message and reflects your company's values. To do it, you need to create a catchy headline and keep it as simple as possible — it will help you attract your target audience. Provide clients with the possibility to invite their friends via email, social media platforms, or direct messages with the help of a link. Finally, track and evaluate the success of your referral program.
Choose rewards for your new and existing customers. To encourage more people to become your customers, you need to entice them with alluring offers and give them a reward incentive. First of all, you need to decide on who will get the reward: your existing customers, referred customers, or both. This way, you'll be able to motivate both parties to stay with your brand and become loyal. Secondly, choose captivating and valuable rewards your clients will like. Finally, determine when and how to reward your consumers.
Leverage special tools. Setting up a referral program is more manageable with software solutions. With these platforms, you'll be able to smoothly run all of your referral programs. Consider leveraging tools like Referral Factory, Friendbuy, InviteReferrals, and Advocately to create professional referrals that convert.
Utilize reviews to increase your customer base. Reviews are a perfect complement to a good referral program. They help boost customer engagement, credibility, and trust and increase your customer base. Nowadays, people often look for online reviews to choose the best available options before buying any product. To trust a business, a customer needs to read at least ten positive reviews. Ensure a smooth customer experience and high-quality products so that clients leave only positive reviews.
The process requires you to do everything possible to make clients satisfied. Do your best to develop a great referral program that will bring in many people and boost revenue. Next, we'll uncover how to implement referral marketing into your strategy.
How to Implement Referral Marketing Into Your Strategy
There are numerous methods to help you gain good revenue and reputation, so you can make use of our tips to implement referral marketing into your strategy successfully.
Be close to your customers. To encourage consumers to do something for you, make sure you have a strong relationship with them. These clients should demonstrate loyalty and choose your products over others. You also need these customers' personal information to tailor their experience and make them feel satisfied.
Establish transparency and credibility. Building a solid relationship with your customers and asking them to refer friends is a process that requires significant effort from your marketing team. You should be able to prove your brand's integrity and trustworthiness to your customers. Trust is the number one stimulus for consumers to recommend a company.
Show your clients that you appreciate them. Besides establishing trusting relationships and credibility, you should also be able to demonstrate your appreciation to customers. Show them that you value and need them. When you ask clients to refer their friends, you need to give them something valuable in return, for example, discounts, gift cards, or coupons.
These tips will help you implement referral marketing into your strategy effectively. Let's jump to our examples to see how famous brands succeeded in doing it and get inspired.
Referral Marketing Examples
The practice of using referrals is popular among brands, which is why you can find a lot of excellent referral marketing examples. We offer you to review several successful referral programs to get some inspiration.
GrubHub
Nowadays, everyone seems to need food delivery, and GrubHub comes to the rescue. The company delivers food to any place you need. The app encourages customers to bring in their friends and receive a special reward. You can see the referral details below.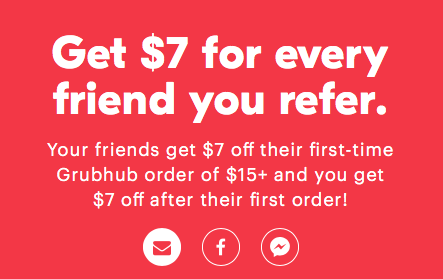 Dropbox
The famous file hosting service succeeded in creating one of the most profitable referral programs and gained 3900% growth. Everyone wonders how they managed to do it, and the answer is simple: the program rewards people who refer friends and those who accept the invitation. Besides, their onboarding process is simple, the benefits are evident, and the invitation procedure is intuitive.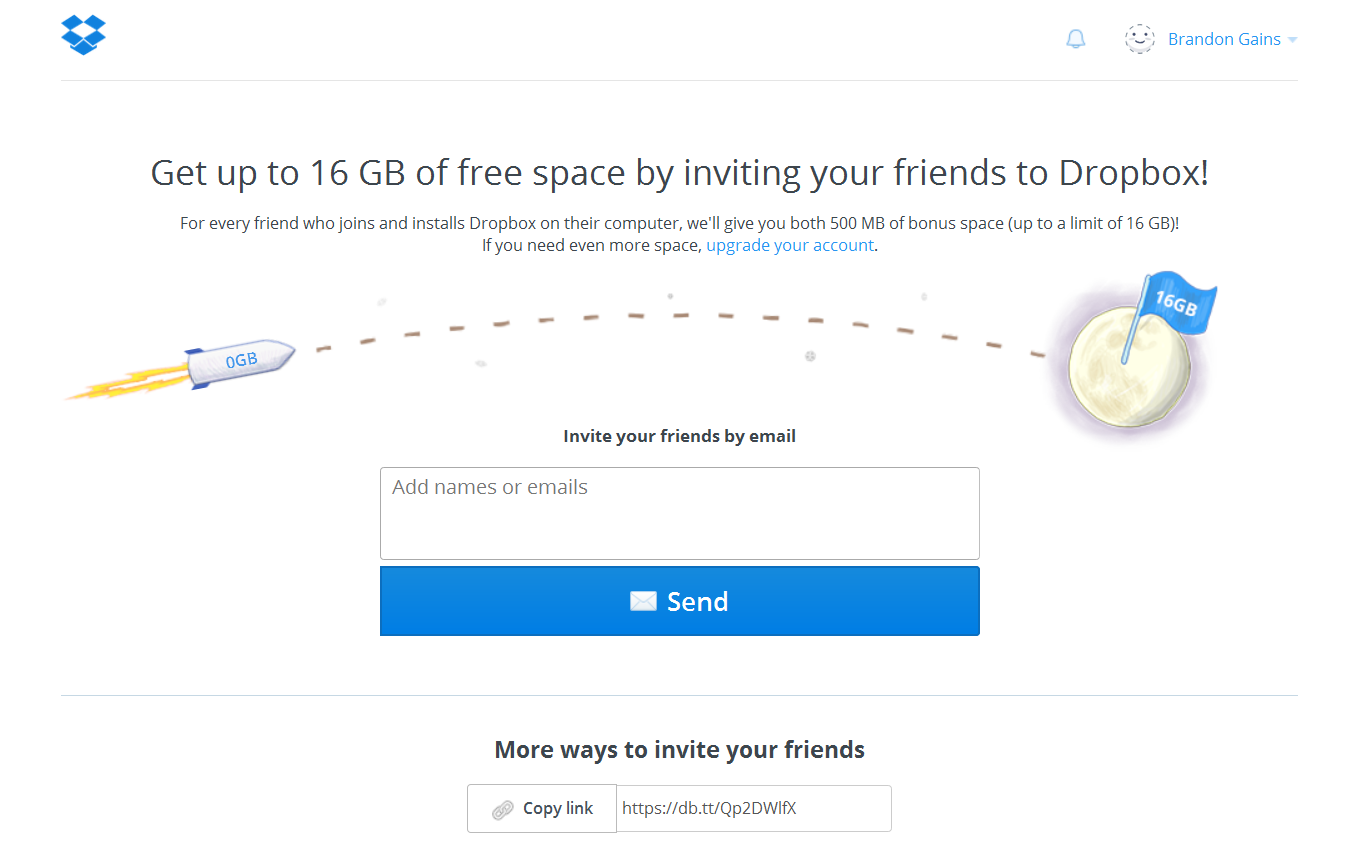 Congrats, now you know more about the importance, types, benefits, and examples of referral marketing. It's time to get the most out of this marketing technique!
References:
This article defines the term and unveils how referral marketing works.
In this article, you'll find three referral marketing strategies.
This article provides readers with several great examples.
Last Updated: 22.03.2023