Company values are the core principles, ideas, and beliefs that set the direction of a company's teamwork. They determine the way your brand interacts with clients and shareholders.
In this article, we'll unveil why company values are important and how to create them. We'll also review brands with excellent core values.
Why are company values important?
Company values are essential for every business since they unveil the principles, beliefs, and fundamentals of your brand while determining the way of operation for your workers. Core values help identify the best ways of achieving key business objectives. After selecting the right core values for your company, you can reap several benefits. In general, they allow you to maximize performance, increase employee engagement, and improve workers' principles.
Clearly defined fundamentals enable your workers to make crucial business decisions based on your company's mission. They understand your business purpose and do everything towards its achievement. Your team respects what your brand stands for and helps you achieve the desired results. Since your employees are professionally ready to provide you with the necessary outcomes, their productivity, time management, and morale improve. For example, if you strive to start environmental initiatives, your team will help you do it in the best possible way.
When hiring new people for your team, make sure they know and understand your values. This way, all team members will align their work toward achieving the common good. Communicate your principles in job offers so that you can identify the right candidates who appreciate your work.
Company values help you differ from your competitors. People who share the same principles will choose you over dozens of other brands. Resonating with consumers is essential for improving lead generation and customer retention.
Now that you know why company values are crucial for your business, let's find out how to create them.
How to create company values?
As an entrepreneur, you have no limits on setting your values. Sustainability, simplicity, honesty, and transparency are just a couple of examples. You are the one to decide which priorities and beliefs to determine. In this section, we'll unveil the ways to create them for your business.
Consider brainstorming. Brainstorming is a very helpful technique when it comes to identifying the values of your company. Gather your team members to share their opinions and ideas. This way, the chances of creating a list of relevant principles are bigger. Be open-minded and encourage all team members to provide their associations and fundamentals that relate to your business. Write down all ideas on a separate list and review them. Identify those that perfectly describe your mission, vision, and values.
Analyze your mission. Before brainstorming, consider seeing your company's overall mission. Your mission statement is a reflection of core values. For instance, if you want to create a beauty brand that stands against animal testing, you should show it in your mission statement and company values. Explore your brand's mission and you will automatically come to the right values.
Make up a list of fundamental questions about your business. You should figure out what your company appreciates the most. Think of the things that will be over the desire to make money. For instance, if you focus on reducing the environmental impact of manufacturing, you can use special packaging for your product, machinery, and production process.
Be specific when defining your values. Being specific is critical for both your customers and employees. Clear values are necessary for the perfect hiring process. You need to communicate them to your candidates to find the right members of your team. These people should support all your principles and beliefs to maximize productivity.
Pay attention to your target audience. Customer feedback can become a perfect source to identify core values for your brand. Make sure that your product satisfies consumers in terms of superior quality and low price. Identify factors that influence buying decisions of your target audience. For example, they might need transparency in manufacturing, ingredients, and sustainability.
Now that you know how to develop company values, let's review several examples of brands with appealing core values.
5 Companies With Inspiring Core Values
If you want to get inspired, consider looking through several examples on our list below.
Bayhealth
Bayhealth is a healthcare system with a mission to provide excellent healthcare to the people around. The company communicates its core values to its clients: compassion, teamwork, respect, accountability, and integrity. Its hospital workers care about every patient and are responsible for their actions and professionalism. The company's employees strive to build trusting relationships with every patient and ensure transparency.
Gusto
Gusto is a platform that enables small companies to manage hiring, payroll, onboarding, time, and compliance. The company's core value is transparency. The service's senior management shares every performance review with all of Gusto's employees. Gusto advocates the needs of others, strives to perform better, and improves all time.
Discover
Discover is a credit card brand focusing on innovation, simplicity, respect, openness, enthusiasm, and collaboration. The company's team believes that to build a successful business, they need to follow these principles and satisfy clients. The company ensures that Discover's customers make well-informed decisions with all these fundamentals.
Coca-Cola
You can find the brand's values on its Diversity, Equity, and Inclusion page. The company cares about gender and racial equality and does its best to achieve it. Its team focuses on women holding senior positions within the company so that they represent 50% of employees. Coca-Cola also pays attention to sustainability. You can explore all their efforts on the brand's website. You'll find the company's statistics on water usage and recycling.
Coca-Cola is a people-focused company and highlights it. The company cares about its customers, employees, and everybody involved in the process of product development. Its team is sure that everybody is important and can bring a difference to our planet. The brand ensures the protection of the human and workplace rights of every employee.
Whole Foods
Whole Foods, a famous supermarket chain, sells high-quality organic foods to its customers. Besides excellent service and products, the brand cares about its communities and environment. To show the company's commitment, it established the Local Producer Loan Program, which ensures low-interest loans to local farmers. You can also explore the brand's contribution to the environment and its related initiatives.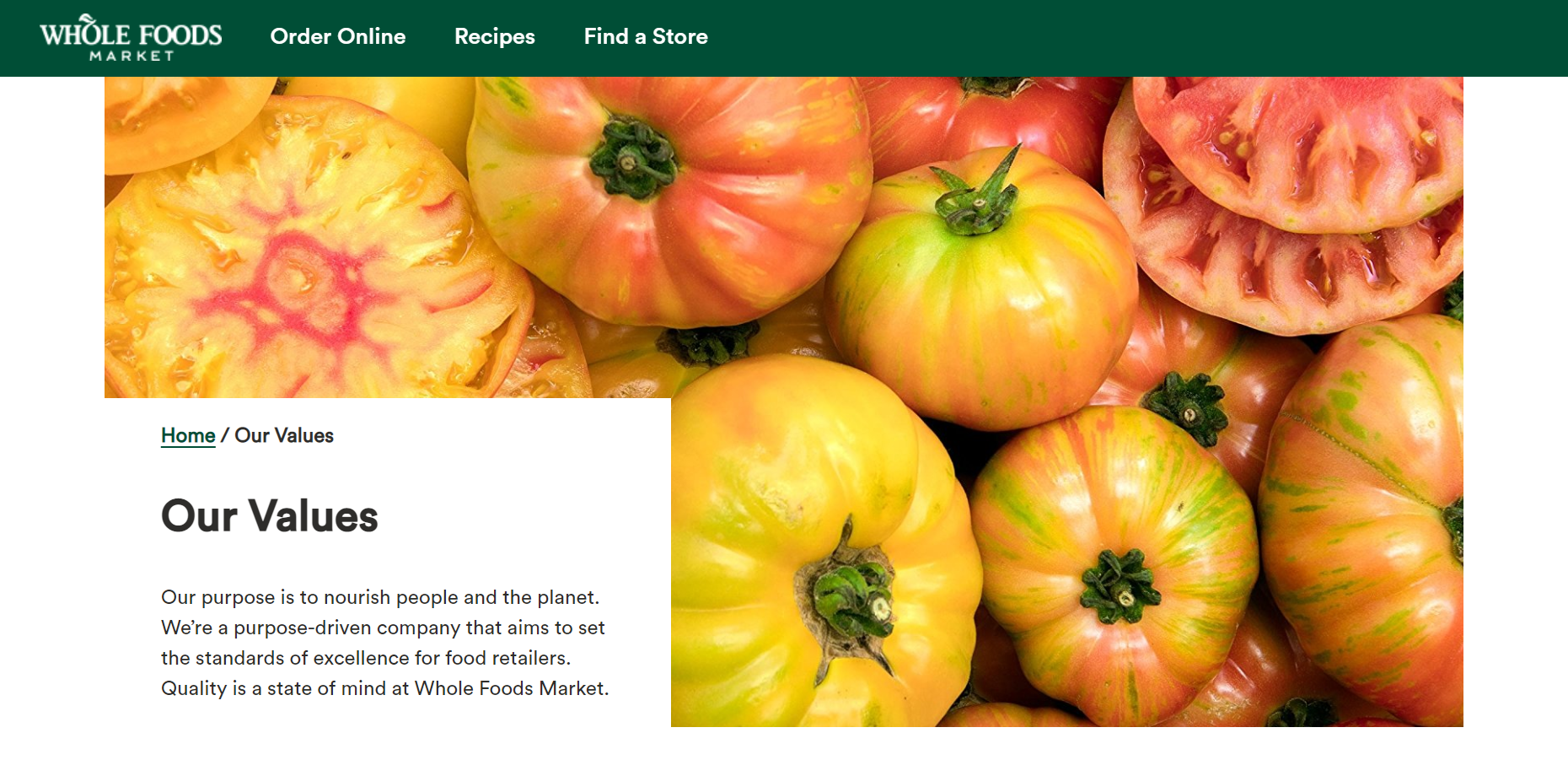 Congrats, now you know what company values are and why they are essential. Hope our guide and examples inspired you to create a list of appealing values for your business.
References:
This article defines the term.
In this article, you'll find brands with inspiring core values.
Last Updated: 22.03.2023