CRM marketing, or customer relationship management marketing, is a business approach that implies analyzing, controlling, and improving customer relationships. The bottom line of this type of marketing requires using CRM systems – special software developed to automate communication with clients.
In this video, Caleb Smith, a SendPulse marketer, talks about the benefits of CRM marketing.
Why should I use CRM for marketing?
The key advantage of applying CRM to your marketing strategy is the control a CRM tool gives you over your communication with customers and prospects. With CRM software, you can see your customer's profile, their history of interactions with your brand, service issues, and more. All that data is stored in one place and can be accessed anytime.
Having information about clients on hand allows your team to tailor their marketing activities and strategy to make them more relevant. Apart from that, using CRM for marketing has the following benefits:
Enhanced segmentation and personalization help target the most profitable customers and make relevant offers to them.
Relevant marketing campaigns. You can conduct activities that fit your customer's place in the marketing funnel.
Increased customer satisfaction and retention. Building quality relationships with customers improve their satisfaction with your service and boost lifetime growth.
Bigger marketing ROI. CRM marketing boosts your customer lifetime value, in turn bringing in more revenue.
As we've unpacked a few benefits of CRM marketing, there is no doubt that you need it. However, the question remains what automation software should you choose. Be careful here: CRM is not the same as marketing automation software. 
CRM vs Marketing Automation
At first sight, CRM resembles marketing automation software. Both of them seem to do identical things: manage leads, collect and analyze data, and automate the process of communication. However, CRM is more sales-focused, while marketing automation software is marketing-focused. In other words, marketing automation software aims at managing marketing tasks, and CRM platforms are focused on interacting with customers and prospects, activity tracking, lead scoring, and so on.
Applied to the marketing funnel model, these two groups of software manage leads at different stages of the buyer's journey; marketing automation software takes care of customers at the top and the middle parts, and CRM helps to manage prospects in the bottom stages.
Nevertheless, marketing automation software and CRM work better together. They should share data for the best results. Some companies on the market – such as SendPulse, Hubspot, or Salesforce – have already merged these two into a single solution. Others offer integrations with other software.
To choose the CRM system that best fits your business goals, check out our compilation of free CRM software. Eager to build your CRM marketing right now? Let's dive into tactics that will help you craft your marketing strategy.
6 Tactics to Create Your CRM Marketing Strategy
Choose the right CRM system
Qualify your customers
Segment your audience
Use a customer-centric approach
Communicate swiftly and regularly
Set KPIs for your CRM marketing
Building your CRM marketing strategy can feel like a tall order considering the scarcity of information about it. Consider applying the following tactics to get the ball rolling.
1. Choose the right CRM system
The speed of order processing, the method of collecting customer information, and the coordination of your team's work depend on the correctly selected CRM system. First of all, focus on your niche and business size. If you have a small or medium business, you can choose a free system. You can start using the SendPulse CRM system for 5 users in your account at no cost.
Our CRM system allows you to manage sales and communicate with your audience on one platform. You can collect information about your customers; and send messages to a chatbot in Telegram, Facebook Messenger, WhatsApp, Instagram, as well as via email. The effectiveness of these messages will impress you since you respond to a message from a client who initiated communication through this channel. You can also accept orders, create quick deals, and receive them automatically through the chatbot or workflows created using Automation 360, change their status, delegate tasks, and assign a person responsible for a deal. Contacting a client has never been easier. You just need to select the desired channel in the deal card.
See how the process of working with deals in SendPulse looks like. They are located on the Kanban board, making it easy to track their status.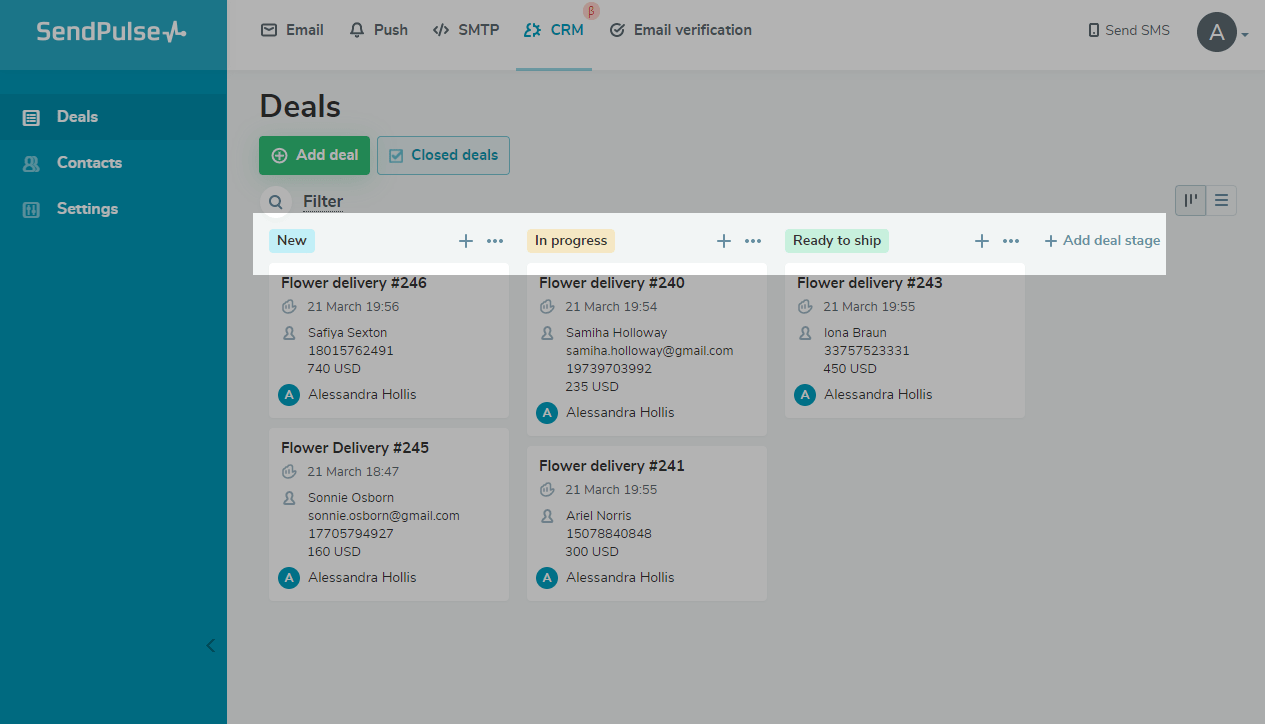 By clicking on a deal, you will open its card, where you can see the history of work with it, order information, status, and the person in charge, as well as add a comment and contact the client.

As you can see, it is easy to monitor the progress of closing a deal in SendPulse. You will find more useful information on working with the system in our Knowledge Base. Since the service is intuitive, you can try to create a deal right now.
2. Qualify your customers
Roughly 50% of prospects are a bad fit for companies. If you're targeting the wrong group of clients, you risk wasting time and money. Before building strong relationships with your customers, you need to decide which of them are the most valuable for your business.
To spot the perfect prospects, follow these three techniques:
Make a list of your current key customers and find out what they have in common. Then, look for these features in all your future clients.
Research your competitors' audiences. Chances are, they will find your product or service more attractive.
Set the qualifying criteria for your prospects. It may be their occupation, marital status, income, and so on.
When you pinpoint your audience, align your messages with their needs. Keep your customers' peculiarities in mind when you form your value proposition, pricing, and other product features.
3. Segment your audience
CRM software stores huge amounts of data about every customer. Use this data to eliminate the ineffective one-size-fits-all approach; and address each customer's unique needs instead.
Start with segmenting your audience. Identify what communication channels your customers prefer, learn how they interact with your website and social media, and track their purchase history. Pay attention to demographic data, such as age, gender, location, occupation, and so on.
Use the most suitable channels to interact with each audience segment. To create personalized email, SMS, messenger, and push notification campaigns, try SendPulse. Our segmentation feature allows you to import data from your CRM.
Apart from that, you can create new segments according to your subscribers' actions, such as email opens or clicks. Subscribers are rated in your SendPulse mailing list based on their interactions with your marketing campaigns. You can use this rating to create segments based on the activity of your subscribers. So, you can send different campaigns to users with different ratings and demographics to get better marketing results.
4. Use a customer-centric approach
CRM marketing strays away from the traditional buyer-seller model and places customers at the center of the business strategy. Using a customer-centric approach allows you to not only obtain a customer but also to retain them and increase their lifetime value.
To succeed in CRM marketing, communicate not about selling a product but about accomplishing your potential buyers' goals. Hard selling will provoke their rejection. However, correlating your product's benefits with customers' problems will improve your offer's credibility and boost sales.
Pay special attention to your prospects' pain points. Build your pitch around the problems your product helps eliminate. It's a psychological trick that boils down to our brain's predisposition to react more to potential losses than gains. For more psychological tricks, follow our email marketing guide. Hacks from this post apply to any communication channel.
5. Communicate swiftly and regularly
Speed and efficiency are core principles of customer relationship management. Technology can help your business perform efficiently and make interaction with your clients seamless.
To achieve regularity, automate your audience interactions. Adjust your activity for different customer segments to make them happy with your brand's communication strategy.
Prioritize the communication channels your prospects prefer and build a timeline of customer interactions. Tailor communication to match the sales funnel stage of your customers. To make things easier, after gathering data about preferable channels, frequency, and more, build an automated communication flow with SendPulse.
6. Set KPIs for your CRM marketing
To measure the effectiveness of your CRM marketing, set key performance indicators. Keep in mind that they vary depending on your business goals. For instance, you might want to obtain more new buyers. In this case, go for customer acquisition metrics, such as customer lifetime value, customer acquisition cost, and churn rate. To dive deeper into this subject, follow our guide on customer success metrics.
After you've spotted your key performance indicators, it's time to adjust your CRM marketing activities to leverage them. If you went for customer acquisition metrics in the previous step, you might benefit from applying these techniques:
Add new marketing channels to obtain more customers.
Send re-engagement email campaigns to decrease your churn rate.
Launch a loyalty program to increase customer lifetime value.
Now you have your five tips on how to set up your CRM marketing strategy. It's time to put them into practice. Let's look at some inspiring examples from brands that squeezed every bit of value from their CRM marketing efforts.
Discover more about CRM marketing on our blog
4 Examples of CRM Marketing
Chatbots for better customer interaction
Loyalty programs for building retention
Personalization for a better user experience
Referrals for higher conversions
The old adage says that practice makes perfect. To get a bit closer to perfection, let's discover how popular brands and services approach CRM marketing.
Chatbots for better customer interaction
When it comes to keeping in touch with customers, swiftness is crucial for maintaining good relationships. According to Statista, 18% of social media users worldwide expect brands to respond to their complaints or questions immediately; 28% want to be answered within an hour.
To keep pace, companies have to hire more employees and enlarge their customer support costs. Applying chatbots to their marketing strategy helps solve this problem and decreases customer support costs by 30%. All you need to do is gather data about the frequently asked questions your customers have from CRM, write relevant answers, and feed your chatbot with them. As a result, you'll get fewer support tickets and more happy customers.
The Q&A website for programmers, Stack Overflow, knows a little something about how overwhelming users' queries might be. To reduce the number of repeated questions and provide viewers with easy access to answers, the company launched a Telegram chatbot.
Chatting with it, the user can ask any question. The chatbot will offer similar queries with answers from the website. If there is a match, the user can choose the right question from the list and see the whole conversation on the website or look for only the answer, for example, the highest-rated one.
Besides customer support, chatbots can increase your buyers' engagement, lead nurturing, and speed up the payment process. More importantly, your audience loves them – 21% of consumers believe chatbots are the easiest way to contact a business. To implement one into your marketing strategy, register with SendPulse. Our service helps you build chatbots for Telegram and Facebook Messenger for free in just a few clicks.
Loyalty programs for building retention
Most companies focus on obtaining new customers rather than keeping the old ones engaged. Meanwhile, customer retention is five times cheaper than acquisition. Loyal customers tend to drive more revenue for your business; they spend 67% more in the third year of their relationships with the brand.
To keep your buyers engaged, set up a customer retention strategy. It may include practices like asking for reviews and referrals, up-selling and cross-selling, thank you emails, and loyalty programs.
The beauty brand, Khiel's, shows an excellent example of such a program. The company gives customers reward points for each cent spent on its cosmetics, each social media share, and each friend invited. In return, loyal clients get gifts, early access to new products, complimentary shipping, and more.
Personalization for a better user experience
Personalized customer communication is key to successful CRM marketing. A considerable part of your buyers would love to get personalized purchasing experiences. CRM services help obtain all the data necessary for it. Use your customers' gender, location, purchase history, and other information to tailor your email and messenger campaigns, web push notifications, and website.
Online retail giant Amazon gained its market leadership by putting its customers' interests first; personalization plays a special part here. Amazon encourages every new buyer to create an account. Once they do, the website tracks their activities – items browsed, purchase history – and makes product recommendations based on that data.
Amazon shows new recommendations that may interest you each time you visit the website. Moreover, the website shows related products according to what other customers who bought the same products as you, purchased in addition.
In the example below, you can see the items Amazon recommends based on the viewer's browsing history. Apart from goods a customer probably would like for themselves, the website offers gift ideas. The last trick helps to increase cross-selling even more.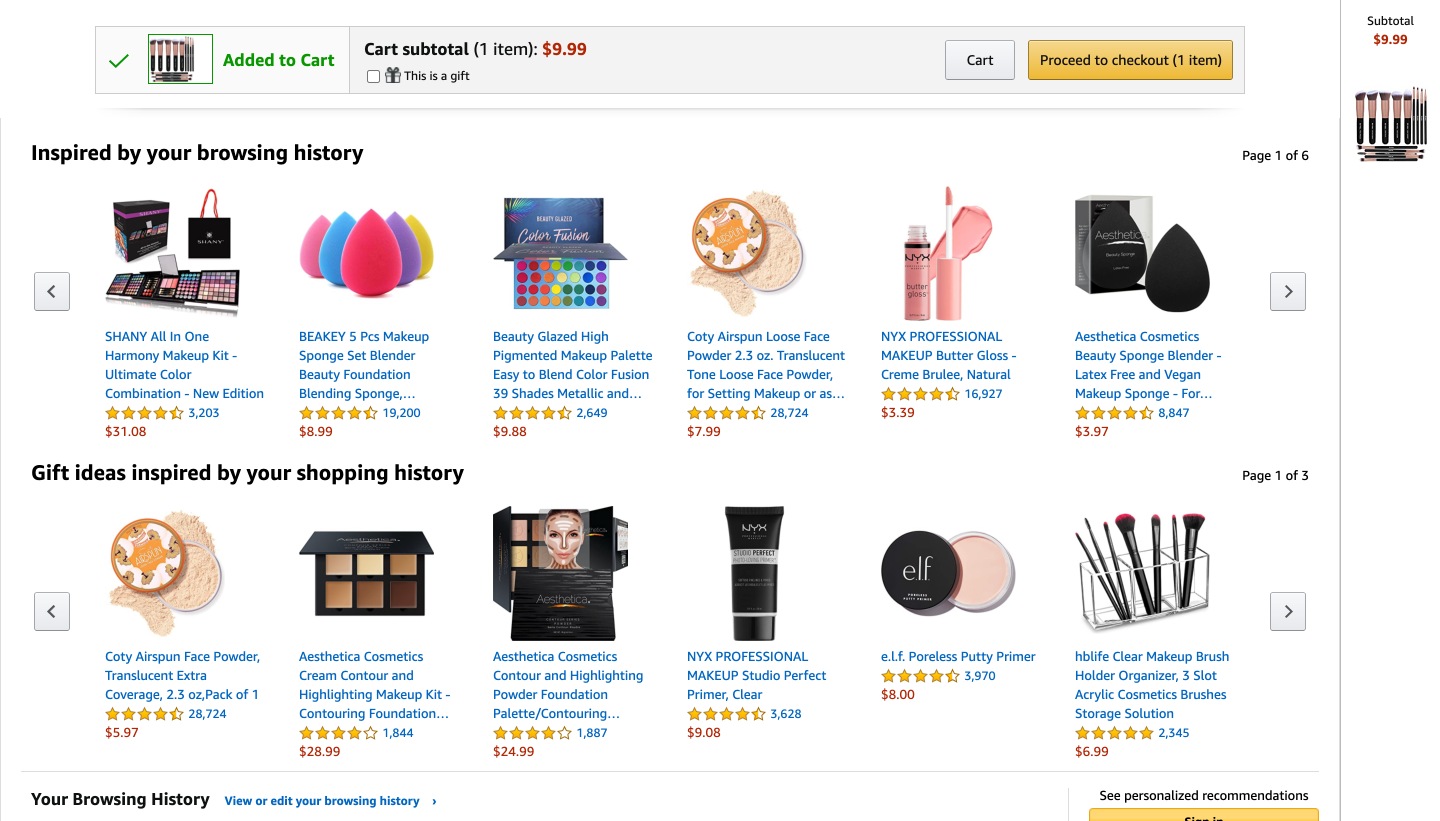 Referrals for higher conversions
CRM marketing is a perfect way to boost your conversions and get more revenue for the same marketing budget. Building customer relationships and providing them with seamless experiences helps you obtain brand advocates.
Satisfied buyers share their stories with their friends and families. Referrals convert 30% better than other marketing methods. The referred customers are more loyal and have a 16% higher lifetime value.
A killer offer is the first step to raising your loyal customers. Learn how to killer proposals from the financial service Acorns. The company offers a generous gift for referring friends. For each friend invited to try Acorns, the company gives the user $5. Apart from that, Acorns puts an extra $100 on your account if you've invited ten friends.
Along with such an irresistible offer, the company uses a time limitation – customers can get extra money only in June. This trick plays on a basic psychological trait to crave for things that are harder to get.
Apart from referral programs and limited-time promotions, you can apply other hacks to boost your conversions. Follow our guide on conversion rate optimization to improve your landing page and email performance.
It's challenging to imagine strong customer relationship management marketing without regular well-produced communication. To handle the latter, consider using several channels, such as email, messenger campaigns, web push notifications, SMS, and chatbots. To apply them to your marketing strategy, sign up with SendPulse.
Last Updated: 01.12.2023