There seems to be a paradigm shift in routine business processes. What used to be all about profits and revenues is now about customers. While it appears to be a positive change, it does not help cross some menial tasks off sales and marketing teams' lists — it only hoards them.
Still, every issue finds its solution, and in our case, it's a solution plus software. In this post, we will talk about the benefits of having a CRM strategy, how to create one, and how to make sure that it's effective.
What is a CRM strategy?
A CRM strategy is a customer-centric set of companies' organizational techniques and actions that increase sales, enhance customer retention, bolster customer service, and fulfill other goals that influence customer relationships.
CRM software and CRM strategy always go hand in hand and are interdependent and bilateral. Even the most sophisticated and cutting-edge CRM system does not attract and retain customers by itself. However, a well-honed team can lead your business to its next-level success if backed by suitable software and a farsighted approach.
You can't make a sound choice without accurate data and valuable insights from those who will be directly affected by your decision — your customers. And CRM software has got it covered for you. Essentially, all CRM systems collect and categorize customer data and feedback from multiple channels, enabling all of your teams to come up with innovative ideas and tactics that will enhance your revenue and reputation.
CRM empowers you to excel in marketing, sales, customer support, and product development at once without having to compromise the accolade of one of your departments. "How come?" You already know the answer — by boosting your efficiency and consistency, but not only. Read on to explore the full list of perks a well-crafted CRM strategy can bring you and why you need one to begin with.

How to benefit from a CRM strategy
Developing a CRM strategy can be lucrative for your company in a multitude of ways. Here are the ten benefits a customer relationship management strategy can bring you.
Strengthening customer relationships
A solid relationship with your customers is both the result of other CRM strategy benefits here and the source they all stem from. Tweaking your customer service approach and products based on clients' insights acquired, solving their problems right on time, and personalizing your offers makes them feel heard, boosting their loyalty, trust, and satisfaction.
Keeping all the valuable data in one place
All customer interactions with your company, products purchased, wishlists, and so much more are all available and systematized in your CRM. Say, your marketing team wants to create a campaign for a certain audience segment. With a CRM strategy, they won't have to waste their time collecting the necessary customer data and just get straight to their primary task instead.
Check out our post on customer data collection to discover how to gather info without spooking away your prospects.
Fine-tuning your customer segmentation
Your CRM system will segment your audience automatically regardless of how wide or diverse it is. All you need to do is to set up the categories you want to group your customers by, such as location, age, gender, buyer journey stage, etc.
Improving your departments' internal communication
Apart from customer interactions with your company, you can also monitor your employees' way of approaching potential or existing customers. This way, different teams can communicate more efficiently and align their business efforts according to your customer relationship management strategy.
Boosting and predicting sales and revenue
It's actually pretty simple: the more your audience trusts you, the longer they stay with you and purchase from you. The more performance analytics you have, the more accurate your sales forecasts will be.
Explore more about how sales automation can benefit your business and help you redefine your sales strategy.
Enhancing efficiency
Developing a CRM strategy enables you to speed things up since your teams will be able to finish their tasks faster. You will be able to focus on establishing meaningful connections with your customers and benefit from increased productivity.
Beefing up your promotional efforts
With enhanced audience segmentation, detailed analytics, and accurate customer data, you can't help but create killer promotional campaigns. There is no other secret ingredient, just an excellent CRM marketing strategy and a team that will put the CRM software perks to use.
Discover how to leverage a customer-centric marketing strategy to boost your CRM's effectiveness!
Generating new leads
A customer relationship management strategy can help you strike the right chord at the right moment. Track your prospects' behavioral patterns and inclinations to be able to turn them into leads and customers and find the right time, wording, and offer to succeed in this.
Leveraging a CRM system is a surefire but not the only method to generate more leads. In our post, you'll find valuable tips on how to turn more visitors into leads.
Automating your analytics and data
CRM systems can help you avoid getting lost in a vast amount of customer data with their built-in analytics possibilities. You will be able to amplify your customer retention, lead nurturing, or marketing goals without having to invest lots of extra effort and time to examine the acquired customer data yourself.
Minimizing the number of manual tasks
As you've probably already realized, CRM systems are the real fans of your menial tasks. They will collect all the necessary data, categorize, analyze, and store it so that the only thing you have to do is put it to use and focus on establishing and maintaining long-lasting customer relationships.
How to create a CRM strategy
Just a heads-up: developing a CRM strategy involves a lot of researching and analyzing what you have already accomplished. We will break the whole process into steps so that it's easier for you to make a to-do list later, so let's dive in.
Step#1 Outline your aims and ways to reach them
Although you will need to revisit and tailor your goals as you go, you should establish a clear vision and purpose of your CRM strategy to kickstart the process. These should not be your ultimate and invariant aims but high-level business goals that will help you evaluate your performance and not get too carried away.
For instance, you can pinpoint certain issues your business is facing, like customer churn, high bounce rates, low productivity, or high customer turnover. Consequently, this CRM strategy example will be centered around them:
minimize customer churn;
decrease bounce rates;
optimize productivity;
increase customer retention.
Step#2 Define and analyze your buyer persona
Buyer persona embodies all the characteristics and traits of your ideal customer. You can develop one or multiple buyer personas, but having more than five is not convenient. It boils down to crafting a fictional character representing your whole audience or its segment and helping you craft a complex CRM marketing strategy. It should look something like this: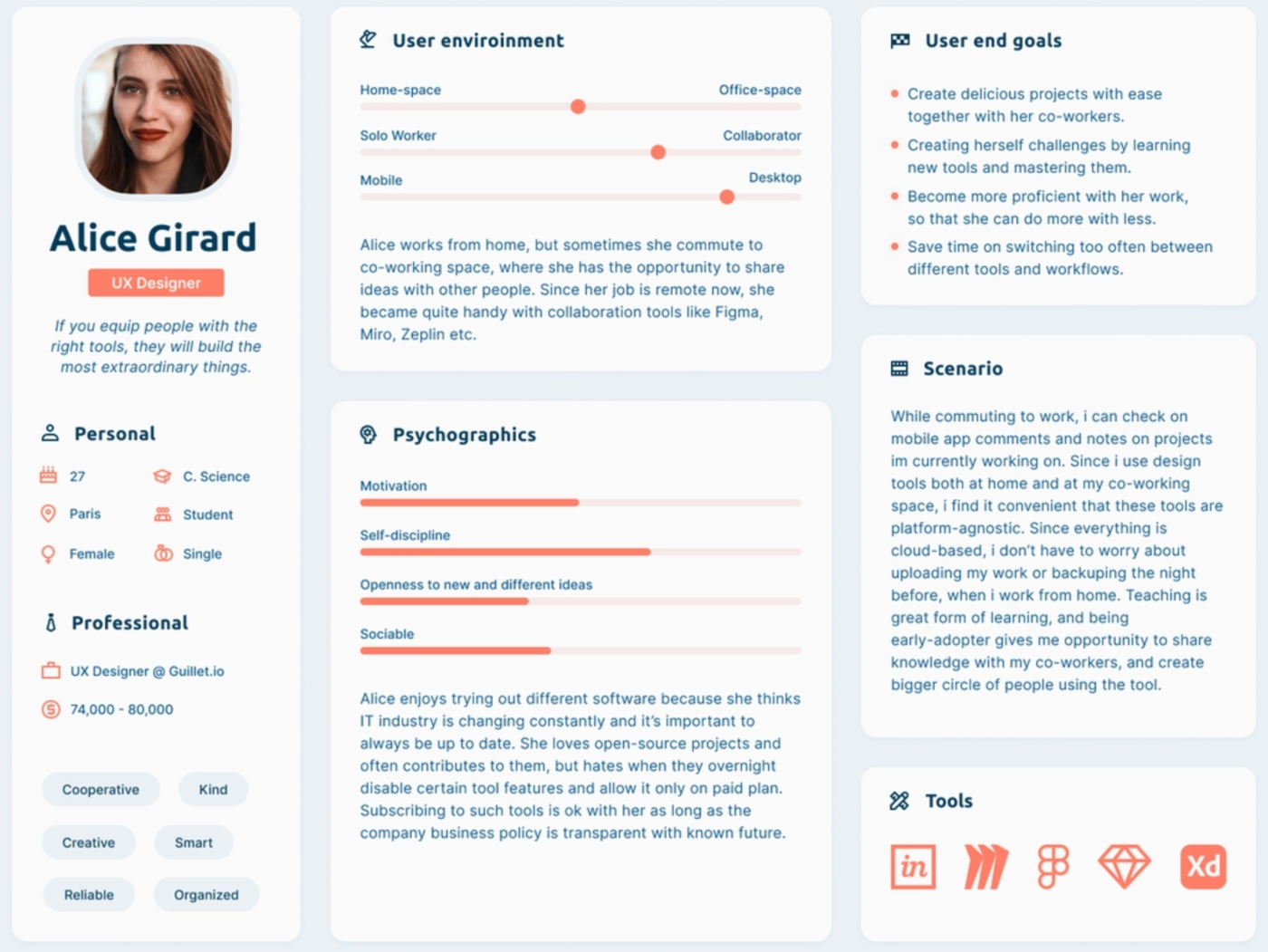 Don't hesitate to do in-depth research when developing a CRM strategy and include your buyer persona's personality archetype, hobbies, demographics, behavioral patterns, and anything that can be of use. You can obtain this customer data by interviewing your employees and customers and sending a survey. Here's a hint: your sales and customer support teams are the most likely to provide this valuable information, so you can start with them.
Step#3 Map your customer journey
Each customer journey map is different at least because clients can find out about your company in a variety of ways, and you can almost never predict how they will interact with you.
Since not all customer journeys follow a specific pattern, you need to recreate their path to the moment where they are now when developing a CRM strategy. Think about how long it took them to switch between your sales narrative touchpoints, what challenges they faced, what kind of content attracted them the most, etc. Tracking and visualizing this process will enable you to determine which CRM marketing strategy and communication channels bring you more prospects.
Step#4 Structure your customer experience
Now that you know more about the buyer's journey your clients are going through, you also need to plan out the customer experience you provide at each stage. Single out any possible hinders you might be dealing with at the presale, sale, and aftersale stage when developing a CRM strategy.
Tweak your CRM strategy so that you are able to automate certain processes and close more sales. Checking whether your customers have a possibility to share their feedback and receive a prompt answer to all of their questions even after a purchase is also a top-notch idea.
Step#5 Analyze the market and your place in it
No business is ever isolated from the market and trends' influence. Sure, you provide free shipping, a first-purchase sale, and 24/7 customer support, but so does everyone in your industry. You need to establish your niche in the market and gain a competitive edge to provide a stellar CRM strategy example.
For starters, define your strengths, stumbling blocks, unique selling point, and place in the market. Afterward, investigate the same aspects of your competitors' businesses and compare your results. If your company outranks its rivals in the end, you will have your competitive advantages served on a silver platter. In case your competitors come out winners, you will obtain a list of valuable lessons you can learn from them and enhance your customer relationship management strategy.
Step#6 Be an expert on your products or services
You need to be a literal oracle when it comes to your products or services, their value, and benefits. Leverage your product knowledge to establish your unique value proposition, product narrative, and brand voice and develop an outstanding CRM strategy example.
You can start shaping your CRM marketing strategy by determining the product benefits you want to pinpoint and certain ideas that can prevent them from being penned up. Make sure that your employees transmit these ideas using a consistent tone of voice without getting off the established product narrative track.

Step#7 Evaluate your competitive landscape
To be able to compete with other businesses in your niche, you need to know precisely who you're standing against. Analyzing your competitors allows you to keep up with the latest innovations in your industry and contextualize certain business goals and choices when developing a CRM strategy.
Automation all the way: give these competitor analysis tools a try to save time but not efficiency.
Keep track of your business rivals' target audience preferences, marketing campaigns, customer engagement, and sales performance. This way, you will make more informed decisions based on your competitors' actual performance instead of centering your customer relationship management strategy around abstract ideas.
Step#8 Keep your content plan ready
When creating a CRM marketing strategy, be ready to produce various types of content for each customer journey stage your clients go through. Bear in mind the goals you've already established and the customer experience you want to provide.
Let's say there are some challenges your prospects seem to often stumble across. In this CRM strategy example, you can address these hinders and offer your solution using a free guide or video. Offering a recorded webinar, eBook, or exclusive materials in exchange for a subscription can increase your number of leads.
Consider creating a content matrix to avoid running out of ideas of what to post.
Step#9 Invest in CRM software
And finally, bearing all of the research and customer data in mind, choose your CRM software. It may seem like there is a choice overload, but this should not be an issue if you know which characteristics are crucial for your CRM marketing strategy.
Go over the entire CRM implementation process to know what to expect and succeed from the first try!
Evaluate your employees' performance and business processes to define how you want your CRM system to improve your business routine. Be specific, and write down every detail if you must. Once you're all set, don't forget to take your coworkers for a little test drive to help them get accommodated and check if everything works smoothly.
How to ensure that your CRM strategy works
Prosaically speaking, when your CRM software helps you hit all your targets and deliverables and achieve the goals you've established, it means it's working. However, there is also a more mathematical approach to this. Here are the key sales performance metrics that can help you evaluate the effectiveness of your CRM strategy.
Close rate
Close rate is a percentage of deals closed as opposed to your overall number of leads. The ultimate goal of all sales teams and one of the key metrics that define your revenue. Since your CRM software allows you to automate the sales process and close more deals faster, your close rate should increase together with your quality leads number.
Upsell rate
The upselling technique implies persuading customers to spend more money on your products or services than they expected. A suitable CRM system will provide you with all the info necessary to determine which leads are more inclined to buy more or go for an upgrade. If your upsell rate actually increases, it's a sign that your CRM strategy works.
Net-new revenue
Net-new revenue is basically any new source of profit a company receives as a result of acquiring new paying customers. An effective CRM marketing strategy will allow you to identify the channels and techniques that brought you the most prospects, leads, and high-value deals.
Use this information to amp up your promotional efforts on these channels to increase your number of new customers. Evaluate your net new revenue after setting up your CRM, and if your strategy gets its job done, you should see an increased number of new profit sources.
Sales pipeline stage length
This metric represents the time customers spend on each stage of their buyer's journey before they switch to the next one. Monitoring possible roadblocks in your sales narrative and automating some customer journey touchpoints enables you to move customers down the sales funnel faster. The fewer challenges they face, the less time they spend on each stage. Track your sales pipeline stage length to check whether your CRM strategy helps you make more progress.
Lead velocity
Simply put, it's the length of the overall sales cycle, i.e., how long it takes for a prospect to become a customer. Here goes the same story as with sales pipeline stage length — the fewer bottlenecks your sales cycle inflicts, the faster it gets closed. If your lead velocity rates have grown since the time you implemented your CRM strategy, it means that it's working.
There are also some marketing and customer engagement metrics you might want to keep track of after incorporating a customer relationship management strategy:
As a final point, remember to establish KPIs and specific targets your teams have to hit and keep them informed. Depending on the goals you've set initially, choose which of these metrics are crucial for your CRM strategy to zero in on them.
What's next?
Is there a perfect CRM system suitable for all businesses and strategies? Probably not. However, SendPulse offers one of the finest ones.
Apart from automating your sales and storing all the info in one place like all of the CRMs do, you can also create deals triggered by actions in chatbot flows, interact with customers across multiple communication channels, and help your team stay in sync with new deals and their progress.
Each business strategy requires a tailored approach to a company's unique goals and customers, so no software can be suitable for everyone. That's why we offer you to try our CRM for free, and if that's a match — you can enjoy even more advanced features on our paid plan.