An operational CRM is software that enables you to manage interactions with potential customers and build relationships with them from one place. It helps you store customer data, manage marketing campaigns, and keep an eye on the progress of deals.
In this article, we'll unveil why brands need an operational CRM and its benefits. We'll also uncover how operational CRM works, review its features and components and provide the 3 best CRMs to consider.
Why do brands need an operational CRM?
Businesses need an operational CRM to focus on crucial tasks and improve the productivity of their departments. The software enables businesses to automate the routine process and take care of interactions with clients. This way, brands can allocate more resources to developing quality sales pitches, demo walkthroughs, the content of email campaigns, new marketing strategies, and many more. Operational CRM allows you to automate repetitive tasks like sending emails, updating customer information, scheduling meetings, and managing lead scoring.
Operational CRM becomes your medium for communication between departments. You can schedule meetings to communicate, exchange information, and share experiences. You'll be able to receive accurate information about each customer and improve communication with them. If you understand your clients' needs, you can provide them with the right offers. When sending the relevant message and offering the product, you can manage to solve the problems. As a result, satisfaction with your brand will increase.
Now that you know some reasons to use an operational CRM, let's proceed to the next section to explore the pros.
Benefits of an Operational CRM
Companies leverage operational CRM because of the various advantages it brings. A platform empowers you to improve several points of your business. It helps
Now that you know the benefits, it's time to unveil how operational CRM works.
How does an operational CRM work?
Operational CRM combines several areas: sales, marketing, customer service, and analytics. You can manage these processes from one place. All you need to do is choose a CRM that suits you best regarding business goals, price, features, and usability. Once you register, you'll be able to import your customer data to the CRM. When your information is stored in your CRM, you can decide where to move next. Create deals to keep track of your existing and upcoming deals.
When you have complete data about your prospects and clients, you can improve your sales, customer service, and lead generation. Analytics helps you figure out how to approach customers, determine the right offer, choose suitable sales pitches, etc.
CRM is essential for task delegation. If you want to improve the productivity of your sales team, you need to automate multiple tasks. Use your CRM to set up and schedule follow-up email sending. As a result, your sales reps will have more time for interaction with your customers. They will be able to prepare personalized offers, targeted messages, and proper communication.
Now that you know how operational CRM works, let's uncover its features.
Operational CRM Features
In an increasingly competitive business environment, companies need CRM to keep all their information, tasks, and communication security in one place. A customer relationship management system is more than a storage space for your contact cards. Operational CRM's features include:
integration with third-party services;
workflow automation;
customer service;
social media monitoring;
sales forecasting;
email tracking;
employee monitoring;
lead management.
Now that you know the features, it's time to proceed to the components. The next section will help you determine which business areas you can improve with CRM's help.
Operational CRM Components
Operational CRM consists of four main elements: sales, marketing, analytics, and customer service. Let's review each in detail to find out how a CRM can help you in multiple areas.
Sales. Detailed information about your prospects and customers provides your sales departments with benefits. Sales representatives can prepare a scenario for communication, tailor their message, and craft a sales pitch.
Marketing. To develop a successful marketing strategy, you should understand your target audience. You need to determine the things they need, the solutions they look for, and their requirements. Operational CRM enables you to identify qualified leads and reach them with your message. CRM provides you with information about the preferred channels, demographics, etc.
Analytics. CRM's analytics allows your team members to explore customer insights to identify trends and monitor behavior. After reviewing this information, you can decide on your strategy and approaches and choose communication channels. You'll be able to find a way to cater to the needs of consumers.
Customer service. Operational CRM empowers you to automate the processes related to customer services like contact, information gathering, problem-solving, and resolution. With its help, you'll no longer have unsatisfied customers who contact the wrong department. A platform will help you keep an eye on clients and provide help to them as soon as needed.
Now that you know essential information about operational CRM, including its components, let's discover the 3 best services. Consider using these platforms to improve the productivity of your departments and save resources.
3 Best Operational CRMs
We'll review three excellent operational CRMs in terms of pricing, features, and usability to help your company automate repetitive tasks. Let's start with SendPulse's free CRM.
SendPulse
SendPulse allows marketers to optimize the delivery of valuable content, communication with prospects, the productivity of sales and marketing teams, and visibility of contacts and deals within one platform. You can accept orders, collect customer data, and store all information in SendPulse's free CRM. Your CRM database is a reliable source of information for different areas of your business. Your sales and marketing departments can freely use the data to craft sales pitches, develop personalized messages, establish communication, and create marketing campaigns.
SendPulse enables you to create cards called deals to track interactions with prospects and consumers while they move through the sales funnel. The platform records all customers' inquiries, problems, questions, and needs. It helps you develop the optimal scenario for a seamless sales process. After looking through the information in SendPulse's CRM, you can start proper communication with a lead or client by using email campaigns, chatbots, web push, popups, or SMS. Moreover, CRM allows you to set up automated email campaigns to optimize sales and prevent customer churn.
Your sales team can create deals manually or set up integrations to add them automatically after your sales reps communicate with clients. Consider connecting your SendPulse CRM to the preferred channels, such as chatbots, email services, popups, subscription forms, etc. You can also create deals manually. Choose a pipeline and click "Add Deal."
With SendPulse's operational CRM, you can contact clients through the record in your CRM database. You'll reach them through the channel they came from. This way, you can contact your customers through their preferred communication channels.
Below you can see how to create a contact card in SendPulse's CRM.
The CRM is completely free. So, you can enjoy its benefits without worrying about the costs.
Freshsales
Freshsales empowers you to personalize engagement, decrease sales cycles, and reach your sales goals within one place. CRM's 360° view of your clients provides insights into customers' interactions and helps deliver a personalized message, targeted offer, and quality communication.
The platform allows you to monitor your employee activity and performance. You can supervise them on various tasks and ensure they complete them effectively and on time. Besides, it helps identify team members who struggle with certain tasks and assist them for better results. Your team can figure out the areas that need to be improved for better productivity of your marketing and sales departments.
An easy-to-use CRM helps you identify quality leads and reach them through email campaigns, chatbots, popups, web push notifications, and SMS. Since site leads are most engaged, consider chatting with prospective customers through your website to generate more potential clients.
In the screenshot below, you can see how to create a new contact card with Freshsales.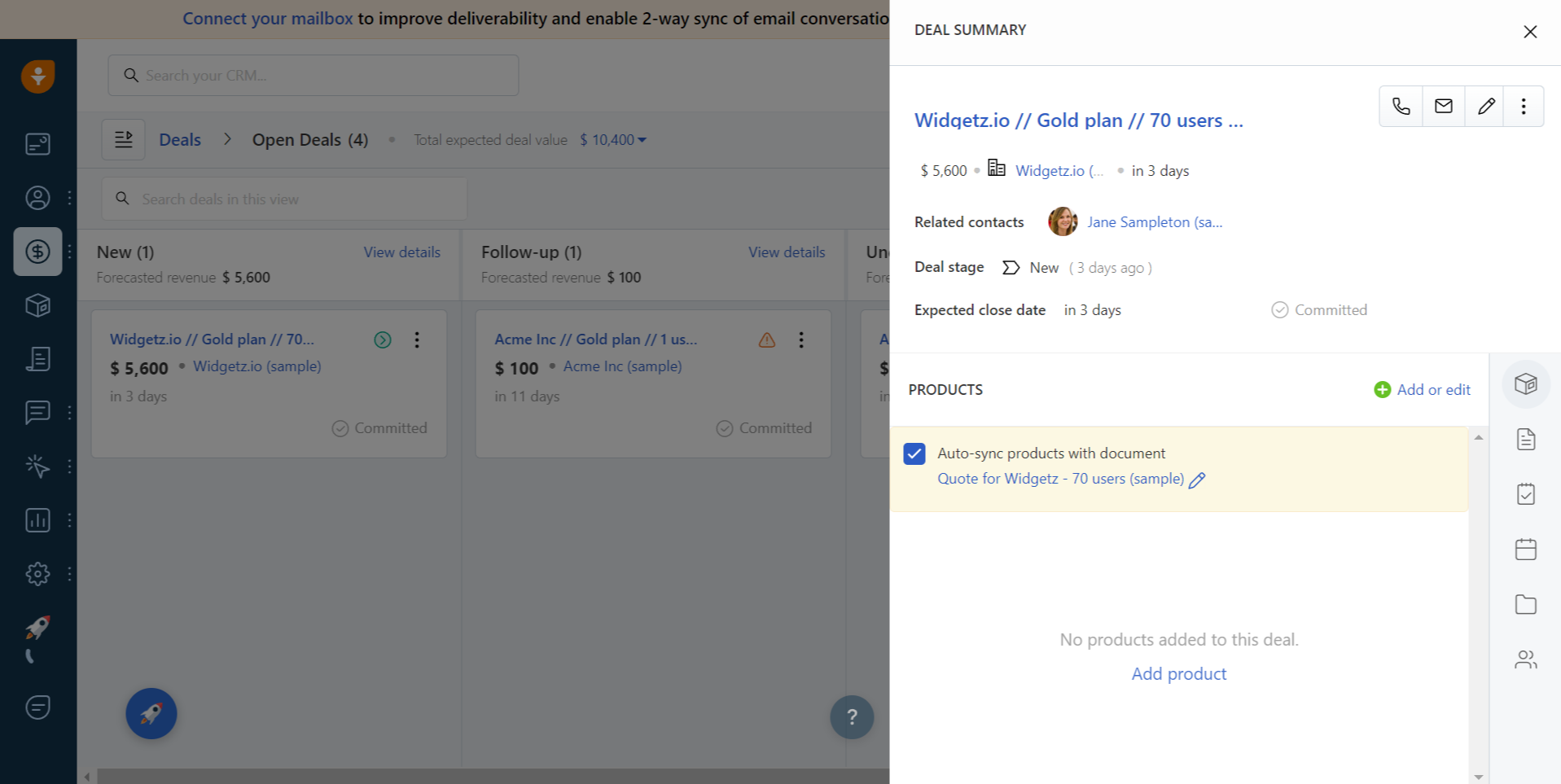 Freshsales has one free and three paid plans. The free plan covers contact and account management, contact lifecycle stages (they capture your contacts' lifecycles), built-in chat, email and phone, 24x5 support, and a mobile app. The cheapest paid plan costs $18 per month and provides you with a visual sales pipeline, AI-powered contact scoring, sales sequences, up to 2,000 bot sessions, and WhatsApp Business.
Pipedrive
Pipedrive's sales CRM is easy to use and set up. It helps you keep all your prospects in one place and focus on closing deals. The platform's sales assistant provides suggestions based on your previous performance. It enables you to see the gaps and improve your sales. To reach your prospects, you can set up an automated flow of emails. Synchronize your calendar with the email service you use to send email campaigns at the right time.
Pipedrive's CRM is a secure place for communication between departments. You can collaborate with other teams, share ideas, and help each other when necessary.
Below you can see how to add a new contact card in Pipedrive.
Pipedrive offers a free 14-day trial and four paid plans. The price for paid plans starts at $15 per month. You'll get lead, deal, calendar, pipeline management, simple data import, easy customization, 24/7 support, and 300+ integrations.
Congrats, now you know what an operational CRM is and why it's essential. Register with SendPulse to explore all the benefits of its free CRM.
References:
This article defines the term and uncovers its benefits and functions.
In this article, you'll find the 6 best operational CRMs.
Last Updated: 22.03.2023