Luckily, the software world always comes up with ideas for making the life of sales and customer support teams easier and streamlining tedious routines. CRM is such a solution.
CRM is a platform where sales and marketing departments can better manage their customer lifecycle with the help of automation and more straightforward workflows. It is a single database of all the customer information that makes teams more efficient and less prone to mistakes.
However, do small businesses with a little customer database really need a CRM system? Is a spreadsheet not enough? Let's take a closer look at this question and define what basic CRM functionality can be potentially of use for small businesses. Also, we prepared some tips on choosing the right solution based on your business needs.
The importance of CRM functionality for small businesses
Enterprises are the most vocal about using CRM systems: they have many clients to manage and many people on their marketing and sales teams who need a single database to cooperate well. So is there a place for small businesses in the CRM world? We let you decide for yourself, but here are some benefits to consider.

Better data organization
Even if you have a small client pool, you probably have lots of data on them. If it was enough to have a name and phone number with an address before, marketers and sales representatives now use more data: demographics, pain points, behavior peculiarities, etc. It is hard to keep organized within a spreadsheet; that are just too many entry points. You need a CRM platform to do the organization for you so you can get the much-needed data in no time with no mistakes or confusion.
Ability to monitor your success
The ability to store all business-related data in one place, communicate with clients from one interface, automate routine processes, evaluate employees' performance, and analyze the company's progress is crucial for any small business. A CRM system can help you achieve all of this. It allows you to see good or alarming trends and make better-informed decisions. As a result, you can increase sales productivity by up to 34%.
Boosted customer retention
CRMs help you attract new clients and keep in touch with your existing customers. They offer great functionality for email marketing which is one of the best channels to retain your customers.
At the same time, CRMs help you boost customer satisfaction through better customer support and easily accessible care for their individual preferences. And it is a known fact that customers return to businesses that they are satisfied with. Around 47% of businesses noticed that their customer satisfaction and retention drastically improved after adopting CRM.
Improved internal communication
It is quite difficult to pass information between different departments and keep management informed. At the same time, data sharing is extremely important for driving more sales and keeping workflows straightforward and quick.
CRM works as a data cluster that everyone can access and see updates and new insights into customer behavior. As a result, teams can see an improved productivity after implementing a CRM solution.
Key CRM features for small businesses
The market offers numerous CRM solutions, and some of them can become a waste of money for small businesses. Why? Because some CRM functionality was developed for enterprises — there are way too many complex but useless features for a small business. So, it's always better to start with basic CRM features and grow from there if your business needs them.
Contact management
Contact management allows you to organize data on your prospects, leads, and customers. It includes names, email addresses, social media accounts, company details, etc. The customer database is searchable so that sales reps can quickly find all the required information and have a full overview of a client. They can also add their own notes after each interaction and track the progress with every customer.
Learn how to master your sales cycle stages.
With our CRM system, you can easily manage your contacts in one place. Just create a contact card, fill it with all the details, add tags for easier management, and leave notes if necessary.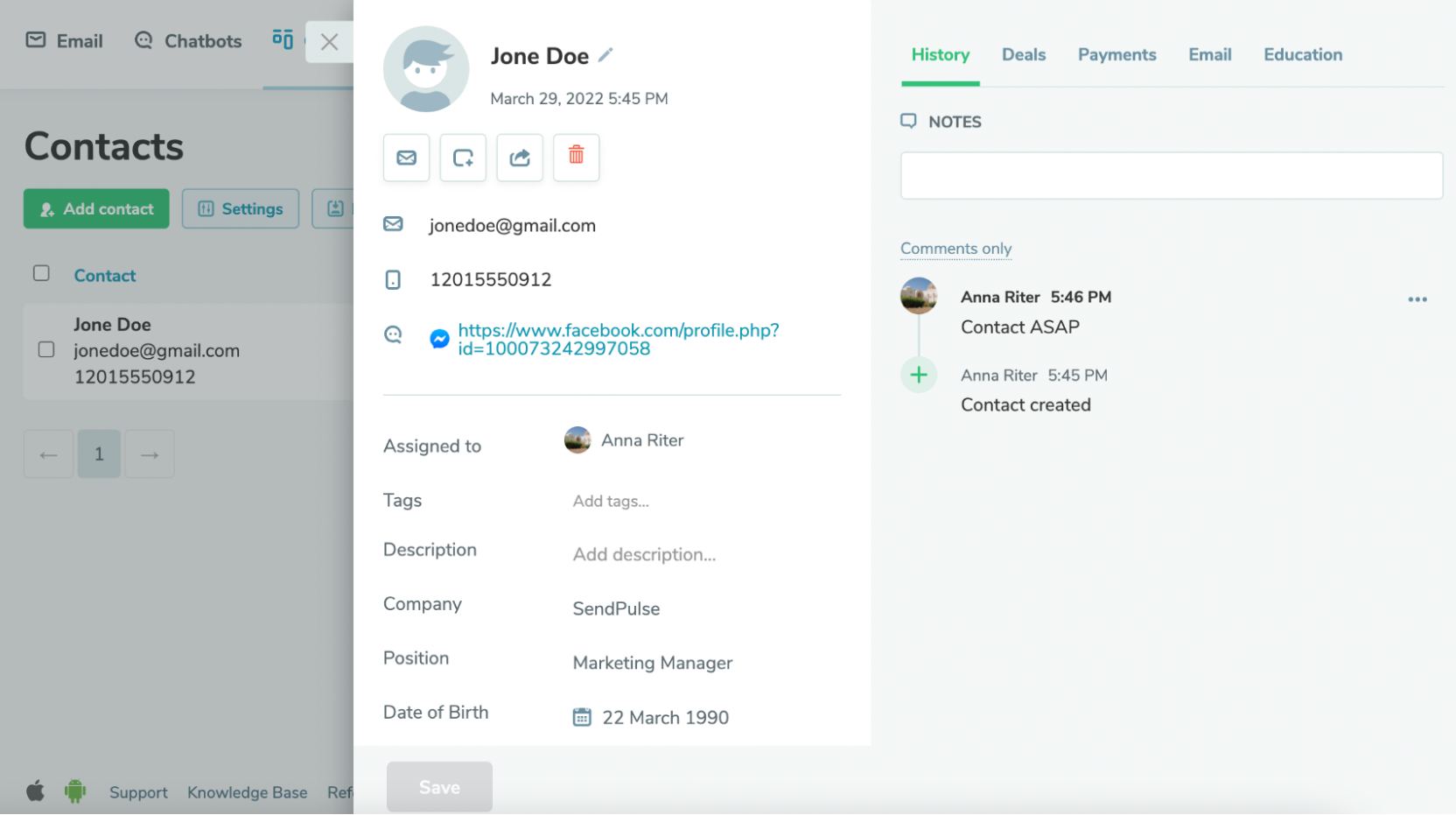 Sales automation
CRM can help you automate many routine tasks in sales and marketing like:
scheduling calls by just sending prospects a link to your calendar;
sending automatically formed follow-up tasks and getting notifications when they are due;
transferring customers to another team member when your work is done.
If you opt for AI-based solutions, you can also automatically get recommendations on how to interact with a client more effectively or get analytics on which lead is more qualified. They can also forecast when the sale is likely to be closed.
Lead management
Lead management allows you to capture leads, monitor their activities and behavior, qualify, and convert them into customers. You can track every one of them by organizing and prioritizing them on a CRM platform. It is very unlikely that you will forget about some of them, and it is extremely easy to qualify them with all the data stored in one place.
Learn more about effective lead capture pages.
In CRM by SendPulse, you can use a pipeline to organize all tasks into different stages of your lead nurturing process, and all your team members can always see which tasks require which action. So you can rest assured that all leads will be processed in the best possible manner.
Task management
You can organize your sales and marketing teams directly in CRM and improve communication between them with task management. You can see whether all leads are assigned to your reps, check who has too many or too few prospects, easily share new tasks, and so on.
At SalesPulse, for instance, you can distribute deals and check their progress. You can also set up alerts, so everyone knows when they get a new task or there is progress on a specific deal.
Analytics tools
Analytics are important if you want to continuously grow or at least survive. CRM analytics give you an overview of closed and pending sales, showing the statistics on every employee, average contract values, demo users, forecasts, etc. You are free to customize your report dashboard however you wish — just choose the KPIs relevant to your company.
With our CRM, you can monitor the number of ongoing and closed deals, their type, status, and total cost.
Integrations with other tools
Some CRM allows you to connect the tools you like, easily get and update data you need, and create an actual sales and marketing hub that meets your needs. You may want to connect your email marketing tools, social media tools, messengers, calendars, and so on.
For example, with SendPulse, you can nurture leads using chatbots, emails, and landing pages, accept payments, and manage sales from the first touchpoint to winning a deal. Besides, the SendPulse CRM API lets you set up the integration with your projects.
Tips for choosing the right CRM system for your small business
Even when you leave all the enterprise-level solutions behind, you still have plenty of options. It is a curse and a blessing at the same time because it is difficult to make a final choice.
We won't recommend specific tools but help you understand how to make a perfect choice for you. Find out some tips on what to look out for in CRM solutions for your small business.

Identify your needs and look for corresponding CRM features
There are no better and worse solutions — there are those that are good for your specific needs. So before you start looking at solutions, look at your workflows. You should ask employees what they would like to change in their workflows and identify your needs as a manager. It will help you create a list of CRM features that you find essential for your work.
See integration options
You probably have your favorite tools, and it will be painful to transfer to a new one or always alter between two unconnected systems. So if you necessarily want your CRM to integrate with some of your current software, make sure to check the CRM's integration capabilities.
Consider the ease of use
The probability of the new tool's successful adoption depends on how easy it is to get used to it. Thus, while implementing a CRM system, check out its guides and how-to videos to create a plan on how to introduce the new platform to your team. Detailed documentation and good customer support can speed up the CRM adoption process.
Request a demo
Adopting a CRM system is a critical choice, and it is not that easy to change it after you have completely onboarded it. Therefore, you should definitely try it before buying a yearly subscription to test each system in your business settings and choose the most suitable one for your company.
Ask about customization possibilities
Unfortunately, it is unlikely that you will find a 100% perfect solution — you can only build something that meets all your needs perfectly. Therefore, ask vendors for customization possibilities and adapt the platform to your needs as you go.
Conclusion about CRM capabilities
CRM capabilities can work well for any kind of business; you just need to make sure that you have the right functionality and do not waste money on complex, expensive systems that are useless to you.
There is no best solution, yet there is one that meets your needs the best. Ensure it has the necessary functionality and will be usable among your teams, and you are good to go!
If you are looking for an affordable and easy-to-use solution, consider using our CRM. It has extensive functionality that helps companies align their marketing and sales capabilities for business growth.