Customer acquisition is a process that entails various marketing methods aimed at bringing new customers. It helps convert leads, boost sales, and expand businesses.
Why is customer acquisition important?
Companies constantly use popular marketing channels such as social media, paid advertising, email marketing, referral programs, and SEO to obtain new customers who will engage with their brand. They implement different marketing techniques to ensure the company's growth, increase sales, and gain profit.
Brands aim to meet people's needs, wants, and expectations to win their interest and encourage them to become customers. With the help of digital technologies, companies collect vast quantities of data about their prospects both online and offline and use different methods to attract their attention. As a result, businesses receive their love and trust and get more loyal customers.
Let's get to know the benefits that customer acquisition can bring:
increased sales;
improved brand awareness;
your company's growth;
new investors, influencers, and partners involved;
empowerment to systematically convert new customers;
an opportunity to expand your business.
If you aim to grow your business, then customer acquisition is an essential step. Let's review how to measure customer acquisition.
How to Measure Customer Acquisition
You've probably heard about customer acquisition cost (CAC), a measure that defines how much a company needs to invest to bring in a new customer. This cost involves advertising, various events, marketing costs, bonuses, and commissions.
CAC is essential for your company since it allows you to calculate your ROI. Successful businesses always try to reduce this cost as it shows how healthy your sales, marketing, and customer service strategies are. Besides, decreasing this value empowers your company to allocate resources efficiently and receive a higher profit.
A marketing strategy that performs well doesn't require big expenditures on advertising that often generates low-quality leads. This is because a company that provides people with valuable and informative blog posts can bring organic prospects. Additionally, your current customers can also help you in customer acquisition. If your clients are satisfied with your product or service, they will recommend your brand to their friends and colleagues.
Below you can find a formula to calculate CAC. Firstly, define the time frames you're evaluating. Secondly, add your total sales and marketing costs together. Thirdly, divide the resulting amount by the number of your acquired customers during the specified time.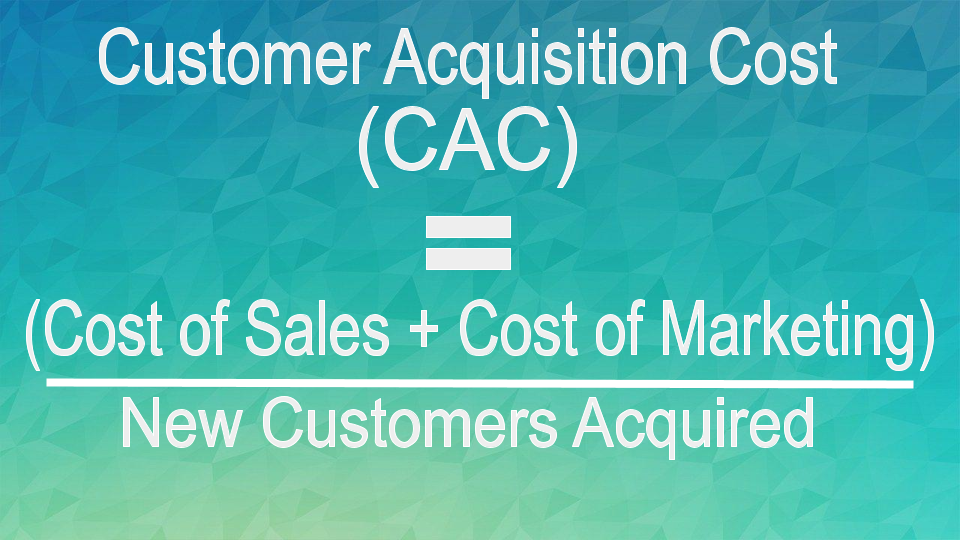 Now that you know how to calculate CAC, let's proceed to the next step — developing a customer acquisition strategy.
How to Develop Your Customer Acquisition Strategy
Define your ideal customer
Determine your goals
Choose an appropriate acquisition channel
Create a specific strategy for each channel
Communicate with your audience
Analyze and improve your strategy
Let's dive into several steps of the strategy if you want to acquire new customers.
Define your ideal customer. It's crucial to collect the personal information of your target groups if you aim t

o reach your 

target audience. Give some thought to creating your buyer persona to keep this information in order. Ask yourself questions that will help you define your customers' goals, problems, and interests.
Determine your goals. Once you have your ideal customer profile, you can set your objectives. This will help you develop a customer acquisition plan and implement various marketing methods to achieve your main goal. Besides, you can define your revenue expectations to see whether your business meets them.
Choose an appropriate acquisition channel. You can "meet" your new customers anywhere, either on social media channels or with the help of organic search. Remember that you can find the most effective channels by using buyer personas. The first thing you can do is find out where your personas spend their time and reach them through these platforms. Secondly, run an experiment by developing a hypothesis about the most popular communication channels that bring the highest ROI. Once you measure their performance, you can decide where to run your campaigns and how to allocate resources.
Create a specific strategy for each channel. Pay attention to the content your customers interact with, their favorite social media networks, and information your competitors post. Keep in mind that there's no point in reaching your audience through each channel since it will cost you a lot.
Communicate with your audience. If you want to improve your customer acquisition process, you need to establish your communication with clients. Surveys, interviews, social media engagement, and blog posts are excellent forms of interaction with your customers. With their help, you can find the gaps in the tactics you use to win new customers. Keep in touch with your clients to identify what they expect from you.
Analyze and improve your strategy. Consider utilizing analytics to be aware of your company's performance. Various factors can influence your customer acquisition process, and it's essential to be aware of them. Analytics can help you learn where customers buy your products, where they live, how they got to know about your company, and even more.
With the right customer acquisition approach, you can engage high-value consumers who can be loyal to your brand and stimulate its growth. We've prepared the most effective techniques to help you in this process.
12 Customer Acquisition Techniques
Video marketing
Subscription forms
Co-branded products
Giveaways and contests
Informative blog posts
Influencer marketing
SEO
Referral programs
Optimized landing pages
Paid ads
Web push notifications
Chatbots
Live chat
In today's world, many great marketing methods help win new clients. Let's walk you through the most valuable techniques that will attract new customers.
Video marketing
According to Wyzowl, 86% of people would like to see more videos from brands. Videos tend to bring many benefits to companies since they are visually appealing and encourage people to engage with your brand. Moreover, videos build trust, increase social shares, boost conversions and sales, influence buyer decisions, and even more.
For example, Wix provides their potential customers with design tutorials on creating a strip-based website.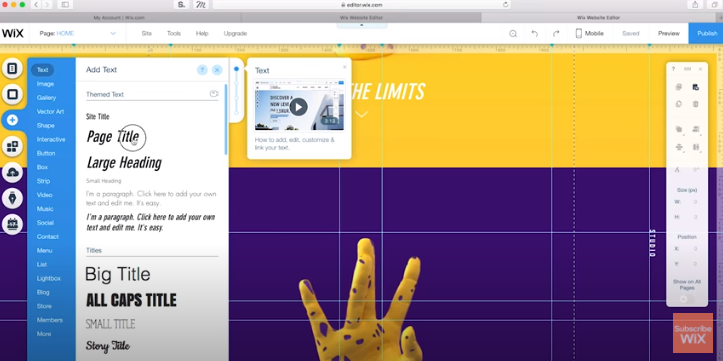 Subscription forms
Brands often use subscription forms to generate leads and legally collect subscribers' personal information, like names and email addresses. They can be located on their website or blog and enable users to fill in the form with their personal information. By doing this, they can receive the latest updates in newsletters. When subscribers agree to receive emails from your company, it means that they are interested in your products or service.
By registering with SendPulse, you have a great opportunity to create any type of subscription form for free. Besides, our service allows you to make multi-channel forms. They enable users to subscribe to your company's newsletters by using an email or a messenger.
Below you can see a subscription form example designed with the SendPulse builder.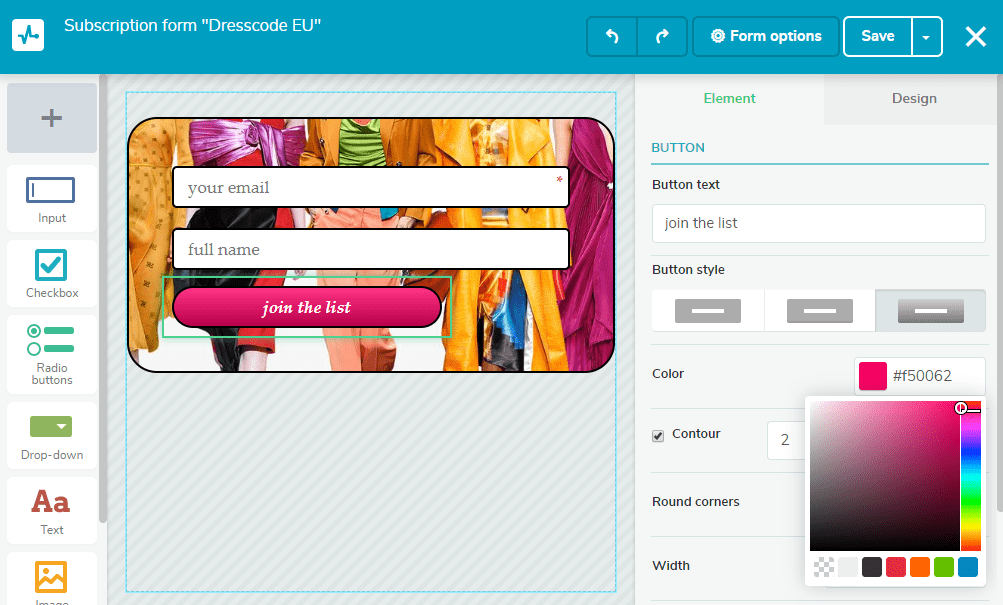 Co-branded products
This process involves cooperation between two companies that aim to create a product or a piece of content and promote it through various marketing channels. It can be presented in the form of an article, video, new product, app, and more. Co-branding helps companies reach new audiences, generate leads, and boost their brand recognition.
Let's take the partnership between Airbnb and Flipboard. As you know, Airbnb is a room-sharing app. Flipboard is an app that gathers content from different social platforms and blogs. These two companies cooperated to create a product called Trips. It enables Airbnb users to connect with hosts with the same interests. This way, the two brands can reach new clients all around the world.
Giveaways and contests
Consider conducting giveaways to increase your social media presence and boost engagement metrics. By tailoring a great giveaway or contest, you have an opportunity to reach a wider audience and obtain new clients in the future. Use your leading social media platforms to conduct a giveaway and set the rules that include tags, comments, shares, and likes to make your brand more recognizable.
Let's take a giveaway from Forever21, for example. The brand used Instagram for its contest. Users had to follow the rules mentioned in the post below to win the brand's items.
Informative blog posts
Content marketing is one of the easiest ways to obtain new customers. Although it can be a challenge to come up with high-quality articles, this allows your leads to make more informed decisions. As a result, you'll gain their trust and loyalty. Besides, valuable, engaging, interesting, and informative blog posts help drive conversions.
Let's take SendPulse, for example. The service has a blog that contains articles on various relevant marketing topics. It allows customers to study a specific topic, find out more about this service, and make a deliberate decision.
Influencer marketing
This type of marketing is growing faster than digital ads. Influencers can help you quickly attract new buyers since a large percentage of people listen to their recommendations on social networks. Besides, people start to engage when they see their opinion leaders in commercials, on a brand's website, etc. Once you choose the channel, decide on influencers who can generate leads. Here you can find a step-by-step guide on how to create your influencer marketing strategy.
For example, let's consider Puma's partnership with Selena Gomez. The singer often promotes the brand's products on her Instagram account. With the help of this opinion leader's multimillion audience, Puma can easily bring new clients.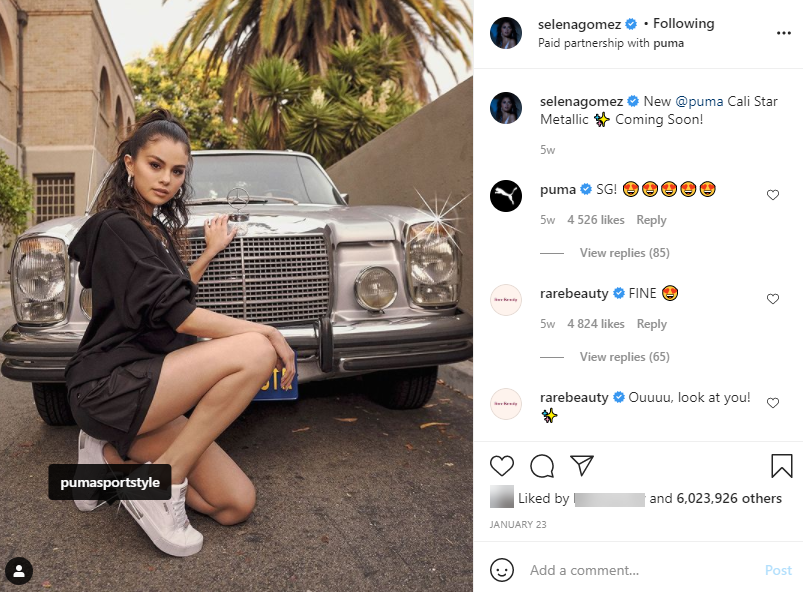 SEO
This is one of the most critical techniques that helps in acquiring new customers. The strategy entails optimizing your website to rank better in search results. Since users tend to visit the top five websites on the search engine results page, optimizing your pages for users and search robots is essential.
SEO helps your company obtain organic traffic and acquire new customers. Use industry-related keywords and backlinks from authority websites and ensure that your web page is mobile-friendly. Read our article to learn about the main principles of a great SEO strategy and useful SEO tools.
Referral programs
Running a referral program is the basics of any customer acquisition strategy. Offer your current customers discounts or special rewards to encourage them to recommend your products to their family, friends, or colleagues.
Let's take GREATS, for example. This brand designs sneakers and provides their customers with a special discount if they bring their friends.
Optimized landing pages
If you want to attract more customers, make sure you have a great landing page with an appealing and convenient design, concise copy, clear benefits of your products, images, and a CTA button.
Improving the elements of your landing page allows you to increase conversion rates. Your website should also be mobile-friendly since many users search for information from their smartphones.
There are several tips to consider when creating a landing page: make it simple, add your contact information, be consistent, and keep important information above the fold. It will help you boost your conversion rates. Our blog has an article that will help you dive deep into landing page design, find best practices and grab some inspiration from the examples.
If you still don't have a landing page or can't choose the best service to create it, try SendPulse. It allows clients to design a landing page, an online store, or a link page for their social media bio without any coding skills and absolutely for free. With the easy-to-use drag and drop builder, it will take you 15 minutes to create a responsive and good-looking page. Add subscription widgets and buttons with links to your chatbots, integrate with a payment system, and monitor statistics with the help of reports. Visit our Knowledge Base for more details.
Paid ads
Paid advertising can be a great fit for many businesses. These ads provide your company with instant visibility in search results and an opportunity to reach a wider audience and acquire new customers. With paid advertising, you can control who sees your ads on social media by setting targeting parameters.
Web push notifications
These instant messages open you an excellent opportunity to reach your largest audience — site visitors. You can set them for onboarding to inform your leads about the value of registering with your website, tell them about your news, interesting events, new products, features, and releases, and share various offers.
SendPulse provides you with the opportunity to choose a contact list, personalize and design web push notifications, send them to the necessary leads, and obtain conversions. Below you can see how to create a web push notification by simply using our service.
Here is a detailed guide on how to create and send push notifications.
Chatbots
Although you might have heard that chatbots are primarily used for messaging applications, some companies use them for landing pages. Chatbots help visitors gather information about a particular product faster, serve as a support service, and guide them through a large quantity of information.
For example, with Kayak's chatbot for Facebook Messenger, a new customer can easily find hotels, flights, and things to do. Within seconds, this chatbot searches many travel websites to find the information you need.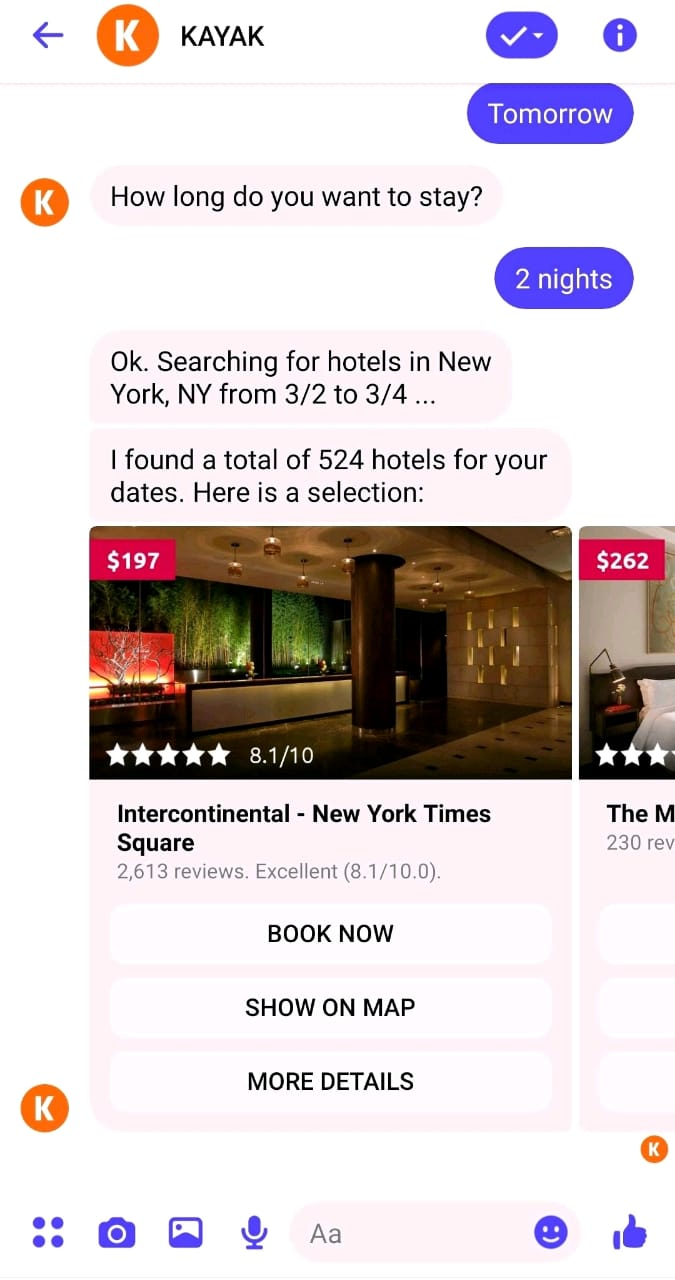 By using SendPulse, you can easily build travel industry chatbots for Telegram and Facebook messengers for free. For example, if you run a travel agency, you can keep your customers updated about the available tours, inform them about COVID restrictions in different countries, and more.
Below you can see a travel chatbot flow for Telegram created with our service.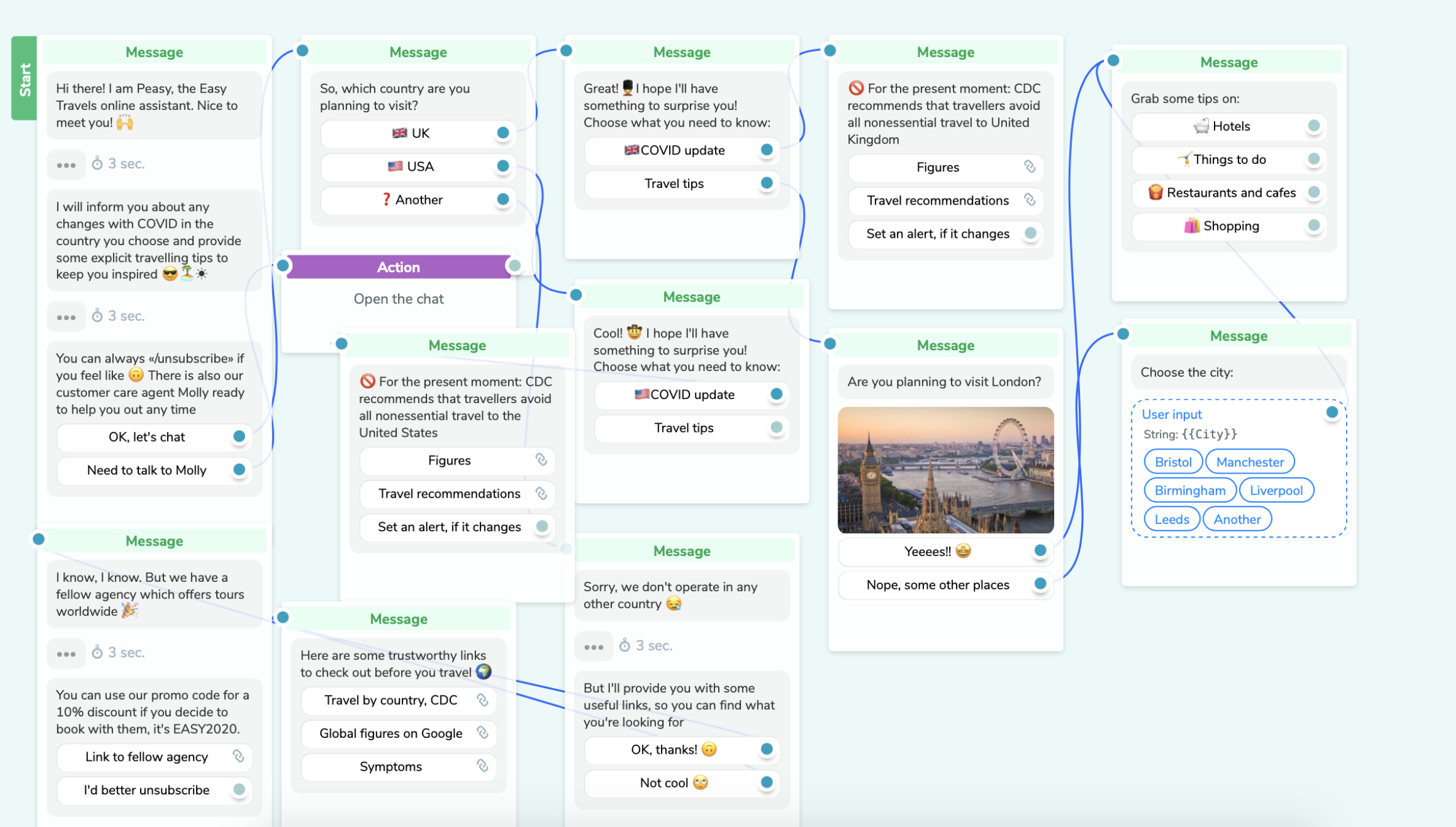 Besides travel and tourism companies, chatbots can be used in the healthcare industry, eCommerce business, online service providers, etc. They help improve your customer service, increase engagement, automate various processes, and collect information. Find out how to create a chatbot for Telegram with SendPulse.
Live chat
With a live chat, you can easily acquire new leads. Add a live chat widget to your website so visitors can ask questions, learn more about your brand, get help on a product, and make a purchase. This is your chance to convert a site visitor into a client. Below you can see how HubSpot does like that.
With SendPulse, you can create a live chat for your website for free without any coding skills.
Let's walk you through several examples of customer acquisition that vary from one company to another.
Customer Acquisition Examples
AssignmentMavens
HubSpot
Pepe Jeans London
ASOS
Pollfish
Remember that to engage new people, you'll need a multi-channel strategy that will ensure effective messaging with your potential clients. Let's see how famous brands manage to do it through various marketing channels.
AssignmentMavens
The service uses PPC ads to encourage customers to use their website and order an essay. As you can see, this ad appears when a user searches for websites that offer skilled writers' services.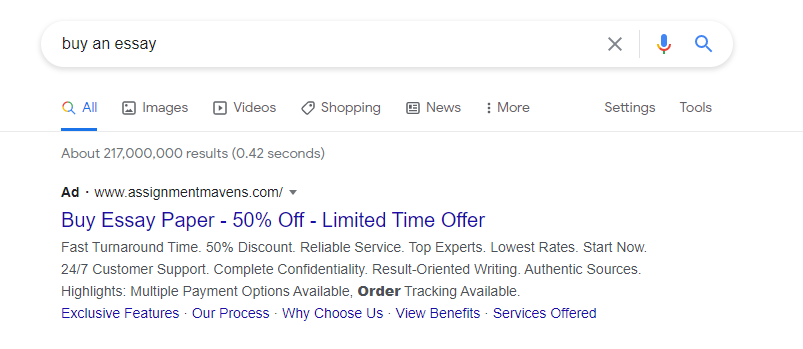 HubSpot
Twitter is one of the great ways of attracting customers since people are highly engaged in social media. Hundreds of millions of Twitter users enable companies to promote their business each month effectively. This example allows you to see how HubSpot tries to engage new viewers in their virtual customer experience conference called "CX Spotlight 2021". By mentioning digital industry leaders and free participation, the company invites new participants.
Pepe Jeans London
Influencer marketing is another great way to win the trust of new clients. The team of the famous jeans brand decided to cooperate with a world-known singer Dua Lipa. This opinion leader with more than sixty million followers on Instagram helps Pepe Jeans London build brand engagement.
ASOS
As you can see, ASOS uses Instagram ads for its promotion. Since the brand is aimed primarily at young and stylish people, using this platform is a great idea for attracting new customers. It involves a call-to-action button to drive traffic to their website and boost conversions.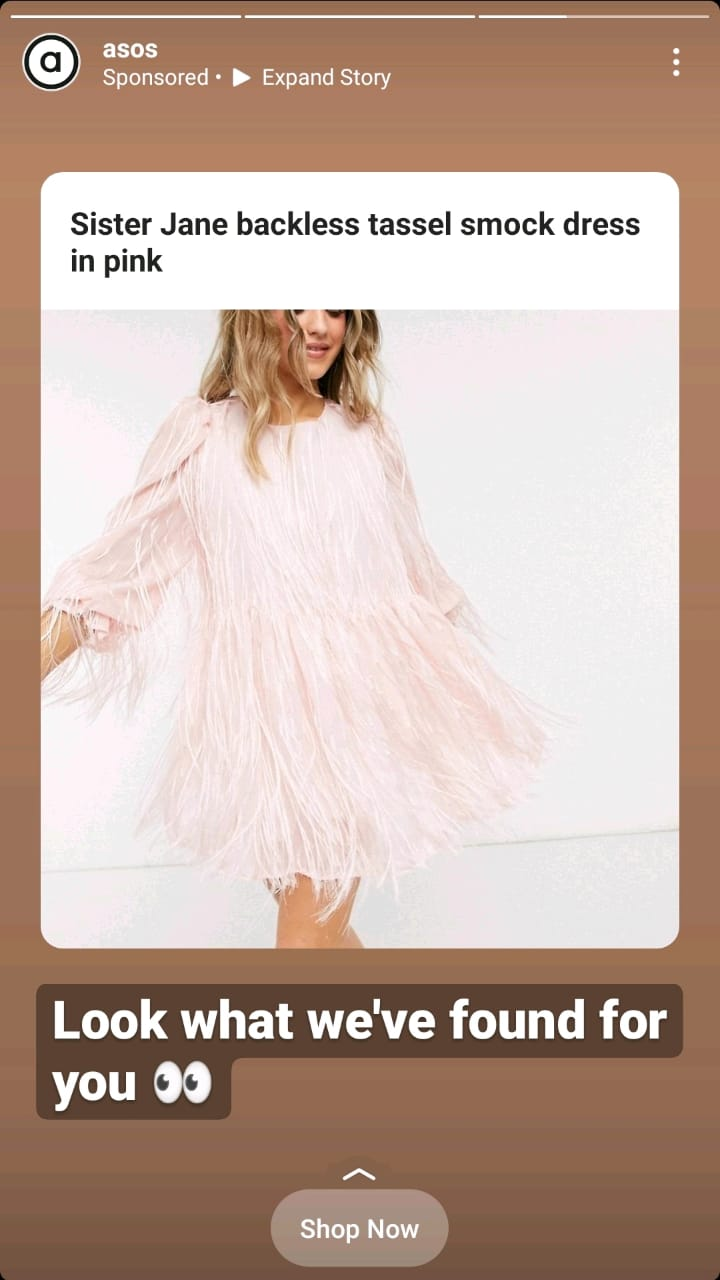 Pollfish
This survey platform provider uses pre-roll ads to promote its service through the popular platform — YouTube. They describe the benefits of their website, encourage users to visit their platform, and obtain real-time insights from actual customers.
If you aim to win new customers, boost ROI, and ensure your company's growth, be ready to implement various approaches. Research to discover the most appropriate marketing channels and methods that will allow you to attract more people to your business.
Resources:
Last Updated: 03.07.2023