Capturing leads and tracking them is tedious and time-consuming, especially when you rely entirely on spreadsheets and guesswork for the same. An efficient solution to this problem is lead management software.
In this post, we'll discuss the different benefits of lead management software in detail. But before that, it's important that you learn about lead management for more clarity. Let's begin.
What is lead management?
Put simply, lead management denotes all activities and systems revolving around acquiring and capturing leads, including monitoring the behavior and actions of leads and engaging and educating them. The overall purpose is to get them sales-ready and transform them into clients.
The greatest benefit of effective lead management is that it helps a company learn and understand its valued customers' needs and pain points. This, in turn, helps them develop suitable solutions to cater to their customers' needs. Just think about it. Buyers will definitely want to purchase from sellers who are already aware of their requirements.
What is lead management software?
Now that we know what lead management is, let's define lead management software. Such software helps automate the processes of lead management. It is a platform created to hold your entire lead data in a single central location while also tracking the activity, demographic information, and behavior of the leads.
Check out some lead generation tips that will help you build long-lasting relationships and provide value.
It's important to note that such software offers a separate function that automates repetitive manual processes in all stages of the lead management process. So, you can imagine how much time this tool can save, and this saved up time can then be dedicated to solving other core issues.
Another point you must know is that this kind of software is built to offer sales and marketing teams a collaborative space for easy lead management and for creating a unified experience across every touchpoint.
Benefits of lead management software
It's about time small businesses recognize the benefits of best-in-class lead management software to propel their business forward. No one wants their leads to get discarded, lost, or ignored. Hence, small businesses need to opt for an efficient lead management system to prevent leads from evaporating — it will only boost their revenue.

All said and done, let's now discuss the advantages of lead management software in more detail.
Reporting and analytics capabilities
It is vital to regularly monitor your leads.A lead management platform with efficient reporting and analytics capabilities helps you effortlessly track your leads. With the help of such software, you can continuously improvise on your customer journey.
Basically, analytics and reporting help you know your audience's demographics in more detail. You also get to know where your leads come from and what they do when they land on your pages.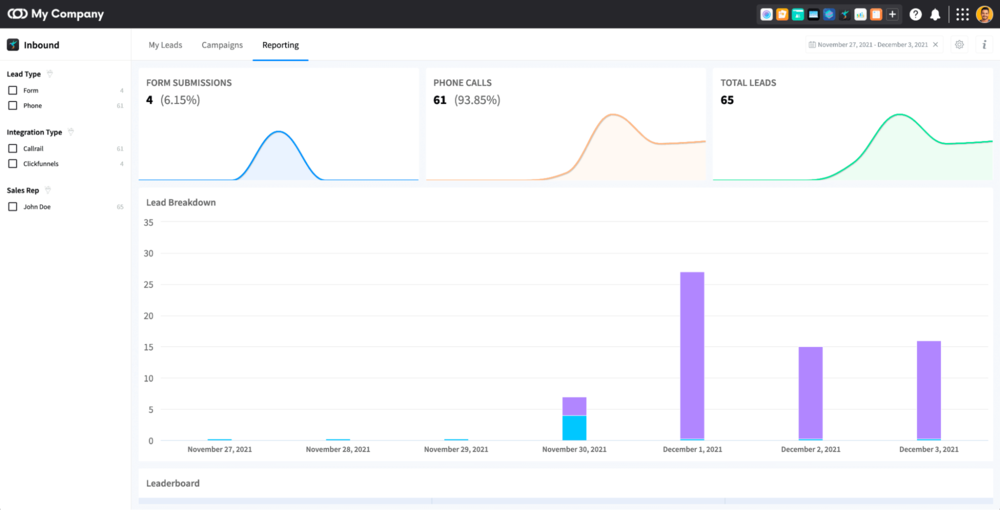 Efficient lead tracking
We all know how challenging it can be to keep tabs on your leads. It can also be difficult to identify which of them are more or less likely to convert. This is when lead management software comes into the picture. It helps you closely track your leads, due to which you can optimize the experience for the leads who are closer to conversion.
Lead filtering
A lead management system gives you a feature to score your leads based on their lead journey, that too automatically. This means that by the time they have gone through the process, you become aware of the highest quality leads. Lead nurturing provides a pre-defined score based on the lead's engagement, and every score is typically weighted in relation to every touchpoint. This helps optimize your communication towards the highest quality lead first and tremendously saves your time.
You can also filter leads with the help of a lead management system.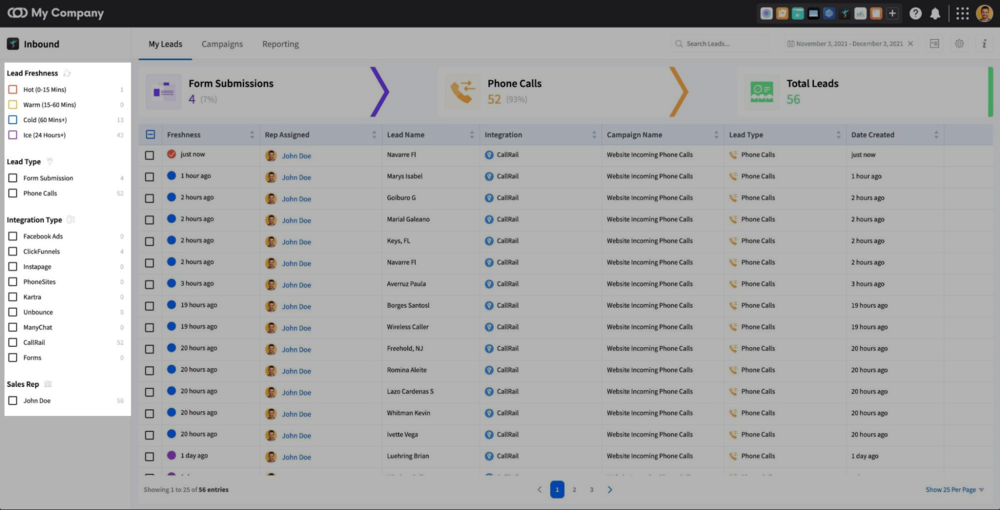 Lead prioritization
Lead management software also helps businesses decrease the time it takes to convert a lead into a customer and speeds up almost all the stages of the buying process. This is because you can prioritize your leads according to historical data of which leads convert the best. You can find this information in the system itself.
Efficient lead management software may also let you know the "lead freshness." You may get the data on how many leads qualify as hot, warm, cold, or ice (with the numbers updating in real-time). Keep this in mind — you need to contact "hot" leads first.
Automated responses
We all know this — a consumer wants a quick response to an inquiry. One of the greatest benefits of lead management software is scheduling automated responses.
Learn some proven tips you can follow to improve your customer service response time.
If you don't have such a system in place, responses to potential customers can get delayed. Many leads may expect the reply to come within an hour, and some might even wait for a day. But if they don't receive a rapid response, there is a high chance of them choosing the other options available.

Optimized sales team's efficiency
A lead management system is known to offer an organized flow of leads to the sales force, either by product line, geographically, or chronologically. This assists in optimizing the sales staff by distributing leads to the right salespeople in a timely order. The result? An increase in the efficiency of the sales team.
If you choose best-in-class software, you can distribute leads to your sales team in a way that they can instantly follow up with prospects.
Improved team coordination
Appropriate software will offer you and your team significant amounts of data associated with every campaign. This information helps your marketing and sales department work harmoniously by learning from the same data sets. They also remain on the same page, decreasing the likelihood of any mistakes or miscommunication. You can easily view the breakdown of a campaign in a lead management system, as shown in the image below.
Creating campaigns using different integrations
Choose software that helps import all inbound leads to your dashboard by integrating them into your favorite third-party tools. Then, whenever you create a new campaign in this lead management system with a specific integration, all leads from that campaign are collected in one convenient place. You can then assign those leads to different sales reps.
Check out a list of key integrations to empower your CRM software.
Turning a campaign on or off
In many cases, deleting a campaign from your software may not be in your best interest. Alternatively, you can easily turn a campaign off or on with just a few clicks.
When a campaign is off, it will cease to work with the integration to update the dashboard with fresh new lead information. However, existing lead information from that campaign will stay in your account only.
Turning your campaign on, on the other hand, will cause the integrations to resume as they normally would.
Customization
When you choose lead management software, you may have the feature to customize various things to make your work easier. For instance, you may be able to sort or remove columns of information displayed on a particular page. In some software, you can also select the number of items you want to view on a specific page.
Wrapping it up
While large corporations have already leveraged the advantages of a lead management system, many small businesses still aren't aware of the significance of such a platform.
Therefore, it's high time small businesses understand the benefits of efficient and effective lead management software. It's a fact — if you fail to pursue some portion of your marketing leads, it only means the loss of large sums of revenue. Going for software will automate all lead management processes and empower you to keep a close eye on your leads at all times. This way, you will be able to save time, stay productive, and achieve successful business growth.