Inbound lead generation is a strategy where businesses use valuable content to attract and convert leads into prospects or customers. Inbound lead generation plays into the customer's journey. Companies would create different types of content and use them strategically to deliver a personalized experience.
Why is all that important? Simple, modern consumers are drawn to brands that deliver a personalized customer experience, which a well-executed inbound lead generation campaign delivers. As a result, it increases conversion rates, and you get improved brand affinity as a bonus.
This post will share seven inbound lead generation strategies that will take your business to the next level. Let's jump right in!
Tap into UGC
User-generated content or UGC refers to unpaid content about a brand created by its customers. UGC comes in various forms, such as a review on Yelp or a follower tagging you in their posts.
UGC is a powerful inbound lead generation strategy that influences 90% of purchase decisions. It can help build brand trust and make more sales across the buyer journey. For example, you can use UGC for your social media campaigns to build brand awareness and attract leads. Brands like Hootsuite use this method.
You can also use UGC in the form of customer testimonials on your product and landing pages as social proof, which helps reassure prospects that your product is the real deal.
How do you get more user-generated content, though? First, you need to deliver an excellent customer experience that positively impacts your customers. Second, you can encourage your customers to leave reviews or create content for you, whether through a hashtag campaign, contest, or email reminders.

Research online customer behavior
Understanding the behavior of your website visitors can help you identify loopholes within your site. That, in turn, allows you to optimize your website to increase time-on-site and, hopefully, conversion rates.
The good news is that plenty of tools can help you monitor website visitors' behavior. Hotjar and Crazy Egg generate heatmaps and record web sessions to help you identify the most used and unused sections on your website, like a low-performing call to action (CTA).
This insight allows you to adjust your CTA design or the surrounding elements to generate more clicks.
On the other hand, recordings can show the customer journey of website visitors. They'll show you where a lead landed and the pages they visited before buying or bouncing from your site. You can use those recordings to identify leaks and optimize your conversion funnel.
You can also use on-site customer behavior tools for A/B testing. Let's say you want to start an online business, and you're not sure about some aspects of your landing pages. Maybe you have several value propositions, and you don't know which one can convert more leads. Or perhaps it's the CTA design you're not sure of.
Check out some pointers on laying out your landing page's copy and design.
These customer behavior insights can help you run an A/B test that will help you fine-tune your website. You create different versions of your website or landing pages, each with variations in specific elements, and test their performance. You can then monitor the user behavior on each version to identify which performs the best.
Use video content
Did you know YouTube is the second largest search engine, with over 1 billion hours of video content consumed daily? Cisco also predicts that in 2022, 82% of consumer traffic will be coming from video content. You are missing out on a lot if your brand does not have a video content marketing strategy in place.
One of the best places to share video content is on social media. About 91% of marketers are pleased with the ROI of video content marketing on social platforms.
Big brands like Airbnb conduct video marketing on social media extensively.
There are different types of videos you could create for your brand. You can make explainers or how-to videos, for example. Use these videos to demonstrate how your product works.
You can also partner with existing customers to create testimonial videos. These videos can boost your conversion rates significantly when used correctly. You can distribute testimonial videos through email or social media and even embed them on your landing pages. Slack has a short animated video on their homepage, for example.
Users of different channels have different video length preferences. For example, short videos work best on social media platforms like Facebook, TikTok, and Twitter. On the other hand, longer videos work better on YouTube and on-site.
Join in on the TikTok craze with our list of engaging TikTok video ideas.
Of course, creating videos alone is not enough to get the success you want. You'll need to learn the best practices for the distribution channels you're using. For example, you'll need to conduct proper keyword research to increase the visibility of YouTube videos. You can start by using the search function to identify popular keywords.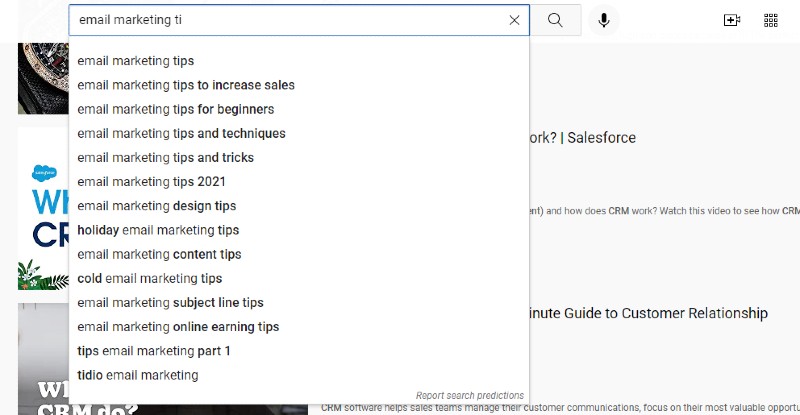 Creating quality video content can consume a lot of resources. However, the investment is worth it. Plus, it's pretty easy to repurpose video content. For example, you can use the same clip from your webinar to make a YouTube video or split your YouTube video into shorter videos for social media.
Create a mailing list
With an ROI of 4200%, email marketing is another inbound lead generation strategy you don't want to overlook. Email makes it very easy to nurture leads and build customer relationships.
The right email marketing software solution will also make this process feel effortless. These solutions automate most workflows allowing you to generate leads on autopilot.
To create a substantial mailing list, you can use lead magnets. Think of something valuable that your ideal customers will find useful and give it away in exchange for their email addresses. You can give away ebooks, cheat sheets, checklists, webinars, tools, and so on.
After building your list, you can focus on running the campaign itself. The email marketing best practices below will help you maximize your results:
Segment your list to put recipients with shared interests in the same group. Doing that makes it easier to run a personalized campaign for better results.
Write engaging subject lines to boost your open rates. You can try to evoke curiosity or create a sense of urgency with your subject lines. Personalized subject lines also work really well.
Clean up your mailing list regularly to maintain optimal email deliverability. Identify email addresses causing hard bounces and get rid of them.
Run A/B tests to optimize your emails. To identify the best-performing options, you can use these tests to evaluate different subject lines, email CTAs, value propositions, etc.
Check out our guide to learn more about running a successful email campaign.

Start podcasts
Podcasts have seen rapid growth in popularity in recent years. Statista reports that the number of U.S. consumers who have ever listened to a podcast has more than doubled in the last decade to hit 57%.
You should capitalize on the rising popularity of podcasts to build brand awareness and keep existing customers engaged. Start by finding exciting and educational podcasting topics in your niche. Remember, podcast listeners want to learn something new.
A consistent publishing schedule will help you build a following quickly as your listeners will start expecting new content every few days or weeks. You also need to invest in quality equipment to deliver high-quality audio. By eliminating background noise, you can clearly express your thoughts and engage with your listeners.
Finally, promote your podcast extensively. You can utilize other channels for this purpose. For instance, you could blog about your podcast or include excerpts of your episodes in existing blog posts. Inviting guest speakers and appearing as a guest in other people's podcasts are also great ways to promote your content.
You can market the podcast on your socials and mailing list too. You can create a contest and ask listeners to share clips of your podcast videos on social media. The listener who gets the most impressions can get a prize.
That's the trick Sam Parr and his co-host Shaan Puri used to promote their podcast, My First Million, on TikTok. The price for the winner was $5,000. As a result, the clips and hashtags for that campaign (#mfmclip and #mfmclips) got millions of impressions.
Use live chats
Most businesses think live chat is only suitable for providing customer support services. That's not entirely correct. An excellent live chat function can achieve way more than that.
Live chat can boost your lead generation efforts. How? Live chat is the in-store sales rep online businesses didn't have. This function helps your support team interact with prospects more efficiently. The real-time interaction allows your customer reps to understand the pressing needs of each prospect. That allows the reps to provide personalized product recommendations.
The live chat option can also boost order value. Since the reps are in direct contact with the prospect, they can identify cross-selling and upselling opportunities. They may also provide offers and other discounts to persuade potential buyers to spend more. The example above shows us how Vue, a business that manufactures and sells eyeglasses, uses live chat to take orders and answer frequently asked questions about their advanced products.
Furthermore, live chat increases brand trust, boosting your reputation and ultimately sales. That's because the option results in better communication between you and prospects.
Create high-quality blog posts
Blogging is one of the best inbound lead generation strategies around. A good blogging strategy will help you capture leads at different points of the sales funnel and convert them into customers. Make sure to optimize your blogs to climb up the search rankings.
For example, you can start by creating top-of-the-funnel (ToFu) content for leads in the awareness stage. ToFu content generally involves educational pieces that help leads find the answers they are looking for.
Then, you can create middle-of-the-funnel (MoFu) blog posts for the consideration stage. Prospects at this stage know they have a problem and are looking for a possible solution.
Now, of course, you have the solutions, but the prospects are still weighing multiple options. They are probably looking for the solution that provides the best value for money. MoFu content should help them consider your product.
Finally, work on the bottom-of-the-funnel (BoFu) content. You will have a group of highly-qualified leads at this stage. They are seriously considering your product, but you still need to deliver the final nudge to push them across the line.
As you can see, blogging can help you capture and nurture leads through the customer journey.
Let's say you have a premium SEO tool. At the top of the funnel, you'll be looking at topics like "how to rank higher on Google." That's an informative blog post on a topic that potential customers of an SEO tool struggle with. Therefore, it'll attract a large pool of leads which you can now start qualifying.
At the MoFu stage, you'll be looking at topics around product comparison. So you could have a versus article exploring multiple SEO tools, including your solution. That's where you can now convince the prospect that your product is the better choice.
Lastly, you want to deliver the final push with BoFu blog posts. You can write a blog post around a case study. This is a great way to show prospects that your product delivered incredible results for someone else.
Besides working on your blog, you should also consider guest blogging. A good guest posting strategy can help you tap into existing customer bases of businesses closely related to yours. With the premium SEO tool example above, one would be looking at guest posting opportunities at online businesses like CRM service providers, content marketing agencies, digital marketing businesses, etc.
Guest posting is also good for your SEO efforts. It can help you land quality backlinks that will boost your rankings on the search engine results pages. Higher rankings, in turn, will help you drive more leads to your website.
Summary
Those are the seven inbound lead generation strategies your business needs to level up. Once again, capitalize on user-generated content. Modern consumers trust UGC more than what brands say about themselves. Second, monitor customer behaviors on your website. That will help you identify issues within your site costing your customers.
The next strategy is video content. You can incorporate videos into your social media and email marketing campaigns. In addition, you can use videos on your landing page or create long-form content for YouTube and similar platforms.
Email marketing is another effective inbound lead generation strategy. It has an excellent ROI, and you can automate most workflows. Tap into the rising popularity of podcasting too. But make sure your episodes are engaging and educational.
Lastly, look into live chat functions and blogging. Live chat will help you deliver better customer support and increase conversions. Meanwhile, blogging allows you to attract, nurture, and convert leads.
With these inbound lead generation strategies, you should be able to meet your customer's expectations. These tips will help you meet the customers where they are and deliver a personalized experience. Good luck.