Do you always know where your customers are coming from? Are you sure you've exhausted all of the possible options and there are no new marketing channels to uncover and adopt? Think again.
On average, businesses use up to eight marketing channels, and their sources of leads can vary significantly depending on their niche. That doesn't mean you have to cast a wide net. Just don't settle for one lead source — be sure to test different channels. Let's talk about essential lead sources, how to use them to yield better results, and how to analyze them.
What is a lead source?
A lead source is any marketing channel that generates a reliable stream of leads. It's how your target audience discovers your brand and develops their interest in it. For marketers and business owners, it's crucial to measure existing lead sources and be aware of which are top-performing and which aren't worthy of investments.
It's not enough to just get people's contact data. Lead sources should bring you qualified leads ready to interact with your brand further, not just random observers. If your leads aren't converting into customers, you need to experiment more — only through trial and error can you discover which lead sources are actually effective for your business.

Why do you need to track and manage your lead sources?
Lead source management is what gives you clarity on which channels and options you need to pursue. By properly determining, tracking, and managing your lead sources, you can discover growth and development opportunities.
Here is what measuring and analyzing the success of your lead sources enables you to do:
allocate your budget, time, and effort accordingly;
prioritize qualified leads;
tailor your content for those specific channels;
communicate with a warmer audience;
preserve your team's resources and attention;
increase your sales organically.
With that in mind, let's look at the main lead sources and the advantages of using them.
12 digital lead sources you should be using
The truth is, some of these channels generate leads but can also be used as means of communication. These are potent channels that can complement and amplify each other. Businesses of all sizes successfully use them, and so can you!
Make sure to check out our YouTube video about powerful marketing channels that can help your business grow.
Lead source #1. Email marketing
We assume you already know that hardly any business can be conducted without using email. It remains the most affordable, reliable, and uncluttered channel and a go-to for contextual and meaningful lead generation and conversion. Also, 99% of email users check their inbox every day, with some checking 20 times a day.
Not everyone has a social media account, but everyone with stable access to the Internet has an email address.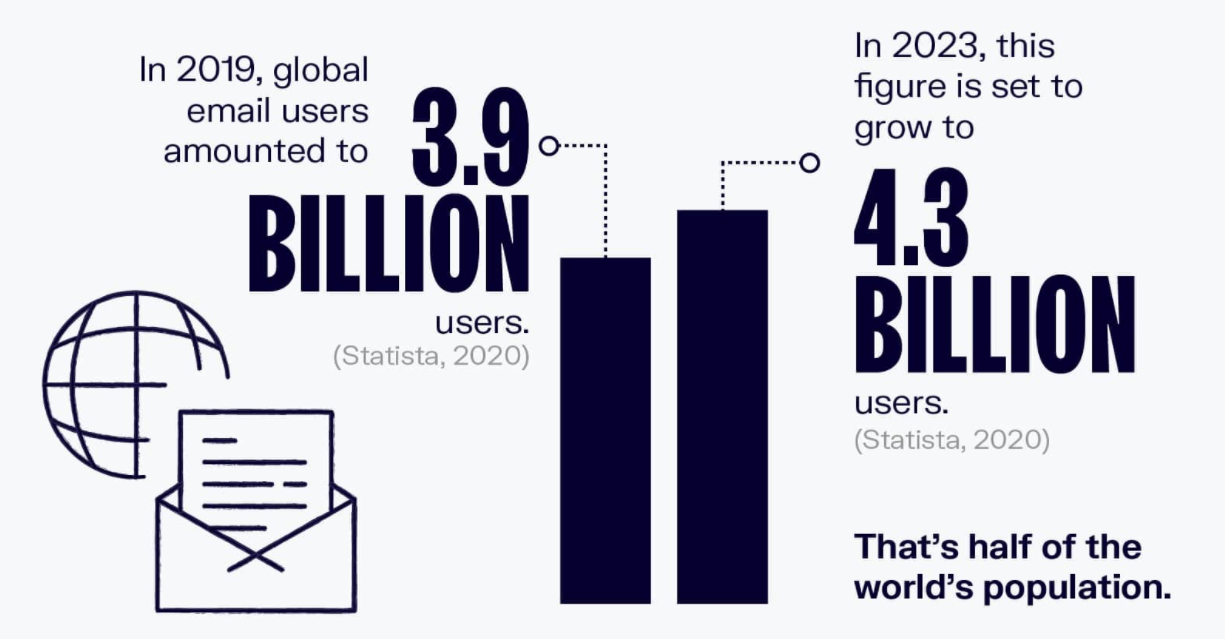 What makes this lead source so irreplaceable? There are quite a few important things you can achieve with it:
ensure sustainable relationships with your audience by sending automated sequences;
personalize your emails to add a degree of intimacy;
run lead-nurturing email campaigns and gradually convert leads into customers;
reach out to your existing customers and remind them about your brand;
segment your leads to deliver the most relevant and valuable content;
improve your email design and sending frequency as you go by looking at your analytics.
Email can be used as a lead source in a variety of different ways. People can contact your brand via email first, and you can send them messages later to boost their interest in your offer. Or, someone may share your email campaign with a friend, and they will subsequently subscribe to your emails. And, even more often, email is used as the means of communication through the whole customer lifecycle starting with a user giving their consent to receive emails from your brand.

Lead source #2. Social media
Consider this. Every third consumer prefers to communicate with brands and businesses on social media rather than over the phone, and 90% of social media users do so regularly. There you have it, an audience eager to discover new products and services that can improve their lives.
Many business owners and entrepreneurs still treat their social media presence as a side thing even though it could easily be their main lead source. The trickiest part is to identify the platforms your audience uses and the approach you need to take to win their attention.
In 2021, having an active Facebook and Instagram presence is a must for every business. By active we mean being available around the clock — more than 40% of users expect an answer within one hour.
But there are other, more niche social platforms that can bring you leads as well:
find the right people who might be interested in your B2B solution with LinkedIn Sales Navigator;
enter viral trends and market to Gen Z on TikTok;
let visual buyers discover your product on Pinterest;
use social media listening to identify potential leads on Twitter and other platforms.
Social media goes well beyond just spreading brand awareness. You can also use it for acquiring qualified leads and educating them about your offer on the same platform.
Lead source #3. Video marketing
Video is one of the most immersive and engaging forms of content, and it also proves you have a legit business run by real people with expertise. Video marketing boosts trust and saves users' time — instead of researching and reading page-long articles, they can just watch a 5-minute video and turn into leads right away.
Video marketing is mainly used to show products in action and entice potential buyers to experience them first hand.
Aside from impeccable promotional videos, you can also publish more down-to-earth content and attract leads who have real buying intent using various content formats:
vlogs;
tutorials;
reviews;
comparisons;
How-it's-made content;
FAQs;
myth-debunks.
Last but not least, videos always have a comment section, which makes it easy to address users' objections, answer their questions, and turn them into hot leads. Using YouTube as a lead generation platform is the most obvious solution, but you can also use Instagram Reels and IGTV to promote your brand.
Lead source #4. SEO
75% of marketers feel that their search engine optimization tactics are very effective at helping them achieve their marketing goals. That means that organic search alone can bring you enough visitors and leads, and SEO leads have the highest close rate, around 15%, according to HubSpot.
We've already written a lot about SEO for marketers and are thrilled to share that knowledge with you. In order to see your website somewhere near the top of Google search results, you need to:
All in all, organic search can bring you visitors with an expressed interest and a desire to buy — why not grab this opportunity and invest a bit of effort in improving your search rank?
Lead source #5. Influencer marketing
63% of young consumers (18 to 34-year-olds) say they trust influencers more than brands. This trend has existed as long as humans because we're hardwired this way — it's easier for us to develop trust in a real person than in an abstract corporation. You don't even need to go big when choosing influencers. The same research says relatability attracts people to influencers twice as much as popularity.
It's not just fashion brands that use influencer marketing. Even professional gear producers such as Petzl invest in collaborations with opinion leaders in their niche.
Influencer marketing opens many doors and let's you:
create the halo effect and strengthen your own influence by partnering with a thought leader;
speak to your audience in their language;
reach out to new potential customers without having to build your credibility from zero;
share more unique, authentic brand messages to stand out;
create unique virtual experiences for your audience and make them fall in love with your brand.
Users that click on your paid partnership usually have some trust in your brand and are way more likely to convert into leads, but only if you work with niche influencers.
Lead source #6. Paid advertising
The downside of organic methods of attracting attention to your brand is that you can spend months waiting for the results. Most of the time, you need a constant stream of leads to keep your business afloat, so you need to blend "natural" and paid sources to get the best results.
That's achievable with paid ads of different types, mostly on Google:
Google Display ads — reach 90% of users worldwide, across millions of websites, news pages, blogs, and Google sites like Gmail and YouTube;
Search campaigns — push your offer to the top of Google search results;
Shopping ads — promote your product in Google Shopping listings;
Video ads — reach and engage viewers on YouTube;
Gmail ads— reach your potential customers when they browse through their inboxes;
Local ads — drive leads to your physical venues or stores;
retargeting — advertise to potential buyers who have previously visited your site or expressed their interest in another way;
ads on Instagram, Facebook, and other platforms — catch your audience's attention when they're scrolling through their social feeds and trying to decompress.
Lead source #7. Blog
Creating expert content is crucial for seeding the value of your offer and positioning yourself as an authority. Having a blog kills two birds with one stone: you educate your website visitors and generate leads. It's one of the most efficient ways to deliver high-quality content, and you don't need to hire a team of coders or designers to do that — most CMS platforms allow you to design and publish posts completely code-free.
Every business should have a blog because there is always something to write about, and you can explore different formats:
industry insights;
customer stories;
in-depth articles;
guides;
long reads;
checklists;
trend research;
announcements;
reports;
reviews;
case studies;
interviews;
Q&A.
There is even more to that. Having a blog helps you target specific keywords with each post and attract organic traffic to your website. And, as we know, this unlocks another powerful source of leads. Other resources can also link to your posts and bring you even more potential buyers along with a slight search rank boost.
Lead source #8. Lead magnets
These are absolute killers in terms of efficiency. A lead magnet is a gated high-quality content asset that can only be accessed after submitting one's contact data. It captures users' curiosity and incentivizes them to provide their email address in exchange for some valuable content. All you need to do is add a subscription form you can build with SendPulse within minutes.
Literally any business can use lead magnets to generate high-quality leads and collect information about them.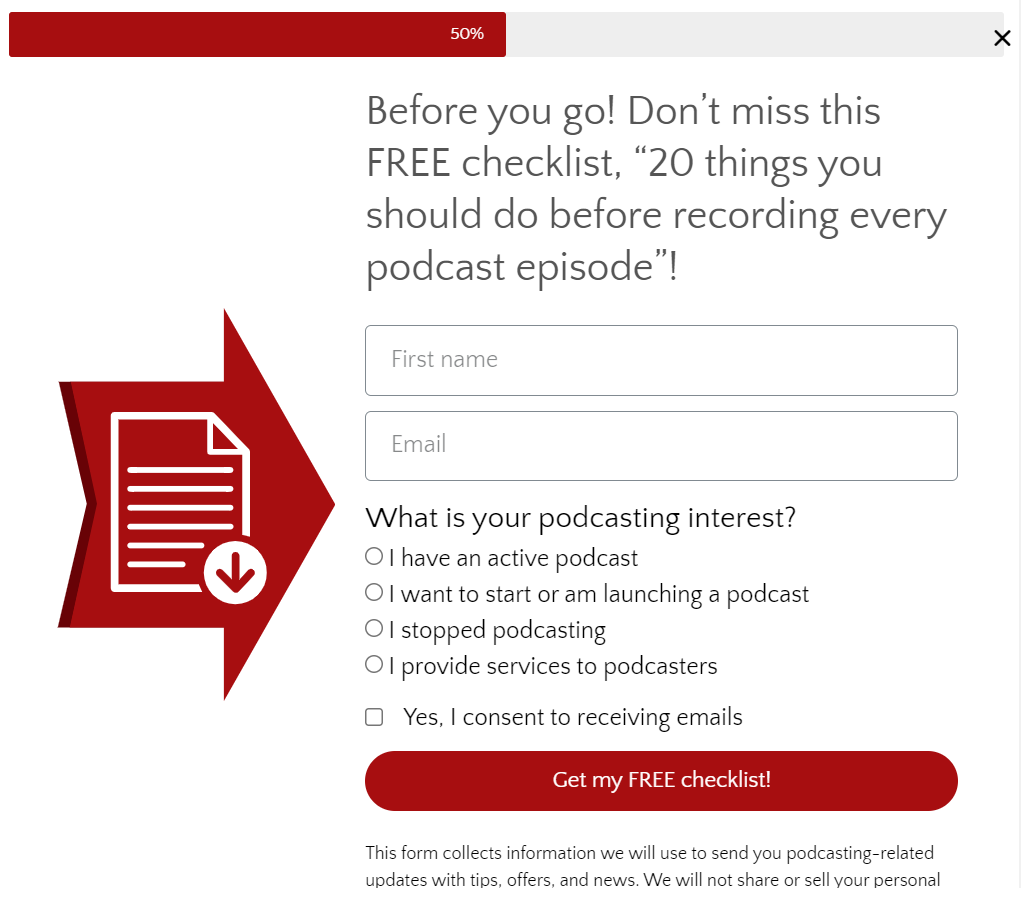 You can turn various assets into inexhaustible sources of leads:
eBooks;
recorded webinars;
checklists;
reports;
white papers;
courses;
templates;
podcasts;
worksheets;
libraries;
cheatsheets;
planners;
calculators;
free sessions;
free audits;
free strategic calls.
You can use stand-alone pages or your blog to promote your lead magnets and generate leads. The most important thing is to build up intrigue around your lead magnet and make users crave it. Creating lead magnets does require time and energy, but they work wonders if you promote them strategically.
Lead source #9. Landing pages
It goes without saying that your website should also be a lead source. But a homepage alone won't do the trick — you need to have dedicated stand-alone pages that feature specific keywords. Post-click landing pages help you transform cold traffic into leads by presenting your offer in a distraction-free manner.
When designed correctly, landing pages turn into lead-generation monsters, they:
contain laser-focused calls to action (CTAs);
emphasize your unique selling proposition;
focus on one specific offer and explain it in great detail;
emphasize the benefits of the offer and use customer-centric language;
include related images or videos that help users grasp the value of the offer;
feature reassuring social proof.
Another great thing about landing pages is that you can run split tests to find the perfect formula. Using heat maps, you can also get granular data on how your visitors interact with them and which elements pique their interest.

Lead source #10. Virtual events
Organizing webinars and courses is a great way to drive more leads and make them stick with you by boosting their natural interest. They require more investment than, say, blog posts, but you'll yield much better engagement and conversions. Virtual events help you deliver value and cement your expert position — and these are two great components for lead generation.
We've already mentioned the beauty of video marketing, but real-time events are even better in that regard:
They create a more personal connection between speakers and their audience.
Viewers can get their questions answered in real-time.
The event is perceived as more unique because it's happening here and now.
Webinars can be effective lead sources for coaches and other experts offering personal services.
You can blend two methods and promote your webinars with the help of dedicated landing pages to capture new leads with ease.
Lead source #11. Referral program
According to the Wharton School of Business, customers that buy products based on a referral are up to 24% more loyal to that brand than non-referrals. That means you get extremely engaged leads at a fraction of the cost. But how do you get those referrals in the first place?
You can encourage direct and indirect referrals through rewards such as discounts or special offers. Indirect referrals are positive reviews your customers leave on other resources. These reviews make other users pay attention to your brand and have the potential of turning them into leads. It's also helpful to create a tier-based loyalty program to hook your existing customers and motivate them to keep recommending you.
Lead source #12. Affiliate marketing
You can advertise your products or services through a large network of affiliates with their own audiences. It's a tried-and-true method to generate more leads, but you need to use it with caution. Fraudulent websites can drive up your cost per lead while dumping the overall effectiveness of your marketing campaigns. Also, Google penalizes low-quality affiliate sites, and having backlinks from them can also affect your resource negatively.
The best way to get affiliate links is by partnering with legit websites that have relevant and unique content and provide quality user experiences. Vetting potential affiliates is the main challenge, but you can overcome it by looking for niche resources with a following and readership and gradually build your way up.
How to track your lead sources
Your lead sources can be connected to one another and create a unified experience for your users. However, you need to study them separately when it comes to statistics and the results they bring.
Here are several tips to improve your lead source management and lead attribution:
Use customer relationship management (CRM) software such as a free CRM by SendPulse to keep track of your leads within a single database.
Track each social media channel separately even if you publish the same content there.
Attach UTM parameters to your CTA links to know which of your CTAs brings the most leads.
Scoring your leads is also important for developing an understanding of which lead sources are high-converting and which aren't cost-effective.
Summing up
You need to keep your creative juices flowing and experiment with new platforms from time to time. Our world changes, trends change, and the lead sources of yesterday might not be relevant tomorrow. We never know exactly what's going to work. What do you do if your main lead source dries up? Any website may crash and any social media account may accidentally get banned.
Lead source marketing requires taking a holistic approach. Don't put all your eggs in one basket but instead develop a diverse set of lead sources, organic and paid, that work in unison. Create an omnichannel strategy and provide your customers with a smooth experience. You can achieve that with the SendPulse set of tools for omnichannel marketing — give them a try and reinvent the way you generate leads and communicate with your customers!