An email marketing plan is a set of tactics used to build structured, effective, and mutually beneficial communication with your subscribers.
You can't simply create an email campaign, send it to a thousand random email addresses, and hope it will make your business prosper. You need to have a well-defined strategy.
Email marketing brings the best results when a brand builds relationships with customers based on trust, value, and assistance. Nurturing quality relationships takes a long time. Naturally, you need to plan your email marketing on a few levels. This article will help you work out your overall strategy and plan each step in detail.
Let's find out first why planning an email marketing strategy is worth your while.
Why are email marketing plans necessary?
Resource optimization
Understand your audience
Personalize the customer experience
Consistent buyer journey
Here are the goals that a well thought out marketing plan will help you achieve:
So, in general, planning helps better organize your email marketing efforts and produce more concise content. Getting in the habit of planning effectively will make you a more sophisticated email marketer.
Our blog's email marketing strategies are on fire!
How to create an email marketing plan?
Choose a reliable email service
Generate leads
Choose your style
Nurture leads
Schedule email campaigns
Use automation
Analyze email performance
Upon closer view, it turns out that email marketing is a quite complex channel, so you need to master various aspects to succeed. We've collected a set of email marketing best practices, so you have something to start with.
Email marketing plans differ from business to business. Say, you repair musical instruments and want to sell them online. Let's review some options that you may consider when planning an email marketing strategy.
Choose a reliable email service
Сhoose a reliable bulk email sender with an emphasis on marketing, and make sure that it offers advanced tools. Then set up authentication parameters like SPF and DKIM records to improve your email deliverability. If you start from scratch and your IP-address is new, gradually increase the number of emails you send to warm it up.
Generate leads
Create a subscription form so users can share their email addresses, like in the example below.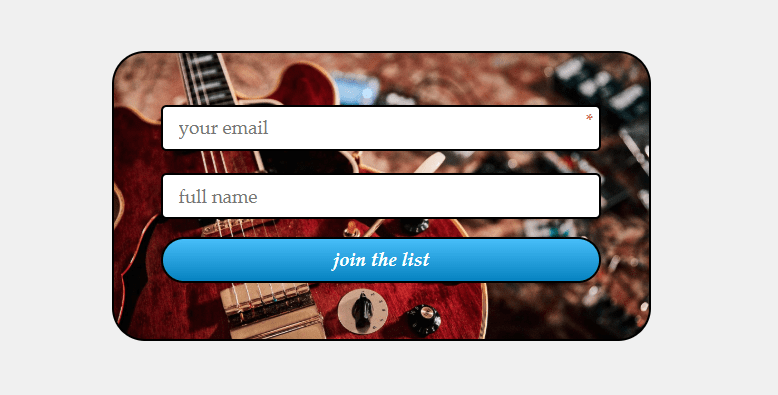 You can create one of four types of forms with SendPulse for free! You can add a form to any page of your website or blog. Here's how to do it.
To reach your audience on socials and in messengers, create multichannel forms. All you need is to add links to your Facebook Messenger or Telegram chatbot. Check out below such a form created with SendPulse.
Choose your style
Use a style of communication that is most comfortable for your subscribers. For an online music shop, an informal and friendly tone is a perfect choice.
Pay attention to your email design because it should be closely associated with your brand and consistent throughout all of your emails. For our music store example, using bright colors and high-quality, breathtaking images of the instruments should do the trick.
Nurture leads
"Content is king." In modern email marketing, you need to come up with the right mix of promotions and educational materials. For example, you can send a weekly newsletter containing helpful information about which guitar is suitable for beginners, which strings to choose, how to learn to play the guitar, etc. Carefully include your products in an educational context.
Read more about lead nurturing tactics here.
Schedule email campaigns
To save time and be prepared for marketing holidays in advance, you can schedule your email campaigns. Scheduling email campaigns is also helpful when parts of your audience are located in different timezones.
Create an email template and schedule it like with instruction.
Use automation
One of the most crucial parts of your strategy is automation because it allows you to set up many processes that will work without lifting a finger. You can make user's actions work as triggers and launch a sequence of emails you've previously built.
It is easy to set up automated emails with SendPulse. It takes little time to get acquainted with the service and create great email workflows. In the example below, an abandoned cart triggers the sequence. The first abandoned cart email is sent an hour after the user leaves the site.
There are plenty of types of emails you can send using automation:
For instance, it's nice to welcome new subscribers with a quiz that will help you gain useful insights about their preferences.
Analyze email performance
You can check emails for spam before sending them to improve their results. With SendPulse, for instance, you will get actionable recommendations, like in the screenshot below.
Once an email is sent, there are some metrics like open rate, click-through rate, unsubscribe rate, and more that allow you to track your progress. You can see statistics for every campaign you've sent with SendPulse, like in the screenshot below.
Remember to track your conversion rate, which indicates the effectiveness of an email marketing plan. You can define a conversion however you want, for example, how many guitars were bought as a result of a specific email campaign.
Now that you've learned how to create your email marketing plan, check out three more steps for successful email marketing:
Remove inactive users from your mailing list. As time goes by, some email addresses on your mailing list may become invalid. This means that your emails will never be opened and read. Unopened emails harm your sender reputation.
Run re-engagement campaigns. Some subscribers may lose interest in your brand and ignore your emails. Try to re-engage with them by offering a discount, and if they don't respond, remove them from your mailing list.
Ask for feedback. It's fine to ask people what they think about your emails. Their feedback will give you some insights and help improve your overall email marketing success.
You can find more information about internet marketing and email marketing in particular, by reading our blog.
FAQ
🔍 What does every email marketing plan need?
It needs data about your audience behavior, habits, and needs. Based on that data, you'll list communication touchpoints that email marketing can cover. For instance, you may need automated welcome emails to improve onboarding or abandoned cart emails to return users to their purchase. At last, your strategy needs a reliable bulk email service, like SendPulse. Using SendPulse, you will have all the necessary email marketing tools at hand, including email automation, email list management, segmentation, and personalization for free.
✔️ What does a good email marketing plan look like?
It should be well-structured and detailed. Create it on paper, in Google Docs, or use specialized mind-mapping tools. Note that the size of your plan depends on your business, meaning that a small business may only need to automate one or two communication touchpoints using emails to really see the difference.
Last Updated: 06.09.2023