An abandoned cart email is an email sent to a subscriber who has added an item to their shopping cart but has not completed a purchase. It belongs to triggered emails.
In the video below, the SendPulse marketer shares ideas on how to build an abandoned cart email series. Check out!
Marketers successfully use abandoned cart emails to drive more conversions, increase sales and "to inspire" passive clients. Can you imagine that 67% of clients abandon their shopping carts? This means that you are likely making three times fewer sales than you could be with the help of abandoned cart emails. Abandoned cart emails are a must in email marketing.
It is stated by SaleCycle that half of the subscribers, who receive an abandoned cart email, open it and a third follow the link to their cart. This statistic may not seem like much, but the results depend on the reasons your clients are abandoning their carts. Understanding more about your users' behavior will help you create excellent abandoned cart emails to benefit both your business and your customers.
Abandoned cart emails give you a chance to recover, and remind clients about your brand. 
Reasons for Abandoned Shopping Carts
Price
Shipping costs
Long and complicated checkout process
Technical issues
Lack of time
Payment options
Price. Adding items to a shopping cart does not mean all clients will make a purchase in the end. Some users are used to adding lots of items to their cart or to choosing excess products to see the total price. Some clients may complete their purchases, but some may be not satisfied with the price.
Shipping costs. Shipping costs may prevent some users from completing a purchase, especially – goods from abroad. The shipping weight of a product or high taxes may reduce completed purchases.
Long and complicated checkout process. Some people are too busy to complete the checkout process, some do not want to give too much personal information. Everybody is afraid of privacy breaches, that's why it's much easier to find the same item elsewhere and, perhaps, even for lower price. Why should they spend too much time on a purchase?
Technical issues. Problems with the Internet connection or technical problems on the website will surely prevent clients from making a purchase. Surely, they will put it on the back burner, but they are not likely to remember about it later.
Lack of time. This reason could be at the top of this list. Perhaps, a client wanted to buy a specific item, but while searching came across other interesting items. In the end, they did not have time to checkout and left.
Payment options. A variety of payment options will make users not only choose the best one for them but trust you more as well. Big retailers always offer many payment methods. Cash on delivery is the most dependable and favorable method for most clients.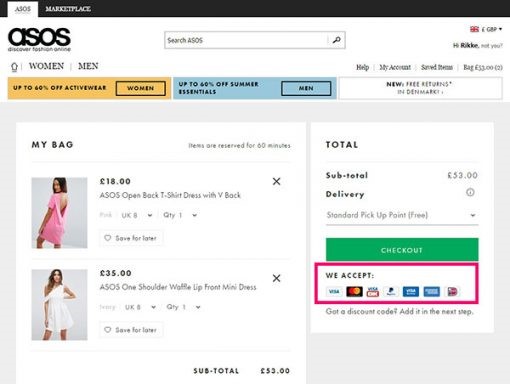 Suppose, once you were prevented from making a purchase for one of these reasons. 
Well-created abandoned cart emails will motivate your clients to complete their purchases. 
How to Create a Good Abandoned Cart Email
Be precise
Offer a discount
Use personalization
Include reviews
Inform users about the total price
Send within 24 hours
Be precise. Do not make your subscribers read too much text to understand, and remember who you are. Just write a couple of sentences about your brand and remind clients about the item left in their shopping cart.
Offer a discount. Because the most common reason for abandoned shopping carts relates to price, a discount is an excellent idea. You may consider reducing a price by 10% or offer free shipping. Show that you care about your clients!
Use personalization. Personalization is a critical part of email marketing, sending personalized emails builds trust and improves brand recognition. Do not miss a chance to use it!
Include reviews. A client may be afraid of buying an expensive product and this is alright. We all search for true reviews and testimonials before making an order. Why not include reviews in your abandoned cart email?
Inform users about the total price. If your client's shopping cart includes more than 1 item, add information about each item to the email and include the total price at the end. Thus, you'll not only save your client's time but show them that you care.
Send within 24 hours. Do not postpone sending abandoned cart email, otherwise, a client may forget and no longer need your product. The optimal time to send an abandoned cart email is within 24 hours of the shopping cart being abandoned.
How to Send an Abandoned Shopping Cart Email with SendPulse
SendPulse allows you to automate your email marketing. Recently, we've released a new feature – Automation 360.
Automation 360 makes it possible to send emails, notifications, and SMS triggered by subscribers' actions. This ensures automation and an individual approach for every client.
You can create an event based on an a newly abandoned shopping cart, set conditions, like if a subscriber completed a purchase or not. You can count a purchase as a conversion, this way, you will be able to track the statistics of all of your emails.
Read this step-by-step guide on how to send an abandoned cart email using Automation 360.
References
FAQ
Last Updated: 2020-03-31