You probably know that customer feedback plays a huge role in online promotion. This is supported by facts from numerous studies:
Customer feedback is just one of the many examples of social proof; in addition to the "wisdom of your friends," celebrity endorsements and more. In this article, we will delve into different sources of social proof and show how to use social proof in email marketing.
What is social proof?
The term "social proof" was coined by psychologist Robert Cialdini. In his book "Influence: The Psychology of Persuasion," he listed it as one of the six main tools to influence human behavior. Robert Cialdini claims that at times of uncertainty, most individuals tend to rely on other people's opinions.
Social proof — an opinion or behavior of other people we take into consideration while making our own decisions.
This tendency has been widely utilized by marketers and salespeople. For example, few commercials go without a bold claim, such as "More than ten thousand people use our product daily." Street musicians put several banknotes into their hats in front of them to encourage the listeners to give them more money. Background laughter in sitcoms is a way to influence viewers with social proof. It implies that "if other people think the joke is worth a laugh, then it must be a good joke."
When it comes to online shopping, the degree of uncertainty is even higher: one cannot try the product or look a shop assistant in the eye. For this reason, people read user testimonials, ask for their friends' advice, or consider the number of subscribers on the company's social media pages and its online presence at large.
The most reliable sources of social proof are:
Experts — products and services are best advertised by an expert in the industry.
Influencers — a celebrity or a popular blogger can mention a particular product or even provide positive feedback on it.
Users — your clients can leave reviews or recommend the product from their own experience.
Impressive numbers — a large group of people can express their brand loyalty by subscribing to the brand's social media pages.
Awards — the company or its product can boast about their impressive awards or recognition they received.
Friends and acquaintances — your friends can share brand content on their social media.
Social proof is the main organic booster of a brand's social media presence. While visiting a company's social media pages, you can see if your friends are subscribed to it right away.
The effectiveness of social proof in marketing
Social proof can influence your client's decisions in every stage of the sales funnel. When a potential client isn't familiar with a company or does not realize their own needs, expert and influencer opinions appear to be the most effective types of social proof. Names of famous people used in articles and advertisements help attract more attention to the product and the problems it solves.
If a person is already familiar with a company and is ready to join the brand's audience, use "the wisdom of crowds" to encourage the potential client to join the tribe. For this, you can quote the number of your subscribers on social media and email subscription forms or put other companies' logos on your website.
When a customer is ready to make a purchase decision, it is best to use types of social proof like user testimonials, case studies, as well as awards and certificates. Customer feedback and case studies help sell products or services via a website, email, or landing pages.
How to use social proof in email marketing
You can encourage users to subscribe to your newsletter and complete target actions mentioned in your email by using elements of social proof in email marketing.
"Sell" the email subscription
As we have already indicated, large numbers of supporters attract new people to your audience. For this reason, numbers are widely used on email subscription forms.
Take a look at how organically the Wait But Why blog has merged its email subscription form with social media buttons. Their website visitors learn that the resource has a vast army of fans on all of the popular social media platforms, and are encouraged to join it:
The Hustle, an online magazine, quotes the number of their subscribers to use as a social proof. A website visitor can join the club by simply entering their email in the corresponding field to receive fresh and carefully selected news articles every day.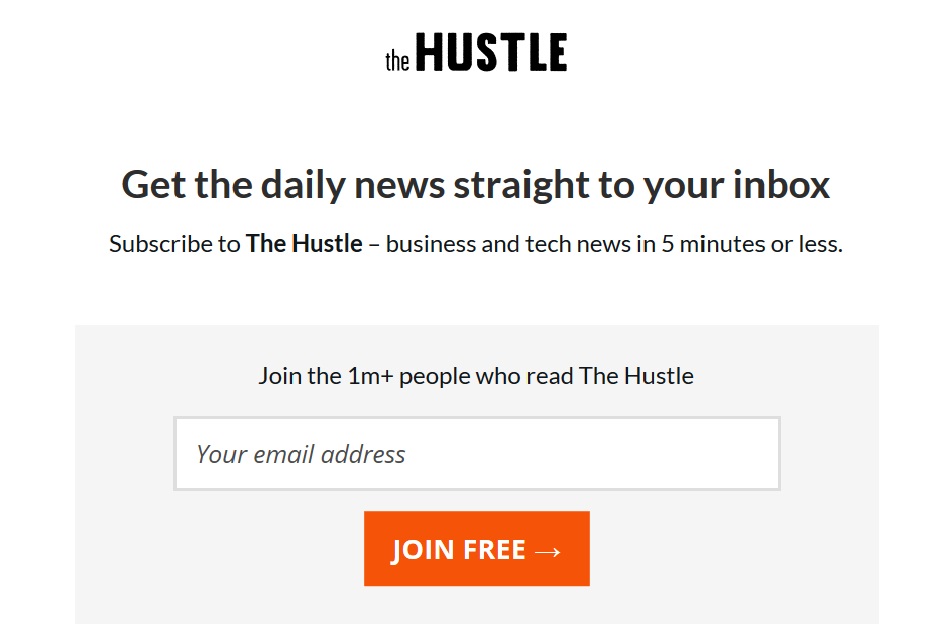 Add value to promotional emails
Customers' reviews and case studies are the most popular way to use social proof in email marketing. NIC+ZOE, an online store, added a client's photo in one of the brand's clothing pieces and posted a review in their promotional email.
Vintage Tub and Bath has picked a lineup of the most popular vintage bathtubs and quoted clients' reviews on them.

Weleda, a beauty products brand, uses expert reviews as social proof in its email marketing campaign. These women are experts in different spheres, but all of them can highlight some perks of Weleda products both from their professional and personal standpoints.
The marketers of the British jewellery brand, Monica Vinader, have successfully employed a celebrity persona in their email. They noticed that the Duchess of Cambridge wore a pair of their earrings and wrote about it in their email:
Meanwhile, New Balance compiled a list of their clothing worn by Olympic champions.
Use social proof in abandoned cart emails to assure customers that they are making the right choice
Social proof is also used to encourage a potential client to proceed with their purchase. For example, Brooklinen accompanies each item in their abandoned cart email with a client's review.
Add some convincing details in the email to heat up subscribers' interest
Social proof in the form of awards and certificates reminds clients that they are dealing with a renowned and reputable company. Thus, by using this form of social proof in email marketing, you can boost customer loyalty and help your brand stay attractive to new and existing clients.
If the award is very important, you can inform your audience about it with a special email. However, in most cases, certificates and award logos are added to the email template. For example, Olay placed an award logo in its welcome email.
You can also use other types of social proof in your email signature. For example, MeUndies humorously hinted at the number of clients they have worldwide in the email footer.
User generated content and social proof
More and more brand content is being generated by users, do not hesitate to use it as social proof to boost your client base.
It is important to follow your clients social media posts, comment on them and encourage further interactions. In this case, existing clients will attract the new ones. For example, marketing specialists at Hustle magazine, quoted their readers' tweets to encourage potential customers to subscribe to their emails and join the fan club.
Social proof and email marketing takeaways
Social proof is the opinions of other people that we tend to rely on while making decisions.
The most common sources of social proof are: experts, influencers, group opinions (e.g., audience in social media), certificates, friends and family.
How to use social proof in email marketing: quote the number of readers to encourage website visitors to subscribe to your email mailing list; publish customer reviews in promotional and other emails to make the product more attractive. Mention awards in the footer and signature to emphasize the company's importance and boost customer loyalty.
Register with SendPulse and interact with your clients using email campaigns, web push notifications, Facebook Messenger chatbots, and other channels. Use the power of social proof in email marketing to make your messages more convincing!