Business owners and marketing teams dedicate weeks to brainstorming to grow their mailing lists. Regardless of the industry, email capture is a powerful and effective marketing ploy. At present, there are many ways and tools to increase your subscriber base. This post will cover the basics of email capturing and introduce a couple of ways to acquire email leads.
What is email capturing, and why is it important?
Email capture is the lifeblood of growing your leads in business and marketing. It is a technique used to expand subscriber lists by asking website visitors for their email addresses. Often, brands and companies offer something valuable in return, like a discount code, an eBook, a VIP membership, etc.
Collecting emails is vital to running your business because it allows you to stay in touch with your customers, nurture the relationship, and lead them through their buyers' journey.
If you wonder whether email marketing still yields decent results, the numbers prove it. According to Statista, worldwide email marketing revenue was $8.4 billion in 2021 and over $9 billion in 2022. Moreover, it is expected to generate even more revenue in the coming years.
Quick and effective email capture best practices
Establishing an email database is one of the paramount factors in brand development and reaching out to your audience. And here the question arises — how to do it and, most importantly, do it effectively?
Insert a subscription form on your website
One of the most unobtrusive ways to capture emails is by placing a subscription form on your website. This gives your prospects absolute freedom of choice, ensuring that only people who are really interested in your product join your mailing list.
For a subscription form to be effective, make sure it is visible on your website and easy to fill out. For example, FabFitFun placed it in its footer and mentioned what a customer would get in return.
Introduce pop-ups to your landing page
Another promising way to effectively capture emails is to place a pop-up form — modal window, overlay, or video pop-up — on your page. Basically, pop-ups, or their variations, appear on your website when a user performs a specific action.
Email capture pop-ups
can be triggered, for example, after exceeding a minimum view time, scrolling more than 50%, or accessing a specific part of a website.
A nice practice here is to offer some value in return for an email address. If your smart widget offers a clearly articulated benefit to the customer, there's a good chance they'll go for it.
Have a look at the Wild Souls website. They decided not to place a modal window on their main page to preserve a great customer experience. Instead, a uniquely designed email capture pop-up is placed in the bottom corner. Its eye-catching design grabs attention without being pushy or irritating.
Some brands implement exit intent pop-ups to collect customers' feedback or offer perks like exclusive content or future updates. In this case, not only do you get valuable insights if you provide your lead with a survey, but it also allows you to stay connected and nurture your relationship in the future.
Launch a giveaway on your website or social media channels
One more strategy to win customers and grow your mailing list is to give away some testers or enable free trials, depending on the type of your business. This is a great way to capture emails from potential leads for several reasons. Firstly, it is most likely that people who are already interested in your brand or business will take part in the draw or a free trial. Secondly, freebies also increase FOMO (fear of missing an opportunity), which motivates people to participate even more.
Gisada, for example, runs a conventional giveaway for free perfume samples. Additionally, they ask for an email address in the form to stay in touch with you after this special offer ends.
Such giveaways work perfectly on social media platforms as well. Depending on your goals, you can set the rules accordingly. To generate email leads from Instagram or Facebook giveaways, ask users to provide their email addresses to access the giveaway. This way, you will capture the email addresses of all the users who entered your contest. After that, you can launch your next email marketing campaign targeting new leads.
The best email capture software
A great email capture tool is what you need to actually start making the most of your web traffic. There are a number of them on the market. In this section, you will get acquainted with some email capture software and learn more about its peculiarities.
SendPulse
SendPulse is a multichannel marketing automation platform with free CRM, and the ability to create chatbots, courses, and landing pages. With its help, you can set up subscription forms and pop-ups to collect your website visitors' data. Easy-to-use builders allow full customization to suit your brand's image.
With SendPulse, you get user-friendly builders for subscription forms. You can play with placement and type, as it can be an embedded form, pop-up, floating bar, or fixed window. Of course, you can tune display options, whether you want your form to appear immediately or after some time. It's also worth noting that the SendPulse forms are responsive, so they will be automatically adapted to users' devices. You can change the style and add or remove elements with just a few clicks.
Moreover, when it comes to pop-ups, a variety of pre-made templates is available to you. Implement video pop-ups and horizontal or floating windows, depending on your needs. After receiving the contact details of your visitors, you can tailor emails based on the gender or geographic location of your customers on the same platform, run A/B testing to make sure what kind of email campaigns yield the best results, and manage mailing lists and campaigns on the go from a mobile app.
Pricing: There is a free pop-up plan with all the core features to tweak your email campaigns. The standard plan starts at $6.40/month for 10,000 unique visitors.
Sleeknote
Sleeknote is a user-friendly pop-up builder with a number of customizable elements. In this editor, you can craft pop-ups for different purposes, such as email capture, product recommendations, announcements, or feedback requests. Sleeknote's features support timely pop-ups and help you segment your visitors based on their behavior.
This simple drag-and-drop tool is perfect for creating slide-ins and conventional forms. You can choose a template from an extensive library or create a unique pop-up design that will enhance the appearance of your page even further. It's also possible to tune your floating windows for different gadgets to make sure your visitors have the best customer experience.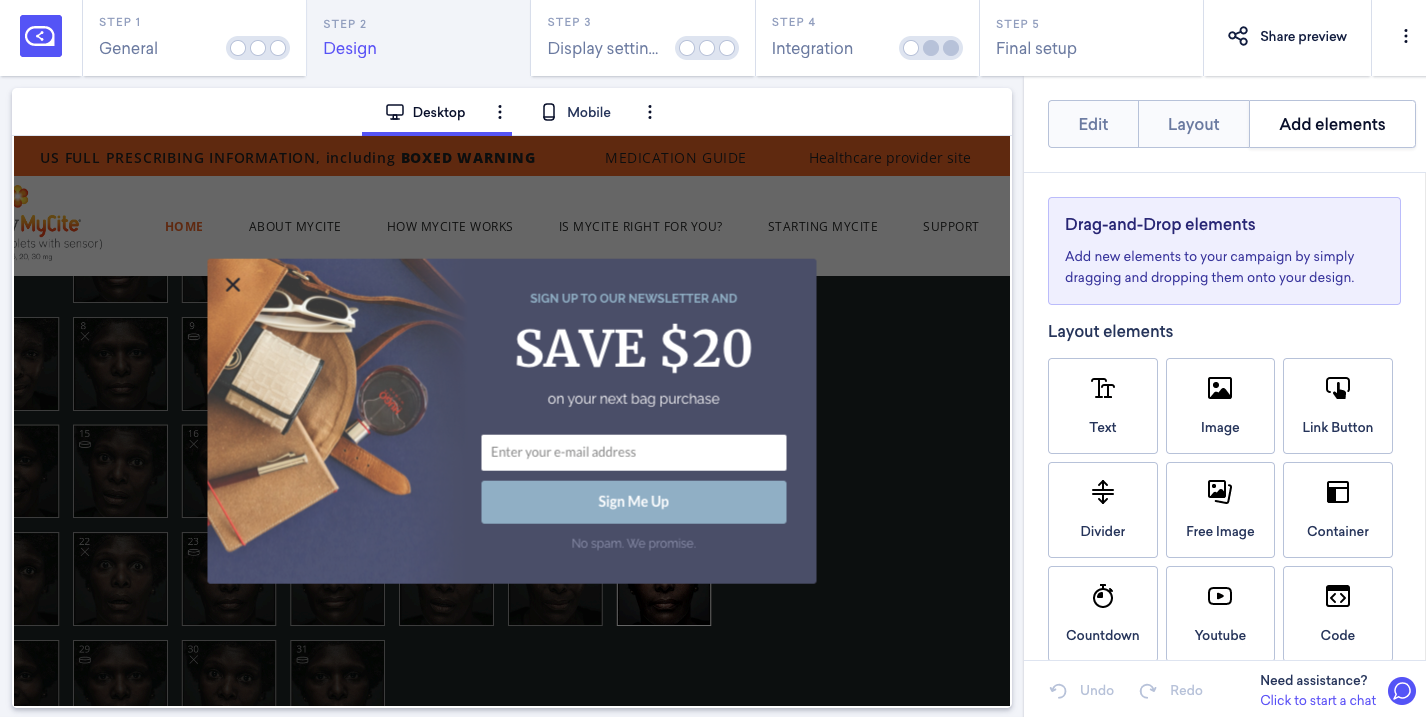 Moreover, you have access to advanced analytics, where you can track your conversion goals, run A/B split testing, and analyze device-specific data. Sleeknote also offers integration with other software tools you might use. Its integrations list contains services for email marketing, CMS, webinar platforms, etc.
Pricing: Sleeknote's pricing plans vary from €49 to 369 per month. You can also try any plan for 7 days free of charge.
Sumo
Sumo is software with multiple list-building tools that enhance lead conversion. It's pretty easy to use, as you don't need any coding skills to set up your email marketing from scratch. All the forms can be customized and tuned for different goals, like welcoming or exit-intent pop-ups. You can also choose between different styles. There are several templates that you can change with relative ease.
Another useful feature is WordPress, Shopify, and Google Tag Manager plugins. Just like that, you can install Sumo on your WordPress website and boost your email lead-capturing at once. This tool allows you to create share buttons and add them to the left side of the window at the beginning or the end of the article. This feature might come in handy if you produce content or have a blog tab on your website.
Pricing: Sumo offers a fully free plan without advanced analytics tools or an unlimited paid plan for $39/month.
ThriveThemes
ThriveThemes is another tool you might want to consider. It comes with a number of lead-generation features that uplift your WordPress site.
There are several subscription form types available for you. Among them are a pop-up, ribbon, widget, slide-in, inline, or any other form you can imagine. Using Thrive Suite, you can create any off-page type of subscription form or add one to any of your landing pages or WordPress theme templates.
Choose from professionally pre-designed templates or build any subscription form you want and trigger it on any page on your website. If you are worried that your widgets might be too intrusive, Thrive Lead lets you hide forms for people who are already on your mailing list. Just like that, you can ensure that you'll target only new visitors.
Moreover, Thrive Suite integrates with several useful marketing tools and constantly adds new integrations. This means that connecting your website to your email marketing provider has never been easier.
The service provides other valuable features like scarcity campaigns, advanced lead generation elements, online quizzes and courses, and so on.
Pricing: ThriveThemes offers only one plan for $149/quarterly or $299/yearly.
Mailmunch
Mailmunch aims at lead generation by converting your site visitors into quality leads with a wide array of list-building tools. By using the service, you can get a deeper insight into people visiting your website and their actions. MailMunch provides different solutions including email marketing, landing pages, pop-ups, marketing analytics, etc.
You can make your email campaigns stand out with unique templates designed for your niche, be it cosmetics or the real estate industry. To capture emails in the first place, it's also possible to customize pop-ups and forms.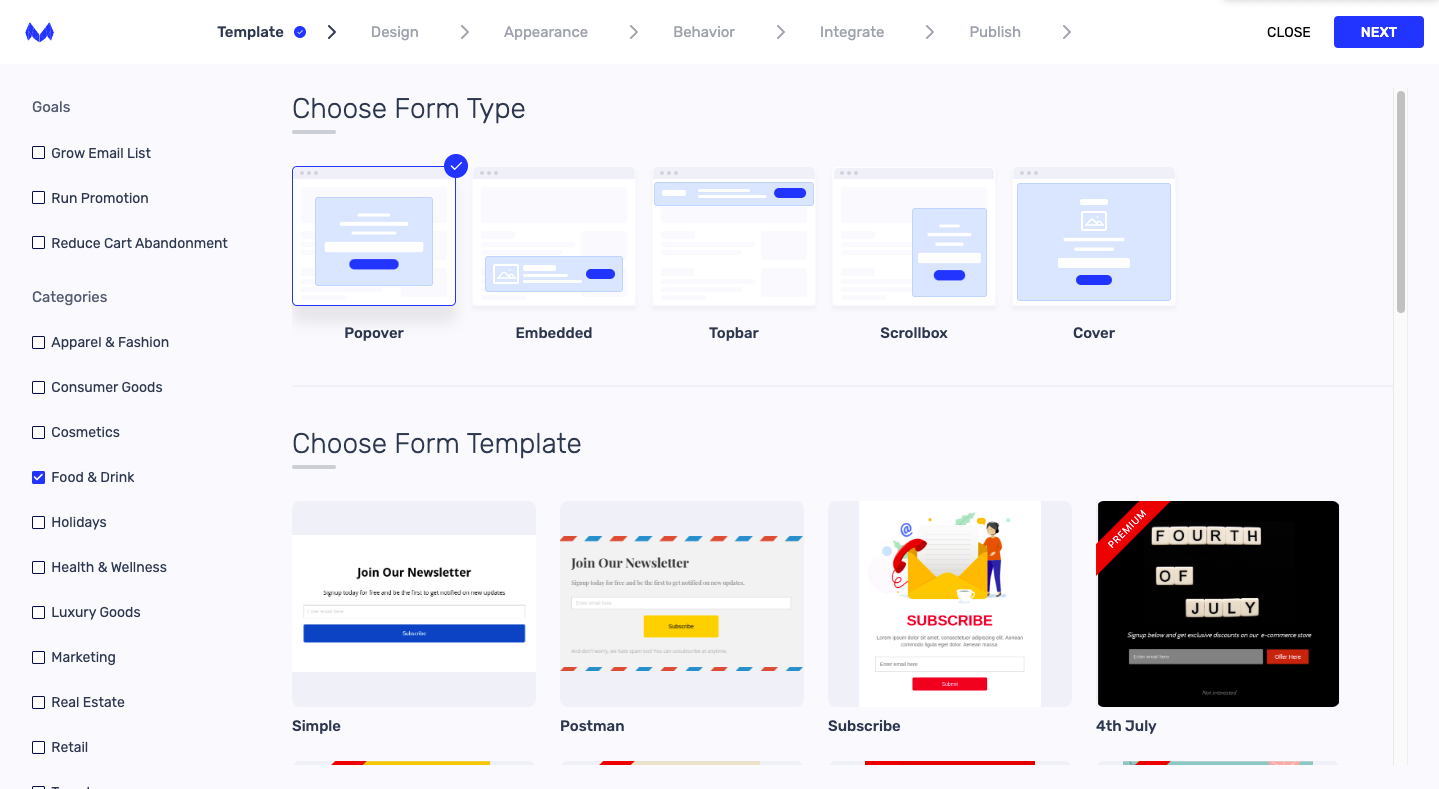 With Mailmunch, you can embed multiple types of subscription forms like exit pop-ups, top bars, scroll boxes, and even more. In addition, Mailmunch pop-ups are fully responsive and mobile-optimized. Within the analytics tool, you'll get access to in-depth marketing analytics, reporting and intelligent dashboards, and the Revenue Attribution tool.
Pricing: A premium plan starts at $13.99/month when paid annually.
Recap
Email marketing has long been a meaningful way to communicate with your customer base and grow your business. Nowadays, it doesn't lose its popularity either. To capture the email addresses of your existing or potential clients, there are many efficient methods, such as pop-ups, opt-in forms, or just interactivity.
You don't have to be an IT specialist to create a subscription form, as there are many free or affordable services that can help you with creating, launching, and more. If you'd like to get the most out of it, settle on multichannel marketing services like SendPulse. Its tools will come in handy while capturing emails, setting up your campaigns or automation flows, and performing other marketing efforts to pump your business even further.