Internet marketing is trading products or services and delivering value to people across the world with the help of internet. Depending on the size of business and the niche it occupies, entrepreneurs can utilize numerous channels from paid PPC advertising to blogging, where they share helpful content like how-to videos naturally promoting their products.
Unlike traditional marketing represented by TV, radio, newspaper ads, banners and billboards, prints and brochures that take place in the physical world, internet marketing functions online.
It offers very accurate tools for lead generation, building communication, staying in touch with your audience, measuring the level of user engagement and loyalty to the brand. Among popular internet marketing channels are emails, PPC advertising, social media, messengers, chatbots, web push notifications, and search engines.
Read on to know why mastering internet marketing skills is a must today for any entrepreneur.
Importance of internet marketing
Global reach
Accuracy
Cost-effectiveness
Customer experience
Automation
Let's break down the most crucial factors with some stats:
Global reach. According to Statista, 4,3 billion people use internet, which is 56% of the world population. Internet marketing allows finding your audience in specific locations and regulating your ad outreach according to your goals. For instance, you can target your Google or Facebook ads by location down to specific countries, cities, and even districts.
Accuracy. Aside from targeting by location, you can tailor your marketing efforts very specifically based on users' gender, age, habits, and behavior. The technologies that stand behind internet marketing are very powerful: it is now easy to put your products in front of people at the right place when they are most likely to purchase.
Cost-effectiveness. Internet marketing is cheaper compared to traditional marketing since it doesn't require any physical resources for its production. Its accuracy also makes it cheaper: you pay for driving interested people to your site. With traditional ads, you can only estimate how many people find it relevant, and you'd spend lots of time and money on guesswork.
Customer experience. Internet marketing helps to provide your audience with a highly personalized shopping experience. For instance, you can send emails with personalized offers and content based on the data users share with you. Facebook ads, in their turn, rely on users' favorite groups and pages alongside with their ad preferences, which they can manage anytime.
Automation. Processes like lead generation, lead nurturing, and customer retention can be once set and work mostly on their own. Automated email workflows, for example, is a good way to remove a huge amount of stress off your marketing team. Aside from that, automation helps to assist people at every stage of their buyer journey, answering FAQ instead of your customer care team.
And what's most important, internet marketing gives you a variety of choices, as there are plenty of channels for you to use in communication with the audience. Let's have a closer look at the most crucial of them.
Types of internet marketing with examples
Email marketing
Search engine optimization
Social media marketing
Chatbot marketing
Influencer marketing
Internet marketing has channels for businesses of any size and niche, different by the return on investment, outreach strategies, and the model of relationships you want to build with your customers. Let's learn how email marketing, SEO, social media, chatbots, and others can enrich your strategy.
Email marketing
This channel allows to build long-lasting relationships with users who opted in to receive emails from you. You can build your mailing list by placing subscription forms and lead magnets on your website or blog, promising to provide highly relevant content and offers in exchange for users' email addresses.
Greet new subscribers with an automated welcome email and nurture them with regular personalized newsletters. To make them as personalized as users expect, leverage data they share with you when subscribing or simply make use of their behavior patterns.
Emails can be individual for every user, depending on the progress they achieve using the service. Below is a brilliant example of a personalized email that Grammarly sends once a week to their subscribers.
To succeed in email marketing, you need to work with a reliable bulk email sender, which will take care of the technical side of things and make sending great emails to your prospects easy. SendPulse offers user-friendly tools for creating and sending all sorts of triggered emails like welcome email, abandoned cart email, re-engagement email, confirmation email, and more.
It's vital to focus on a customer-centric approach in email marketing — this is how you will help people trust you.
Search engine optimization
This channel is very useful due to the nature of modern shopping: most of us search for information to compare products and businesses before we purchase. To find that information, people use search engines like Google or Bing, fill in particular keywords, also known as search queries, and visit some websites from the search engine results page.
To win over your competitors and drive a lot of organic traffic to your website, you need to create content relevant to the query. Make sure it ranks in the top 10 because 75% of clicks in Google goes from the first page of search results.
To achieve this goal, follow best practices for SEO:
write content for people, not for search engines;
use long-tail keywords;
add video and images;
use correct titles, meta descriptions, and layout;
make your pages download fast;
get backlinks from websites relevant to your niche.
Below is an example of a page that organically ranks in the top 10 and has a featured snippet: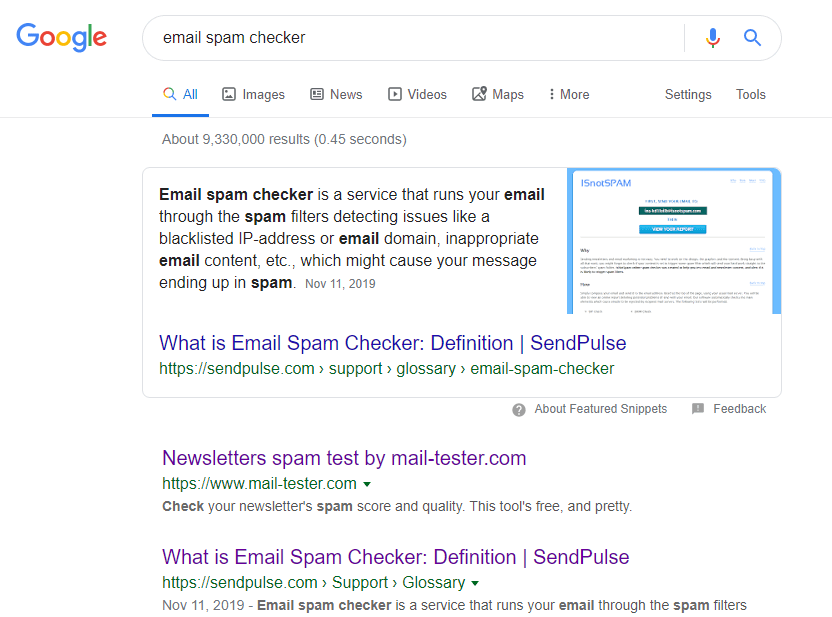 However, SEO is a long-term strategy that requires consistency and patience. If you're looking for faster results, consider using Google Ads — a platform for running specifically targeted advertising campaigns. It will help some particular pages rank at the top results page in the ad section, like on the screenshot below.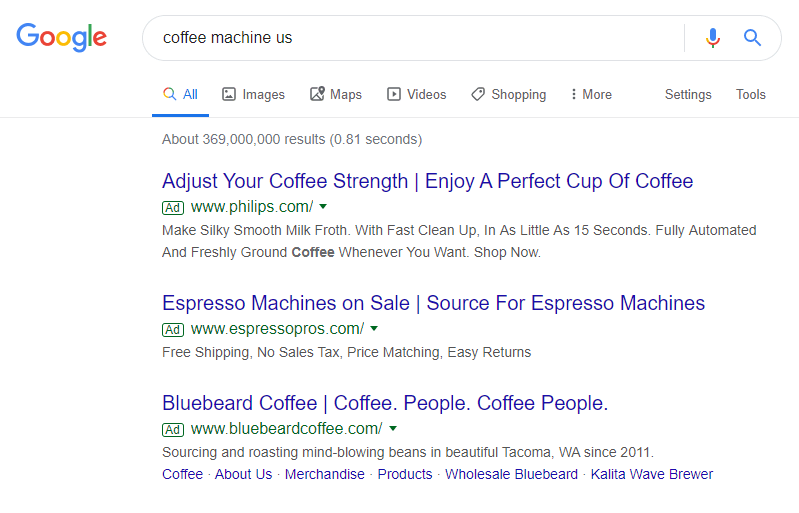 Social media marketing
According to Broadband Search, people spend around 145 minutes on socials each day. This makes it an ideal place to tailor your products to people, and social media giants like Facebook, Instagram, Pinterest, Twitter, etc., provide vast opportunities for advertising.
Facebook and Instagram are among the leaders of the traffic share with around two billion active users monthly. They allow you to easily create an ad and target it to a very specific audience. Facebook made it possible due to the enormous amount of data they collect from users. Check an example of such ad below.
Similarly to search engine marketing, you can engage with your audience organically or using paid advertising.
By "organically," we mean that you can create groups or pages and grow your audience step by step simply sharing helpful, high-quality content. Cover the topics relevant to your field and show your expertise. Hold giveaways — give some of your products away for free in exchange for following your Facebook page. That will speed up the growth of your audience.
However, the combination of paid and organic approaches proved to be the most effective in social media marketing.
Chatbot marketing
Chatbot marketing helps automate communication with people via messengers like Facebook Messenger, Telegram, WeChat, WhatsApp, etc. Brands create a chatbot — a sequence of pre-designed auto-replies that aim to answer customers' questions, assist people with booking a table at a restaurant, or making an order directly in the chat.
Communication with a brand's chatbot can only be initiated by users. Once a person presses "Get started," the company is allowed to send messages to keep users engaged and up-to-date. Communication with a chatbot can look natural and humane, like in the Booking.com example below.
What's great about this method is that it releases some pressure off the sales and customer support teams, if you let the chatbot take care of respective tasks. With SendPulse, you can create a chatbot for Facebook Messenger and Telegram for free without coding. 
Influencer marketing
It is a practice of promoting your products and services through content created by influencers — people, who have thousands of followers on social media and, ideally, being the experts in the field relevant to your niche.
This type of internet marketing is very popular among the food and restaurant industry. An Instagram post, like the example below, aims to draw the local audience's attention and grow demand for that particular product.
There are various tools on the internet that help to find the influencers good for your business, like Upfluence or Buzzstream.
Internet marketing offers even more channels like web push notifications, content marketing, video marketing, affiliate marketing, etc., and that variety gives you freedom of choice. Whichever channels you choose, internet marketing is all about helping people make the right choice. Let's see how exactly you can do it running a business online.
Internet marketing hacks and best practices
Create a user-friendly website
Start with one channel
Create a consistent buyer journey
Gradually implement more channels
Use automation whenever necessary
We've collected a short list of the most actionable tips so you could become better in internet marketing.
Create a user-friendly website. It is the basics for those who produce and sell products or services online. Make sure the pages load fast and it is easy to navigate the site. Optimize your website to rank in Google top pages for relevant keywords, and try to reach featured snippet.
Start with one channel. Analyze your audience and find out which channel may fit your goals most. For instance, if you need to nurture leads, emails are a great way to educate and promote at the same time. Master email marketing by following best practices. We've covered the key topics of email marketing like email templates, email design, subject lines, and more here.
Create a consistent buyer journey. Think of the way your customers make from the very first touchpoint to the purchase. What obstacles may stand in their way? Dispel doubts during their buyer journey by providing information relevant to their lifecycle stage. Use time-sensitive offers to move leads forward, but avoid being too pushy. Develop the right mix for you.
Gradually implement more channels. When your business grows as well as your audience, it's high time you created more touchpoints. Test and measure new methods to use multiple channels effectively. Keep up with the same communication style throughout the channels you use.
Use automation whenever necessary. Automation helps to save a lot of resources because chatbots or email workflows may perform some work instead of your staff. With automation tools at hand, you can stay in touch with your customers on various touchpoints 24/7. You can automatically upsell, cross-sell, re-engage inactive users, celebrate their birthdays and anniversaries.
Find out more articles on our blog that will help you improve your internet marketing skills.
References
The article "Online Marketing Made Simple" by Neil Patel shares valuable insights into the subject.
The article "The Ultimate Guide to Internet Marketing" by HubSpot gives a better understanding of what internet marketing is and how to use it for your business.
The article "Digital Marketing" on Wikipedia has an encyclopedic point of view on internet marketing.
FAQ
Last Updated: 22.03.2023