Social proof is a social phenomenon in which customers copy the actions of others to achieve the same result. It encompasses testimonials, case studies, reviews, and comments on social media, which companies use to encourage leads to convert into customers. It helps gain trust, attract new clients and drive customer loyalty.
In this article, we'll uncover the importance and 7 types of social proof. We'll also teach you how to use social proof in marketing and provide several excellent examples.
Why is social proof important?
When people look through the websites, visit the landing pages, and explore branded hashtags on social media, they hope to see proof that these businesses bring real value. Reviews, testimonials, case studies, comments, and influencer recommendations help brands persuade people that their products and services are solutions to their problems.
After potential customers check the necessary information on the company's landing page, see comments on social media, try demos, and read overall reviews from experts, they are ready to take the desired action. That's because social proof sways customer decisions in favor of sellers. There are many reasons to have social proof on your website or social media account. Foremost, a business looks trustworthy and a product more useful since it was validated by existing clients.
Having reviews is essential since they help shape a positive image about a specific company and its product, prove that a brand is reliable and that the product has high quality. Besides, customers and industry experts who leave positive feedback and reviews become word-of-mouth promoters. As a result, a company can get new conversions, improve brand recognition, gain brand awareness, and increase its customer base.
Now that you know why social proof is important, let's proceed to the next section to explore 7 main types.
7 Types of Social Proof
Many different types of social proof enable brands to earn trust, loyalty, and conversion rates. We've prepared a list of formats companies use to influence customer decisions. So let's dive in.
Testimonials. These are short reviews from customers that aim at recommending a product and demonstrating its benefits. Testimonials showcase the company and encourage prospects to purchase because of the product's value.
Celebrity endorsement. This type implies celebrities or opinion leaders who use products of specific companies and then recommend them to their followers. These promotions can be both paid and unpaid. Unpaid endorsements have a higher value for consumers since influencers promote products for the real value and benefits they bring.
Reviews. Both companies and third-party websites collect customer reviews to share positive experiences with their businesses. They are helpful both for customers and businesses. While clients can make sure that a company is credible, companies can gain trust. Besides, these pieces of feedback enable brands to improve rankings, boost customer loyalty, and increase conversion rates.
Business credentials. Credentials allow brands to gain additional trust from consumers. By making the number of customers, certifications, awards, and famous clients public, companies can hook the audience's attention and encourage them to use their products. This information will signify that many people use a brand, well-established companies approve of it, and it also has all the necessary knowledge, technologies, and experts.
Shares on social media. According to statistics, 78% of clients are ready to purchase with a brand after having a positive social media experience. Since 4.62 billion people now use social media, being active on social networks is a must for businesses. If you have informative posts on Instagram, Twitter, or Facebook, people might like to share information about your company and promote your product for free.
Media. If the media mentions your company as an outstanding one, it'll positively impact brand awareness and recognition. These mentions show that your brand is worthy and reliable.
"Wisdom of the Crowds." This type of social proof includes a fear of missing out. Many customers wish to purchase products from a specific company, and others assume that these products are good and a brand is trustworthy. As a result, they purchase them too.
The types are clear, so it's time to figure out how to use social proof in marketing.
How to use social proof in marketing?
Social proof can serve you as an effective marketing approach, and you need to know how to implement it wisely. So explore some tips that will help you with it.
Consider having ambassadors. You can invite an influencer, opinion leader, or industry leader to become brand ambassadors. These people will help you promote your product and prove that your brand is reliable and high-quality. Brand ambassadors will use your product and share their experience with their large following on social media. They will also use the branded hashtag to increase brand engagement.
Encourage user-generated content. Many users share their experiences on social media after they purchase products. Photos, reviews, testimonials, and videos that people post can be a valuable source of information for prospects and generate customer engagement (likes, comments, followers, and shares).
If users tag your company and mention your branded hashtag, new people can explore your products and eventually become customers.
Include customer testimonials on your website. It's an excellent idea to include testimonials on your website and highlights on social media networks. This way, you'll show leads that many people and companies choose your product because of the quality, price, features, usability, etc. Your current customers can promote your brand and encourage people to take the desired action by sharing their thoughts about your product.
Mention the number of customers on your website. If your company has a large customer base, consider mentioning it on your website. This way, you'll implement the "wisdom of the crowd" social proof. It'll influence people's perception of your company and make a positive first impression. Once consumers see that many people trust and buy from your company, they will think about becoming your customers as well. In addition, you can include the number of countries your company serves and the number of recommendations.
Collaborate with industry experts. To drive positive associations among your followers, you need to invite an expert to take over your social media. This industry expert will create educational materials, live with followers, and upload Stories. It will result in increased trust, engagement, and loyalty.
Now that you know how to use social proof for your business, it's time to delve into some examples.
Examples of Social Proof
You should look through several excellent examples from world-famous brands to figure out the most powerful social proof for your business. We'll now review different situations in which companies managed to attract the audience's attention with the help of their satisfied customers.
Amazon
Amazon implements the most effective type of social proof — customer reviews. With their help, new visitors can explore the experience people had with a specific product. Potential consumers can read customer feedback and see product photos to find out whether they are satisfied with it. Moreover, users can see product ratings based on the number of stars consumers give.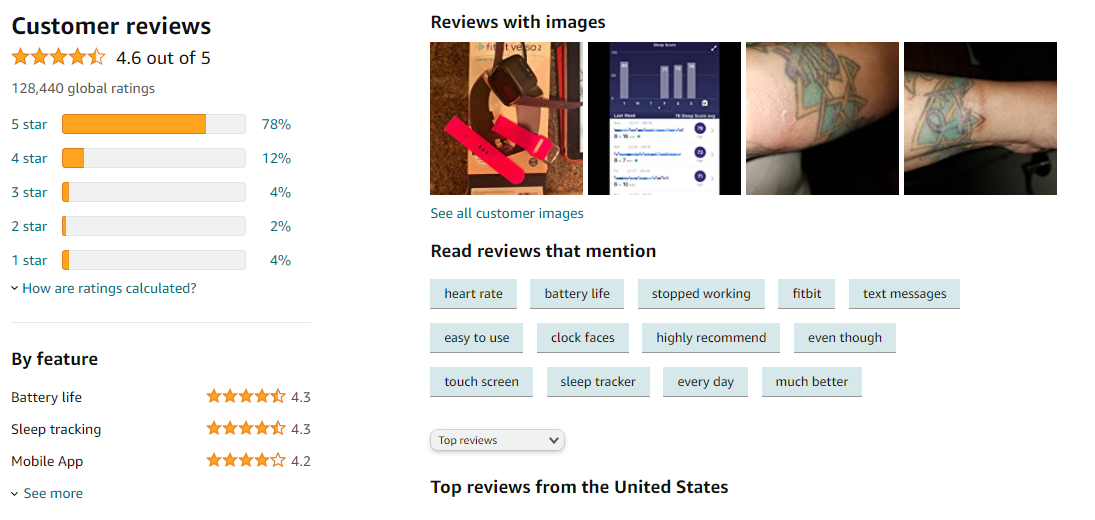 Zoom
Zoom uses customer testimonials to attract potential customers. Once visitors land on the company's website, they can scroll down to see testimonials from representatives of famous brands who leverage this communication platform for various needs. As a result, users can have an overall picture of the service and its benefits. For instance, from the testimonial below, you can find out that the platform is easy to work with.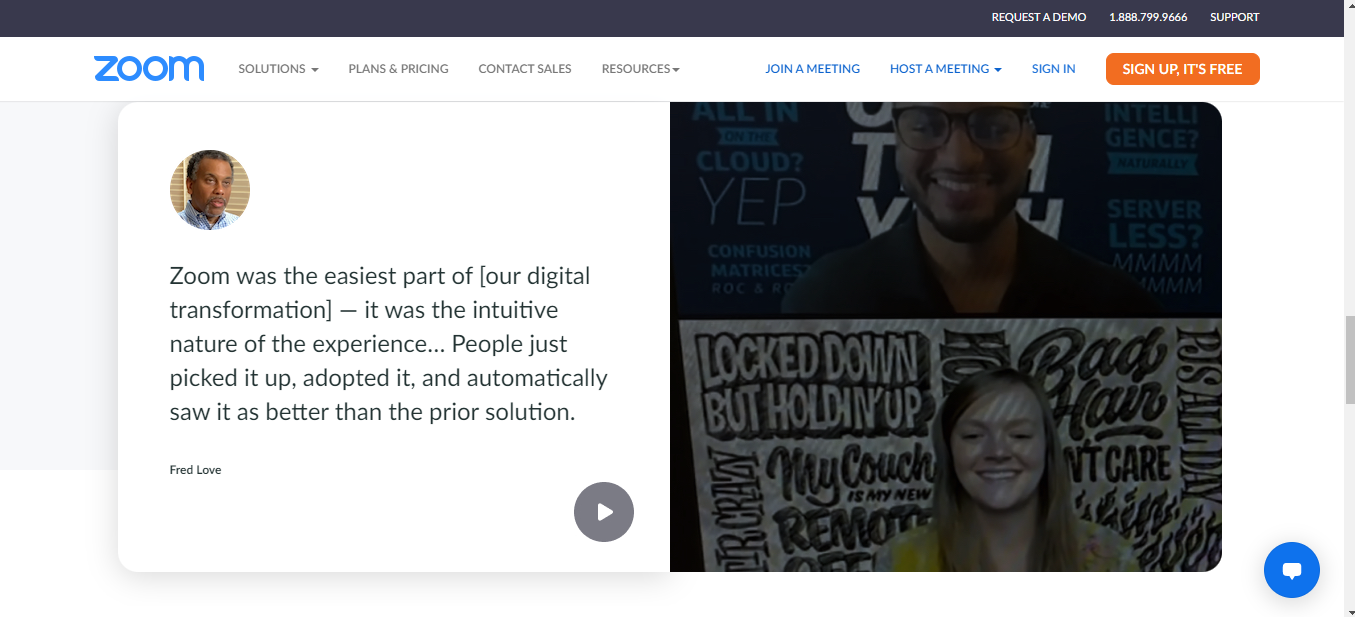 Rare Beauty
Rare Beauty is a relatively new brand in the market of beauty products yet extremely popular among young people. One of the brand's customers left a review in Instagram posts tagging the Rare Beauty brand. The girl demonstrates the company's tinted moisturizer and tells the peculiarities of the product that might be helpful for people who consider buying this product.
If you don't have social proof on your website or social media networks, you can consider doing this step. Customer reviews, testimonials, and tags on Instagram enable potential consumers to make sure that your brand is credible and trustworthy and make a purchasing decision.
References:
This article defines the terms and provides readers with types of social proof and how to use it in marketing.
In this article, you'll find some social proof statistics to care about.
Last Updated: 23.03.2023