Since the pandemic's onset, people have increasingly preferred online shopping to in-store visits. 30% of buyers say they are now more likely to look at the business' online reviews than they were in the pre-pandemic period.
Did you know that more than half of the consumers are ready to pay more to purchase from a brand with an immaculate online reputation? Meanwhile, a 3.4-star rating is already enough to convince consumers to consider engaging with a business! But testimonials are still largely underused — they are either hidden away on a website or too generic to persuade anyone.
Now is the time to fix that. Let's discuss what effective testimonials should contain, what value they bring, how to get them without being pushy, and how to share them to boost your business' credibility. We'll also give you some impressive customer testimonial examples.
What are testimonials?
Testimonials are reviews satisfied customers, clients, or partners leave for a product, service, or an entire business. More precisely, it's how they refer the product or service to their peers. Testimonials can be paid, for example, when a brand collaborates with an influencer. They can also be obtained in exchange for some bonus, but, ideally, your happy customers should be motivated enough to leave them regardless of any outside incentive.
Social proof can instantly turn uncertain visitors into convinced repeat customers because it provides necessary validation. Genuine, authentic reviews can say much more about your business than any professionally-made promotional video. They show what value your offer really brings and whether it lives up to your customers' expectations.
Your business can use customer testimonials to support its claims.
Occasional negative reviews won't outweigh the positive effect testimonials create if you handle them correctly. 56% of consumers say that a business's responses to reviews have changed their perspective on that business. So, you can always alter the image of your brand with quick, polite, and helpful replies to complaints and prevent distrust from building up.

What are the common types of testimonials for business?
Buyer or client testimonials can be presented as short quotes or as is, in their entirety. The format fully depends on your goals and the medium you're using to display them. Snippets encapsulate general impressions from your business while in-depth testimonials describe the whole buyer's journey and maybeven answer some frequent questions other consumers have.
In a product description or on a homepage, for instance, short reviews will be the most helpful because the user isn't ready to dive into paragraphs of text at that point. In turn, a testimonial page calls for more detailed customer reviews.
Singeo uses the best of both worlds by showcasing inspiring and relatable user quotes on its homepage.
These previews are clickable and unfold into full-sized testimonials with bold headlines.
What we love about this customer testimonial example is that they use very informal photos radiating happiness and charisma. For a B2C business, that's a great way to convey the emotions a future purchase can bring. Even some B2B companies are starting to adopt this trend and show their clients walking a dog or climbing mountains because they have more free time, thanks to X product or service.
Learn how to establish trust and stand out from the competition when selling services online!
Aside from plain text, you can showcase your testimonials in various formats:
videos;
audio clips;
screen captures;
tagged posts on social media.
Video testimonials are by far the most believable and convincing, but they are the hardest to get since your devoted customers might be camera-shy or too busy to participate. Also, production costs can be a problem — sometimes, it's just impossible to film a good-quality video review in a messy or dimly lit office using a smartphone camera.
Testimonials can also be anonymous, but this is becoming a frowned-upon practice — nameless reviews don't prove anything because no one can check their authenticity. So, it's more common to attribute testimonials to their author and mention their first and last name, job title, and, ideally, a headshot-style photo.
How to collect customer testimonials your audience will trust
The way you ask for testimonials matters. Let's discuss how you can motivate your customers to share their impressions of your brand and make sure it's the exact information your website visitors want to read.
Keep your ears open
Chances are, your business already has testimonials even if you are not aware of them. Usually, customers express their opinions about businesses on Facebook, Instagram, Twitter, Google Maps, Trustpilot, Reddit, Yelp, and so on. Use social media listening tools and Google Alerts to detect customer feedback wherever it appears.
Once you've discovered new reviews, create a social proof feed out of them and place it on your website:
If you mention the source of your user testimonials, it'll make them look even more legit. Users can easily track them down and see your company's current star rating.
Target your most dedicated customers
Don't bombard everyone on your mailing list — start with repeat customers who tagged your brand on social media, joined your loyalty program, or referred your products to their friends. They will most likely be glad to share their opinions in the form of a testimonial and get mentioned on your website.
The Financial Diet is a cross-platform media project about financial planning and safety, and their social media pages are packed-full with thankful comments that can easily be turned into compelling testimonials:
If you find similar comments under your posts, go ahead and reach out to their authors to ask for a more in-depth testimonial that will help others make the right choice. You can also find niche influencers and invite them to use your product or service in exchange for a powerful testimonial, but feedback from regular users will appear more authentic and legit because there's no obvious financial incentive at play.
Ask for more details and encourage them to be specific
Whenever you are sending a survey email or reaching out to authors of existing reviews, ask them for permission to include their name, job title, and photo or company logo. If you successfully establish contact with your fans, you can even ask them to record a video testimonial, send "before-after" photos, or do a short interview.
Use customer feedback forms to find out what's on your audience's mind.
The most trustworthy testimonials are always to-the-point and thus hard to fake — they describe how a specific problem has been solved with the help of a particular product or service:
To help your customers provide you with the most informative feedback, outline the desired format of a testimonial and ask them some open-ended questions to encourage more unique answers. Invite them to describe alternative options they were considering, their doubts, and the expectations they had.
Send gentle post-purchase emails and customer satisfaction surveys
Give your customers some time to get acquainted with your product and send your survey email five to seven days after the purchase. One of the best practices is to mention right away that your questions won't take too long.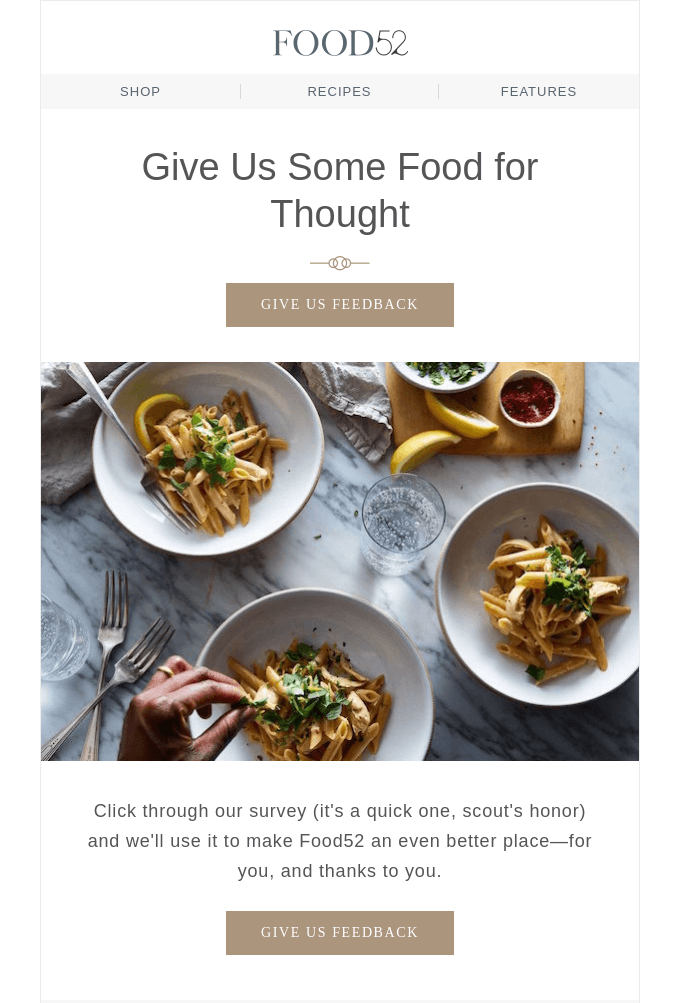 It helps to explain how you're going to use their feedback and how completing this survey will bring your customers value in return. This example has "Help us make Food52 your favorite place to be" as a subject line, and it perfectly illustrates what we've just described. A witty pun in the headline also makes the survey email more friendly and engaging.

Incentivize customers to write a testimonial
Offer a discount, a special deal, reward points, or a chance to win a prize in exchange for a testimonial, and you'll significantly increase your chances of receiving high-quality customer feedback. It will add some gamification to the otherwise rather boring process of writing a review.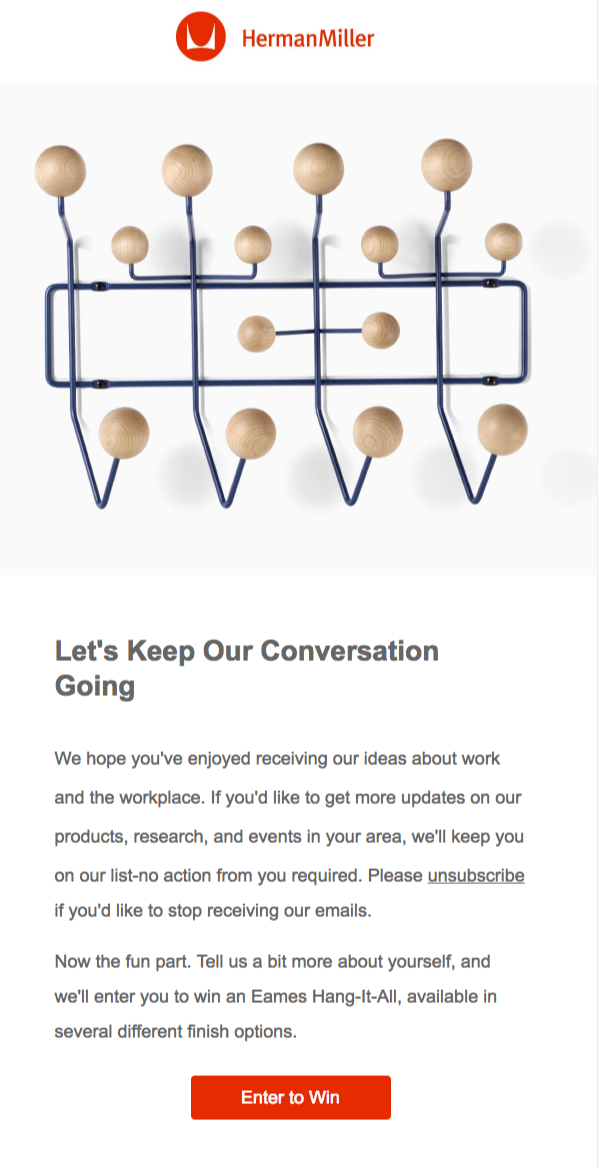 This email successfully employs this very tactic. It will also work wonders on social media platforms where it's so easy to share content, tag a brand, and get noticed. If you offer rewards for product reviews or video testimonials, you'll get influencer-level content without having to pay the extra money or compete with other brands for the influencers' attention.
Customer testimonial examples to help you charm and persuade new users
Displaying genuine endorsements of your business can help you win over the most cautious and skeptical customers, but collecting quality feedback is a real challenge. Thankfully, it pays off since testimonials can be used for so many different channels and purposes. Let's break it down.
Place the most exciting customer testimonials on your homepage
The most popular and effective solution is to place testimonials on a homepage and other types of landing pages. As long as there is an offer your visitors might doubt, there should be a testimonial clearing up that potential doubt.
Swiss Toniq, a cosmetic brand, has a social proof section on its homepage where the most informative reviews from Google are collected:
For growing and local brands, it might be especially tough to gain the initial trust of the audience, and a couple of meaningful testimonials like these can go a long way.
Create a dedicated testimonial page on your website
To give text-rich testimonials some air to breathe, you may want to place them on a separate page of your website while featuring snippets of them on your homepage. It will also be easier for your visitors to get a quick overview.
Blackbaud is a cloud computing provider that serves the social good community — no wonder this company has many customer stories to share:
All customer testimonials are placed on a dedicated page that is easy to navigate. The user can quickly find a story related to their niche or region and get inspired by how Blackbaud helped similar nonprofit organizations achieve their goals.
Feature customer testimonials in your email campaigns and on social media
Bite-sized testimonials can significantly improve your email campaign conversion rate if you use them right. The trick is to highlight the benefits without overwhelming your recipients with too much information.
Let's take a look at another smart customer testimonial example. Everlane skillfully uses collected feedback in its promotional emails — every quote supports the main offer.
What's also great about this email is the fact that they keep these tiny reviews trackable and therefore trustworthy by mentioning the author's username.
On social media, you can simply repost user-generated content to your feed and Stories to use as social proof. This way, it will gain more traction than on a static website since your subscribers can react to it by clicking the like button, sending emoji, or asking product-related questions.
Enrich your product pages with customer testimonials
Product-specific testimonials will be of tremendous help to your customers — they are tricky if not impossible to google if the product is rare or not well known. If you allow your customers to leave reviews with photos and specified personal parameters, it'll guide other shoppers and take away their doubts.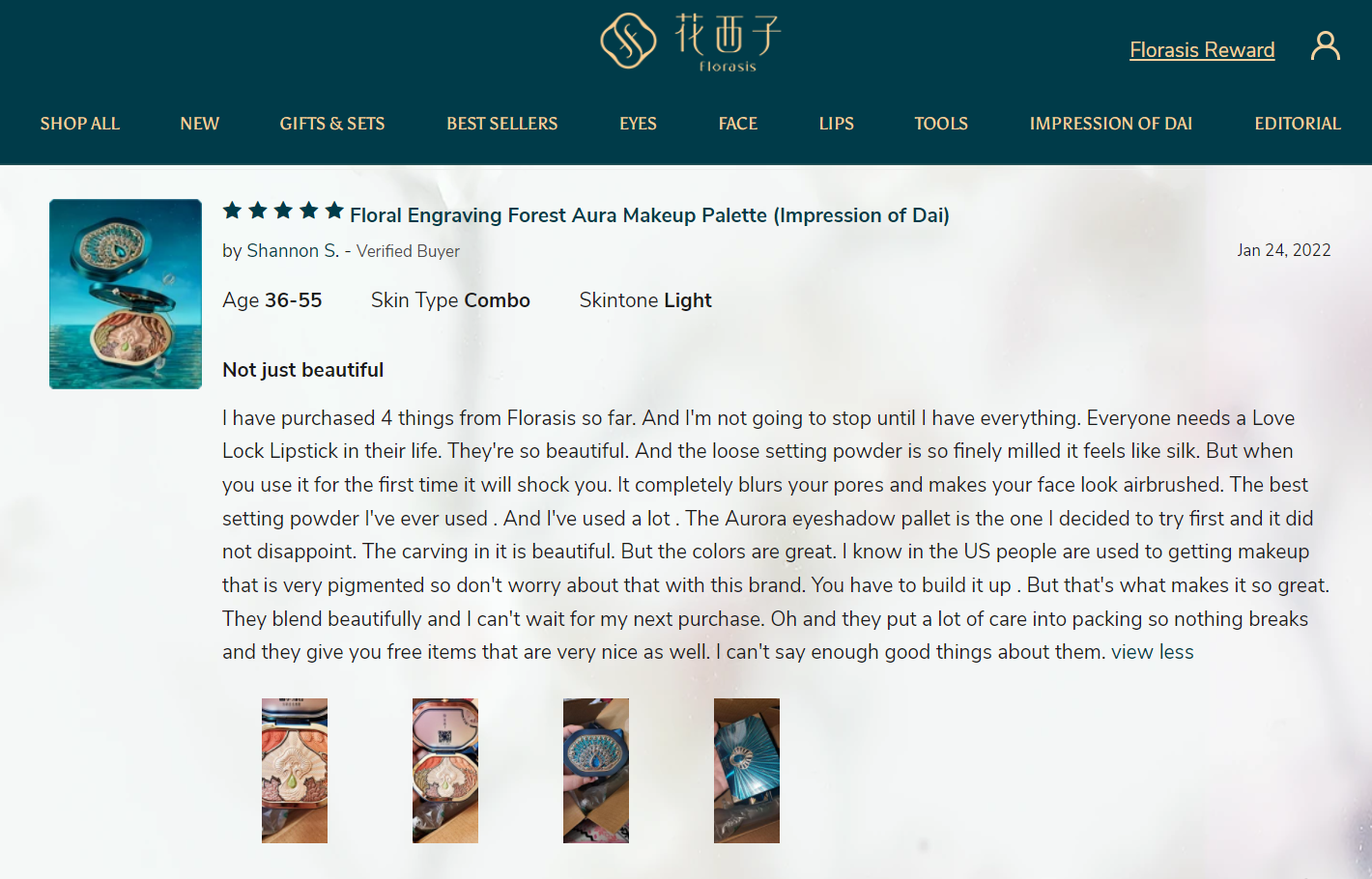 This customer testimonial example illustrates the most common use case. Cosmetics, clothing, and other visual and tactile items sell better when customers get to see real-life photos and opinions of other buyers reassuring them that the item quality is exactly like described.
Turn customer success stories into engaging blog posts
Insightful and complete testimonials, especially videos, can be transformed into comprehensive blog posts describing customer success — it will allow your potential buyers to gain a deeper understanding of your offer while you, in turn, will get an opportunity to use branded keywords in a natural context.
This is possible for more than just B2C businesses. Many B2B and SaaS companies publish inspiring and relatable customer success stories based on client feedback.
Unlike case studies, customer success stories don't always feature a lot of stats or graphs. In short, they can be more conversational and opinion-based and less detailed and laborious.
Start collecting customer testimonials with SendPulse
Email is king when it comes to gathering testimonials from customers. With our email marketing service, you can set up automations and start sending email surveys today. Our tools enable you to improve your deliverability rates, analyze your performance, test different versions to find the best-performing campaign, and more. It's easy to set up and even easier to tweak as you go. Try it for free!