Conversion marketing is a set of activities aimed to increase the conversion rate — the number of users who visit a site and convert into leads or customers, depending on your goals.
Watch this helpful video from Neil Patel to learn some actionable tips on improving conversion rates in your lead generation strategy.
Importance of Conversion Marketing
In internet marketing, it is easier and cheaper to generate leads compared with offline stores, but the conversion rate is much lower. According to WordStream, the average landing page conversion rate across industries is 2.35%.
Сonversion marketing requires you to pay close attention to how effectively your website converts. It helps identify the reasons why only a few people convert or the causes of a sudden drop in the number of conversions and take the necessary steps to get back on track.
If with 10K of visitors on your landing page 1% convert into customers, it means 100 purchases. Conversion marketing helps improve that balance, so even a one percent increase turns into 200 purchases in such a case. Bring conversion rate up to 5% or even 10% to get a dramatic change in your revenue.
Use this formula to calculate the conversion rate: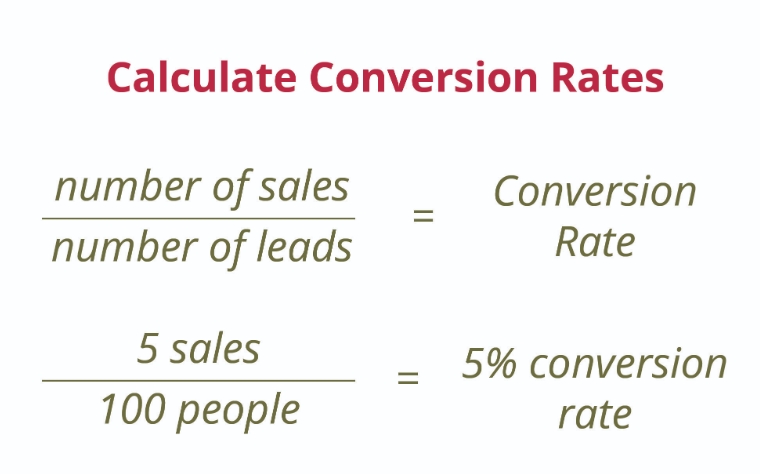 Keep on reading to find out how conversion marketing will help you achieve your goals.
Conversion Marketing Best Practices
Optimize your website
Engage with the target audience
Build a trustful brand image
Automate your processes
Conversion marketing is based on controlling the conversion rate. Here are some actionable tips to improve it as well as your overall performance.
Optimize your website
Website usability. Among common reasons for the low number of conversions are usability issues on your website. It may be poor site navigation, which makes users struggle to find the products they need. Create product names relevant to what you sell, for instance, "nylon dog collar" or "leather cat collar." Make sure you set up filtering right, and the categories are logical. Avoid overwhelming users with too many options; otherwise, you will make their shopping harder.
Google search. Searching on Google is the first thing the majority of consumers do when they consider making a purchase. Make your products easy to find on Google to acquire more leads with search engine optimization.
Mobile usage. Mobile optimization is a necessity due to the global spread of smartphones and the enormous amount of time people spend on them. Make sure all elements of your content — text, CTA buttons, links — are responsive and display well on screens with different resolutions.
Engage with the target audience
Another common reason for the low conversion rate is that you try to promote your products and services to uninterested people. It may happen because you failed to clarify your offer or contact your base for a while, and it became outdated.
There are some ways to deal with that:
Build a trustful brand image
Make your brand stand out: it will encourage people to share your content on socials, bringing in warm marketing leads, which are easier to convert.
Here's what you need to work on aside from usability and targeting to build your brand:
Content. Make high-quality professional images of your products from appealing angles. Write a persuasive copy explaining why your products are worth buying and using. Make clear calls-to-action: it's a crucial element for getting people converted into customers.
Social proof. Add social proof — good feedback and reviews on your website. It is an excellent idea for dispelling doubts of customers who are yet hesitating to purchase.
Multiple channels. Represent your company on various marketing channels like email, SMS, social media, and chatbots. Choose only those channels that are relevant and convenient for your target audience. Read more about multichannel marketing here.
Automate your processes
Automate repetitive tasks that your support or sales team takes care of. Onboarding, answering frequently asked questions, explaining product details — you can optimize all that. Here's how.
Email marketing. Send welcome emails, onboarding drip campaigns, and abandonment shopping cart emails. Send these and other kinds of trigger emails with SendPulse for free.
Chatbot marketing. Use a chatbot to help users 24/7 and make the living of your support team a little bit easier. For instance, a chatbot can help users with booking a room at the hotel or assist with getting acquainted with the services your company provides. It is also a way to move users down the sales funnel towards the exact product they need.
Push notifications. Web push notifications help to inform your audience about new offers and news connected with your brand.
SMS marketing. SMS marketing is a way to initiate flash sales, contests, and share coupons to encourage local people to make a purchase.
Read our blog article, which contains tips to improve your conversion marketing.
References
The article "Reasons Your E-commerce Site Has A Low Conversion Rate" by OptinMonster shows how to reach success with conversion marketing.
The article "What Does Conversion Rate Optimization Mean For Marketers" by Econsultancy shares best practices for improving your conversion rate.
Last Updated: 22.03.2023