Let's say you've collected email addresses at conferences, workshops or through subscription forms on your website. A year has passed since you last contacted those subscribers and now you're eager to reconnect with them. Well, be careful becuase sending emails to such a dusty mailing list can take a toll on your deliverability rate and sender reputation.
Read on to find out how to craft a re-engagement email campaign to re-energize an old mailing list with caution.
What are re-engagement emails?
A re-engagement email, also known as a reactivation email, is a type of triggered communications that depends on a particular stage of a customer lifecycle. According to Yes Lifecycle Marketing, it's the second most popular type of triggered campaigns among brands:
Re-engagement email campaigns are beneficial for senders as they help to
Improve sender reputation. Email service providers track user engagement to identify low-quality senders who may get blacklisted or receive low inbox placement rates as a penalty. By sending re-engagement emails to customers from an old mailing list, you level up their engagement, thus, raise your sender reputation and deliverability rates.
Spot spam traps. Re-engagement emails are also useful to spot spam traps which that damage your reputation: if a subscriber from an old mailing list doesn't show any activity even after receiving a few emails, it may be a sign of a spam trap.
The risks of sending emails to an old mailing list
Quality of mailing list is one of the main barriers that email marketers tend to face:
To keep your mailing list clean and active, start emailing right away. If you send your first email a year after a customer subscribed, it will most probably land in spam or get deleted. There are two simple reasons why: people forget about their subscriptions or they are not interested in your email content anymore.
Moreover, old mailing lists may contain some non-existing or blocked email addresses.
Both situations cause delivery errors, unsubscribes, and spam complaints. These metrics can jeopardize sender reputation and make marketers unable to reach their customers as emails from low-reputation senders will go to spam, and not appear in the user's inbox.
Now, let's see what five steps you can take to reintroduce a dusty old list of subscribers to your regular email program with a re-engagement email campaign.
1. Clean up your old mailing list
In fact, 30% of users change their email addresses every year. That's exactly why you should do regular check-ups and delete inactive users or non-existing emails.
Cleaning a mailing list can take quite a while, so we recommend using the following online email validators:
All of these tools are based on a similar working principle: you should upload your mailing list, click "Validate" and get verified and corrected email addresses in return.
2. Let your contacts resubscribe
Craft a message that asks users to resubscribe to your mailing list. You can do this using Automation 360:
set up an automated re-subscription campaign;
filter users who didn't resubscribe;
add users who resubscribed to your primary mailing list.
Here's an example of a re-subscription email from Yes Lifecycle Marketing. The company uses a friendly tone for their copy "counting" on the users re-engagement. Still, recipients of this email have two options: remain subscribed by clicking the CTA or permanently opt out by following a hyperlink.
Note: Place the unsubscribe button or link in a well visible place. This way, users who do not want to receive the emails will simply be able to opt out and your messages won't be marked as spam.
3. Create a re-engagement email series
Re-engagement is a time-consuming process, so be ready for more than one campaign to reconnect with a subscriber. This is why we recommend thinking through a series of automated emails.
Email No.1. Reminder
Please, do not start your communication with promotional emails as it can cause mixed feelings among your old customers. Better begin with a friendly introduction and explain how you received this email address. For instance:
"Hello! My name is Alex, and I'm a Fashion Style store manager. Previously, you've made several purchases at our store, and, right now, I'm getting in touch with everyone from our customer base."
If you haven't been sending emails for a while, explain what happened. This tactic will give you a chance to build a positive relationship with customers.
Take a look at the example of a re-engagement email created with the SendPulse Drag and Drop Editor. The company explains they have been busy improving their website. The user can choose between two options: click the CTA and resubscribe or simply ignore the request.
Email No.2. Survey
Ask your subscribers what they want to receive from you, which topics and items interest them. Allow them to select the frequency of receiving your emails as well. This way, you'll be able to fill your campaign with relevant and valuable information.
See how Parker did it by offering their subscribers a chance to choose appealing topics so that the company can improve their future campaigns.
Email No.3. Gift
In case your subscribers didn't find your previous emails engaging enough, offer them a checklist with the information they might find useful. A gift or a discount can also break the ice between your company and a potential customer.
For example, Banana Republic offered their users a tempting in-store perk in their well-designed re-engagement email: the vibrant yellow here calls to action better than any other color.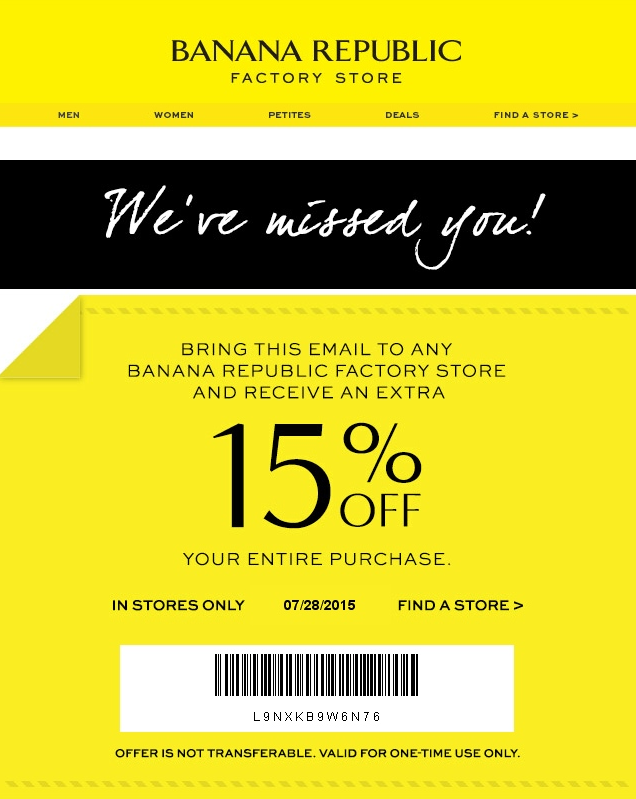 Re-engagement email examples
Sometimes, users ignore incoming emails because they are not satisfied with their current preferences: they would like to receive fewer or different kinds of messages, for instance. Send out a re-engagement email to explain why your relationship is important for the brand and what benefits it will bring to the customer, providing clear options to choose from.
Add social media buttons in case users find this communication channel more convenient to get in touch with your brand and include links to a preference page in case the subscribers' interests have changed.
JetBlue, for example, offered their subscribers three options: either to keep receiving emails, change preferences or simply unsubscribe. In the footer of the email, one may also find a brief explanation of the benefits of using this service and several social media buttons.
Make your messages sound more catchy. TunnelBear, for example, built their website, social media, and emails around one fun idea. They use references to bears, mimic their roars and complement it all with bright illustrations. One of such illustrations is also used in the company's re-engagement email where a funny bear is asking subscribers why they never started using TunnelBear services and how the company may be helpful.
You can also use re-engagement emails to lend a hand to your customers. For example, TradeGecko, inventory management software, chose to send their subscribers a small piece of advice on how to use their service.
Find other examples of re-engagement email campaigns for your inspiration.
4. Send re-engagement emails portionwise
When your re-engagement email series is ready, there are three more things to check before clicking "Send."
✓ Contact your email service provider
It's always better to contact the support of your email service provider in advance and give notice that you are going to reactivate your old dusty mailing list. This will save you from being blocked for a large number of delivery errors which are inevitable in this case. Explain how you received those email addresses and mention that you've checked them. For example:
"Hello! We are planning to send emails to our old mailing list which we gathered six months ago at the Future of Email Marketing Conference. All email addresses were checked using an online verifier. Now, there are X many users in our mailing list, and we would like to send emails in portions starting with 10% of email addresses. Please allow launching the campaign on X date and time."
✓ Send emails in portions
After you've contacted your email service provider, start sending re-engagement emails to 10% of your mailing list. If the spam rate after this campaign is below 0.5%, send the same email to another 20% of your mailing list during the next 24 hours. Stick to this routine until the whole database gets this email.
✓ A/B test the subject line
If your mailing list is large enough, test your subject lines to figure out which one has the most positive impact on open rates.
For your inspiration, here are some subject line examples:
"We've been quiet for a while. Now, it's time to get back on track! A gift is waiting inside!"
"Here's how we did our rebranding — open to learn all the details!"
Send re-engagement emails with different subject lines to groups of 300-400 email addresses. Wait for a day and then check your opens, clicks, spam complaints, and unsubscribes. The option with best results can be used for the rest of the mailing list.
5. Know your metrics
All the basic metrics like opens, clicks, unsubscribes and spam complaints will help you understand the level of your subscribers engagement. Analyze the stats to segment users based on their activity in emails. After a few campaigns, you can combine re-engaged subscribers with a primary mailing list.
How to keep subscribers active
Here are some tips for you to keep subscribers active and interested in your email campaigns:
Let users choose content and frequency of emails at a sign-up stage. By doing this, you will avoid the risk of sending out emails too often or sharing irrelevant information.
Use double opt-in to build a quality mailing list, i.e. a list of users who deliberately subscribed to your emails.
Send out welcome emails with detailed instructions about how to use your service, where to find your stores, and any other relevant information that answers the frequently asked questions of new users.
Juggle promotional content with informative and entertaining emails not only to sell but also to bring value and keep your subscribers interested.
Use SendPulse to automate your re-engagement campaigns and remember to check our new YouTube video on this topic: