eCommerce companies try hard to establish a dialogue with their leads and customers. In this article, we'll discover why email marketing is crucial for eCommerce businesses and how they can use emails to retain existing customers and attract new ones.

Why email marketing is important for eCommerce
Before we go through the list of eCommerce email marketing tips, let's have a look at reasons to consider this channel as online retailers:
Consumers love emails. According to the Research Report on Consumer Engagement 2020 by Twilio, 83% of consumers prefer to receive communications from businesses by email. And ignoring their preferences may cost you some conversions: 75% of consumers reward brands for choosing their preferred communication channel with website visits, and 70% penalize companies for selecting the wrong channel by unsubscribing.
Emails drive traffic. Whether your online shoppers prefer to purchase from a website or social media, you can never have too much traffic. Email campaigns are the way to drive people directly to your selling platform. Launched a new product or a discount? Announce it in an email and add a link to the relevant page. Developed fascinating new website features? Send an overview in an email and add links to the corresponding sections.
Emails have a high ROI. The 2018 Email Marketing Industry Report by Emma states that email marketing is the number one source of ROI according to 59% of marketers, while only 21% of respondents credit social media as number one.
Emails help to move users down the sales funnel. Using an email marketing strategy for eCommerce is efficient at each stage of a sales funnel. You can build initial awareness by sending a promo email with new products, attract interest by sharing helpful case studies, awaken desire by quoting positive testimonials, and finally encourage action by offering an exclusive discount.
Emails require low initial expenses. There is no need for a lot of start-up money as most email service providers offer free plans for small subscriber lists. For instance, with SendPulse, you can send up to 15,000 emails to 500 subscribers for free every month.
Best practices for effective eCommerce email marketing
eCommerce email marketing best practice #1. Analyze your competitors
Market analysis should be the starting point for developing any marketing strategy. In addition to customers research, monitor your competitors' activity:
Examine competitors' websites, and take note of their subscription forms, their appearance, field quantity, and content. Also, pay attention to what competitors offer in return for a subscription.
Subscribe to your competitors' emails and track their topics, frequency, automatization, and other meaningful features. Being a spy can be very helpful.
These two simple steps allow you to get inspired by industry best practices, learn competitors' weaknesses and strength, and avoid some of their mistakes.
eCommerce email marketing best practice #2: Gather subscribers not only on your website
Most marketers are aware of their subscription form options for a website: exit pop-ups on the homepage, subscription checkboxes on the checkout page, and embedded forms on landing pages. But do not forget that you can grow your subscriber list from outside of your website too.
You can start with your Facebook page and add a sign-up button. It will appear under the cover photo. Hover over the button and select "Edit Button" from the drop-down menu.
Choose "Contact you > Sign Up" and click "Next."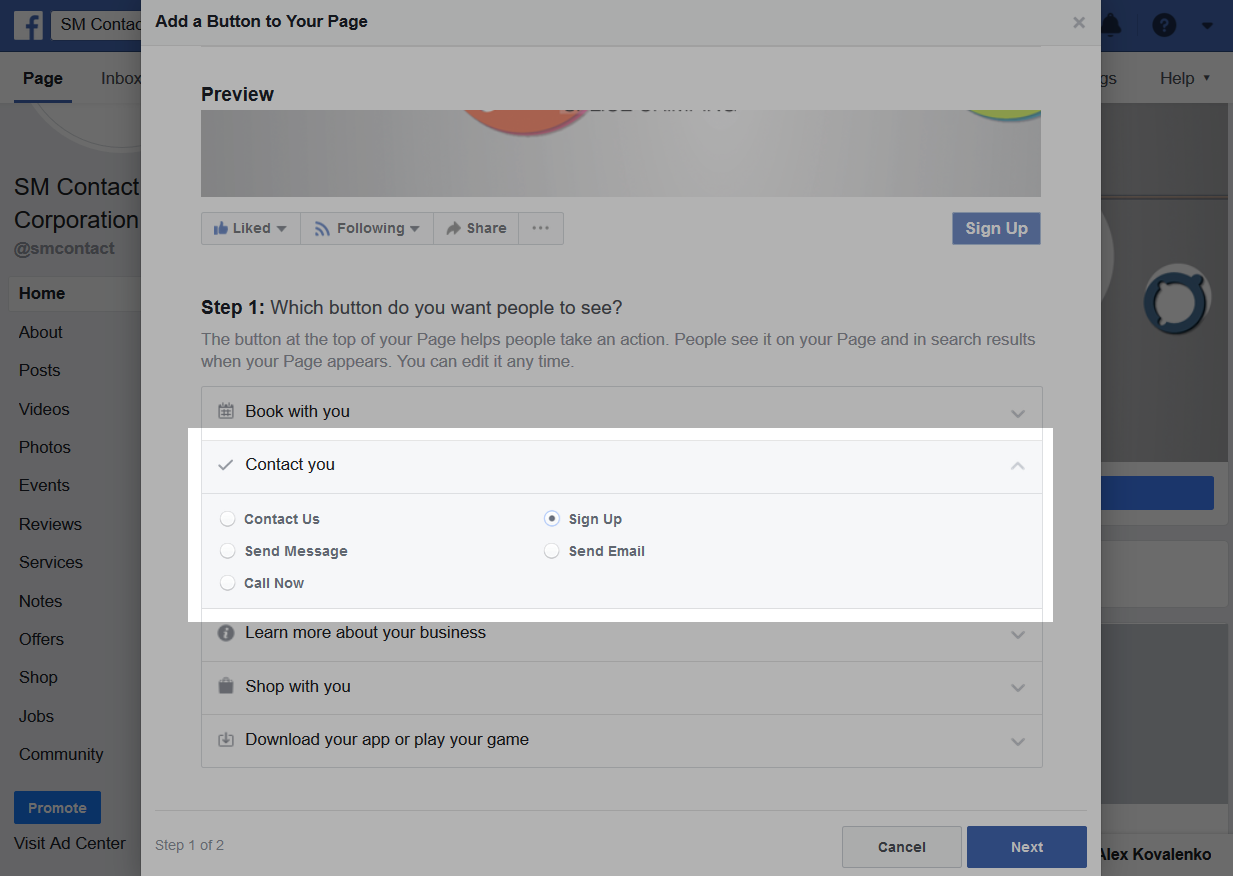 In the second step, add the link to the web page that contains the subscription form.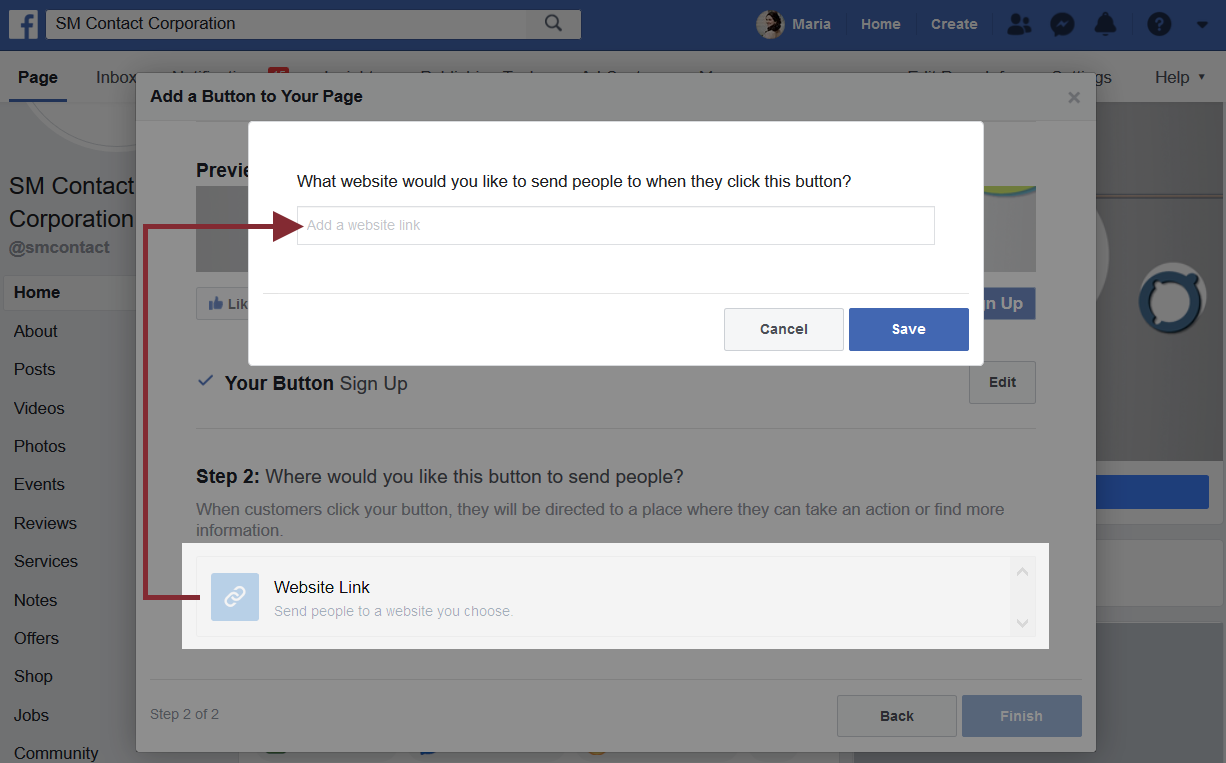 Another option is a Facebook embedded form — use Woobox to add a SendPulse sign up form directly to your page.
You can also invite users to join your mailing list during offline events. For example, after an offline industry event, you may find yourself with a bundle of business cards. Why not add a casual proposal to subscribe to your emails in your follow-up email? It can be a direct proposal in the email body or a link to your opt-in page in the email signature. Add a UTM tag to the link to track how many people follow it to the website.
However, no matter which method you choose to grow your email community, make sure to get explicit consent from each subscriber to receive your emails.
eCommerce email marketing best practice #3. Start segmentation with a subscription form
The more you know about your customer, the more effective your offer will be. The faster you know it, the faster you get results. So make sure to collect valuable data with email subscription forms.
If your business is geo-dependent, add a drop-down list of cities to your form. If your offer varies based on whether a customer pursues a personal or professional interest, substitute the "Subscribe" button with two corresponding alternatives. For instance, "For personal use" and "For professional use."
If you are a B2B business, ask for the subscriber's company size and their position in your subscription form. Just like MarketingProfs do:
However, be careful not to frighten off newcomers with your form. Remember that you are still new to them and they may not be willing to give you extra information. Only ask for customer data that is pertinent to your business.
eCommerce email marketing best practice #4. Engage newcomers with welcome emails
The purpose of welcome emails is not to sell, but to familiarize leads with your company, products, and services. Here are several ideas for your first communication:
thank users for subscribing and offer a gift;
greet them on behalf of the business owner;
introduce the benefits of the company;
share useful content on a topic relevant to your company's activities;
introduce a mobile application or free features of your service;
give a virtual tour to your webpage.
Below you can see a no-pressure welcome from Harry's, confirming that a user subscribed and thanking them for doing so.
Even at this stage, every subscriber behaves differently: some are curious and immediately follow the link, others don't even open the email. This is a reason to launch a welcome series, where each subsequent email is sent based on the action a recipient takes.
eCommerce email marketing best practice#5. Automate when possible
Sending the right email at the right time can turn out to be a real headache if you are doing it manually. As part of the interaction of any company with a customer, there are dozens of commonly recurring scenarios. Rather than tracking each of them separately, it's easier to set up automated email flows responding to particular user actions.
Consider the following most common triggers when creating your automated email flows:
Events such as page visits, product search queries, and product clicks in an email can trigger follow-up emails. For example, if subscribers click on a product in an email and don't proceed to the cart, in a day or two, you can automatically send them a promo email about this product. Or in case users visit a certain product page, they may be interested in getting a notification about a price change for this product or if its stock quantity decreases, automate this process.
There is at least one significant date that a brand certainly knows about their subscribers — sign-up date. Besides, registration forms often include the field for the user's date of birth. So there are already two dates you can use to set up an automated email series. This could be a special offer announced in advance, repeated the next day with hearty congratulations, and the last reminder two or three days later.
This scenario is critical for all eCommerce brands. On one hand, 69.57% of users don't proceed to checkout. On the other hand, the conversion rate of abandoned cart emails is 4.46%. That is why it is imperative to set up automated reminders to motivate users to complete their purchase. Think carefully about its timing, use an appealing subject line, and don't forget to include engaging content.
eCommerce tends to get higher revenue from return customers, rather than closing a new customer's first purchase. So build an automated email series that will regularly remind customers of your brand after their first purchase. A common tactic is asking for feedback.
Then, if you have a loyalty program, you can send a reward reminder showing the recipient's points balance and explain how to use these points for further purchases.
Besides, always be on the lookout for cross-selling and upselling opportunities. Here are some tried and true cross-selling offers: suitable accessories, spare parts and consumables, extended warranties, a similar product, or an alternative. You can also make use of data from your CRM to figure out which product people often buy after the one that they recently purchased or which product is interesting to customers from the same segment.
eCommerce email marketing best practice #6. Win back inactive subscribers
Retaining existing subscribers turns out to be more efficient than acquiring new ones. According to PriceIntel, while improving your acquisition by 1% will bring you a 3% increase in profits, by lowering your churn rate by 1%, you'll see a 7% boost.
To re-engage inactive users, you need to know exactly how to identify them. Make a list of purchase, website, or email activity indicators. For leads these indicators may be a certain break between website visits, for repeat customers — a pause between purchases, for subscription services — an absence of payments.
Then build an email series that responds to these indicators. It may include a reward offer following a target action, a feedback request from dissatisfied users, or a notification about changes that may motivate the user to come back to your website.
eCommerce email marketing best practice #7. Personalize your emails so subscribers feel important
Statistics show that consumers continue to become more and more interested in personalized recommendations: this figure has increased from 57% in 2016 to 63% in 2018.
Marketers personalize email content and the frequency of their emails, to best suit their subscribers. According to users' online or purchase activity, subscribers can be divided into the following segments for personalized offers:
Customers opened an email > Email services tracks their location > Future emails will contain an offer specific to users' locations.
Customers made more purchases or made a purchase for a greater amount of money than their average previous purchases > Future emails will contain exclusive offers for loyal customers.
Customers spent a lot regularly in the past > Emails are sent once every two weeks.
Customers often make purchases lately > Emails are sent twice more often.
39% of companies almost don't personalize email campaigns and 34% personalize only 25% of emails. So you have a good chance to stand out.
eCommerce email marketing best practice #8. Evaluate your performance to make improvements
Email marketing analysis helps find weaknesses in your communication with subscribers and gives you an idea what measures to take to improve performance. One can track appropriate metrics with email service providers, web analytics services, and postmasters.
Email service providers show you the following stats:
delivery rate — to assess the sender's reputation and mailing list;
delivery errors — to troubleshoot problems and consequently lower the number of errors;
open rate — to evaluate the quality of the subject line, preheader, and sending time;
click rate — to evaluate subscribers' engagement, relevance and clarity of the offer, and to improve it in the case of a decrease;
compliant rate and unsubscribes — to evaluate content relevance and frequency of emails.
Google Analytics and other web analytics services can help you track traffic to your website that comes from your emails:
number of sessions and users — how many users click through to your website;
session durations — how long users stay on your website;
bounce rate — the rate of single-page sessions;
visited pages — how many pages users look through and which pages exactly;
conversions — how many times users complete target actions.

Postmaster tools, in their turn, allow you to track metrics essential to understanding your sender reputation:
delivery errors — number and type of errors;
spam rate — number of emails marked by users as spam;
SPF, DKIM, and DMARC authentication — number of emails that the mailbox service considers legally sent on your behalf.
There are also more advanced metrics that can be calculated manually based on data from the above-mentioned sources:
churn rate — to notice when too many subscribers leave your list and to determine if the cause is your content, email frequency, or the product itself;
customer retention rate — to evaluate cost-efficiency in terms of retaining your existing subscribers;
customer acquisition cost (CAC) — to evaluate how much it costs for a company to turn their leads into customers and to to reduce these expenses;
life-time value (LTV) — to find total profit a subscriber brought.
How often you check these metrics is based on how often you send campaigns, more emails, more analysis.
eCommerce email marketing best practice #9. Escape the spam folder
You may have a perfectly balanced offer and insightful audience segmentation, but if your email ends up in spam, it makes no difference. In this regard, keep in mind the following three factors:
1. Important criteria for mailbox services
To be sure that mailbox services don't filter you out, avoid the following factors in your emails:
caps lock;
spammy words associated with fraud or that are misleading;
links from a URL shortener;
lack of "Unsubscribe" link;
subject line longer than 100 characters;
attachments;
too many images and too little text.
2. Important criteria for email subscribers
Taking email design lightly is a surefire way to have your email marked as "Spam." As a result, the mailbox provider may automatically move your future emails to Spam and your ESP may even block your account.
Here are four tips to follow to avoid disappointing your subscriber:
3. Technical issues
Mailbox services check whether the sender is really who they claim to be. Here are two essential steps to help mailbox services trust you:
Compliance with these key requirements will help your email find its way into the inbox.
eCommerce email marketing best practice #10. Make the most of multichannel marketing
Beside email, there are a lot of other channels for communicating with your customers. Each channel has certain tools and implies different user habits for content consumption. Given this, you can adapt the same message to different platforms and formats to find the winning combination.
Here are several tips to integrate email marketing with other channels:
Cross-post your email content to social media, adapting the communication style.
Create chatbots in Facebook Messenger and grow your mailing list with them.
Involve SMS for urgent time-sensitive messages. 41% of consumers prefer SMS over email for urgent communications. For example, you could send SMS messages for timely information like delivery or payment updates.
Ask subscribers for their preferred channel of communication and improve your multichannel strategy accordingly. 52% of consumers consider the choice of a communication channel the most important when receiving messages from businesses.
Track which messages in which channels are the most efficient to be sure you are on the same page with your subscribers.
Conclusion
Although no one questions the significance of email marketing for eCommerce, it is not always easy to identify the most important of all the available opportunities. Let's go over the key tips for successful email marketing:
Start researching the market from your competitors.
Collect email addresses on social media and at your events.
Start segmentation as soon as you get any relevant information.
Send welcome emails to familiarize users with your company, products, and services.
Automate recurring scenarios.
Use re-engagement campaigns to bring back your dormant subscribers.
Personalize your communication to make each subscribers' experience unique.
Keep an eye on your email marketing performance.
Be vigilant to avoid spammy words or anything that will make mailbox providers view your campaigns as spam.
Don't limit yourself to only email, involve other communication channels.
The only sure way to be a successful eCommerce marketer is to get started, give our advice a try and make use of SendPulse's products and features.