Autoresponder
Autoresponder
Autoresponder is applicable to newsletters in an automated series that will be sent after events you specify.
Here are several types of letters that are called autoresponders:
A letter to confirm a user's subscription
Congratulation letters. This is most popular during holidays for which marketers set the trigger emails, for example subscriber birthdays, Christmas and New Year emails, the anniversary of a user's date of subscription, and so on.
Transactional emails when a subscriber makes a purchase
With SendPulse, you can create such letters in the tab "Autoresponders," where you can set the special date.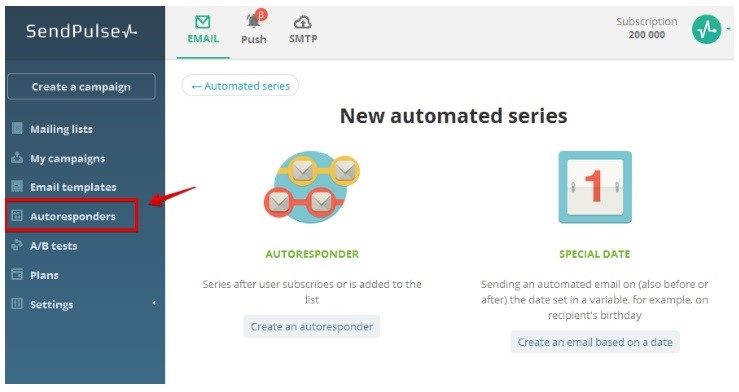 What are the advantages of using autoresponders in email marketing?
You save your time because the series of email messages can be created in advance and then you can just decide what day and time to send them.
Trigger emails help you to build subscribers' trust and increase brand awareness, because in these letters you can immediately react on subscribers' actions in a manner of asking how their shopping experience went, offering them discounts on certain items that is based on subscribers' buying history, and practice cross-selling. 
Avoiding mistakes. When you're working with a large amount of information, you might make mistakes, and when you're working with a large number of addresses, you might send a message to the wrong user. Automatic subscriptions will help you avoid these pitfalls.
Also searched with "Autoresponder"
QR Code - QR code is an abbreviation of Quick Response Code...
Hard Bounce - Hard bounce is a term that indicates that email delivery to a certain recipient fails on a permanent basis...
Mailing services - Mailing services are companies that provide their customers with ways to send out emails, SMS, and webpush notifications...
Spamhaus - Spamhaus is a non-profit organization established by Steve Lindford in 1998...
Mailing templates - An email template is an HTML preformatted email that you can use to create your own unique email template by changing proposed content to your own...
Rate this article about "Autoresponder"
Try SendPulse today for free
If you are interested in "Autoresponder" you might be interested in our bulk email service.
Sign Up