Podcast marketing is a strategy that implies promoting and selling your product or service through audio content. It helps reach new audiences, tell the brand's story, build authority, and encourage word-of-mouth marketing.
In this article, we'll unveil the 13 reasons to use a podcast, review 5 effective strategies, and 3 marketing services. We'll also find out ways to promote a podcast.
13 Reasons to Use a Podcast as a Marketing Tool
Over time, people change channels and ways of learning new information. They prefer the most convenient ways. As a result, companies should be ready to adapt. Today, podcasting is increasingly popular. According to statistics, 57% of Americans have listened to a podcast. In the last 3 years, the number of listeners increased by 29.5%. Companies' teams create podcasts for educational purposes, become guests on reputable podcasts, or create ads and run them on podcasts.
Many people now choose podcasts instead of other marketing channels. They can receive valuable, informative, educational materials from experts and industry leaders. Here are some reasons to consider using a podcast for your brand:
a niche targeted audience;
high ROI;
huge product sales;
a wide base of listeners;
new geographics;
many referrals;
better page rankings;
lower competition;
value for the audience;
community of interested people;
position of an expert;
organic traffic to social media and a site.
The reasons are clear, so let's review 5 effective podcast marketing strategies.
5 Effective Podcast Marketing Strategies
Creating a podcast is only the first step. To attain success, you need to promote it using the appropriate strategies. We've prepared the most effective to engage the audience.
Develop a podcast landing page. Create a separate podcast landing page for the convenience of listeners. It should ensure that users focus on listening to the episodes of your podcast. Besides, the page should contain a clear headline that communicates the usefulness of your product. Describe your podcast and the benefits people will receive after listening to it. Provide a summary and highlight the podcast's key points to improve your pages' rankings, accessibility, and internal linking. Use automated podcast notes generator tools to create a summary without breaking a sweat. Also, make sure that the page includes working links to all published episodes. The process of creating a landing page with SendPulse is very simple and will take you around 15 to 20 minutes. You'll easily design an amazing landing page for your podcast with the help of our drag and drop builder.
Record multiple episodes. If you are just starting your podcast, it's essential to provide listeners with more than one episode. A relevant and engaging podcast will always encourage people to listen to several episodes one by one. To avoid frustration among your listeners and negative comments, get ready with 3 to 5 episodes of your podcast.
Work on an influencer marketing strategy. You can always ask opinion leaders for help. They are professionals in their field who managed to obtain the trust and love of people. Influencers have a high level of expertise in a certain field and can recommend credible companies. You need to find experts related to your podcast topics. Check whether they agree to promote your podcast release.
Make use of podcatchers. Podcatchers are apps that play different podcasts, which results in better awareness of your company and podcast. You can find many apps that introduce new podcasts to the audience. Your podcast can be the next. iOS, Castro, Podcast Addict, and the Podcast Republic are on the list of the most popular ones. So if you need some extra exposure and promotion, leverage these apps.
Think of paid ads. To drive traffic to your podcast website, you need paid ads. You can place them on social media or in paid search results. People searching for similar information will encounter the ad and discover your podcast. Paid ads bring real results in terms of traffic and the base of listeners.
The strategies are clear, let's discover some ways to promote your podcast.
How to promote a podcast?
To get a wide audience, you need to inform people about your podcast. Start with the most simple yet effective ways of promotion. If you have no idea where to start, we'll show. Check our list of proven methods that will help you.
Consider email marketing. Create a list of customers who might be interested in the information in your podcasts. Then, send email campaigns. Ensure to include the date of the first episode in your email newsletter. Those who find it useful will save the date. With SendPulse, you can create outstanding email campaigns informing about your podcast and schedule their send-out. This way, your email newsletter will be delivered on time and to the right people.
Leverage social media. Platforms like Instagram, Facebook, and Twitter are perfect for reaching new audiences. There are many options to draw listeners' attention. You can publish a post on your social media account informing users about your podcast, create a video or story with its release date. If you have enough resources for promotion, you can consider paid ads. These effective tools will help you reach your target groups fast and bring more people to your podcast channel.
Conduct a giveaway. Giveaways help enhance your audience fast. By giving something useful for free, you earn an opportunity to get free promoters. You should interest new listeners with something really helpful and related to your company and podcast. For example, you can give users early access to some podcasts or a private consultation with an expert. Ask people to share news about your podcast with their subscribers on social media instead.
Now that you know the key ways to promote your newly created podcast, it's time to discover the 3 podcast marketing services.
3 Podcast Marketing Services
A podcast is a powerful tool in the hands of experts. If you don't have any experience, you can ask professionals for help. You can create everything you need with outstanding podcast marketing services. We'll profile the 3 most popular companies-experts in podcasts.
Lower Street
Lower Street is a podcast production company that manages more than your audio. The team of professionals helps you build your podcast and add sound design and music. The company also takes care of the promo pieces, valuable show notes, and guide content. This podcast production company has a variety of services for you: podcast editing, private podcasting, podcast launch service, and more. You can request a free consultation if you need some accurate information about making podcasts with Lower Street. Podcast launch service costs $9,000. This price covers artwork design, show concept, trailer episode, host training, music, sonic identity, etc.
PodBean
PodBean is an excellent choice for people who seek to run, promote and monetarize their podcasts. The platform provides you with the necessary tools and intuitive navigation to publish your podcast and manage it. Also, you'll have a schedule to post your podcasts on time. PodBean offers unlimited downloads, episodes, and recording time. The service provides users with a free plan with 5 hours storage space, 100GB monthly bandwidth, free themes, and a podcast site. The prices for the paid plans start at $14 per month and offer more options, such as unlimited storage space and bandwidth, pro themes, and advanced custom designs.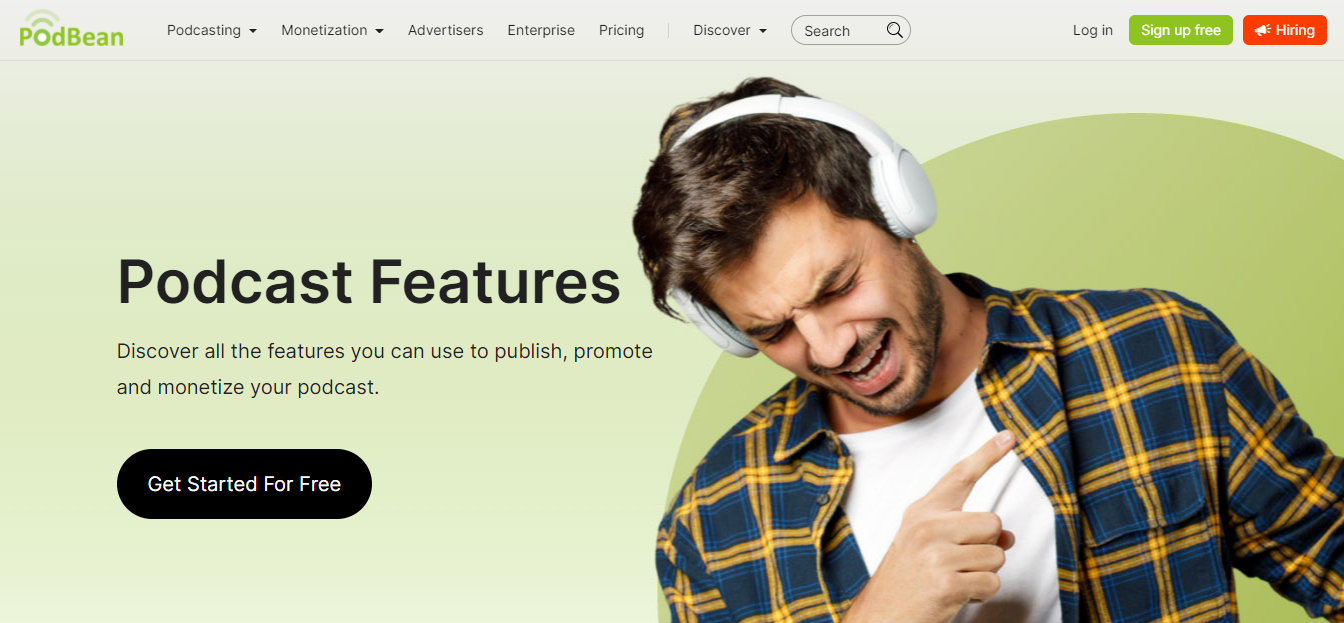 Pacific Content
Pacific Content helps customers connect with broad audiences through podcasts. This company has already created compelling audio stories for different brands. Pacific Content's team consists of podcast production, marketing, distribution, and sound design professionals. They are passionate about creating branded podcasts and a strategy for their promotion. With your assistance, the company can record any type of podcast you need, either educational or entertaining. This brand offers the following services: podcast development, production, and distribution, audience development, and podcast brand strategy. You can contact Pacific Content to inquire about the approximate price.
So, podcast marketing is worth considering if you strive to provide listeners with valuable and educational information. With a podcast, you'll be able to build a strong base of listeners and introduce your product.
References:
This article provides readers with the benefits of podcast marketing.
In this article, you'll find out how to promote your podcast.
This article offers you to explore the 15 best podcast hosting sites
Last Updated: 20.09.2023