Organic marketing is a long-term digital marketing strategy that allows companies to build brand awareness, engage and entertain leads using non-paid tactics such as SEO, blog posts, USG, guest posts, video content, social media marketing, email marketing, etc. Organic marketing helps build and maintain lifelong customer relationships.
In this article, you'll get to know how organic marketing works, uncover its benefits, learn some effective techniques, and get inspired by the examples.
Why is organic marketing important?
It helps businesses build trust, credibility, and long-term relationships with their target audience and reinforces brand experience. An additional advantage is that organic marketing assists marketers in running effective paid advertising campaigns.
According to BrightEdge report, organic search is the dominant source of online traffic, expanding its share to 53.3% of total web traffic. 70-80% of online users prefer organic results, ignoring paid ads. Hence, it's no wonder that 67.60% of all clicks go to the first five organic results in the SERP.
These statistics let us consider organic marketing a top way of generating web traffic. People believe that Google places the most trustworthy pages in the top 10, making the first page the most clickable. Users search having informational, transactional, or navigational intent. So, you can create different content formats to educate, sell and promote your product. As a result, more and more people will get to know your company and learn which problems it helps solve, contributing significantly to maintaining brand recognition and awareness. Even if users don't need your product or service now, knowing your brand name will do your a favor once they face a challenge.
As far as organic marketing is a free strategy, users know how much effort brands need to succeed. It won't bring instant results but will help develop trustful relationships with your target audience. Answering users' questions, providing valuable information and assistance, and offering unique content are all about giving your value upfront and unconditionally. Each technique and strategy aimed at educating, helping, and caring about your prospect is another brick in the wall of trust and credibility.
Additionally, organic marketing allows you to retarget users effectively with paid ads. For example, if users search for some product or service without buying it, you can show them retargeting ads on the search engine, other websites, or social media to remind them of your brand and close a deal.
So, investing your time and energy in organic marketing is a good use. Let's list the most profitable benefits of this digital marketing strategy.
Benefits of Organic Marketing
Organic marketing can take months or even years before you see tangible results but the advantages are worth it. Check them out below.
It is a free way to build brand awareness and recognition;
it improves brand reputation;
it blows up website traffic;
it contributes to building and maintaining brand reputation;
it helps target interested leads;
it reinforces word-of-mouth promotion generating valuable feedback;
it allows brands to keep the audience engaged;
it assists in nurturing, educating, and qualifying leads;
it lets companies establish long-lasting relationships with the audience;
it enables marketers to create winning paid ads.
Now that you know the benefits you can reap after implementing organic marketing strategies, it's time to find out the way it works.
How does organic marketing work?
The goal of every marketer doing any organic marketing activities is to make their brand recognizable for users to choose its services once they need them. Content helps meet different users' needs. You can educate leads about the benefits of using your product, nurture them by providing the right offer at the right time, and qualify by determining their specific needs. This way, you'll assist your potential client at each stage of their buyer journey from the moment they get to know your brand to becoming your loyal customer.
Using different content formats lets you achieve your organic marketing goals in the best possible way. You can write informative blog posts to show your expertise, opt for guest posting to find new audiences, implement SEO techniques to make your website visible to search engines and users, create posts on social media to show some behind-the-scenes and collect feedback, and send email campaigns to build a connection with your target audience. SendPulse allows you to bring to life your email marketing ideas absolutely for free, so give it a try.
After users find the answers to their questions, they will remember your brand and then, when having a problem, choose you as a company they trust. So, organic marketing is a free and non-intrusive way to generate more leads and gently convert them into happy customers.
Since organic marketing is opposed to paid promotional efforts, let's find out the differences between these two strategies.
Organic Marketing vs Paid Marketing
These two strategies help achieve different goals, so there's a no better approach. You can combine an organic marketing strategy with paid techniques for higher performance.
Organic marketing is the way to go if you want to build brand awareness, recognition, reputation, and long-lasting relationships with audiences without investments. It is a long-term approach that requires time, patience, and a sincere desire to provide help. Organic marketing is fundamental for reaping the benefits of word-of-mouth marketing. So, to bring in new clients naturally and get positive feedback, you need to get started with an organic marketing strategy.
Go for paid marketing if you look for immediate results, such as acquiring new leads and closing sales. This strategy implies creating paid posts on social media, running paid advertising campaigns in search engines and display ads, implementing video ads on YouTube, and developing sponsored posts. All these promotional activities enable you to target relevant leads in no time, increase revenue via time-limited campaigns, and reach the masses.
If you're a startup, a combination of both is the best choice since you need to establish brand awareness, but with a no-name brand, it's a real challenge. So, investing in paid ads will help you gain instant results and reach the necessary audience.
You can analyze your organic marketing performance with the help of Google Analytics and Ahrefs. You'll get to know your positions in the SERP, the number of users visiting your pages, and the general performance of your content pages. To evaluate the results of a paid campaign, measure your ROAS.
Now you know why organic marketing is important and the way it works, so it's time to cover some effective strategies that will help you build trustful relationships with your audience.
Organic Marketing Tactics
Optimize your website for high rankings.
Product different types of content.
Create an affiliate program.
Send email campaigns.
In this section, we'll share some effective organic marketing strategies for your website, blog, and social media profiles. So, stay tuned.
Optimize your website for high rankings
SEO means optimizing your content to rank higher in the SERP. The main goal of a search engine is to match users' queries with the most relevant answers. Google appreciates unique and high-quality content that covers all the aspects of a certain query. To rank high, you need to do keyword research to define the best opportunities for your business. For example, you can use keywords with high volumes if you're an established brand with a high domain reputation. They will help you target as many users as possible since your site has a great chance to rank high. However, if you have little traffic and backlinks, consider using low-volume keywords and long-tail keywords. You will target fewer users but have more chances to rank higher because of low competition. Besides, long-tail keywords tend to show a specific user intent, and their CTR is higher than for shorter keywords.
To produce high-quality content that will rank high, follow the tips below.
Mind different users' intents for different site pages. For example, your landing page matches the buyer intent, while your blog targets educational and information intent. Consider them while choosing the right keywords.
Use only one H1 tag on a page. It is the main headline and the topic of your page. A book can have only one title, and any page can have only one H1 tag. Avoid trying to manipulate the search engine.
Let your title match the user intent. Your page title is the first thing a user sees in the SERP. The more it looks like their search intent, the more chances they will click through. Besides, search engines place rank such pages higher in the SERP. So, if your article tells how to do this or that, it addresses the informational or educational user intent. So refrain from concentrating on selling your product on this kind of page. The title will be the H1 tag by default if you use a CMS. Use up to 50-60 characters for Google to display it correctly. Include the keywords for better performance.
Write an informative meta description. A meta description is the second element users see in the SERP. It's placed under the title. Its goal is to tell users briefly about the content of the article. Stick to 150-160 characters, including the keywords, and be informative.
Create relevant URLs. A URL tells the search engine what your page is about. Since users also check them, it's essential to optimize your URLs. Make them readable. Include your title text in the URL using the most important keywords without articles, prepositions, and conjunctions. Use hyphens instead of underscores.
Check your website for duplicate content. The same content may be on several pages, for example, product cards. It confuses the search engine since it has to determine which page is unique. If you need to leave both pages, tell Google which one to rank with the help of a canonical URL.
These are the main SEO principles to follow. Sticking to them will help you improve your rankings significantly.
Produce different types of content
Different types of content formats help marketers achieve different goals. You can't underestimate the power of educational, engaging, or evergreen content. The last allows you to show your expertise, bring in qualified leads, and blow up traffic. Evergreen content is always relevant to your audience regardless of fast-changing trends. You can write such articles for your blog and do some guest blogging.
Educational content enables marketers to nurture and qualify leads based on their sales funnel stage. You can't treat your loyal customers and prospects equally, so producing relevant educational content is a game-changer. You can post it on your blog or knowledge base and share it via email campaigns or chatbots. Educational content includes instructions and how-to guides on how to make the most out of your service. Incorporating video content will help you better demonstrate your product. Create educational videos and live streaming to better interact with potential clients.
Engaging content allows you to keep your audience interested in your brand. The choice of channels and formats available is enormous. You can run giveaways, contests, and quizzes on social media to generate new leads and engage your current audience. People appreciate brands that share some behind-the-scenes. Show both success stories and failures. It will help you build an emotional bond with your audience and make them feel like they are a part of your story.
Encourage your audience to share their experience of using your product. Their reviews, testimonials, and posts on social media will make up user-generated content which is extremely valuable for any brand. Many people look for user reviews before buying from a brand for the first time, so this type of content will establish trust and credibility toward your company. Besides, you demonstrate their reviews and testimonials on your site, in a chatbot, and Instagram profile to bring in new customers.
Create an affiliate program
People trust other people more than ads, especially if they respect and trust these people. Take advantage of an opportunity to partner with popular blog owners, influencers, and micro-influencers from your industry. They can endorse your product highlighting its benefits on their social media accounts. Affiliate programs work based on links shared by influencers. Each time users make a purchase following this link, an affiliate receives a flat fee, and you get new clients. It's a great chance to reach new audiences, skyrocket sales, and build trust. If you don't want to invest money in affiliate marketing yet, partner with micro-influencers who love your product. This way, you can collaborate on a barter basis only.
Send email campaigns
With the help of email marketing, you can share your existing content, promote hot deals and top products, and build relationships with your audience. It is an organic marketing strategy since you can use a professional email service for free. SendPulse helps startups and small brands grow, establish trust, and communicate with prospects and customers at no charge. If you have up to 500 email subscribers, you can send them 15,000 per month absolutely for free.
Create promotional campaigns to inform your audience about hot deals and sales and notify the attendees of upcoming webinars and conferences. Nurture your leads with educational content to move them down the sales funnel. Send abandoned cart emails and re-engagement campaigns not to miss sales opportunities. You can automate your sales pipeline to reduce errors, save time, and boost conversions with our Automation 360.
Now that you know pretty much about organic marketing, let's look at the examples of some effective strategies.
Examples of Organic Marketing
In this section, you'll get inspired by brands leveraging organic marketing. You'll see that you can implement each business strategy without sweat.
Below you can see how websites optimize their content for the search engine. Google shows a featured snippet to help users meet their educational requests. The search engine chooses the site which best answers users' questions. You can also find videos in the SERP, and the "People also ask" section. You can check this graph and use some ideas for your educational articles.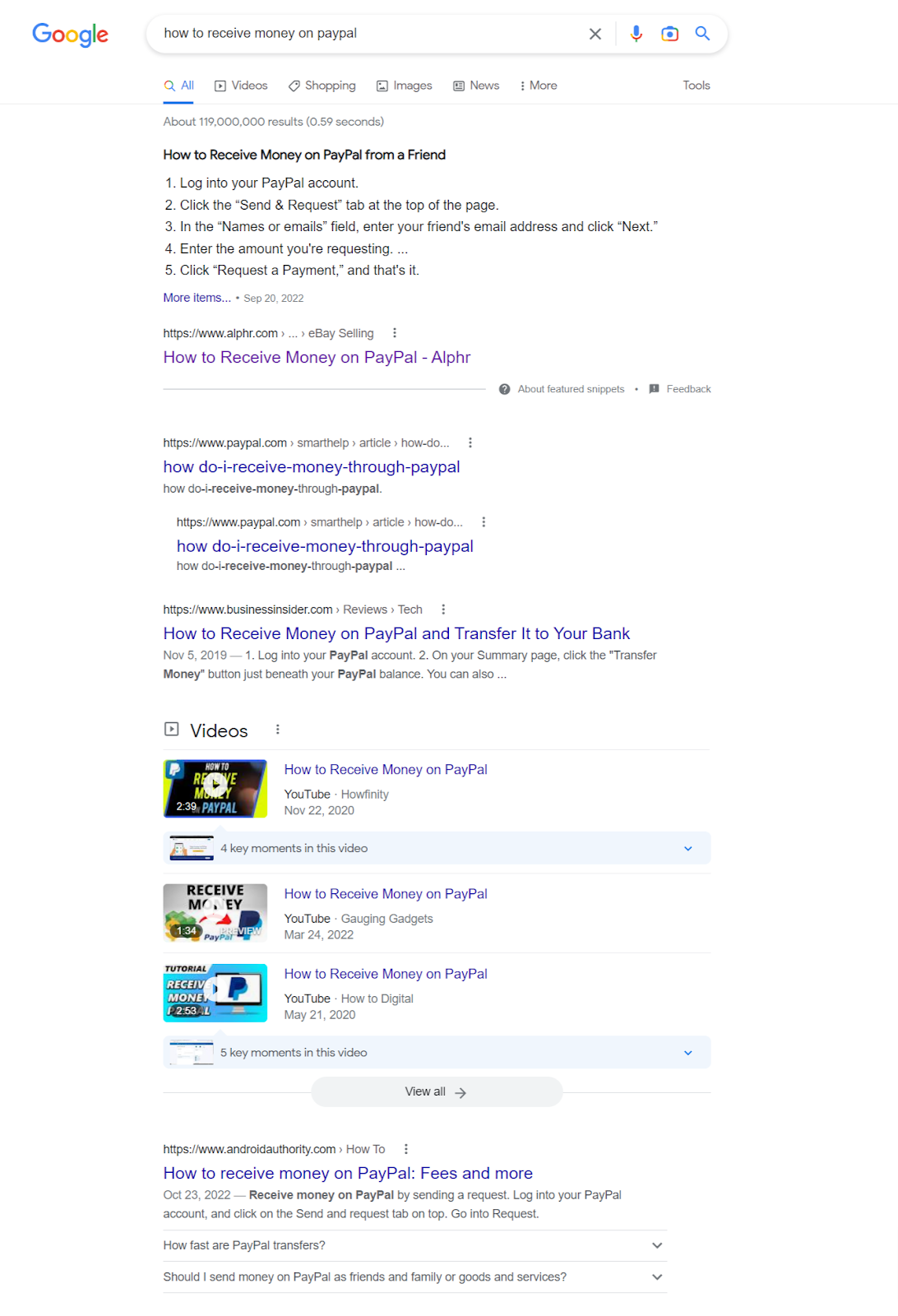 Below you can see an example of user-generated content. Starbucks launched a contest to let its clients create a new design for their cups. The brand engages users to post on social media using a branded hashtag. 4,000 participated in the contest, which helped the company bring in new clients and build brand awareness.
Check out an example of influencer marketing. Dior asked its brand ambassador and blogger Jisoo to promote its Spring/Summer 21 fashion show. The blogger told about it in her stories and even went live several times to share her impressions. This strategy helped the brand reach new audiences, promote its launch, boost traffic, and blow up engagement.
The example below demonstrates using email marketing as an organic marketing strategy. It is an abandoned cart email flow created with SendPulse Automation 360. It allows marketers to remind clients about the items in their shopping carts automatically. You only need to set up a flow once, which will work for you.
Follow these instructions to automate sending abandoned cart emails.
Congrats, now you know the benefits of organic marketing, and the way it works, have some strategies and examples. Create a unique strategy for your business using SendPulse promotional tools for free!
Last Updated: 22.03.2023