Everyone loves birthdays. This is a day to celebrate, feel special, and enjoy your birthday gifts. Companies use birthday emails to connect with their audience, say a few kind words, as well as remind about their services and products.
In this entry, we've gathered a bunch of tips about how to use your email marketing routine to throw a birthday party in your subscribers' inboxes.
What is a birthday email?
A birthday email is a type of message triggered by the date a user mentioned as their birthday. These messages are automatically sent to the subscribers on their birthday or some time before the event.
Salesforce reports that 73% of marketers rate birthday emails as effective or very effective. On top of that, birthday emails prove to be a real sweet spot for achieving email marketing success. Yes Marketing Email Trigger Report, for example, reveals that birthday emails get almost twice as many opens and unique clicks compared to business as usual (BAU) campaigns.
Apart from being an email marketing life-saver, sending a happy birthday email helps to
increase revenue. According to Experian, birthday emails have a 342% higher revenue compared to regular promotional campaigns.
improve a brand's reputation. Sending an email on the user's special day allows you to reach your audience with relevant information and nurture the company-customer bond.
reactivate inactive subscribers. Since birthday emails are highly personalized, even unengaged users will be pleased to get an email tailored to their personal data.
But before you start googling cute and witty birthday wishes or crafting a birthday email for your audience, you have to gather users' dates of birth. Have a look at the most common ways to do that.
How to collect user data for birthday emails
With a subscription form
Ask users to specify their date of birth at the registration stage. Remember to keep the subscription form easy and short. This way you'll keep your potential subscribers from leaving the sign-up process due to too much information to fill in.
The Dog Bakery, a famous store that makes and sells dog treats and birthday cakes, follows this rule and suggests that users should indicate the pet's birth date while signing up for emails with special offers.
With a regular email
Prepare a separate email to encourage subscribers to share personal data as the primary call to action. True Citrus, for example, used such a message in their email marketing strategy.
Upon clicking the CTA, a subscriber travels to the preference center where they can fill in the necessary information — first name, shipping address, and birthday, of course.
So with your subscribers' dates of birth at your fingertips, you might wonder how to use this information for your birthday email marketing. Check out the ideas we've gathered for you to create a cool birthday email for a customer's special day.
Birthday email ideas
Create a birthday email subject line
A subject line can make a user either open your email or scroll past it. So don't hesitate to use the subject line to inform a subscriber that your email is about their birthday. Indicate the subscriber's name, your special offer, or use Unicode symbols to draw attention to your email.
Prepare some treats
What is the first thing that comes to your mind when you think of a birthday? Right, presents. So come up with some pleasant offers to treat your subscribers — discounts, bonuses, or free shipping.
Anthropologie, for example, congratulated a user on their birthday with a 15% off their order and a free shipping.
Nintendo, congratulated a someone on their birthday by offering bonus points that a user can spend on games in their online shop.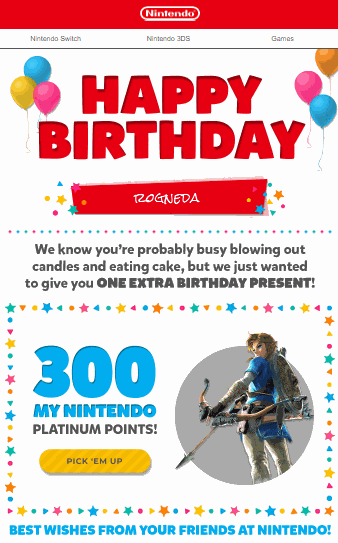 Launch half birthday email campaigns
Remember, you are not the only company that's going to reach a subscriber with a happy birthday email on this very special occasion. To avoid having your email get lost among others, create a half birthday campaign, six months prior to the user's actual birthday.
Boden, for example, sent the birthday email in advance. They congratulated a subscriber on their half birthday, presented a gift voucher, and indicated the date when the offer expires.
Offer freebies
Delight your subscribers with a free gift. You'd be happy to receive a present without having to pay for anything, too, — just coming to the store and grabbing your gift.
Olive Garden, for instance, sent a subscriber a compliment birthday email where they offered a coupon to get a free dessert in one of the company's restaurants.
Help to get ready for the celebration
Choosing the menu, outfit, and activities are important parts of the birthday planning routine. Suggest the decoration ideas, festive looks, fun activities, or some cool recipes. This is exactly what Betty Crocker did. The company sent a birthday email with kind wishes and a set of best birthday desserts to inspire cool party treats.
Mud Pie sent an email with tips on how to organize the perfect B-day party for kids, suggesting outfit and decoration ideas for the celebration.
Think outside of promotion
Surround your subscribers with something rather than discounts, special offers, and free shipping on their birthday. Drop a line with a couple of kind words to show you're a real person who cares about your subscribers rather than a marketer who tries to sell immediately.
Check out Astley Clarke's birthday email. In the campaign, the company skipped the sales and sent a subscriber happy birthday wishes instead.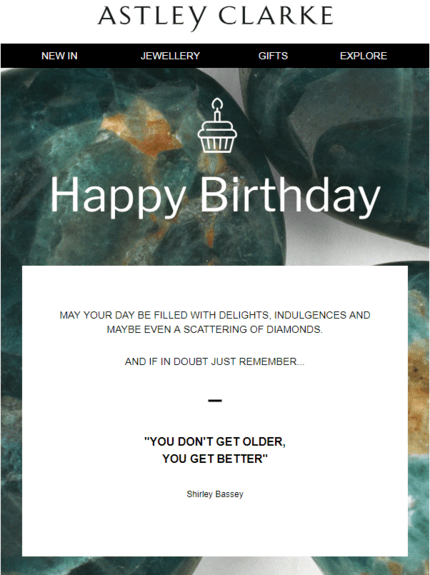 Send a series of birthday emails
Keep in mind that birthdays can be a hectic time for a user's inbox as it's filled with tempting perks from many companies. Split your birthday email campaign into a series to make sure your offers are worth the effort and don't expire before users get around to opening them.
A birthday email campaign from Clinique, for example, consists of two emails. The company sends the first email with a special perk on their subscribers' actual birthday.
The second email lands in the inbox three weeks later — a week before the deal finishes. The company invites subscribers to follow the link and check out a guide on the brand's best sellers.
Get creative
What if you stepped aside from the users' birthday? Think of celebrating your company's birthday together with your subscribers. Anyway, your company was founded once, too. True Citrus, for example, marked their own anniversary with a special one-day sale. In the email, the company provided a promo code which would allow users to get 50% off everything on the website.
Alternatively, you can use a celebrity's birthday or any other anniversary date in your birthday email marketing routine and voila — the news hook for your email is ready.
Art.com, for example, glued readers' eyes to their email using information about a famous artist's birthday. Their email offers a discount on the works inspired by Picasso available on the website.
Feel free to draw inspiration from the above-listed ideas to breathe in some festive vibes into your birthday emails and make your subscribers feel special and appreciated. Go on rocking your birthday email marketing and make sure you use SendPulse for its automation!