How to Create Animated GIFs for Campaigns
With the SendPulse HTML email editor, you can convert videos to GIF-animations and add the preview option to your template. The video below will walk you through the process. 
At the 2nd stage of email campaign creation, there are 2 ways to generate a GIF:
Choose a ready-made email template, which was created with the help of an HTML editor.
Create your own template with an HTML editor.
How to Convert Video to GIF
Click the icon Insert video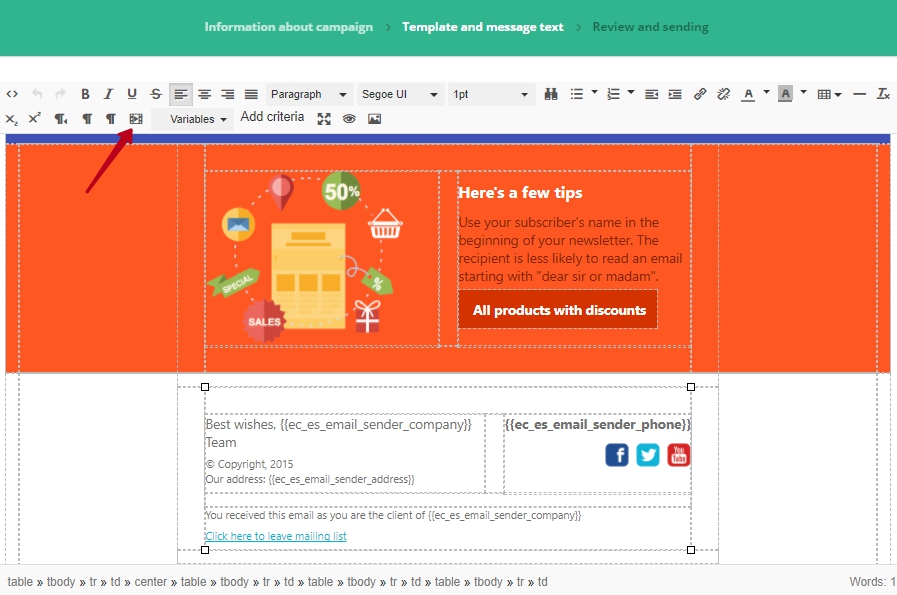 Insert a video link and click Enter
Then, choose "Generate GIF".
Convert part of the video
You can convert part of the video, for this purpose choose this option. Then, add the necessary time – "Start from" and duration – up to 5 seconds.
If you want your subscribers to see the whole video, choose "Add an overlay button to the image" and they will be redirected to it.
Also, you can add duration time.
Choose the necessary image width.
Preview and create
Click "Preview" to find out how it will look like. Then, click "Create a GIF image". Wait for a couple of seconds and add the image to the template.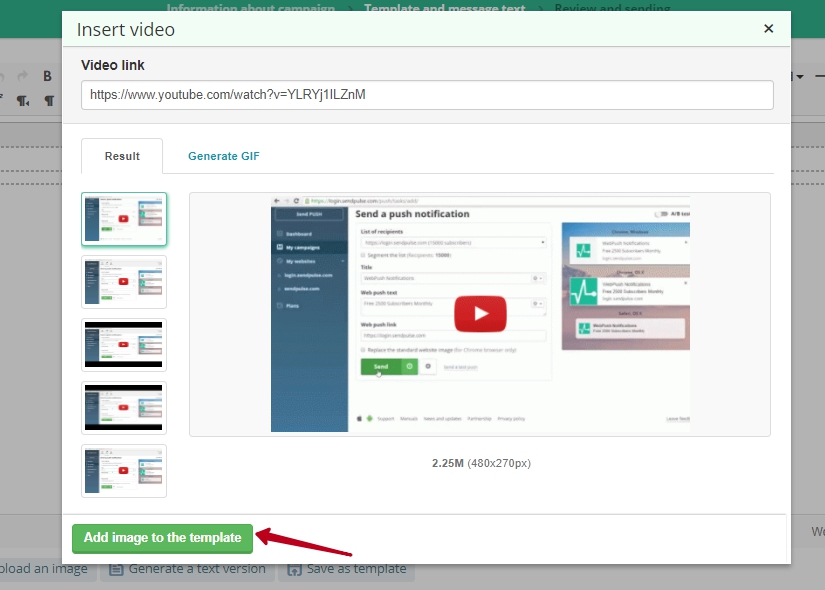 Another way to convert videos into GIFs is to use selected frames
Use selected frames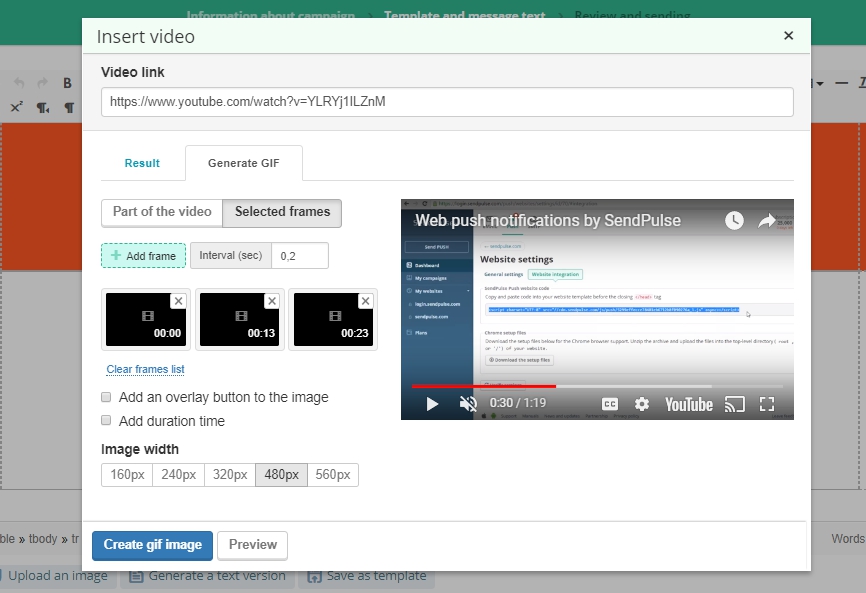 Choose the necessary frames and set the interval between them. Here you can also add an overlay button to the image and duration time.
Preview and create
Click "Preview" to find out how it will look like. Then, click "Create a GIF image". Wait for a couple of seconds and add the image to the template.
Your GIF is ready!
Have you ever received an email with a GIF? Were you intrigued?
A GIF is not a real boost in email marketing still, but it becomes popular.
Why does this GIF capture your attention?
Associations as mystery, curiosity, the thrill of anticipation may come to your mind. This is quite logical, as they are predetermined by its main functions. 
So, let's discover the magic of GIF.
Why should you use GIFs in your email marketing?
We tend to check our inbox while doing other things or when have a spare minute, for example, on our way to work, while having lunch or a break. Thus, we are not inclined to read a lot of words and to enjoy highly informative emails. The first thing, we pay our attention to is a picture. It is definitely a picture. If chosen correctly, it can provide us with the sender's intention in a creative and eye-catching way. 
Functions of GIFs
Informative
Certainly, this is the main goal pursued by marketers. Their aim is to sell, to inform, to promote. GIFs can show the main advantages of your product from different perspectives. 
Educational
For example, if your product is software or you have a blog where you regularly publish useful tips on "how-to-do-this-or-that", GIFs are an excellent idea to demonstrate some portion of your information to make subscribers interested, to arouse a desire to discover more.
Congratulation
Isn't a GIF a good way to congratulate your clients on their birthday? Be creative with its choice. A delicious cake with burning candles or a pretty kitten with balloons and confetti will make everyone smile. Moreover, it will positively reflect on your relationships with the clients.
For additional emphasis
You may emphasize anything you wish. For example, you have free shipping for purchases over $50 – inform your subscribers.
Abandoned product in the shopping cart? Remind your client about it.
Use your imagination.
Entertaining
Why not? Surely, it can't be your goal, but why not joke once upon a time? The most important thing – such a GIF should be to the point not just to litter your subscribers' inbox.
Of course, there are more reasons why you should use GIF in your email campaigns, but these are the most relevant.
You already know why GIFs are so attractive, let's look at bright examples of their usage.
How to use GIF in different industries
Different industries have different ways of applying GIFs to their marketing materials. Still, there are some common use cases.
Birthday
Wanderlust + Co sent this email to their subscribers who had a birthday. It is nice and cute, besides, there is a call-to-action so they offer a special discount.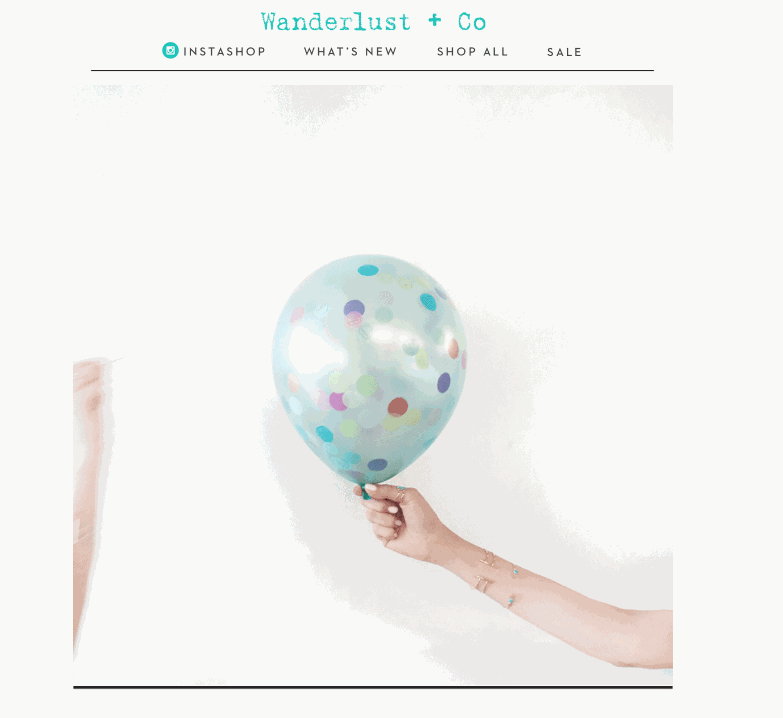 Special offers
This email is from Artifact Uprising. They inform their clients about a sale using a bright and colorful GIF with an easily-visible call-to-action.
New arrivals
American Eagle Outfitters sent this email to their subscribers to tell them about their new collection of warm clothes. They simply demonstrate it, describing with a few words.
Tutorials
Teavana uses a GIF to demonstrate how their product works, they offer a discount and have 2 visible call-to-action buttons. This can be applied to software, gadgets, online resources, etc.
Tips for Effectively Using GIFs in Emails
Don't use GIFs in every email campaign because your subscribers will get used to them and won't be surprised. Use them once a month, for example,  for a change.
Don't use a lot of GIFs in one email. It will not only distract clients from your intention, but it will influence the total size of your email. If it is too big, the subscriber's email client may not support it.
Make the first shot the most informative. If an email client of your subscriber doesn't support GIF, the user will see only the first shot.
Avoid colorful and flashy shots and don't make the interval between them too small, otherwise, it will irritate and won't be informative. 
Now you know how to use GIF correctly and what you should avoid. Be creative and start using GIF right now!
Last Updated: 09.08.2022