SendPulse users can insert various social media buttons in email templates.
Currently such social media icons are available: 
Facebook
Google+
Instagram
Flickr
Tumblr
Odnoklassniki
WhatsApp
Vkontakte
Youtube
LinkedIn
Vimeo
Twitter
Blogger
Pinterest
SlideShare
Facebook Messenger 
Viber
Medium
Blogger
Telegram
Periscope
When you need to insert social media buttons in your email template, open it, scroll down and look for the SOCIAL block.
By default, there will be three social media icons in that part of the template.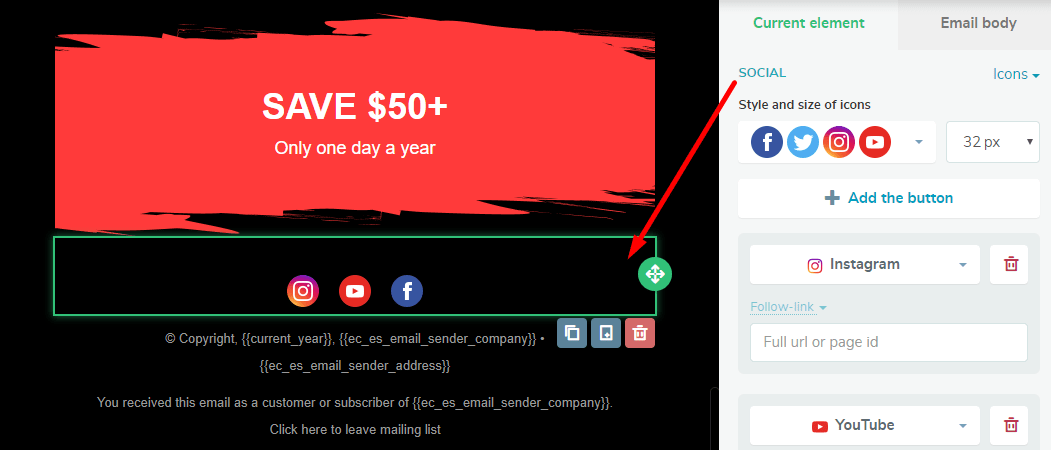 If you are creating a template using the SendPulse Layout Template Editor, find the Social block in the bottom left corner of the editor, drag and drop it to the proper place on the template. 

Note, that if you are using a system template, it will have several social media icons listed from left to right — in the right-hand side panel those social media buttons will be listed from top to bottom in the same order for your convenience.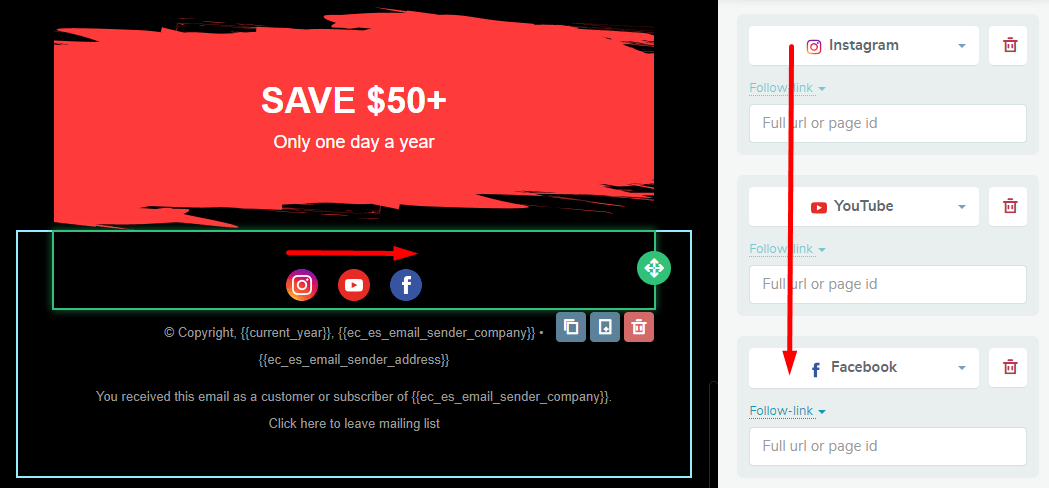 To add another social media button, click Add the button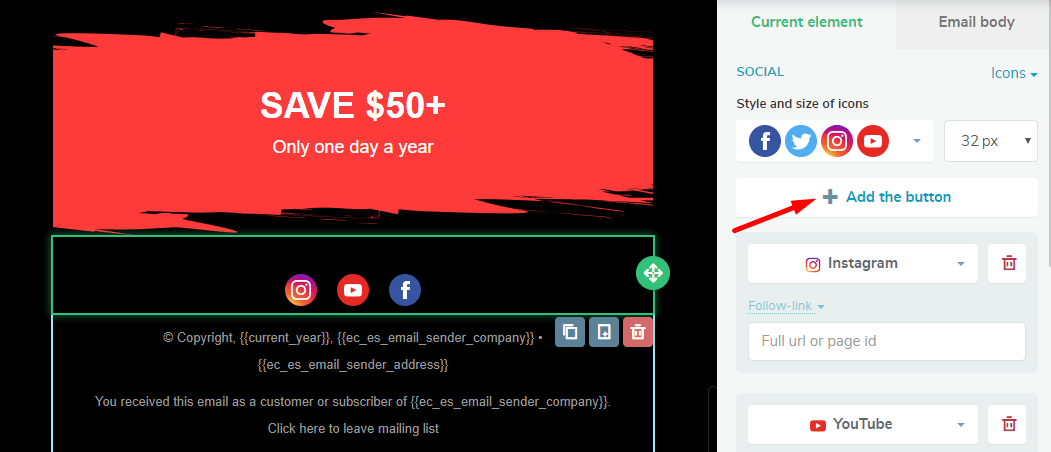 The new button will be added to the end of the list, it will duplicate the previous button.
To select a specific social media for the button, click on the button you need to edit and expand the dropdown list of available options.
Click on the social medium name to assign it to the button.

Now add a link that email recipients will open clicking the button: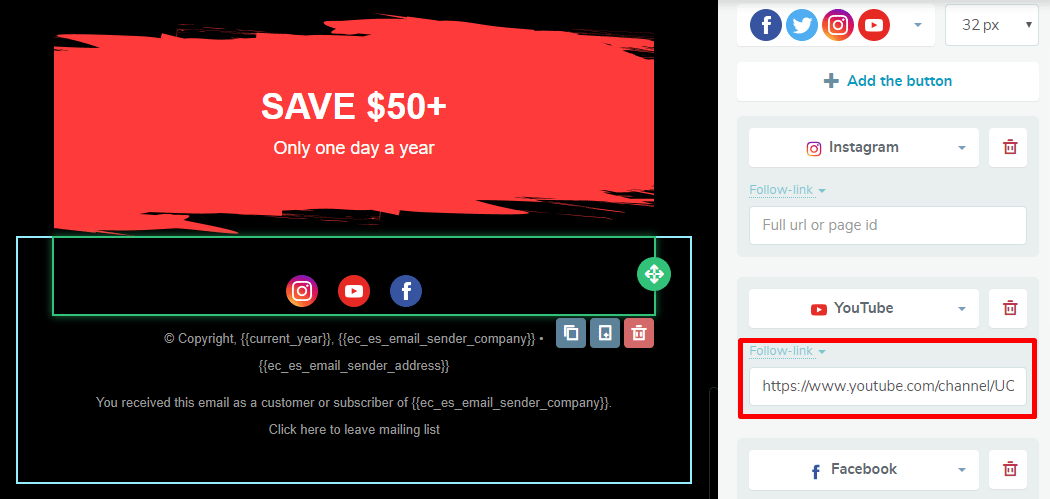 Next step you can set icon style and size: click on the little black arrow to open a dropdown menu with styles and select one. Same way you can set icon size: choose between 16, 24, 32, 48 or 64 pixels.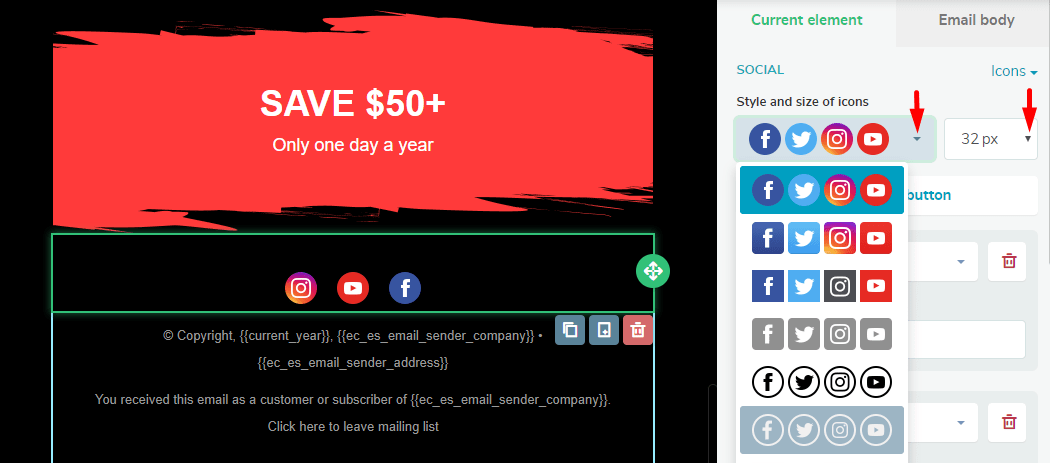 To delete a button, click on the trash bin icon next to it: 


Besides the style and size of icons, users can select a type of action that will follow the icon click.
By default all social media icons are set to "Follow link" type — recipient clicks the button and gets redirected to the linked social medium page.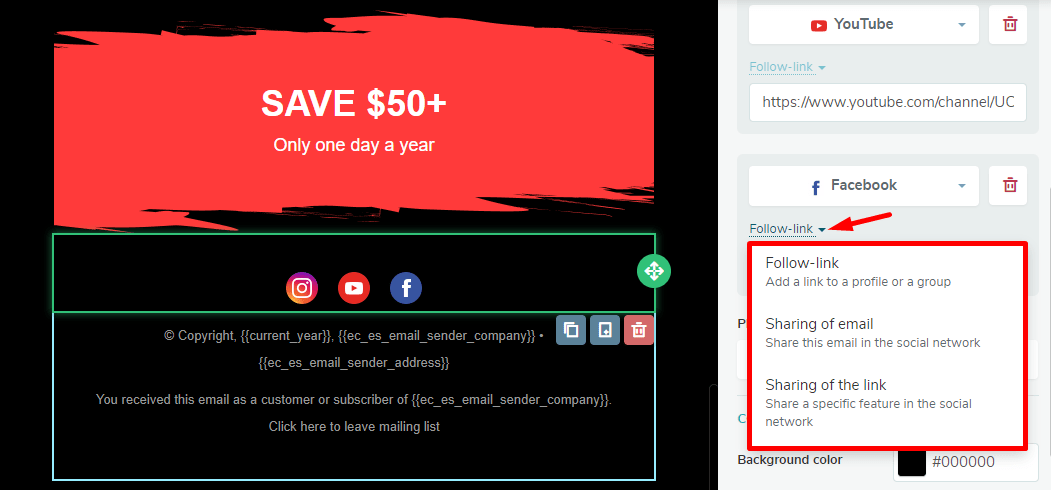 Link types depend on the social medium and its features. Generally, such link types are available:
Sharing of email — click shares this email;
Sharing of the link — click shares the link.
Users can also select whether to place the social media buttons vertically or horizontally inside the Social block; they can set icons background color, inner padding, and block height.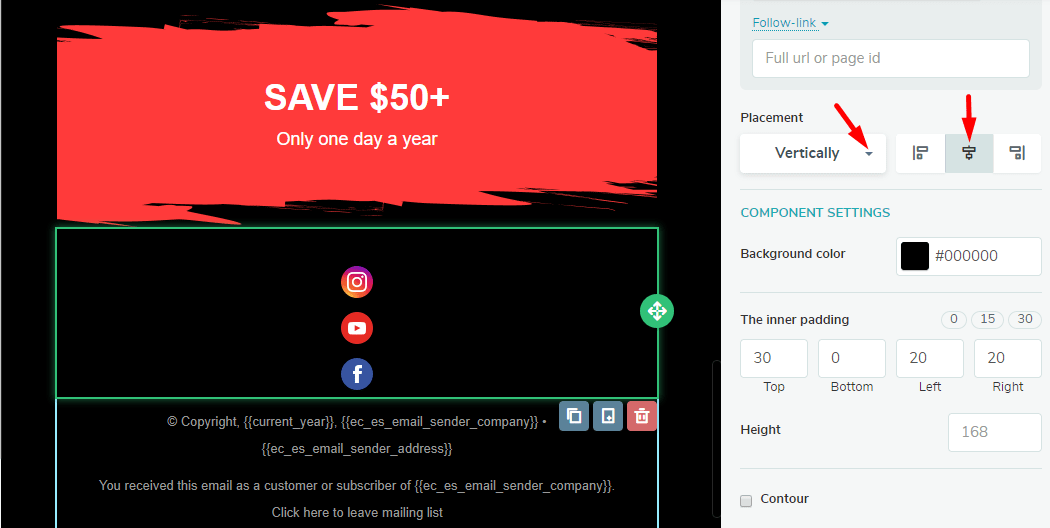 Last Updated: 2019-04-02