Drip marketing is a strategy that encompasses a company sending a series of pre-written emails to its prospects and customers to make them take the desired action. Drip campaigns can be sent based on subscribers' actions or scheduled on specific dates. Drip marketing helps increase brand engagement and loyalty, promote relevant content, interact with customers, and capture abandoned carts.
In this article, we'll explain why use drip marketing and its benefits. We'll also uncover how to set up a drip campaign and provide you with some amazing examples.
Why use drip marketing?
Some brands send drip campaigns to interact with their target audience and boost conversions, others strive to increase customer loyalty. However, all of them use the same technique. Drip marketing is an essential strategy for lead nurturing since it allows companies to communicate the benefits of their businesses to potential clients who aren't ready to purchase yet. With drip campaigns, they can educate leads about their products so that people consider their brands once they are ready to buy.
Marketers deliver the right content at the right time to provide subscribers with solutions they need at a specific moment. Since emails are sent in response to subscribers' actions and people expect them, marketers receive great open rates and higher click-through rates.
A series of pre-written emails sent in response to specific visitors' actions make users think of your brand and remember it. Once they need what you offer, they will recall you and purchase your product. You'll build better relationships with customers and show them that you are a company they can trust and rely on. As a result, brand awareness will increase.
Now that you know why to use drip marketing, let's discuss the advantages.
Benefits of Drip Marketing
Business owners can reap many benefits of this marketing strategy. If implemented right, it can bring the following pros to entrepreneurs:
Now that you know the pros, it's time to find out how to set up a drip campaign.
How to set up a drip campaign?
Setting up the sending of automated series of emails is easy when using a specialized platform. With SendPulse, you'll be able to schedule drip campaigns for different marketing scenarios: abandoned carts, re-engagement, purchases, etc.
1. Register with SendPulse
SendPulse is an all-in-one marketing platform that enables you to create various drip campaigns to meet your main business goals. With Automation 360, you'll send relevant emails at the right moment to subscribers on your list. Fill in the registration form with your contact information to start using our service and reap its benefits.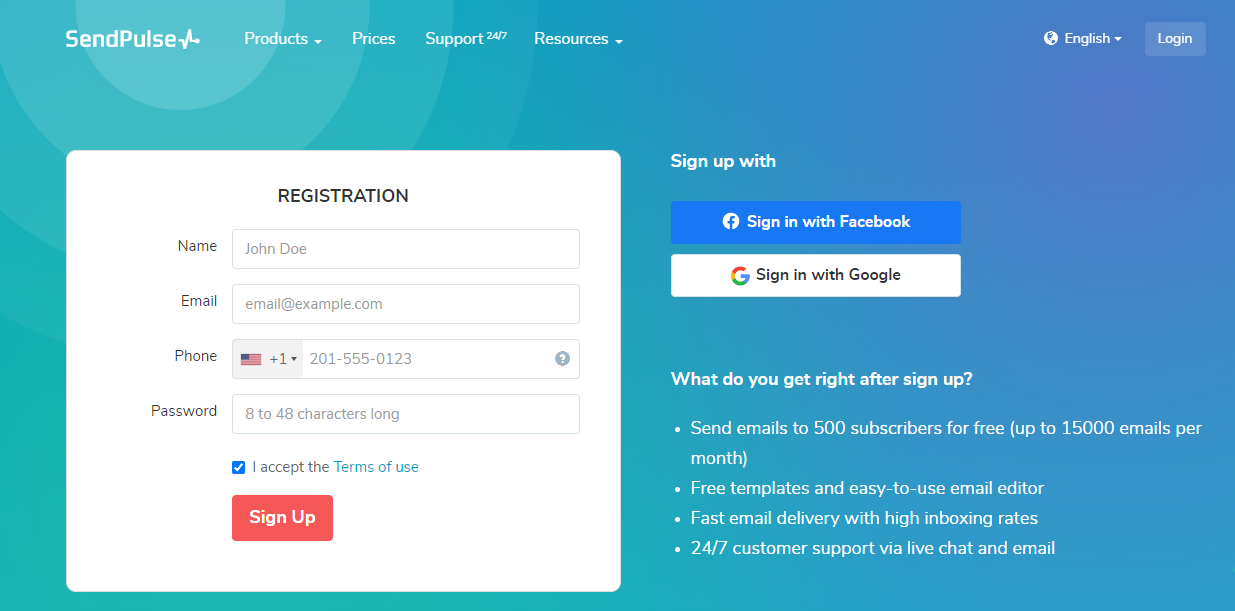 2. Create an Event
Once you finish your registration and log in to your account, proceed to creating an event. When your prospect performs a specific action, the event will be triggered. In this case, an event is a condition that will cause the sending of emails, SMS, push notifications, etc.
Go to "Automations" and click the "Events Manager" button.
Click "Add new event" and select one of four default events or create your own to reach your business objectives.
After clicking "Add" and creating the necessary event, our service will generate a unique URL. Ask your developers to send data to that URL.
3. Build an Email Workflow
Return to the "Automations" tab and choose "Create new automation." Fill in the form with the information necessary to send your new drip campaign.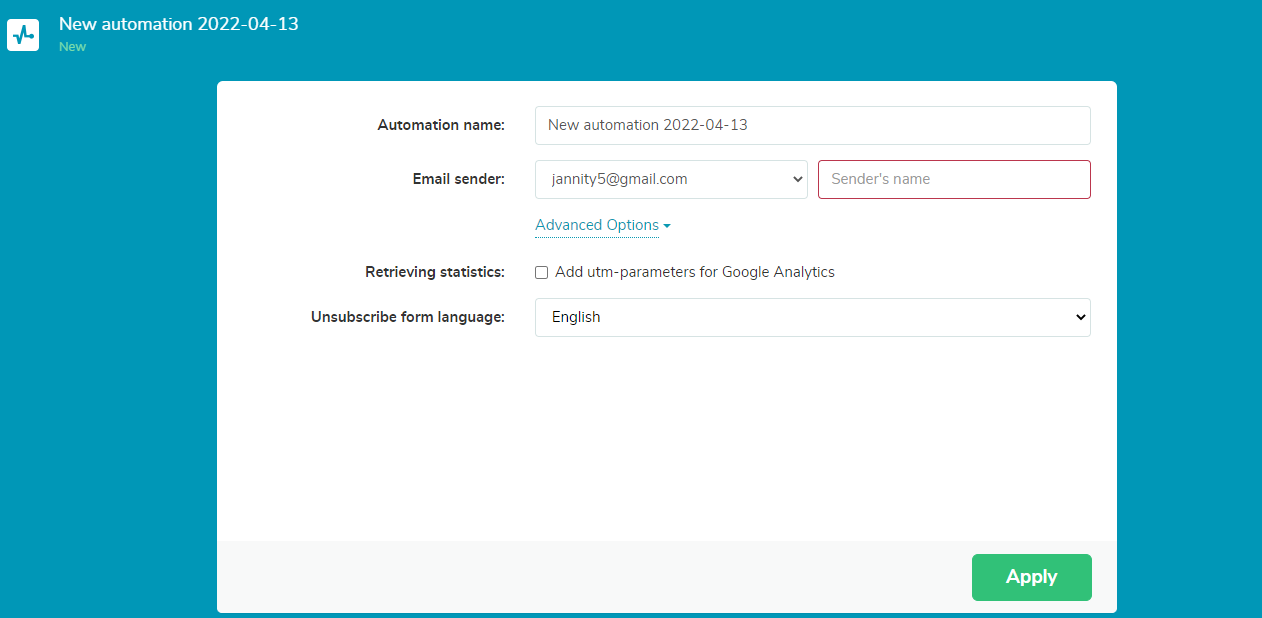 Once you click "Apply," select the most appropriate trigger to send your emails. For example, brands send a series of emails when their customers abandon their carts because of their effectiveness. To create a series, follow the steps.
Use email, push, SMS, filter, condition, action, and goal elements to build your flow. You just need to drag and drop those necessary for your workflow. Add relevant content to attract subscribers once they receive your emails. Set conditions for the system to identify when the emails should be sent.
Below you can see a great example of how to do it.
4. Evaluate the Performance of your Drip Campaign
The last step is tracking and assessing the performance of your campaign. This is the perfect moment to find out whether your tactics work and bring great results: sales, conversions, customer loyalty, engagement, or brand awareness. SendPulse provides you with statistics: deliveries, opens, and clicks for each part of the flow in real-time.
Here you can see the numbers SendPulse users receive on their campaigns.
Now that you know how to build a drip campaign with SendPulse, it's time to jump into some examples.
Examples of Drip Campaigns
The task of drip campaigns is to speed up the passage of the lead down the sales funnel with minimal discomfort by offering tutorials, guides, instructions, discounts, etc. Amazing drip campaigns can delight customers, make them engage with your brand again and buy your product. Let's now explore some outstanding examples that hook the audience and entice them to engage.
Duolingo
Duolingo's drip campaign mission is to win users back and make them more active. The company sends a series of emails to its subscribers once they show up in the app.
The first email welcomes you back and informs you that Duolingo is happy to see you again practicing and doing lessons. The team encourages to perform streaks to develop learning habits and attain goals.
The next email reminds you to take a lesson to practice language and improve your knowledge and skills. This way, this language learning company keeps in touch with inactive subscribers.
Leesa
Leesa, famous for its mattresses, uses drip campaigns to encourage potential customers to buy with a discount. The offer is very attractive and entices customers to shop immediately. There is a powerful trigger that informs about the upcoming Black Friday in July.
The first email in a sequence urges customers to hurry up to enjoy the benefits of the sale. It says that the discounts will end soon, so people who haven't managed to grab the deal can do it now.
The second email is another way for a brand to increase conversions. People can still purchase mattresses at attractive prices since the sale was extended. If subscribers have a fear of missing out, they can hurry up to shop the mattresses.
Congrats, now you know the importance of drip marketing. Hope that our examples will serve you as a hint once you are ready to create email campaigns for different business events.
References:
This article defines the term and provides readers with the advantages of drip marketing and examples of campaigns.
In this article, you'll find the 10 best drip marketing campaigns.
Last Updated: 28.09.2022