How to Send Marketing Emails
Gmail, Outlook, Yahoo, and other email providers are not designed for sending emails en masse. They limit the number of daily recipients to 500 and may ban you for exceeding that limit. To send marketing emails to more than 500 subscribers, you need to use a bulk email service that provides you with all the necessary tools for successful email marketing.
You need to take five steps to send your marketing email. Here they are.
Step 1: Choose a reliable bulk email service
A professional bulk email service provides you with free email templates, a convenient campaign builder, handy tools for email automation and mailing list management, and a customer support team that is always ready to help.
SendPulse is a bulk email service that offers high-quality email marketing tools at affordable prices for any business, be it a small family company or a large enterprise. Here's the comparison of four top bulk email services. Once you choose one you like, focus on attracting an interested audience to your brand and opting them in.
Step 2: Collect email addresses
Subscribers are the future recipients of your marketing emails. To get their permission to send messages, you need to place a subscription form on your website or blog.
In exchange for relevant emails and discounts from your brand, visitors will share their email addresses. You can create a form with additional fields to collect more data from users, like name, phone number, location, gender, etc. They will only share it if the value you provide is worth their while. Below is a two-field subscription form created with SendPulse in half an hour.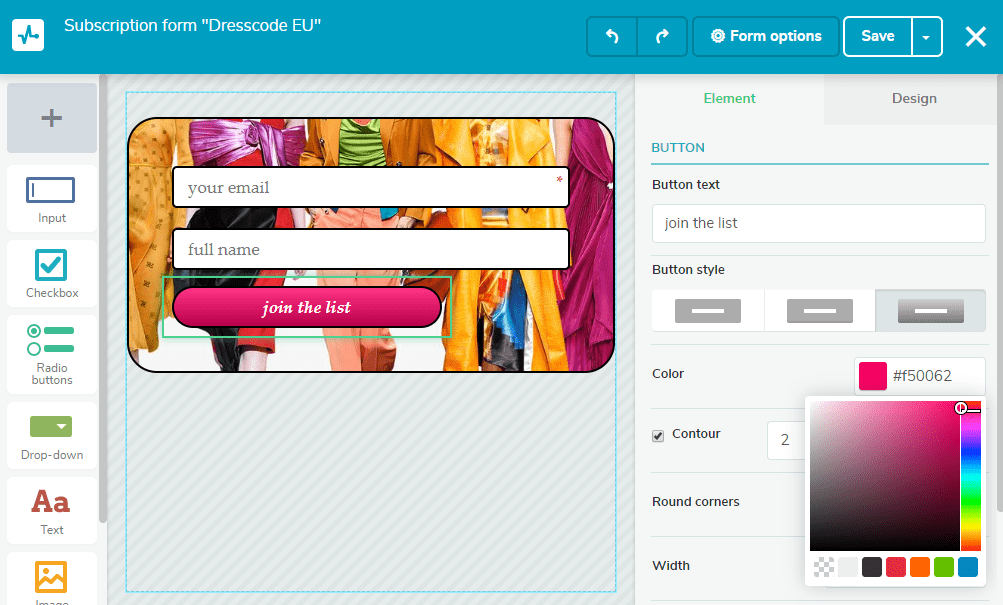 Step 3: Create an email template
It is the structure of your email with custom fields for you to add images, text, CTAs, links, etc. You can create a professional-looking email template in three ways with SendPulse:
Below is the layout of our drag and drop editor with a pre-designed template for travel companies. It takes less than an hour to create a similar one with SendPulse.
Note that all templates created with SendPulse are responsive by default. This means they look perfect on devices with any screen resolutions, including desktops, tablets, and smartphones. Here's the guide to help you create your own email template.
Step 4: Send an email campaign or schedule it for later
Now you are almost ready to send your marketing email. It's time to choose recipients, create a catchy subject line and a preheader text, and select an email template. Before you hit the send button, you can get some useful anti-spam recommendations regarding your email content. This will help you improve your email quality and ensure better deliverability. Here are some recommendations: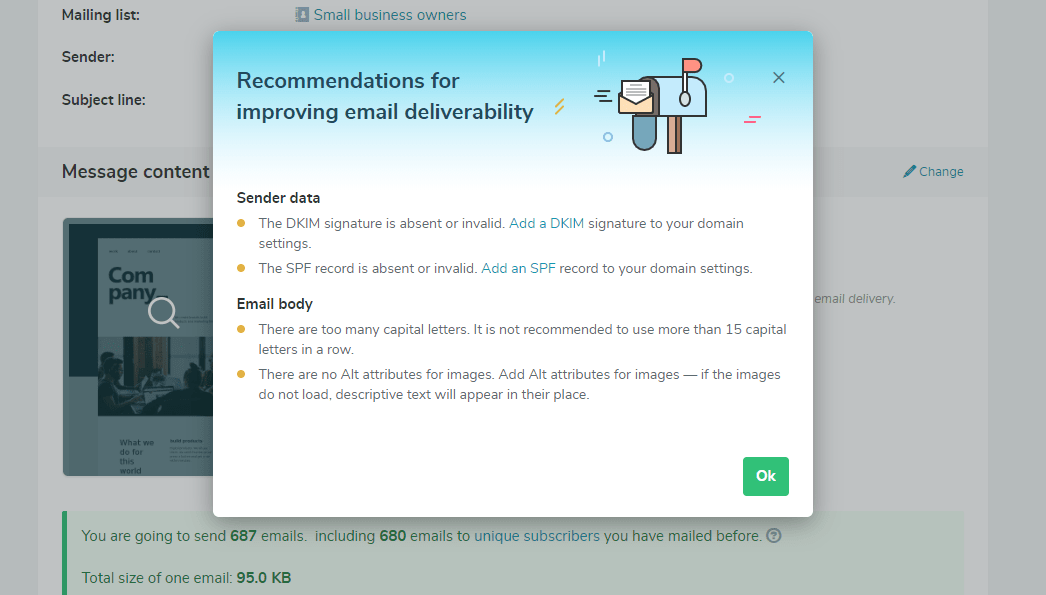 You can send your campaign right away or schedule it for a future date and time. Email scheduling is easy with SendPulse and requires no additional services. Just choose the time and date on a calendar with a few clicks.
Step 5: Track statistics
Last but not least — monitor the effectiveness of your marketing email. Email marketing metrics, like open rate, CTR, unsubscribe rate, as well as the number of spam complaints, will give you insights on recipients' engagement with your campaign. SendPulse provides detailed and well-designed statistical reports, including all these metrics.
To better understand user behavior, analyze opens by location, see a click map of your email, error statistics, and devices report that indicates which devices are popular among your audience.
Congratulations, now you are ready to send killer marketing emails and boost sales! Take advantage of our free plan and send up to 15,000 emails to 500 subscribers monthly. The paid plan starts at $6.40/month and depends on the number of subscribers.
Last Updated: 22.02.2023