Benefits of Email Marketing
Email marketing is so effective and beneficial for a good reason…to be specific, for a dozen good reasons. If you came across this article, even by chance, you are already interested in email marketing and probably know some of its benefits. 
Email Marketing Benefits
Communication with the clients
This is the most vital benefit of email marketing. Your brand awareness, your income, and reputation depend significantly upon your ability to establish relationships with the clients. This ability includes a lot of factors: whether you can correctly understand the needs and preferences of your clients; whether you can provide the audience with exciting and useful content, products, services; whether you are ready to take into account your clients' feedback and improve your work; whether you know the best time to communicate with your users.
Time and effort
Email marketing is easy to start and requires relatively little effort. You don't need to have specialized knowledge or skills to start email marketing. Usually, email marketing services provide beginners with much help.
Cheap
You don't have to spend large amounts of money on advertisements, on television, for example. You can put this money to good use. For instance, participating in conferences, where you will learn by the experience of other people, generate new leads, and increase your brand awareness. Email marketing is not expensive, lots of services, including SendPulse, have free pricing plans. Read more about pricing plans.
Segmentation and personalization
These two methods are so effective that make email marketing much more appealing. They help to make your emails highly relevant and personal, despite being a bulk email campaign.
Let's imagine an example: 
You own an online bicycle store, to make your email segmented you can just put the following question in your subscription form:
What kind of bicycles do you prefer?
Cyclocross 
Touring
Mounting
Fixed-gear
Cruiser
Triathlon
Tandem
BMX
Road
Hybrids
Thus, you will be able to create mailing lists based on the preferences of your target audience and provide each subscriber with a relevant offer. SendPulse makes segmentation less of a headache.
Get the benefits of email marketing!
Don't miss a chance to promote your brand, increase sales, and build customer loyalty with a well-thought email strategy. SendPulse provides a bunch of features for better performance.
Below is an example of segmentation. Clients who have abandoned their shopping cart receive such an email to "finish their job." This way, the brand contributes to building loyal customers and has chances to double sales.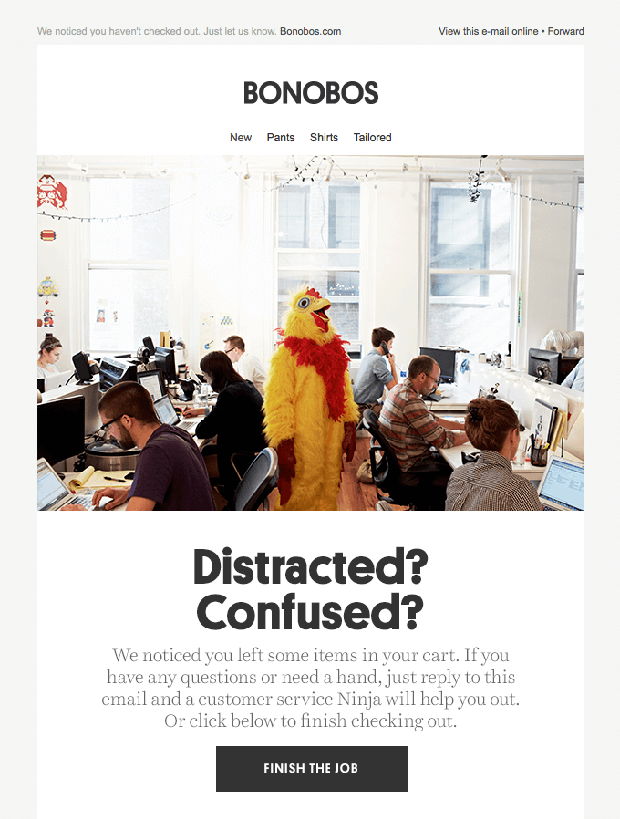 Easy to track the results and improve your work
Email marketing allows you to track your results immediately after sending them quickly. You can get to know the number of email open rates, CTR, bounces, errors, and much more detailed statistics. This will help you improve your work.
For example:
You have a poor email open rate, and this means that there is something wrong with your subject line. Improve your subject line with the help of A/B tests!
Easy to get and use subscribers feedback
Subscribers' feedback is essential in email marketing. Ask your clients to leave a review or to comment on your product/service, they will do it with pleasure, you will find out what can be improved in your business, and this feedback may encourage new people to use your product.
Mistakes are okay
Of course, you will make some mistakes in any marketing. The problem lies in the cost of these mistakes. In email marketing, you can even make your subscribers smile after you make a mistake. Look at the example below.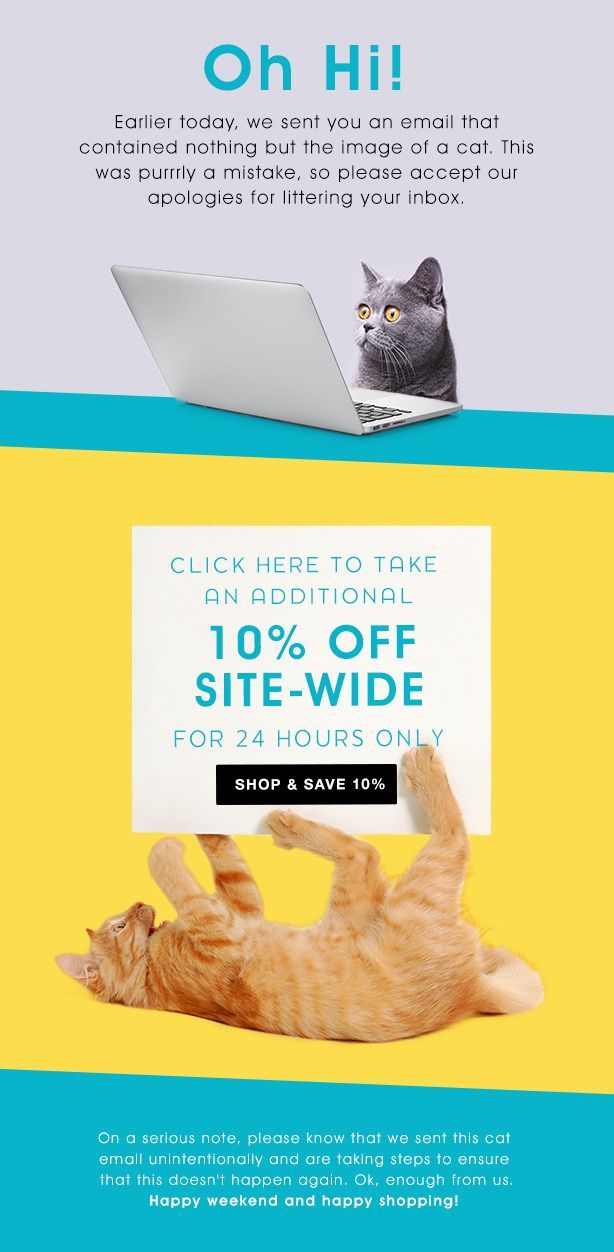 There will scarcely be any client willing to unsubscribe.
So, your achievements in email marketing depend entirely on yourself. You can be as creative and original as possible without spending extra money.
Try email marketing right now to discover more benefits!
Last Updated: 22.02.2023