An email signature is the bottom section of an email where the sender gives their regards to the recipient and signs off with their name, address, website, and any other important information. Email services allow marketers to create branded signatures and add them automatically to every email.
Email continues to be a powerful marketing tool for businesses with 215.3 billion of emails received and sent every day in 2016 and projected to reach 257.7 billion in 2020. Worldwide email use is forecast to reach 4.4 billion users by the year 2023. With so many emails sent every day, getting readers' attention is getting tough.
How one starts their email is as important as how they end it. So, how can one create a better email signature to improve the overall email marketing strategy? Here are some tips.
Include the company's contact information and motto
After a recipient has read the email, they might want to initiate contact with the brand. The contact details are completely up to the sender and may include name, position, company, phone numbers, office addresses, photo and logo, website/blog, and social media icons. If the website is included, link it. A motto the brand lives by can also be added to the footer. Use SendPulse to create a unique email template with an email signature of choice.
A good example of Bonobos' email signature with a brand name, phone number, office address, and motto: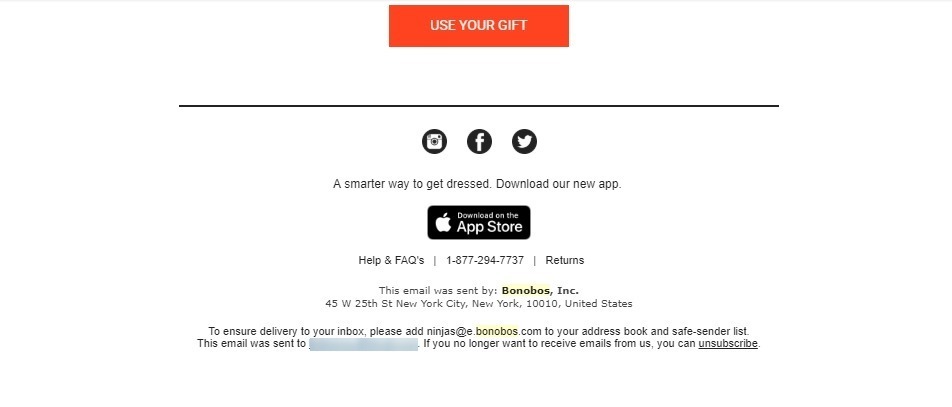 Provide links to your profiles on social media
Include buttons leading to the brand's social media profiles in the email signature. This way, subscribers will have more chances to learn about your brand and you will increase your social media audience. Check out this simple email signature where Monsoon offers to follow their brand on Facebook, Instagram, Pinterest, Twitter, and YouTube.
With SendPulse you can easily add social media buttons to your email signature.
Use colors and a generic font in the email signature design
Consider using a generic font so that it will display well across all email clients. If using a fancy font, always have a fallback font (in case the original font doesn't work on some devices). Don't use more than two fonts in one email signature. Some generic fonts are Calibri, Arial, Times New Roman, Georgia, Helvetica, Arial Black, and more.
Using SendPulse you can customize your email signature either by choosing a pre-made template that already contains it or creating your own from scratch. You just need to drag the signature section to your email, choose the layout you like and add the necessary information. Find out more here.
Below is an email signature from Bonobos. They've used two fonts including Arial font.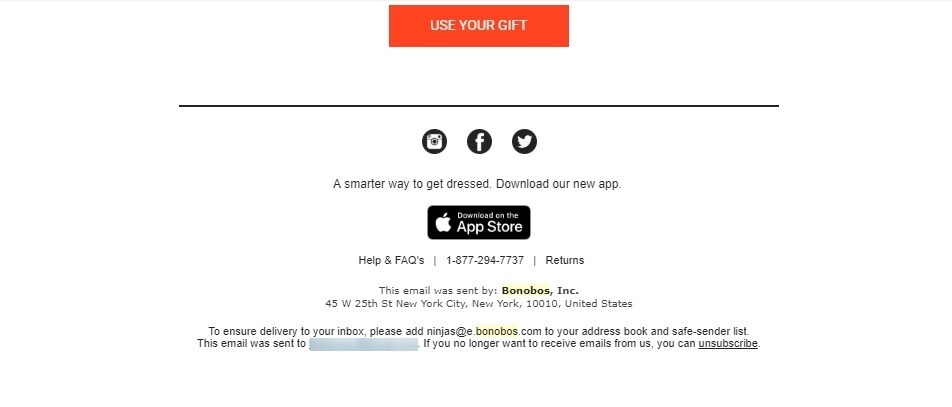 Select colors that the recipient can associate with the company
Be sure to use your brand colors to increase brand recognition. However, "less is more" is the best approach here. The more colors one chooses, the higher the likelihood of picking clashing colors.
Check out the color of an email footer added by Fairygodboss. The brand uses purple in its logo and text: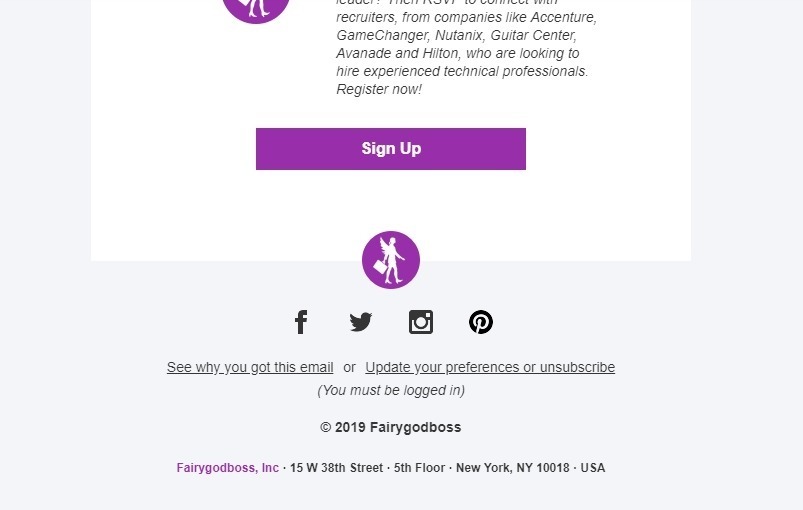 Finally, ensure that the email signature design is compatible with mobile devices. Around 80% of people read their emails on their phones. If the email is too wide or too complicated, users will not see the message correctly or will have to scroll sideways to view the whole message. An email service, such as SendPulse, can help marketers design the right emails for their campaigns.
Add images
Images can bring out the company's personality in email. The company logo or any graphics that adequately represents the brand is a great addition to the email signature. However, limit them to just one or two. Apart from the brand logo, another image that is commonly used in the footer is the email sender's headshot.
Below is an email signature from Fairygodboss with the company logo added to the email footer.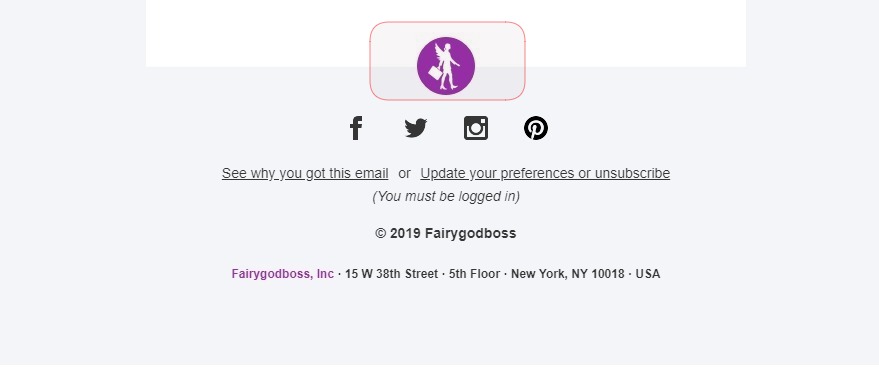 Include a one-step unsubscribe link
Every brand should offer their customers a way to unsubscribe from marketing messages if they wish to do so. This way, you not only follow the law but keep your mailing list engaged. There's no point in sending promotions to those customers who are not interested in your brand. Moreover, low open rates harm the sender reputation. So, to be on the safe side, make unsubscribing a one-step process as Forever 21 does:
The response one gets when they click the unsubscribe link: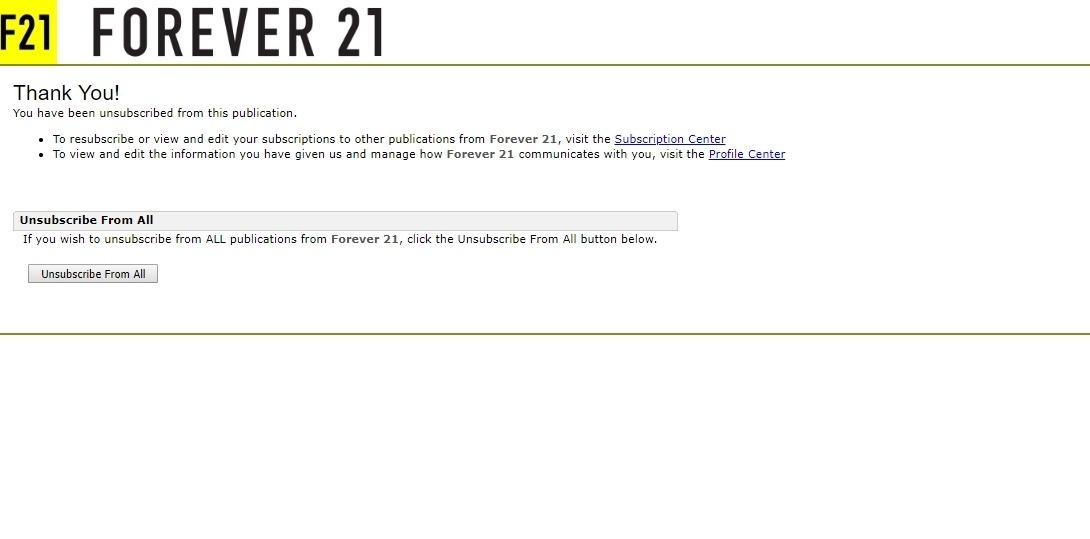 SendPulse adds an unsubscribe link to every email by default so you won't get into trouble anyway.
Provide a link to a preference management center
Have a separate link for managing preferences and unsubscribing. It should enable users to manage their subscription, for example, the type of messages they want to receive as well as their frequency. Use SendPulse to segment and manage subscribers based on their interests and preferences to send the right messages at the right time.
Email signature with a manage subscription link example from Social Media Today:
After subscribers click the link, they're redirected to their account where they can set preferences.
State why a user has received your email
Most brands send marketing emails or newsletters to contacts who have either opted in or to customers who have previously purchased from the brand. Always state the reason why the recipient is receiving emails from the company in the email signature.
Just add the same sentence to every email footer as Fortune does.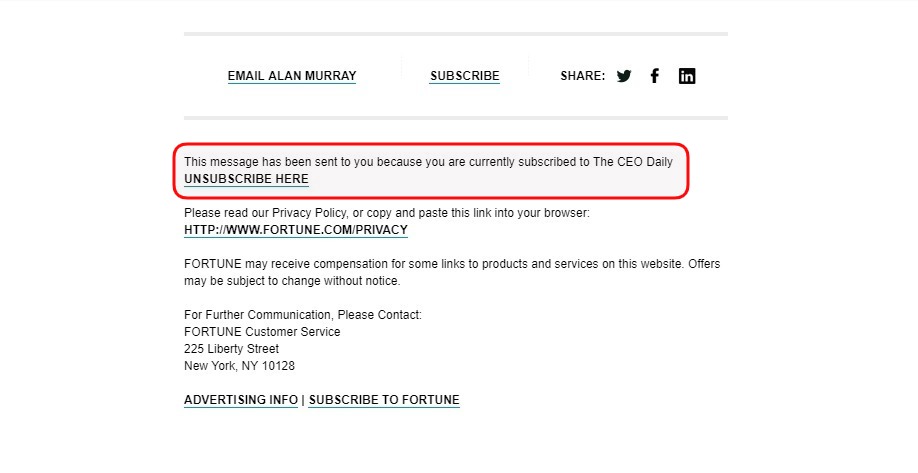 Add a link to FAQs
Include a link to the frequently asked questions on the company website to drive more engagement. By going through the FAQs, potential or existing customers might get solutions to common issues they might be facing. In addition, this step helps users move down the sales funnel by discovering the benefits of joining your brand community.
Bonobos put a ling to FAQs to every email footer. Check out!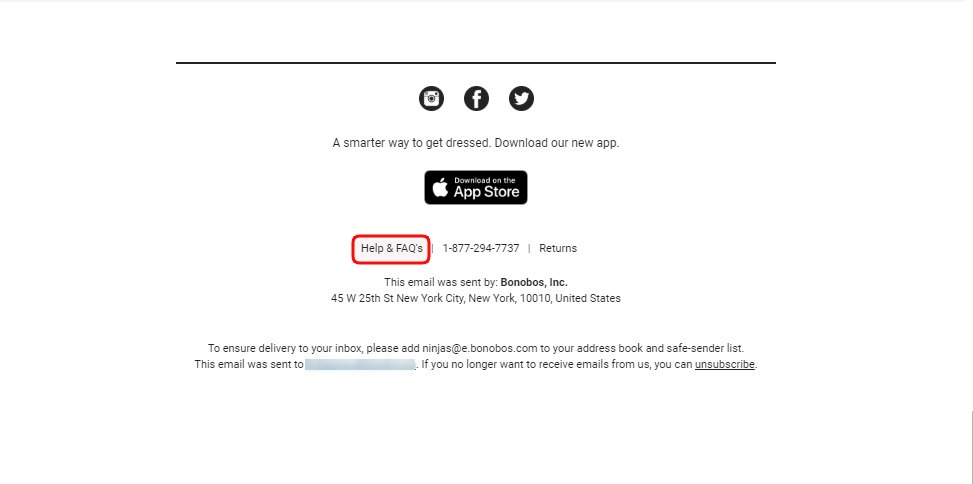 Last Updated: 2019-07-12