Email Campaign Best practices
According to Radicati Group, there will be more than 4 billion (over half of the world's population) email users by 2020. The 2018 report also showed that daily email traffic will steadily grow from approximately 239 billion emails in 2019 to 333 in 2022.
According to DMA's Marketer Email Tracker report for 2018, 86% of respondents agree that email is still the primary marketing channel. To get the most out of email campaigns, follow these proven tips.
Segment Your Mailing List
Every subscriber on a mailing list has unique needs, preferences, behavior which affect their buying decisions. Therefore, a smart email marketer knows what their subscribers like. Ask new subscribers to fill out a user profile by adding a "Set preferences" link to the welcome email or include it into every email footer to better tailor marketing campaigns for them. Another source for this information is customer purchase history; with this, you can reward your most loyal clients with unique offers or create an incentive for those who purchased once.
With a marketing platform like SendPulse segmentation won't cause you any difficulties. The service offers different criteria for segmentation to make the most out of this strategy. Follow this guide to send segmented email campaigns.
Chain Reaction Cycles provides an eye-grabbing link to the email preference center where subscribers can update topics they're interested in.
After subscribers click the link, they're redirected to the page where the brand explains why this information matters and offers subscription preferences.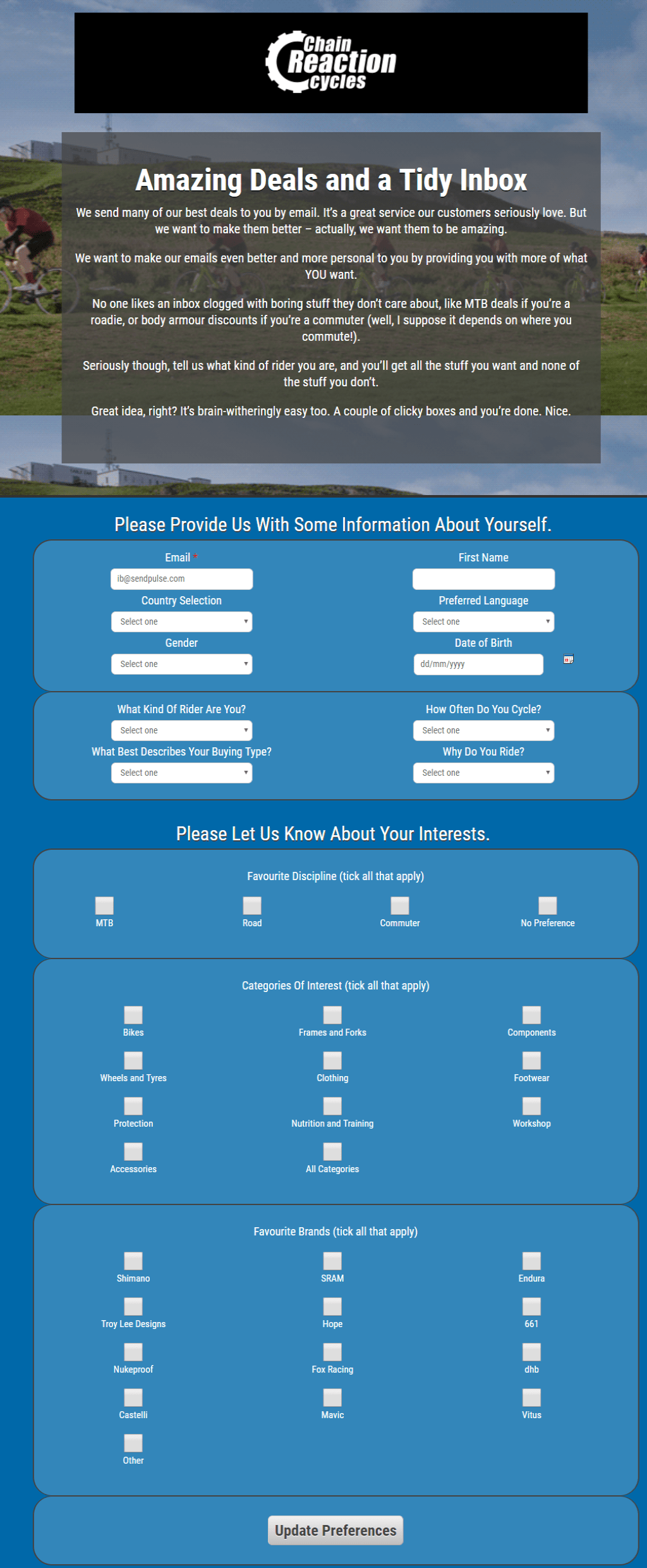 Maintain a Clean Mailing List
The importance of cleaning your mailing list cannot be overemphasized. Keep your mailing list free from fake addresses by using a double opt-in subscription method to collect the contact information from engaged users only. The best practice to maintain a healthy mailing list is to provide each email with a visible and easy to tap unsubscribe button. If you forget to do that, an email service like SendPulse will insert the unsubscribe link automatically.
Uncommon Goods added a lot of white space around the unsubscribe button to let users opt-out easily.
Remember, that if you hide this button or make it too small to click, subscribers will mark your email as spam. Being regularly marked as spam will severely damage your sender reputation.
Personalize Emails
Personalization can significantly boost any email campaign's performance. Businesses that personalize their marketing emails get 11% higher open rates and 27% higher unique clicks than the ones that don't do that. Start with personalizing your subject line. With SendPulse, you can insert any personal data about your clients to the subject line or email body, so that subscribers will receive slightly different emails. Ask for a user's name, gender, place of living, preferences, etc.
Duolingo sent this personalized email to a user who studied Italian three days in a row. The brand aims to keep clients engaged and show customers that their success matters Duolingo.
Start Nurturing Leads with an Onboarding Email Series
Welcome emails have 4 times more opens and 5 times more clicks than other email marketing campaigns. The best practice is to send an email immediately after a user subscribes and tell recipients what to expect from the brand. Let subscribers know the benefits of working with you and supply them with educational content to provide a smooth start.
Check out how Grammarly introduce their features to new subscribers.

Let Subscribers Choose the Frequency of Your Emails
While it is good to send emails consistently, make sure recipients are not overwhelmed with too many emails. Here are some options for this purpose: you may allow users to set the frequency right in the subscription form, test different email sending frequencies, add an update preferences section to the email footer to let subscribers change the frequency whenever they want.
The FeedFeed allows users to choose how often they want to hear from the brand while subscribing.
Stick to an Inverted Pyramid Email Design
Subscribers won't read every word of your email. So it can be a real challenge to make subscribers interested. We strongly recommend sticking to a simple one-column layout, putting the most important information at the top of the email, and a CTA at the bottom. That is a logical structure that slightly moves a user from getting aware of performing the desired action.
Bonobos make use of the inverted pyramid design in their email. They add a lot of white space around the CTA, which perfectly contrasts with the brand image above, leaving some space to breathe.
Tell Stories
Storytelling is a powerful email marketing tool that helps humanize your interaction with subscribers. People love to communicate with people, not companies. Besides, stories allow brands to build strong emotional bonds with their audience, increase brand recognition, and add a personal touch. You may unveil some "behind-the-scenes-secrets," share the history of your success or even uncover some failures. People value sincerity.
Check out how Chubbies have mastered their art of storytelling. The brand tells users about how modeling for Chubbies changed the lives of men. That's an interview in the email. This way, the company becomes closer to its audience.
Find out how to tell a story in emails on our blog.
Measure Your Email Campaign's Effectiveness
That is a must to improve your email marketing strategy. Email open rate indicates how great your subject line is, CTR shows whether you've managed to create a powerful message, unsubscribe rate signals about some problems. Realizing each metric in-depth, you will have a clear picture of your strategy. In SendPulse, you can track detailed stats after sending every email campaign.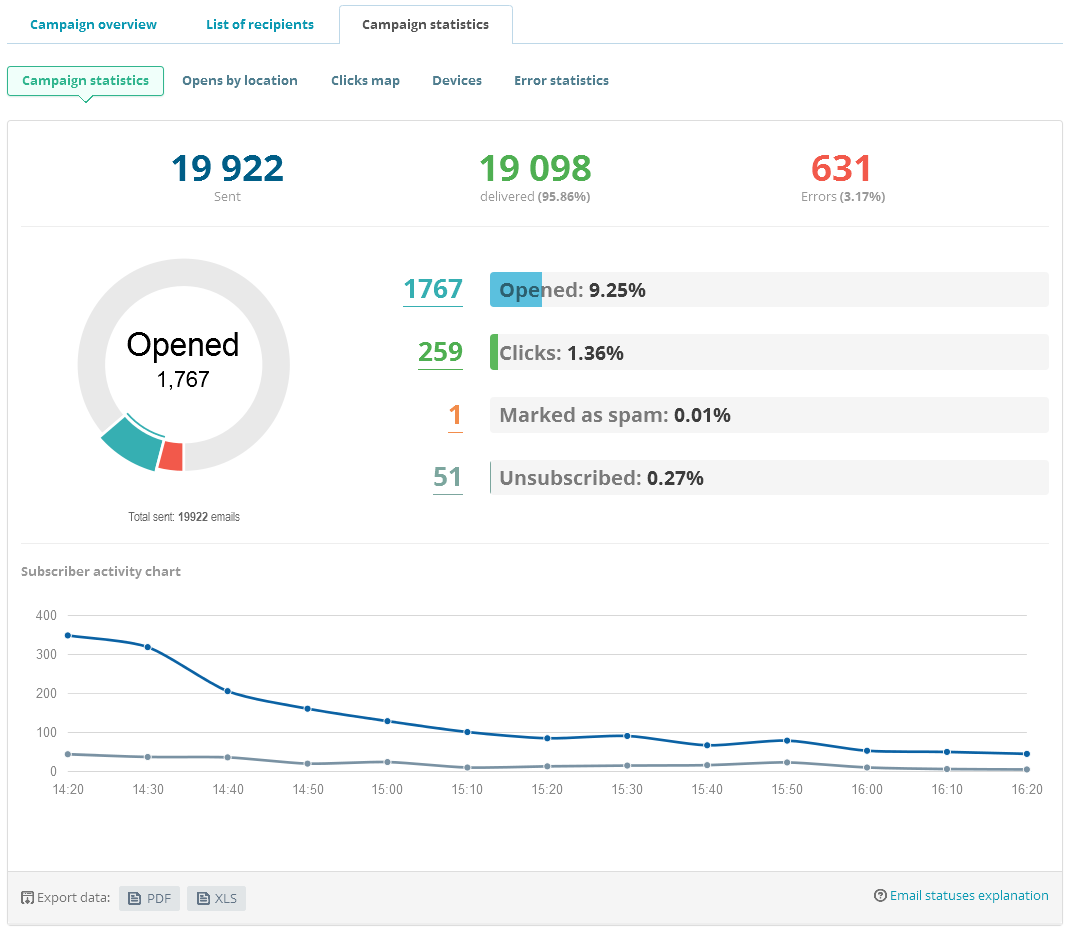 Last Updated: 11.12.2020