Chatbot Best Practices
Chatbots helps brands provide 24/7 customer support without much effort, subscribe users to your marketing campaigns via a widget, and assist them in placing orders and other operations.
AI-powered chatbots are still in their formative stages. As such, most bots rely on a set of rules provided by a human via a chatbot-building platform like SendPulse. All the marketer has to do is create a list of several "if-then" statements and provide specific responses, usually without the need to code.
By leading users through a sequence of queries, bots gather information to understand the user's intent and then proceed to offer suitable content to meet a particular objective. Why is a chatbot important? It leads to significant savings in operational costs. According to Juniper Research, chatbots are predicted to save businesses $8 billion annually by 2022.
In addition, chatbots reduce the interaction and response times associated with phones and other social channels. This conclusion was made in a recent Juniper report, which says that businesses and customers stand to save over 2.5 billion customer service hours by leveraging chatbots.
That said, here are some chatbot best practices to keep in mind.
Choose a Flexible Chatbot Builder
There's a lot of chatbot building platforms offering a bunch of great features to fit any business. If you still don't know which one to choose, check out the eight most popular builders on our blog.
If you're not a tech-savvy marketer, the SendPulse chatbot builder is here for you. Design your chatbot without knowing how to code and free of charge. Send alerts for new posts on your blog, provide customer support, assist in placing an order, schedule messages, and track detailed stats!
Here you'll find out how to create a chatbot and connect it to a Facebook page.
Give the Chatbot a Personality
Marketers should ensure that their bots have a voice and personality that is consistent with their brand. Charm, humor, and naming the bot will go a long way in making the chatbot more human-like, which is appealing to users. Give your bot an original gender-neutral name and face that your customers will associate with your company.
Look at this cute LEGO chatbot. Ralph, the LEGO bot, helps users find the perfect gift, and Customer Support experts are ready to answer any question. The Chabot has a face and name that are consistent with their brand.
Create a List of Keywords
They will help your bot to define the commands. Think over the different ways a user can ask about something. For example, "hi," "hello," "hey," "morning" for greetings, "prices," "pricing," "cost" for the product price. If a user types two keywords in one message, the chatbot usually provides a clarification request by offering quick replies containing the keywords. In case a user sends the same keyword several times, they will receive the corresponding message once. You only need to set a callback.
Increase the Waiting Time
Set a waiting time between sending messages that varies based on the length of the message received. When messages are sent in quick succession, it makes sense to pause a bit longer and longer with each additional message. Do this even if the messages are almost the same length to give visitors time to finish reading older messages before new texts come in.
Use Quick Replies
Provide buttons that let users select specific options as opposed to typing their responses all the time. They are an excellent way of providing users with options and help to keep them on track, ensuring the conversation is confined to what the chatbot knows.
Lego doesn't require users to type anything while choosing a gift. They offer to select the country along with the age of a child, budget, desired gift, etc.
Remind Users on Time
When users abandon a conversation, the next time they visit, be sure to pick up where the conversation stopped. Nonetheless, marketers need to pay attention to the expiration time of conversations. After all, a user will not want to pick up a conversation they abandoned more than two weeks ago. 
Always Collect User Feedback
Let users provide reviews and concerns. It can be done by using a star rating field, thumbs up and down buttons, or "this answer is unsatisfactory." Providing feedback makes customers feel better and helps identify instances when human intervention is needed. Also, it enables businesses to take corrective actions, and thus, guide conversations more effectively.
Let Users Unsubscribe
There are many reasons why users may want to quit a chat, so provide an easy way to do that. Make sure the button is visible, and subscribers may leave the chat any time. CNN tells users that may leave the chat by writing "stop" at any time.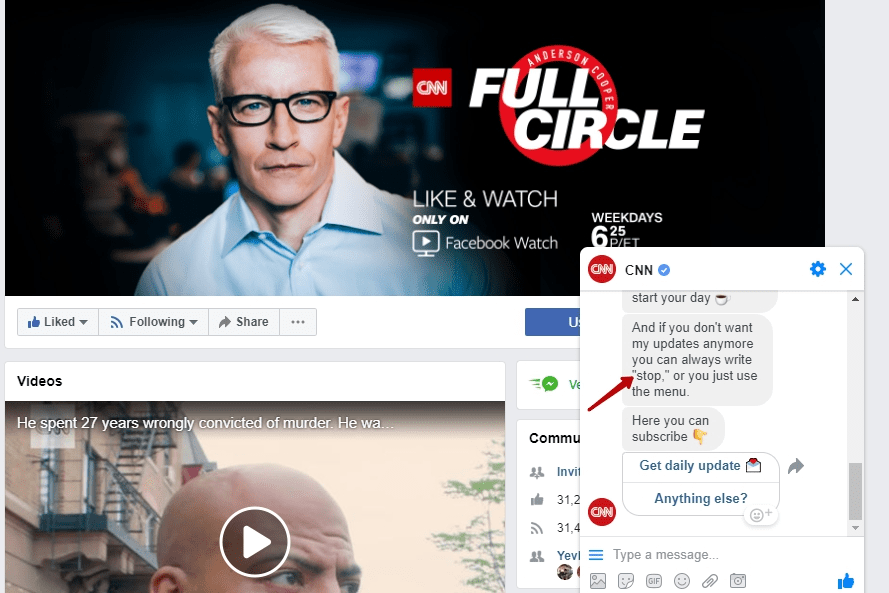 Last Updated: 30.01.2020