Once upon a digital time, having someone to answer your request on the other side of the screen seemed like a stroke of luck. These days, technology has advanced so much that you don't need someone to answer each request — introducing something like a chatbot to your business is enough.
In this post, we'll explore some of the best chatbot builders and show how you can use them for your company. Off we go!
12 reasons to use a chatbot builder
Chatbot builder is a service that enables companies to automate communication with their prospects and customers based on pre-written scenarios. Brands can send news, reminders, process orders, and ensure support 24/7 on autopilot. There are many reasons why businesses incorporate chatbots into their marketing efforts.
A chatbot builder allows businesses to create a virtual helper to:
perform repetitive tasks automatically instead of the company's team members;
improve team's productivity and overall performance of the company;
focus on more urgent and complex customers' issues;
avoid spending additional financial resources;
ensure a high level of customer satisfaction;
prevent brands from spending lots of money on manual lead generation strategies;
collect leads' contact information;
provide 24/7 support;
instantly answer FAQs;
take new orders;
accept payments for products.
With chatbots, you can reduce your team's workload and instantly respond to customers' questions at any time of the day and night. If prospects receive all information they need in time, they will be happy with your brand and might consider a purchase.
The reasons for using chatbot builders are clear, so let's discuss how to select the right chatbot builder for your business.
How to choose an effective chatbot builder
In this section, we'll provide you with a list of steps you should do to choose an effective chatbot builder for your team. Let's dig in!
Define your key targets
Before selecting the chatbot creator, you should understand what you need it for. Depending on your main goals, the service might vary. Some platforms might focus on the tasks you don't need and vice versa. So be clear with your key objectives. You can use it to increase sales, improve customer satisfaction, provide 24/7 support, or accept payments. Prepare a list of your brand's problems to search for a service based on the issues you have.
List platforms with no coding skills required
Since the majority of team members don't possess any programming skills, it's better to select a platform with a no-code chatbot builder. It will help your team and prevent you from spending money on a professional to complete the task. Your employees will be able to do it by themselves. Even your marketers can design the bot easily without knowledge of the code. With a drag-and-drop editor, you can build your chatbot by simply dragging and dropping the necessary elements into the editor's field. It will take you minutes to create the logic of your bot.
Find chatbot builders with free trials
A free trial is a perfect way to figure out whether your chosen platform is suitable for achieving your goals. Platforms usually allow potential clients to try the service for seven or 14 days. During this time, you can access the available features, evaluate its user experience, determine whether it's easy to build a bot, and many other crucial aspects. You can also get used to the platform and do everything faster once you purchase a paid plan. Besides, when you have a free trial, it takes minutes to buy a paid plan.
Pay attention to pricing
Every company has a budget, and so do you. You need to stick to your brand's budget and choose a corresponding platform. For this purpose, you need to look through the pricing of all the chatbot creators you consider and see what they offer for that price. If the pricing covers the features you need, go for it. Make sure that they don't have any hidden costs for the features your company requires.
Ensure that the bot has a high level of security
Contact information, payment details, and details of the order belong to private information that shouldn't be leaked out. That's why you need to make sure that all data provided in the bot is secure. Check out whether your platform has all the necessary privacy and security features. It will prevent leaks and ensure that clients' information is secure.
10 best chatbot builders
Choosing the most effective chatbot builder might be quite challenging because of the wide selection we have right now. To help you with the task, we've gathered the best services in terms of pricing, features, user experience, and other essential factors. So let's explore them to find the good one for you.
Chatbot builder #1 SendPulse
SendPulse is a multi-channel platform that enables business owners to reach out to their customers through the most effective marketing channels and attain their business goals. The service offers a visual chatbot builder as well. It allows users to set up auto-replies and create sales pipelines on Instagram, WhatsApp, Facebook, and Telegram.
The service's chatbot creator empowers you to manage several tasks on autopilot and reduce the workload on your marketing and sales team. With a chatbot, you no longer need to manually answer prospects' questions about the product range, arrange consultations or check the schedule. The bot will cover all these repetitive tasks for you. By delegating FAQs to the bot, your support agents can focus on high-priority issues and improve customer satisfaction.
Since leads can reach out to you at any time of the day and week, you need to be ready for it. To establish a reputation as a reliable brand, you can set up a chatbot and provide assistance 24/7. With this AI chatbot maker, you can use a direct integration with the ChatGPT language model from OpenAI. It will help your bot communicate with subscribers in a human-like manner.
This visual chatbot creator will not only help you ensure support but also become a channel for accepting payments. If you use SendPulse to develop your bot, you can seamlessly receive payments without using third-party sites. After integrating payment systems into your chatbot and adding payment buttons to its flows, you can feel free to accept money for products from customers. Feel free to use PayPal, Stripe, Fondy, LiqPay, and other payment systems to do it.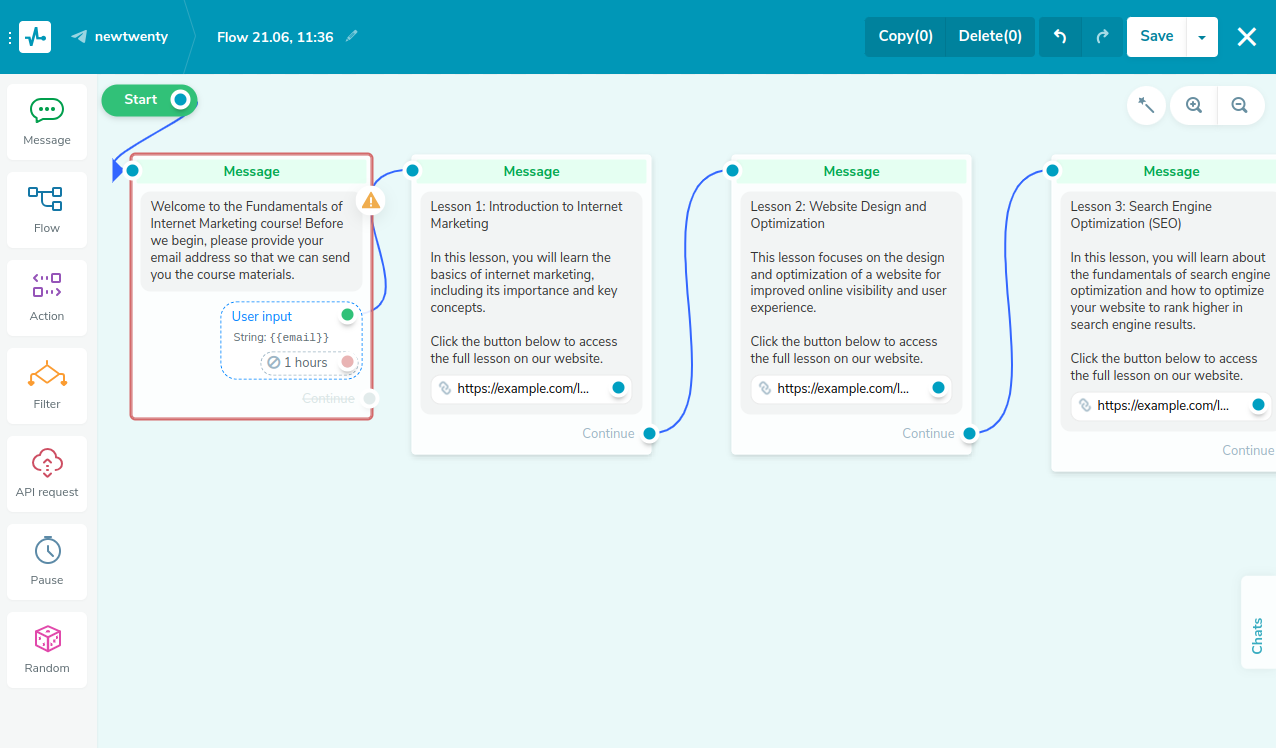 Pricing: The service offers two plans. If you decide to use a free plan, you can send up to 10,000 messages across all your bots for free every month, have 500 subscribers, build three bots, and use ten variables. If your company needs to send unlimited messages, have unlimited bots and variables, accept payments, and support WhatsApp service, it's better to purchase a paid plan which will cost you $10 monthly for 500 subscribers.
Chatbot builder #2 Chatfuel
Chatfuel is a messaging platform that suits eCommerce marketers and company owners who focus on lead generation and lead qualification, upsell and cross-sell. The service enables you to build chatbots for Facebook Messenger, WhatsApp, and Instagram. Chatfuel's bot is ready to support you during all stages of the sales funnel: provide answers 24/7, answer FAQs, recommend products, share company updates, and send promos automatically.
You need little or even no effort to communicate with customers and provide all the necessary materials to them. The bot helps you make bookings, gather feedback, bring customers back, and manage lead qualification. If you prefer WhatsApp to other marketing channels, the service will be a perfect solution for your team. This AI chatbot maker allows you to use ChatGPT right in your WhatsApp chats.
With the platform, you can personalize communication with potential clients and send them only relevant offers based on their wish lists and browsing history. This approach enables you to increase the chances of conversions.
Chatfuel is a Meta-approved tech provider. It means you can be sure that all information provided during conversations is secure. This way, you prevent your business from leaks and problems with customers.
Pricing: The platform offers a seven-day free trial and paid plans. The prices vary depending on the platform you want to create a chatbot for. If you use WhatsApp, it will cost $49 for 1,000 conversations per month. You'll need to pay $14.99 for 500 conversations on Instagram or Facebook Messenger.
Chatbot builder #3 Landbot
Landbot is a perfect platform for developing a chatbot with no coding skills. The service helps you create WhatsApp automation, website chatbot, and chatbots in your own apps and channels. With Landbot, you can add a chatbot to your website and reach several marketing goals: collect information, provide instant 24/7 customer support, and make customers happy with your brand. Design flows with conditional logic, formulas, and various media files by simply using a drag-and-drop builder.
The platform enables you to create multiple chatbots and complex flows using reusable blocks and templates. Besides, your support agents can monitor all conversations and take some high-priority issues from one central team inbox.
The service pays great attention to WhatsApp, so if your target audience prefers this communication channel, it's advisable to consider Landbot. With the service, you can segment and personalize your campaigns and send messages with relevant offers to your customers. Moreover, you can schedule the send-out of your campaign, and the bot will do it on autopilot at the pre-defined time.
Pricing: If you want to build chatbots for your website, you can take advantage of a free plan. It includes 100 chats monthly, basic flow operations, and limited integrations. In case you want to enjoy more features of the service, it's better to purchase a paid plan starting at €30 (500 chats, upgraded flow operations, and custom code CSS/JS). For WhatsApp chatbots, you'll have to pay €150 monthly for 1,000 chats, a WhatsApp business number, WhatsApp opt-in tools and campaigns, and essential integrations.
Chatbot builder #4 ManyChat
ManyChat is a chatbot creator that empowers you to automate communication on Instagram, Facebook Messenger, Telegram, and WhatsApp. The platform can be used for different industries and company sizes. It allows you to design chatbot flows easily with an intuitive interface.
By automating conversations with ManyChat, you can identify qualified leads for your business. So, there's no need for your team to perform this task manually. It saves your time and financial resources. With the service, your company interacts with potential clients in real-time, collects and stores emails and phone numbers.
With ManyChat, you can personalize your conversations with prospects and provide them with relevant offers to increase the chances of conversions. Once users text you using keywords on Instagram, Facebook Messenger, or WhatsApp, the flow will be triggered. The chatbot flow depends on the predetermined scenario and provides relevant answers.
The solution has many valuable features for Instagram. With a bot, you can reply not only to direct messages but also to users' comments under your Instagram posts. It's all done on autopilot. It's a useful feature, especially when you conduct giveaways and contests. Replying shows that your brand cares about participants and increases engagement under your posts.
Pricing: ManyChat has a free plan with unlimited custom flows and 1,000 contacts, the access to build bots for Instagram, WhatsApp, and Facebook. The paid plans will cost you $15 monthly and encompass unlimited contacts, growth tools and keywords, unlimited tags, and advanced segments.
Chatbot builder #5 ChatBot
ChatBot is an all-in-one marketing solution designed to create conversational chatbots without technical skills. The platform enables you to quality and nurture leads, provide excellent support, and convert them into customers. With its visual builder, you can simply drag and drop the necessary elements into the editor field to set up the flow. The service has integrations with Facebook Messenger, Chat Widget, LiveChat, HelpDesk, Shopify, Slack, WordPress, and others.
You can develop a chatbot for your company by using ready-to-go templates. You just need to customize them to fit your main purpose. It will take you minutes to build a bot.
ChatBot empowers you to personalize your communication with leads and customers. To do it, you need to collect customer information using "Attributes." To feel more natural, you can use filters. They will help you choose bot replies that perfectly match the context.
When communicating with prospective customers, use "Questions" to gather personal data and validate it. After collecting information, you can divide customers into segments based on their data. It will help you provide relevant and personalized offers to your clients.
With the platform, you can easily redirect potential clients to any part of your chatbot flow. It's necessary if a customer misses important information or wants to change the details provided. The "Go to step" action will enable you to do it.
Pricing: The platform offers a 14-day free trial, after which you'll need to purchase a paid plan if you like the service. The price for paid plans starts at $65 monthly for one active chatbot, 1,000 valid chats, and unlimited stories.
Chatbot builder #6 WotNot
WotNot is a platform suitable for lead generation, customer support, and booking appointments. With the service, you can develop chatbots for WhatsApp, Facebook Messenger, and your website. There are multiple use cases for WotNot: answer FAQs, qualify prospects, and provide assistance on HR-related questions (leave balance and feedback gathering). Service's financial assistant provides answers related to your company finances and accounting.
WotNot invites you to build chatbots from scratch or by using curated templates. With no technical skills, you can develop and set up a professional chatbot that will help you reach your primary goal. Its friendly interface will guide you through the process and help you build a bot in no time.
The service allows the creation of both inbound and outbound bots. So you'll be able to both initiate conversations with customers and provide answers to their questions.
In case you want your chatbot to look human-like, use action blocks. Add buttons and carousels to make customers feel like they communicate with real agents.
Pricing: The platform offers a free plan that covers 500 chats and unlimited users. If you plan to have more chats, it's advisable to purchase a paid plan which starts at $49 monthly and includes 2,000 chats and unlimited users.
Chatbot builder #7 Tidio
Tidio is a platform perfect for businesses that want to capture more prospects and boost sales. With pre-designed templates, you can build chatbots for different scenarios and modify them based on your needs. Their templates include discounts for new and returning visitors, product recommendations, and abandoned carts. If you need a chatbot to accept orders and automate this process, you can do it in Tidio. Simply add a chat widget to your website.
If you aim to boost your sales, use upselling right through the chatbot. With the platform, you can increase the value of the order by offering additional products. These products might be useful for customers and bring more revenue to your company.
Tidio will be helpful for lead generation. You can collect information about your potential customers and qualify them based on their behavior on your website. This way, you save time on the manual qualification of leads. As a result, your company gets only qualified prospects, and you save resources.
The platform allows you to send automatic replies when agents are busy and surveys to assess customer satisfaction. If you have many repetitive questions, you can handle them with a bot as well. It will check order status and process returns without human involvement. To reach out to clients with relevant offers, you can divide them into groups based on their preferences and behavior.
Pricing: You can enjoy the benefits of Tidio by using a free or paid plan. The free plan covers 50 live chat conversations, 100 chatbot triggers, unlimited tickets, and three seats. The cheapest paid plan provides you with 100 live chat conversations, 500 chatbot triggers, unlimited tickets, and three seats.
Chatbot builder #8 MobileMonkey
MobileMonkey is a multi-channel platform that allows you to handle multiple marketing tasks. With MobileMonkey's help, you can build chatbots for Facebook Messenger, Instagram, and WhatsApp. Intuitive chatbot builder will enable you to build quality chatbots within a short time. Use the platform to achieve several goals: provide 24/7 support, generate prospects, and encourage sales.
Designing a chatbot is easy with MobileMonkey's drag-and-drop builder. Drag and drop the elements such as questions, forms, images, text, and GIFs to create an interactive and human-like bot. If you need your bot ready in minutes, consider using one of the pre-designed templates. The platform offers a vast choice, so you will definitely find one to meet your goals.
All the messages from the chats with customers are stored in a single inbox. It means that you can find all the conversations and assign them to human agents if necessary. OmniChat technology empowers you to develop a single chatbot funnel for multiple messaging platforms. It works for Facebook Messenger, native web chat, and SMS.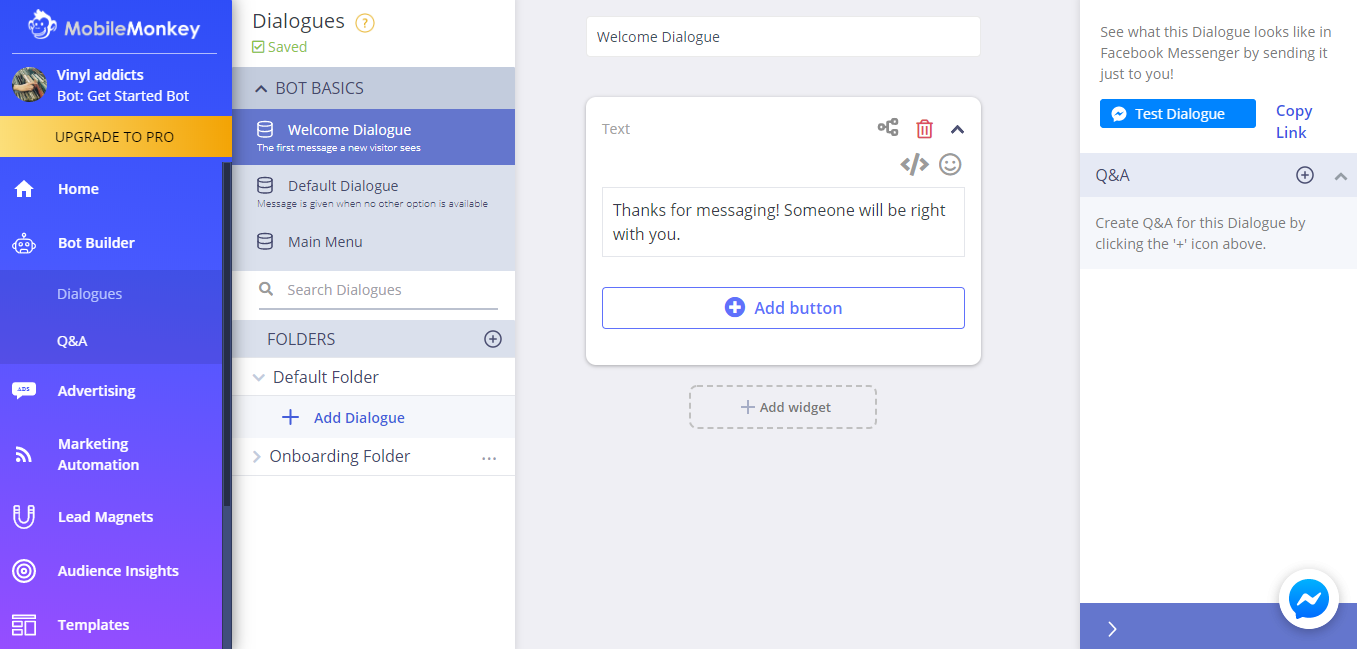 Pricing: The platform has a free plan; however, it doesn't include the chatbot builder. To enjoy the benefits of automated messages, you should buy a paid plan for $249 a month (if billed annually).
Chatbot builder #9 Flow XO
Flow XO is an automation platform that allows you to benefit from ChatGPT and conversational AI. With the platform's help, you can accomplish several marketing tasks: collect customer data, answer FAQs, accept payments, initiate communication with clients, pre-filter prospects, and welcome new leads. You can develop chatbots for Facebook Messenger, WhatsApp, and Telegram.
You can launch flows to welcome new prospects and guide them through the website with the help of the bot. It will prevent leads from searching for the necessary materials and not finding them. This way, you can improve customer satisfaction. You can process your prospects without any human intervention.
With cross-platform customer engagement, you can provide seamless support across multiple channels customers decide to use. For instance, your prospect might start a conversation via a website and continue it through Telegram.
Use the chatbot to receive payments from your customers fast. The bot identifies items clients want to purchase and requests payment. When a customer confirms the need to proceed with the payment, the bot will automatically create a link. The link then takes the customer to a secure page where he can complete the payment.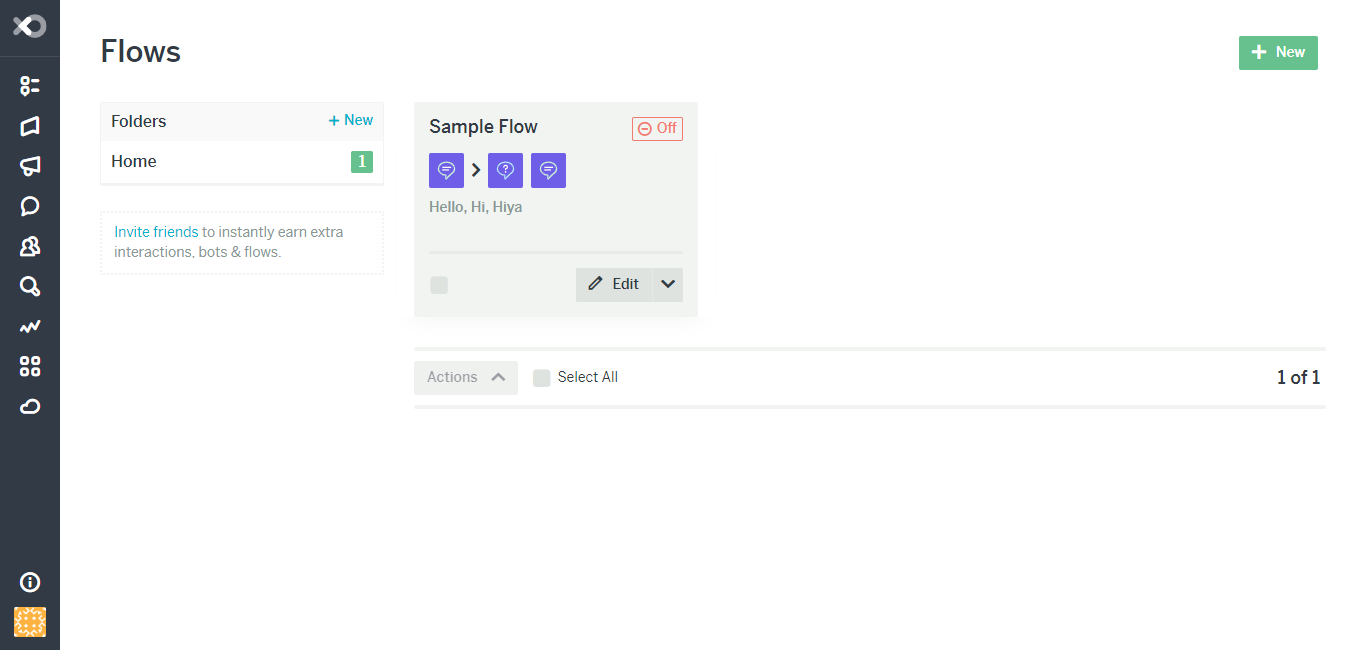 Pricing: You can start with a free plan and then update to a paid plan with more options. The free plan allows 500 interactions, five bots or active flows, and two weeks of logs. The cheapest paid plan gives you 5,000 interactions, 15 bots or active flows, five team members, and three months of logs.
Chatbot builder #10 ActiveChat
ActiveChat is a platform service that helps automate repetitive tasks with smart AI chatbots. Its zero-code visual chatbot builder is flexible and easy to use, so you won't need to spend weeks on developing your chatbot. Creating complex conversation scenarios doesn't require you to have technical skills or code knowledge. This AI chatbot maker enables you to build bots that understand human language and clients' intents and deliver value to customers. So, no human intervention is needed.
Free your customer support agents from repetitive tasks with chatbots. ActiveChat enables you to delegate repetitive questions and processes to the bot so that your team can focus on urgent issues. It helps you improve the productivity and efficiency of your business.
You can develop proactive communication with your prospects without waiting for them to leave your website. Make them offers they can't resist by crafting messages based on personal preferences and browsing history. Remind existing customers about abandoned carts and reduce the number of unfinished orders. If customers still hesitate about the product they better choose, help them decide.
Pricing: You can enjoy the perks of the service with a 14-day free trial. After that period ends, you'll need a paid plan. The price of the plan depends on the number of conversations you'll have. One conversation will cost you around $0.001.
Conclusion
As you can see, there are many options you can choose from when it comes to chatbot builders. The ten platforms above are reasonable in price, functionality, and usability.
However, if you are looking for an affordable solution with a no-code chatbot builder that allows you to create bots for different media, consider using SendPulse. Try out our chatbot builder for free and create a more efficient customer journey with chatbot marketing today!