An email newsletter is an email sent out by companies to their subscribers that contains valuable information such as guides, announcements, product reviews, news, blog posts, customized recommendations and so forth. Recipients of a newsletter are usually prospects, existing customers or visitors who have agreed to receive marketing emails.
Why send email newsletters
So, why should one miss a great chance to nurture leads and reward loyal customers? Email newsletter helps to develop relationships with your audience without much sweat. Follow these email newsletter best practices to start sending more engaging and converting emails.
Set expectations
It is important to let subscribers know what they will be receiving from the brand after the sign-up. It could be notifications of new products, sales, coupons and deals, how-to emails, etc. A brand should then make sure they send emails that meet the recipients' expectations. That will help keep the audience engaged and increase email marketing strategy performance.
Reader's Digest allows customers to select the kind of content they want to receive when subscribing.
Balance the email content
That is a thing each marketer should keep in mind to avoid being too pushy. Leads won't turn into customers if you attack them with promotional emails. To make the process smoother and stressless, provide users with high-quality educational content. It will assist them in using your product to their advantage. Good approach, therefore, is to send articles that explore topics of interest to the target customers and useful information on how to make use of your service. Now, when leads are aware of all the benefits, they're ready to become your customers.
Check out this newsletter sent by Codeacademy to their customers who had got stuck. They not just promote their premium services but explain how they will help users to learn.
Segment your email newsletter subscribers
This marketing strategy allows sending relevant emails which subscribers wait for. A single email newsletter sent to the entire mailing list is a thing of the past. Subscribers know perfectly well that marketers pursue their own goals when sending such email. All you need is to ask your customers what topics they're interested in, create different mailing lists for groups that have something in common, and craft several email campaigns for each one.
Marketing services like SendPulse assist brands in this task by providing professional segmentation instruments. In this guide, you will find detailed information on how to send an email campaign using segmentation.
Look how National Geographic asks their new subscribers on a list to choose topics that inspire them. The brand tells from the very beginning that they will use this information to send emails tied to users' interests.
Create a catchy subject line
For more click-throughs, a brand must compel subscribers to click through to the website. The subject line is the first thing a recipient sees when they receive an email, so pay special attention to it. Make sure that it reflects your message or at least ignites subscribers' interest to your email. For better performance, make use of personalization. It allows inserting personal information about recipients in an email subject line to provide an individual approach. Here's the guide on how to do that in SendPulse.
Follow email subject line best practices described in this article.
National Geographic sent the email with the following subject line in their onboarding series. They want to find out each subscriber's topic preferences to send relevant emails and this subject line assists them.

Add a sense of urgency
Adding some level of urgency to email messages may spur subscribers to take action else they miss out. Urgent sale messages like "20% discount on everything. Today only" can make customers who are interested in a product but not yet ready to buy to convert. Here a series of emails with countdown timers work well. You may promote products from users'wishlists or ones they've recently viewed. This way, the are more chances that customers will be interested in them.
Forever 21 added a countdown timer and reinforced it with the subject line that leaves no time for doubts.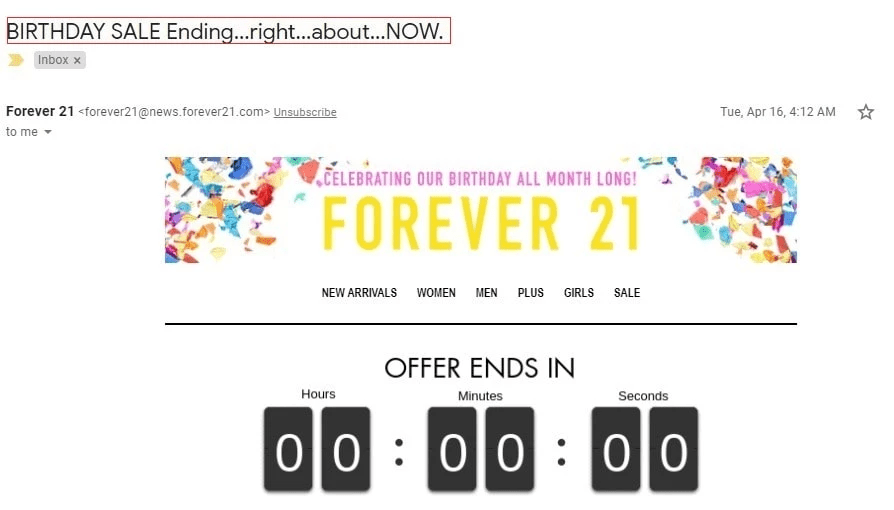 Re-engage inactive subscribers
Nothing lasts forever. Having subscriber on a list doesn't mean they will be interested in your brand forever. Sooner or later users lose interest, get bored, forget about sites they've subscribed to. It's important to start your re-engagement campaign on time. Usually, brands do that after six months of silence. They ask users to take a survey to improve their strategy in the future or offer some freebie to show their care. Draw re-engagement campaign inspiration in the article on our blog!
Yes Lifecycle marketing explains to their subscribers that they don't want to lose them and leave no chances for doubts by adding an image of a cute dog. Besides, it's a good practice to let users go since there's no point in emailing passive subscribers.
Let users unsubscribe
Some contacts want to unsubscribe no matter how great or tailored the emails they receive from the brand are. That's because there are numerous reasons why they may want to leave the mailing list. Make it easy for subscribers to unsubscribe to maintain a clean list. Add a visible unsubscribe link to each email and make sure this process requires a single step.
Check out how Bath & Body Works does that. They provide every email with an easy to find unsubscribe link. Adding much white space around makes it really visible.
Last Updated: 2019-07-15