If you don't add social media icons to your email campaign, you continue losing prospects. Before using your product or service, users will still check whether your brand is "present" on socials. And, if they fail to find your profiles, the credibility will decrease. Socials allow to discover more about your product, read reviews about it and find out the audience it is created for. Moreover, the number of active users is increasing dramatically year after year.
Social networks' users
Facebook — 2 billion users monthly.
YouTube — 1 billion users monthly.
Instagram — 500 million users monthly.
Twitter — 313 million users monthly.
Pinterest — 150 million users monthly.
LinkedIn — 106 million users monthly.
According to the results of research carried out by GetResponse, CTR of email campaigns that provide with social buttons is higher by 158% than of those who don't.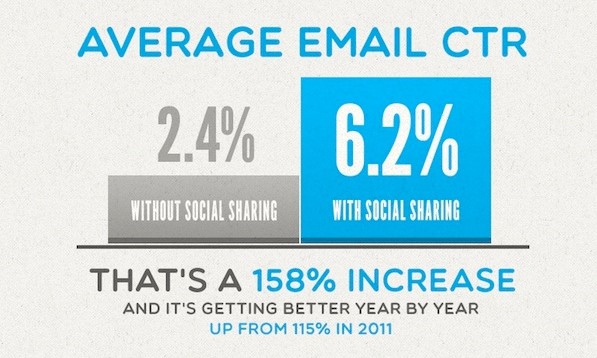 Benefits of adding social media buttons to email campaigns
Customer base growth. It's interesting to be in the know of your news for both leads and your loyal clients. Leads find it easier to get acquainted with your brand on social media, while loyal clients will never miss a chance to enter a contest or shop with a sale.
Additional communication channels. Just add social media icons to your email campaign and get more opportunities for communication. Besides, if a client unsubscribes from your newsletter, they will still follow you on socials.
More information about a product. It's pretty difficult to describe all your product's benefits in an email campaign. Having YouTube link, your clients can watch an overview video; with a Facebook profile, they can comment your posts and keep up-to-date of the latest news; your Instagram lets them see more photos of a product and take part in a giveaway.
Advanced segmentation of your customer base. You can't get much information about your audience via an email campaign, because subscribers are to provide you with it. Email and social media integration allows to find out not only the data needed for standard variables but discover your customers' preferences.
How to use social media in email?
Add social media icons to the email campaign. You can add social media icons to the footer of every your email campaign. Stick to its brand colours to make the icons stand out as Urban Outfitters does. 
Offer to follow you in a welcome email. Don't wait for an opportunity to ask your subscribers to follow you on social, but offer to do this right after subscription — in a welcome email. Check out how NYX does this.
Motivate users to follow you on social. Email and social media integration can provide users with good motivation to follow your brand. It's impossible to inform customers about all the news, updates, and contests in one email as it usually comprises the most important data. That's why lots of brands offer to follow on social to be always in the know.
With the help of SendPulse, you can easily integrate email and social media.
How to add social media icons to the email campaign?
Social buttons are built almost in all the ready-made email templates regardless of the way you create an email campaign: either using ready templates or with the help of layout template editor. 
Promote your brand via email!
Choose a pre-designed email template that contains social media icons or create your own one from scratch and drag the necessary elements to the email. No coding skills are required.
If you use an editor, social icons are built in the email footer by default, and if you use a pre-designed template, they are either in an email header or in a footer. You can easily add, delete or edit them.
Drag the block "Social" to the email template
Drag the block to the necessary part of your email template to edit the icons.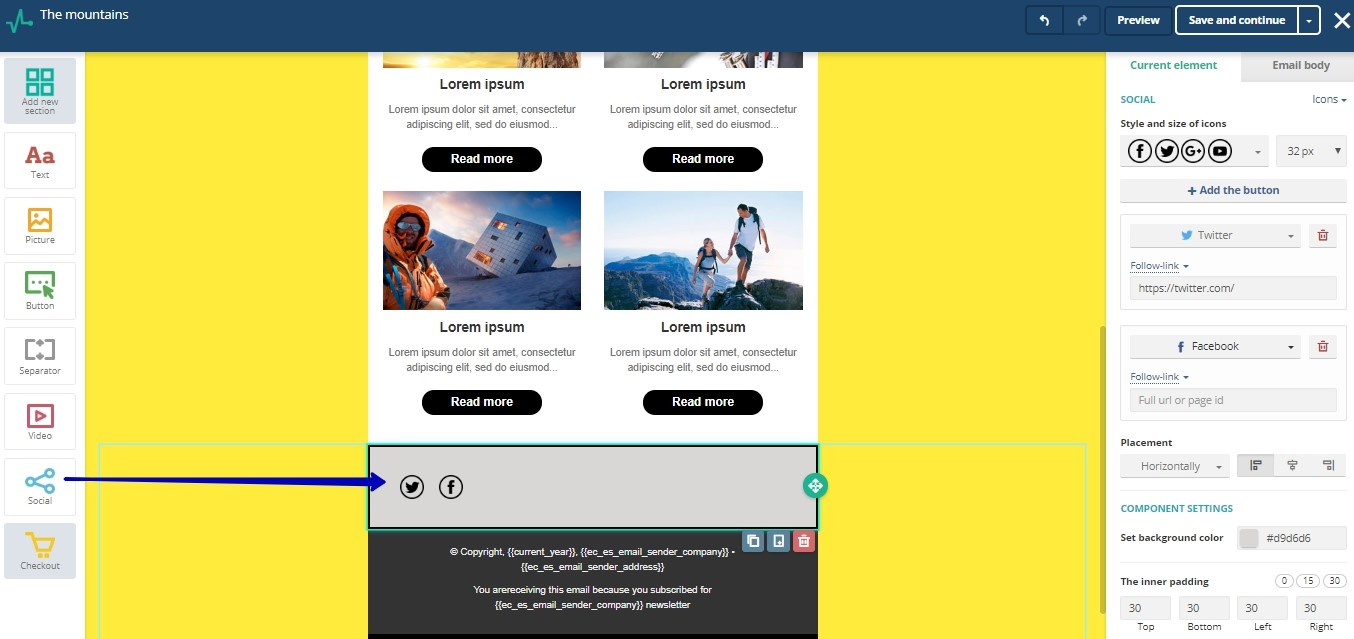 Edit the social icons
On the right, you can edit the current block.
Add or delete the icons, choose their size, style, and placement. Add the link to your profile in every social. Set background colour, inner padding, height, and contour.
Congrats, you're ready! Integrate your email marketing and social media right now.
Last Updated: 2019-10-17