How to Customize Your Course Site
A course registration page is automatically created in the "Sites" section under the "EDU" tab for each course. In your site settings, you can configure the course site address, add a favicon, and connect additional analytics scripts.
In this article, we will take a look at the site settings and elements from the course settings that are used for the site in more detail.
How to Find Your Site Settings
Go to the "EDU" section of the desired site, and click Site Settings.
You will be redirected to the "Sites" section, and you will see your site settings in the "General" tab.
You can also go to the "Sites" section yourself and select a site with the name of your course.
In the "General" tab, you can change the general settings of the site: edit the name of the site inside your account, add a domain, include a site favicon, and remove the logo.
In the "Analytics" tab, you can connect Google Analytics and the Facebook pixel and meta tag for additional analysis of your website performance data.
In the "Custom Code" tab, you can add your code to embed analytics or other scripts into your site HTML.
Read more: How to Customize Your Site.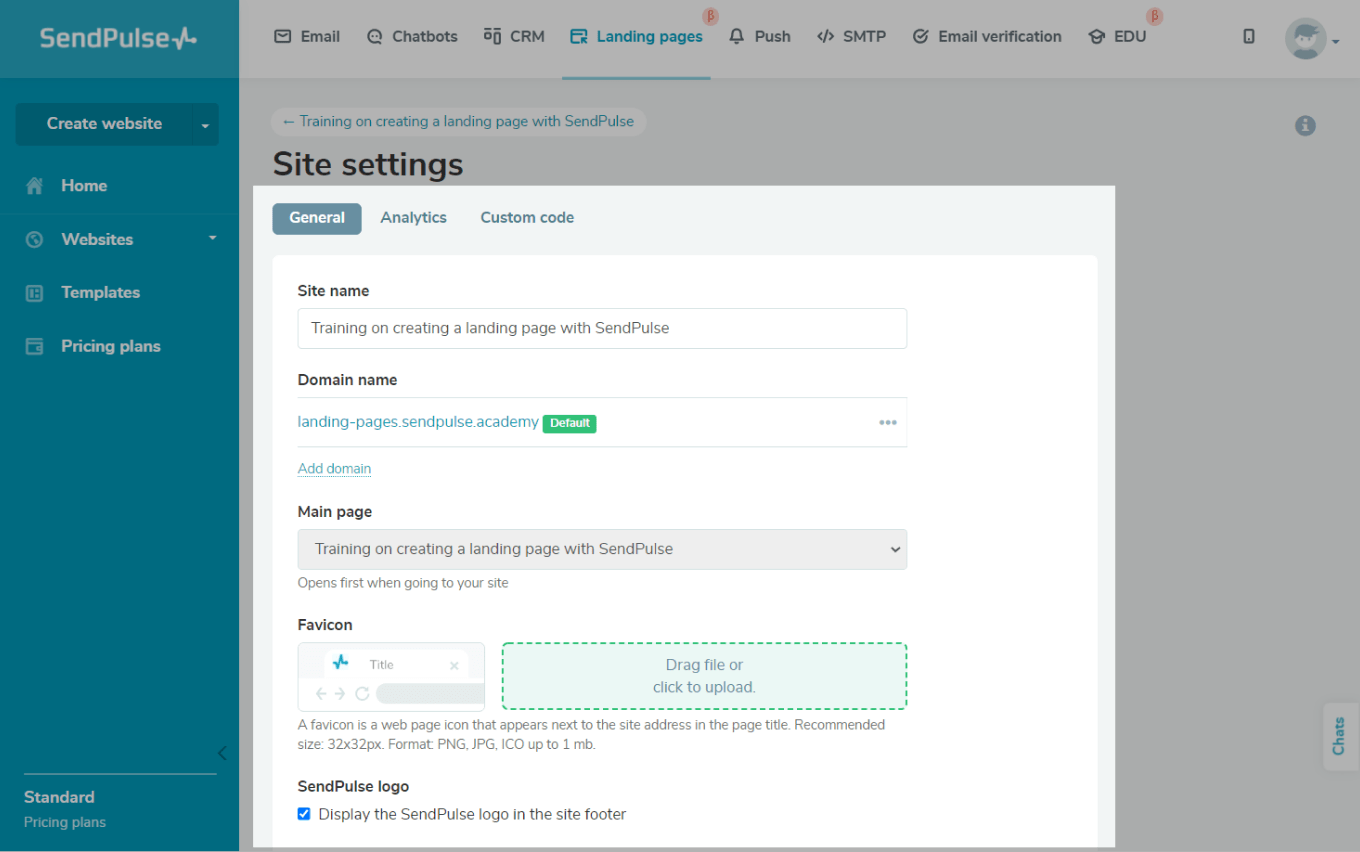 How to Customize the Course Registration Page Elements
The course registration page and student's account are automatically generated using the default style. The content of the page is created using the course settings.
Let's take a look at each element of the example below.
To edit the course name and course page, go to the "Edu" section in the "Courses" tab, select your course, and click on the pencil icon next to the name.
To edit the course description and cover, go to the "Settings" tab, and edit the content in the corresponding fields.
The start date of your courses and their cost are displayed on the course page under their names. You can edit these elements in the c "Course format" and "Course pricing" course setting fields.
The course program displays the lesson and section titles in the order you set them up. You can change their order, description, or title in the lesson builder.
To change the name of a lesson, click on it, and edit the name.
To change the order of your lessons, go to the list of lessons, and drag and drop the desired lesson.
Your students see only the "Active" lessons.
Under the course program, there are instructors' photos and names.
To edit an instructor's avatar, go to the "Overview" tab. In the "Instructors" section, next to the instructor, click on the three dots, select "Edit," and choose a new picture.
You can edit the instructor name in the invited user settings.
How to Delete a Site
You cannot delete a site of your existing course separately from the course itself, but you can unpublish it in the "EDU" or "Site" section to prevent new users from registering.
To delete a site, you need to delete your course in the "Courses" section. Go to your course, click "Actions" under the course name, and select "Delete."
Last Updated: 31.08.2022