Drip email campaign best practices
A drip email campaign, otherwise known as an automated email campaign, is a series of pre-written emails sent to marketing leads. A drip campaign starts during the awareness phase in the sales funnel, which is when a lead finds out about the product or service and opts in for email marketing. It can go up to post-purchase when the marketer upsells or cross-sells to customers who have already converted. Marketers can use drip campaigns to inform and nurture leads, increase email click-throughs, improve revenue, and save time.
Statistics show that about 73% of millennials, the largest group of internet users, prefer email for business communication. Email marketing is considered the biggest customer retention channel by 80% of retailers. Consumers who buy products via email spend 138% more money than clients who don't receive offers to their emails. With the average click-through rate that is three times higher than for single send emails, drip email campaigns are an advantage to any business. That said, here are the best practices to follow to get the best of drip emails advantages.
Segment your email list
Sending one email to all addresses on a mailing list is not effective. Instead, a marketer can segment the list based on relevant factors such as small or large-scale customers, preferences, interests, location, channels they are drawn from, etc. That way, one can send more personalized messages along with an offer. You can create advanced segments as well as apply ready-to-use segments for your business.
Look:
Keep track of a lead's stage in the buying cycle
For an effective drip marketing campaign, the marketer should know where a particular prospect is in the buying cycle. One can't send the same offers to leads and loyal customers. Leads need educational content on how your brand can bring them benefits while loyal customers expect for exclusive offers. Very often, brands motivate leads to buy from them, offering a discount on the first purchase.
Look: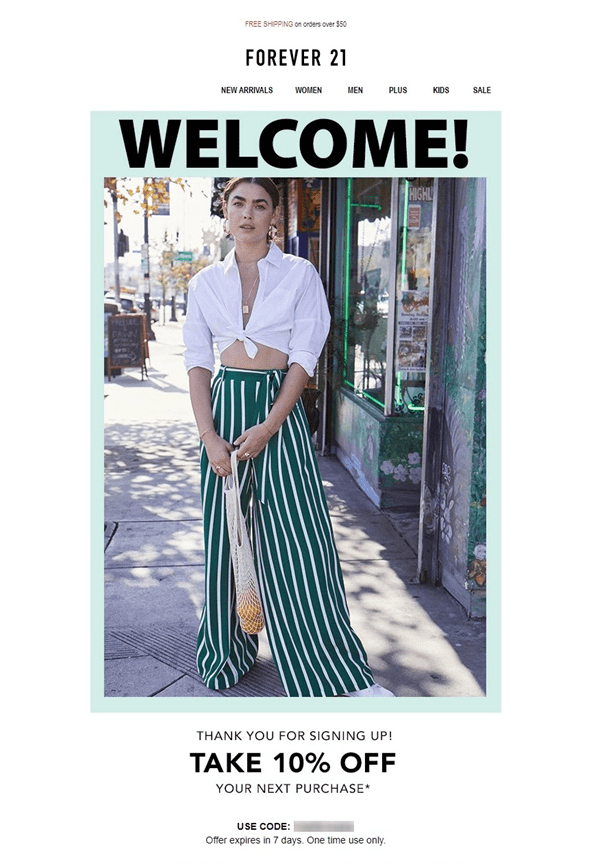 Educate leads wisely
Tell leads how your products can solve their specific issues. How-to guides, checklists, videos, demos, eBooks, webinars, and free trials can assist you with this task. Make sure that you mix different content formats to provide customers with an in-depth look at your product. Don't bombard your audience with eBooks and long how-to guides. Use a short checklist instead of the first to be always at hand, and a short video demonstrating how this or that works instead of the second.
To make customers upgrade their pricing plan brands tempt them with exclusive options. They explain how each new feature will help them get more out of a service. Codecademy does the same thing.
Look:

Include a 'Set Preferences' link for subscribers
It is difficult to find out what excites or interests each subscriber exactly. So, marketers should include an option to set preferences in every email sent. With this link in the email, prospective customers can choose the kind of offers or content they wish to receive as well as the email sending frequency. That will help you create segments and put sending relevant content on autopilot.
Banana Republic adds a separate section for email preferences center to their email. It's impossible to scroll it down.
Look:
Send milestone emails
Marketers can send milestone drip campaigns to customers to celebrate special dates. For example, a company can send birthday emails or anniversary emails to celebrate the day the customer signed up. It is best to prepare such milestone emails in advance. The good thing is that it's possible to schedule emails to be sent automatically using SendPulse Automation 360.
Chubbies never fail to amaze their subscribers. The brand congratulates customers on 1-year anniversary using their traditional mix of storytelling, jokes and a nice photo of their team.
Look: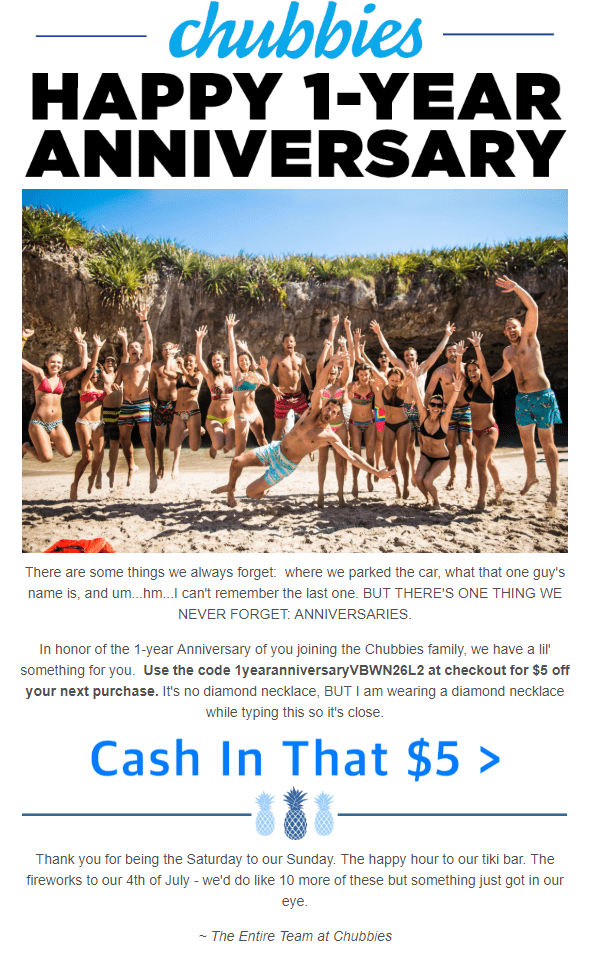 Automate drip campaigns
You no longer need to spend hours on crafting an original and responsive email template and worry about sending your campaign at the right time. Automating drip campaigns allows to skyrocket lead generation, reduce costs, save time, and boost results. SendPulse offers its users Automation 360 to make your email marketing less of a headache.
Here is how creating a drip email campaign on SendPulse looks like: 
With these drip email campaign best practices at hand, you may take a long-term view on relationships with your customers. Let SendPulse take care of the technical side of things for you to focus on more important issues.
Last Updated: 04.12.2020