All emails you send with SendPulse are signed with SendPulse's signatures for the best delivery rates.
The signatures are contained in email headers and in all links included in the emails when the tracking feature of the email service is turned ON.
These signatures are added by default also for users' convenience — you don't have to do the DNS-records setup yourself, our email service does that automatically.
If you would like to remove SendPulse signatures from email headers and links, set up DNS-records of your own domain. 
First of all, you need to get access to the control panel of the domain and then set up a CNAME record (CNAME stands for "canonical name"). 
*With access to a domain's control panel, you could also set up DKIM and SPF-records to get even better delivery rates — most of the corporate email services adhere to DMARC policy to filter emails from unauthorized senders.
DKIM and SPF setup serve as authorization, demonstrating sender's reliability. 
Where to get authentication credentials for the C-panel?
Definition of domain host
Domain host — is a company that registers and manages domain names.
Domain registrars use DNS records to correlate domain names with email addresses, websites and other web resources.
GoDaddy™, enom®, DreamHost® and 1&1℠ are among popular domain registrars.
How to identify your domain host
The easiest way to do that is to check whom are you paying for the domain.
If for some reason this method doesn't work for you, use whois database to find the registrar:
Go to whois search page
Enter your domain name into the search box and hit Lookup.
You will see the necessary details in the Registrar box. 
Visit the listed registrar's website to obtain the authentication credentials for your domain's c-panel.
Domain resellers.
Some domains are registered by resellers, so if you don't see your domain host in whois search results, or if the Registrar box is blank, then most likely your domain hist is a reseller.
Refer to Raw WHOIS Record section on whois search results page. 
Look for the Reseller entry
Visit the reseller's website to obtain the c-panel authentication credentials.
In case the reseller is not specified, refer to the registrar's customer support.
Creating a DNS record
To add or edit a DNS record you need to log in to the control panel of your domain.
Select "Create a DNS record" and then select the CNAME DNS record type.
Specify "TTL" ("time to live" value) 3600 seconds (1 hour).

If everything is correct, you will see a notification confirming the successful operation and the new DNS record will appear on the list of the records.
In this example, CNAME record was set up for myemail4.mydatadrom.com domain.
Click on the record to edit its DNS settings and then renew the record's parameters to confirm the changes.
If everything is correct, a confirmation notification will follow.
Adding a custom tracking domain in SendPulse Email service settings
Log in to your SendPulse account
Open Email-Service settings-Emails Authentication menu
Select Own domain for tracking-Activate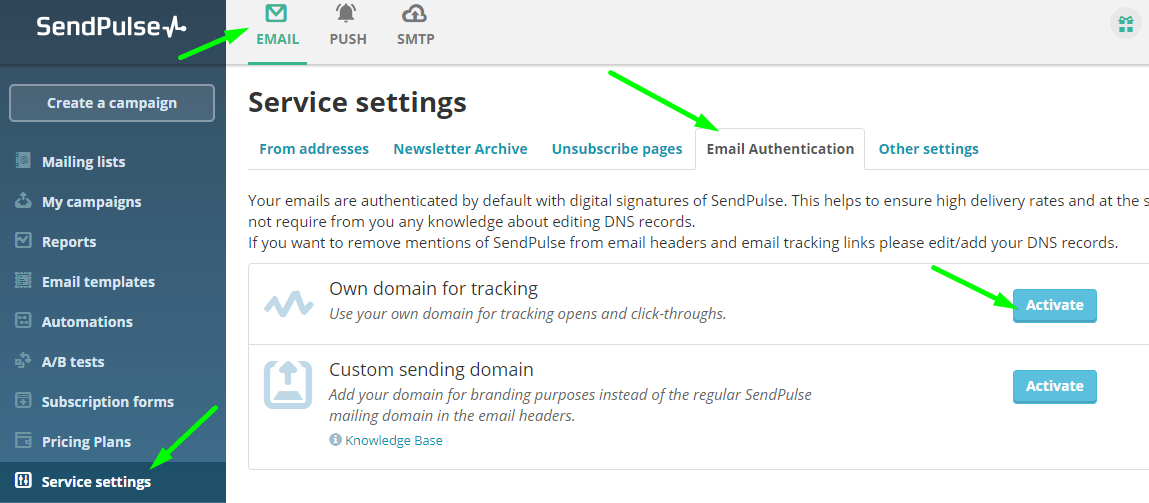 Now add the name of the domain you have set up the CNAME record for.
Click Add and check

Note, that DNS records take time to update, so it may take between a couple of hours to a couple of days (depending on the domain) before the new record changes status to ACTIVE.
You will see the new domain status change to "Active" in Email-Service Settings-Authentication menu:
From now on, all email headers and links sent in emails with activated tracking will be using your custom domain instead of SendPulse's default one:

Last Updated: 2019-11-01