A chatbot is an application that can imitate a real conversation with a user in their natural language. Chatbots enable communication via text or audio on websites, messaging applications, mobile apps, or telephone. With the SendPulse chatbot builder, you can create a chatbot for Instagram, Facebook Messenger, Telegram, and WhatsApp without any coding skills for free.
In this video, Alex, a marketer at SendPulse, explains how to use chatbots to boost your social media.
Why are chatbots important for a business?
Let's highlight some of the advantages that chatbots offer businesses going by findings in the State of Chatbots report of 2018.
Help companies to provide 24-hour service. 64% of respondents to this survey reported that 24-hour service is one of the main advantages of using chatbots. With bots, businesses can ensure that they respond to customer queries regardless of the time, thus boosting customer experience — an essential factor for success in business. 
Allows brands to reach out to more customers. Going by this report, 69% of users prefer bots over apps when interacting with businesses. It, therefore, makes economic sense to use this channel if a brand passes information regarding its products and services to a broader demographic.
Benefits of a Chatbot
Better customer engagement
Cost savings
Tracking gaining insights and consumer data
Successful lead generation, qualification, and nurturing
Easy operation in global markets
Below are more benefits of using chatbots for your business:
Better customer engagement. Chatbots shine at engaging both prospects and customers, leading to more sales. While a brand can go overboard with the traditional customer service by providing more information than is required, chatbots only give bits of data based on the input provided by users at each time. They do not end up annoying users with irrelevant information. Instead, they keep the customers engaged for longer by sharing the compelling content flowing.
Cost savings. Business owners have to pay their employees to manage a chatbot 24/7. These expenditures keep increasing as the business grows and can soon reach uneconomical levels. Chatbots are a one-off investment that assists firms by cutting down on staffing expenses. Brands can easily integrate customer support chatbots to cater to simple concerns of prospective customers and pass on the complex issues to customer service agents.
Tracking gaining insights and consumer data. Chatbots collect useful feedback from customers, and this information can go a long way to help brands improve their services. Moreover, this feedback can prompt brands to optimize their sites by making changes to low-converting pages.
Successful lead generation, qualification, and nurturing. Chatbots receive consumer information that enables them to send personalized messages to customers at various stages of the sales funnel. Bots can ask relevant questions, persuade the prospect, in turn, generate a lead for a brand. Moreover, bots can help businesses to find out unqualified leads via key performance indicators (timeline, relevancy, resources, budget, etc.); thus, barring businesses from dealing with time-consuming leads.
Easy operation in global markets. Chatbots help enterprises offer excellent customer service in multiple languages all year round. In turn, brands can scale up their operations in new markets.
How does a chatbot work?
Chatbots work based either on artificial intelligence or rules. We'll consider rules-based chatbots because they don't require the knowledge of code or any technical skills. Non-tech-savvy marketers can select a platform providing chatbot functionality. Such a service lets create auto-replies and advanced scenarios based on triggers. Subscription to a chatbot, any keyword or message sent by a user can work as a trigger. For example, a user subscribes to your bot. You can create a welcome flow that will be sent to users automatically after subscription. Include quick replies with several options available, such as "About us", "Learn more about the product", and "Contact sales department." Then you can send different messages based on subscribers' replies. You can even assign tags to users to provide them with relevant offers later.
Consider as many potential triggers as possible that users are most likely to type in. If you sell products, they may include "price," "size," "exchange," "refund," etc. After you list these possible triggers, design auto-reply flows to provide leads with the necessary information. This way, your sales reps and support team will manage to deal with high-priority tasks and automate answering FAQs. Read on to learn how to create a chatbot with SendPulse for free.
Now that you know the benefits of chatbots, take a look at platforms providing chatbot functionality.
5 Best Chatbot Platforms
SendPulse
ManyChat
Tidio
Chatfuel
MobileMonkey
In this section, you'll get to know the important factors to consider when choosing a chatbot platform. We'll cover the features and pricing of the 5 best services. Stay tuned!
SendPulse
SendPulse is a unified marketing platform that helps small and medium businesses automate communication with clients through email campaigns, chatbots, web push notifications, and SMS. It provides a simple and functional chatbot builder that requires no coding to create a powerful chatbot.
SendPulse allows you to design a chatbot for Instagram, Facebook Messenger, Telegram, and WhatsApp. You can turn website visitors into chatbot subscribers with the help of multichannel subscription widgets. SendPulse chatbot builder functionality enables brands to reduce the workload of their customer support teams by setting up auto-replies to answer users' everyday questions. You can encourage chatbot users to answer several questions about their product preferences and provide them with personalized offers which will result in higher sales.
SendPulse chatbot builder features
using images, files, audio, video files, and emoji to create interactive conversations;
automated replies to users mentioning your brand in their Instagram Stories;
promoting your chatbot on Instagram Direct with the help of ads;
adding several live agents to Instagram chats;
accepting payments via Stripe, PayPal, Fondy, and LiqPay;
creating filters based on subscribers' personal information to send relevant messages and offers;
saving user information with the help of input for further customer segmentation;
detailed stats on interaction with a chatbot;
chatbot management on your smartphone.
It won't take you more than an hour to create a chatbot flow with SendPulse. Check below a flow created for a bookshop with the SendPulse chatbot builder. Users can choose several scenarios and get help with making a perfect choice.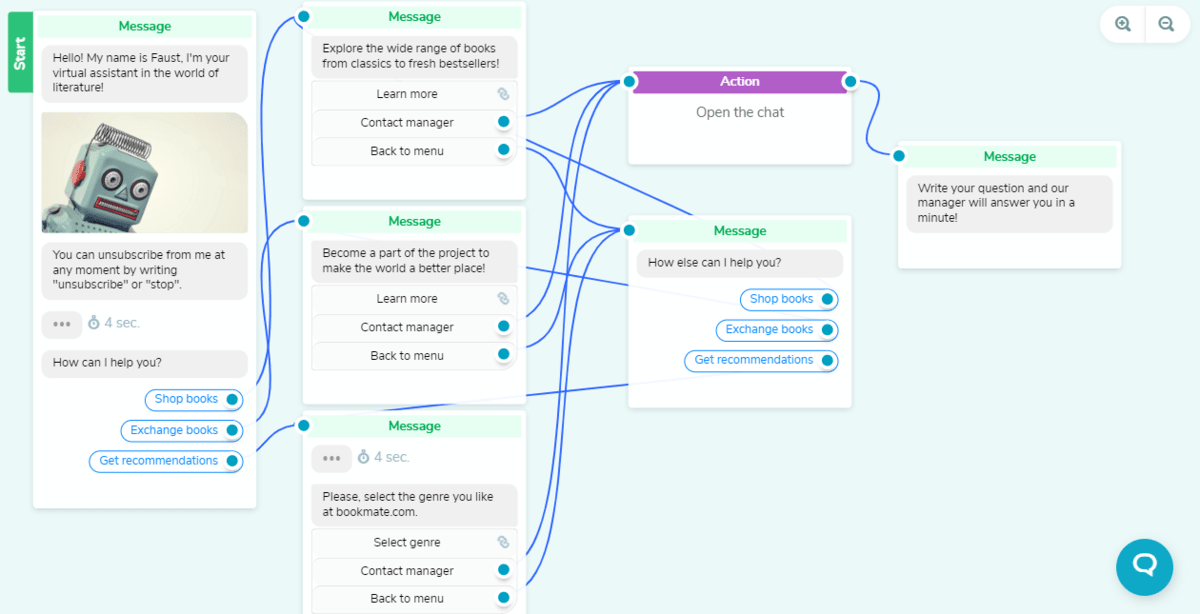 Follow the instructions to create a chatbot for your Facebook page.
Find out how to create an Instagram chatbot.
Learn how to create a WhatsApp chatbot.
Discover how to connect a Telegram chatbot.
Pricing
SendPulse offers a free plan which allows you to create up to 3 bots, have up to 1,000 contacts, send up to 10,000 messages per month across all of your bots, and add up to 10 variables. With this plan, you can evaluate the benefits of the service.
If you want to create a WhatsApp chatbot, design unlimited bots and variables, accept payments, add tags and webhooks, upgrade to a paid plan which cost $9,60 per month for 1,000 subscribers.
ManyChat
ManyChat is a platform that allows users to supercharge their Facebook Messenger and Instagram marketing with chatbots. They help reach more leads, engage prospects, blow up sales, and automate conversations with customers without much sweat even if you're not a tech-savvy marketer.
ManyChat allows its clients to provide their customers with instant support, improve lead generation, increase sales and qualify leads by automating conversations for Instagram Direct Messages and Facebook Messenger. Drag and drop functionality lets you design advanced flows without much stress. You can conduct contests, giveaways, and promotions to boost subscriber engagement with your brand. If needed, your team will be informed that customers want to have a live chat.
ManyChat features
audience segmentation;
customization of text, media, and destinations;
comments automation;
automated reacting to users mentioning your brand in their Stories;
a wide choice of conversation starters;
automatic capture of user information;
adding team members to live chats;
leading users to your Facebook Messenger chatbot with the help of a Messenger URL Growth Tool;
conversation analytics.
ManyChat offers a drag and drop conversation builder, so you need to add the necessary blocks to build a flow. Check out an example below. You can also learn detailed stats of each action and block to improve your chatbot on the go.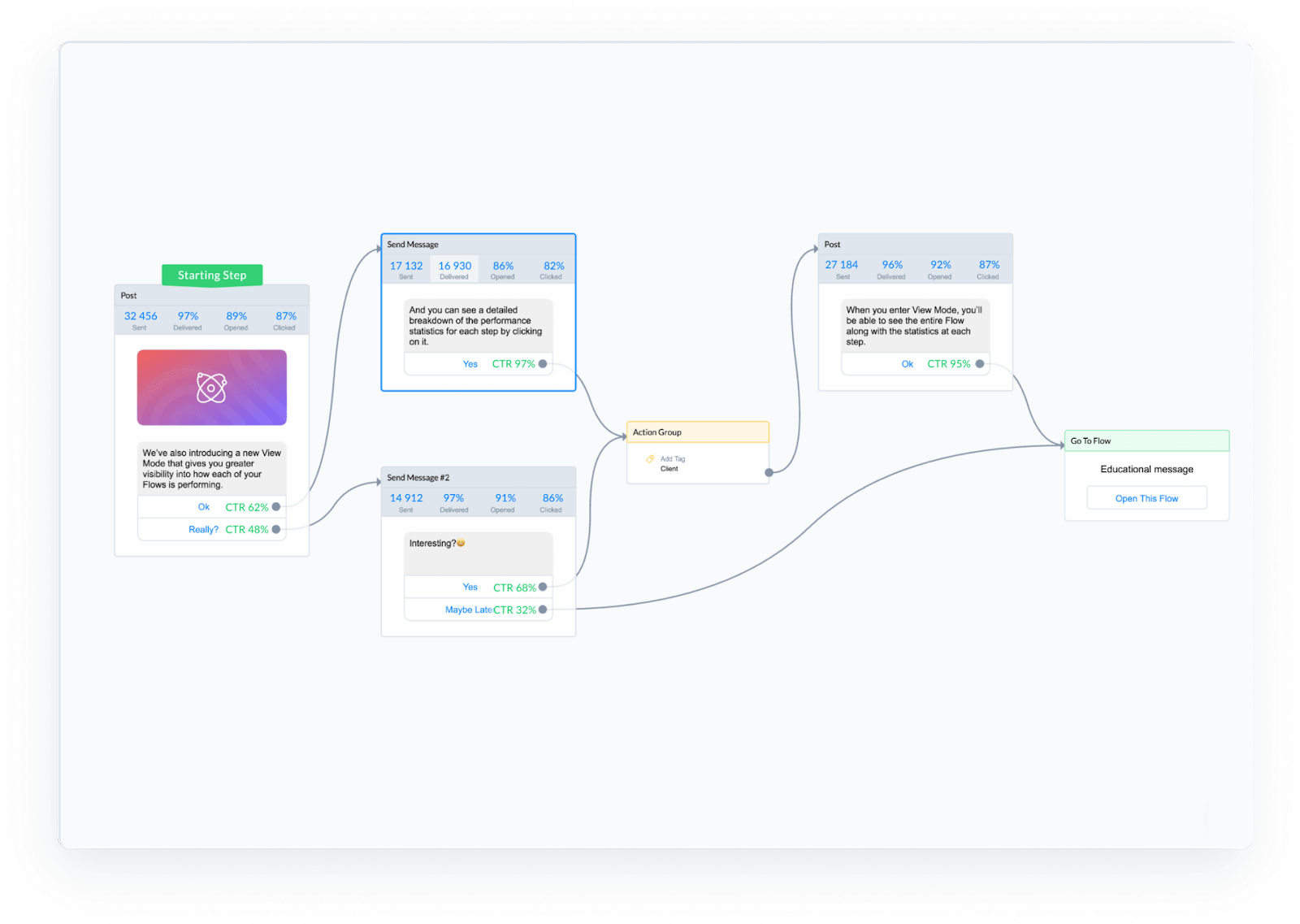 Pricing
ManyChat provides a free plan which allows you to create a chatbot for Instagram Direct Messenger and Facebook Messenger, automate conversations with up to 1,000 contacts, use basic Growth Tools, have 10 customer tags, and get email support.
Upgrade to a paid plan which costs $15 per month to engage unlimited subscribers, use unlimited Growth Tools, and build advanced campaigns using tags, custom fields, and segments.
Tidio
Tidio is a customer service tool that helps supercharge your conversations with clients via chatbots for Facebook Messenger and live chats. You can add a live chat to any website without having to code. Customize a live chat widget to fit your brand style. You can build a chatbot scenario with an intuitive drag and drop editor or use one of 20 chatbot templates.
Tidio lets its users communicate with leads and never lose a customer via any channel from one place. Increase sales by collecting customer personal data, advanced lead qualification, and recovering clients' abandoned carts. Let your support team deal with more complex tasks and delegate part of their workload to chatbots. This way, you can automate answering repeated questions, segment users, and inform operators about certain customers' actions to respond immediately. Drag and drop the necessary nodes (blocks) to build a chatbot flow that can consist of actions, triggers, and conditions.
Tidio chatbot builder features
35+ pre-designed chatbot templates;
segmenting customers based on their behavior;
adding text, galleries, user input, emoji, quick replies, buttons, email phone number validation;
customer data overview along with custom fields, tags, and segments;
basic analytics.
Although Tidio lacks some advanced features like a Facebook website widget, comments auto-reply, webhooks, and growth tools, this platform can be a perfect choice for beginners looking for a straightforward solution without wide functionality.
Below you can see an example of a lead generation bot created with Tidio. The interface is pretty simple, so it won't take you much time to learn. This is the bot for users who engage with your website for the first time.
Pricing
Tidio provides a free plan which lets you have up to 100 unique visitors per month, unlimited chats, and add up to 3 agents.
To reach unlimited unique visitors, upgrade to a paid plan which costs $49 per month. It also allows you to build unlimited active chatbots, use ready-made chatbot templates, and access 24/5 live chat support.
Every new user gets a 7-day free trial of the paid plan to evaluate the premium features of the platform.
Chatfuel
Chatfuel is one of the leading chatbot platforms in the world used by Levi's, Adidas, and Netflix. Users appreciate the service for its functional chatbot builder and clean interface that require no coding skills to build an advanced chatbot flow for your business. You can collect customer data, attract new clients, automate support, and boost sales via a website, Facebook Messenger, and Instagram chatbots.
Chatfuel allows you to attract new prospects in Facebook Messenger, cover their demands, answer FAQs, send auto-replies and promos, and segment customers. With this platform, it's easy for users to make bookings in a few seconds, collect client feedback after the purchase, retain and bring customers back, and qualify leads saving each interaction in the built-in CRM system. You can easily capture leads' information through direct messages and Instagram ads to nurture and segment them effectively.
Chatfuel features
intuitive drag and drop chatbot builder;
adding images, video, audio, attachments, emoji, gallery, quick replies, buttons, free text input;
creating custom fields and user segments;
pre-designed Instagram templates for different scenarios;
custom automated replies;
automation of all Instagram communication channels including stories, mentions, direct messages, post comments, ads;
lead management: segmenting, qualifying, exporting;
live chat
clear analytics.
Below you can see the process of creating a chatbot for a bookshop. You can add different blocks on the left panel and customize them by enriching them with media on the right. Test your chatbot before launching.
Pricing
Chatfuel offers a free plan which allows you to create a full-featured bot for 50 subscribers and have priority support for the first 30 days.
You can upgrade to a paid plan which costs $15 per month and lets you interact with 500 contacts.
MobileMonkey
MobileMonkey is a chatbot marketing platform with enormous potential for your business growth. It enables marketers to automate outreach, convert inbound and outbound prospects into clients, and boost sales via social messaging channels. With its tools, you can find targeted prospects, qualify and convert leads, and close more sales. MobileMonkey's technology OmniChat enables marketers to write automated chat conversations working across multiple apps.
MobileMonkey lets you either develop a bot using the framework or create a bot without a line of code with a visual builder. It won't take you more than 15 minutes to create a bot scenario. Alternatively, you can use pre-made templates for different industries. You can optimize answering customers' FAQs with automated sequences. A bot can effectively walk your user down the sales funnel and provide a positive user experience.
MobileMonkey features
pre-designed chatbot templates;
chat blaster which allows you to send a message to all your contacts or specific segments;
sending drip campaigns;
chat widgets;
Q/A triggers;
custom variables;
link to Messenger;
Facebook Comment Guards;
bot analytics;
bot cloning;
template sharing.
Below you can the process of creating a chatbot flow for a bookshop with MobileMonkey.
Pricing
MobileMonkey provides a free plan which allows you to send up to 1,000 messages every month to unlimited subscribers. You can create widgets, and add attributes and tags.
Upgrade to the Pro plan to send up to 2,000 messages per month. It will cost you $19.
Now you can choose the platform which fits best your business goals. Now, we'll walk you through creating a chatbot with SendPulse.
How to Create a Chatbot with SendPulse
How to create a chatbot for Facebook Messenger?
How to create a chatbot for Telegram?
How to create a chatbot for Instagram?
How to create a chatbot for Facebook Messenger
Facebook Messenger, being the second most used messenger app in the world and the first in America, is the best place to set up a bot. Set up chatbot marketing with SendPulse by following these steps:
Step 1: Create an account with SendPulse and go to the "Messengers" tab
If you are not already on SendPulse, sign up. If you are already logged in, click "Facebook chatbot" under products. Go to "Messengers" tab at the top of the page and click the "Connect channels" button.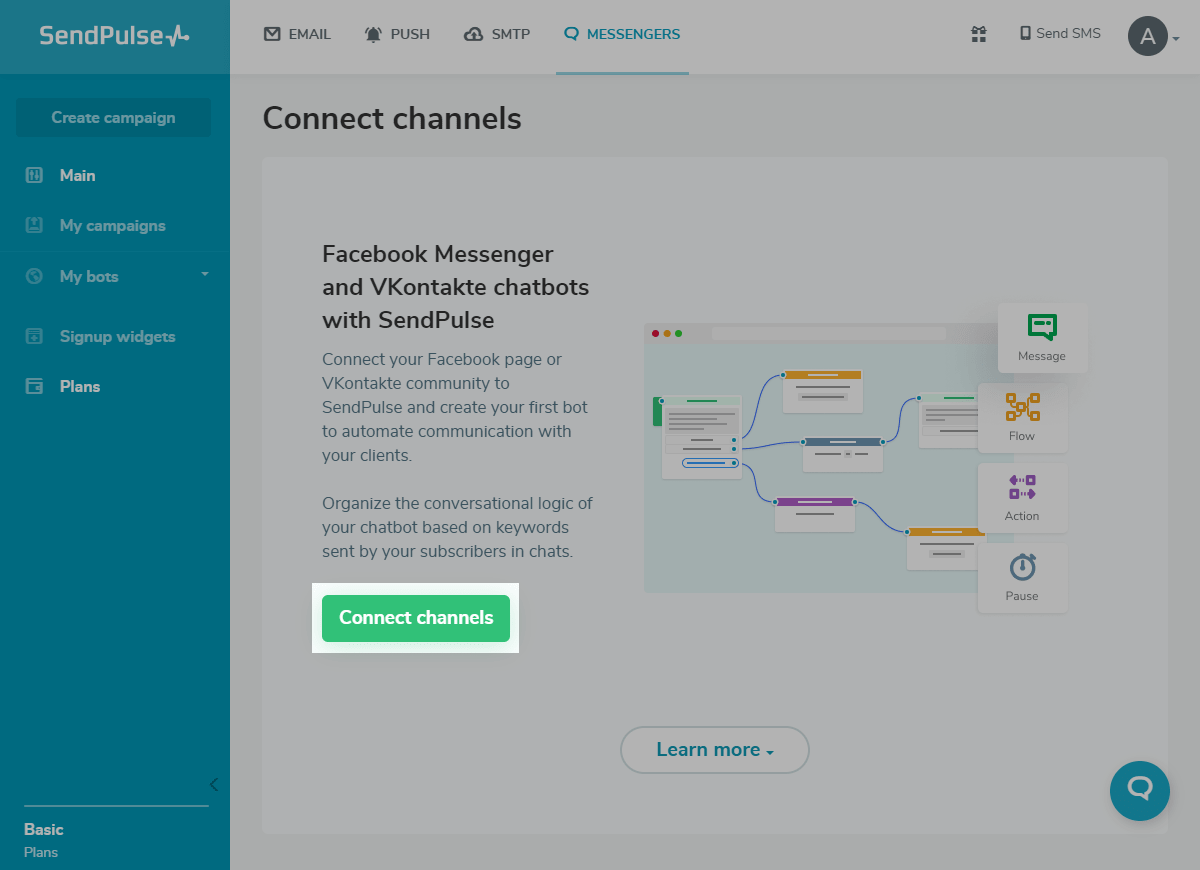 Step 2: Sign in with Facebook and create a bot
Select group pages for which you want to create chatbots. Click "Enable" opposite a group to enable a chatbot.

Step 3: Send a test message
Subscribe to your chatbot and send yourself automated messages and campaigns to test them.

When a prospect subscribes through a widget, the chatbot automatically sends them the first message. Launch messenger marketing strategy with SendPulse and send Facebook campaign anywhere faster!
How to create a chatbot for Telegram?
Creating a Telegram chatbot is as easy as pie with SendPulse. You don't need to code or have any technical background. You can create up to three bots each month and send up to 10,000 messages for free. Follow this step-by-step guide to get started.
Step 1. Create a bot with @BotFather
Sign in to your Telegram account, enter @BotFather in the search tab, choose the bot that has a blue checkmark beside it, and click "Start" to activate it.
Then, create a name and username for your bot
Step 2. Connect your bot to SendPulse
Copy your token value and add it to your SendPulse account.
After you are redirected to the Telegram app, click "Start" and you will be subscribed to your bot. Look for more precise instructions in this guide.
How to create a chatbot for Instagram?
If you still don't have an account, register with SendPulse. Follow _ below.
Step 1. Connect a chatbot
Navigate to the "Chatbots" tab and click the "Connect" button.
Step 2. Connect your Instagram account
To connect a bot to Instagram, you need to have a Facebook page and an Instagram business account. Follow the instructions on the screenshot to connect your account to a Facebook business page.
Step 3. Select the necessary Instagram business account
Choose the account for which you want to create a bot. Then select the company's Facebook page.
Step 4. Add the bot owner
Make your personal Instagram account the bot owner. Log in and scan the QR code.
Step 5. Enter the code and send the message
If everything is set correctly, you'll receive a welcome flow.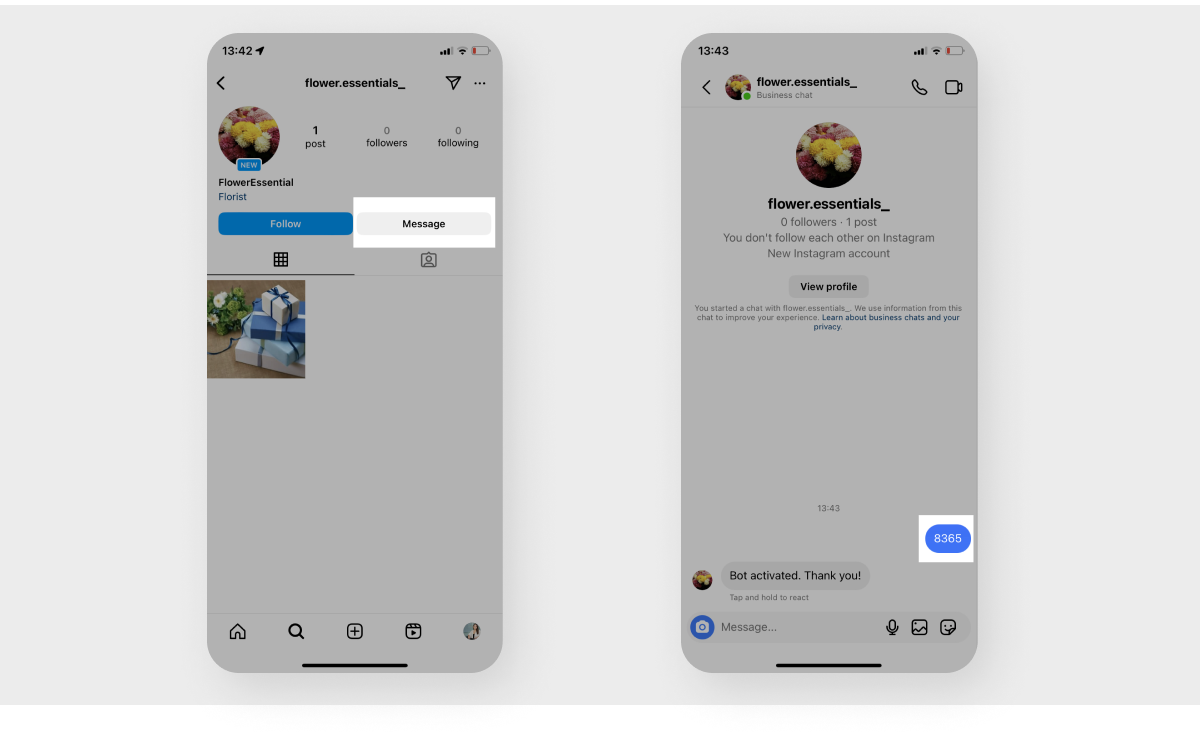 Check out this guide on our Knowledge Base for more detailed instructions. 
Chatbot Examples
Below is a Hello Fresh chatbot.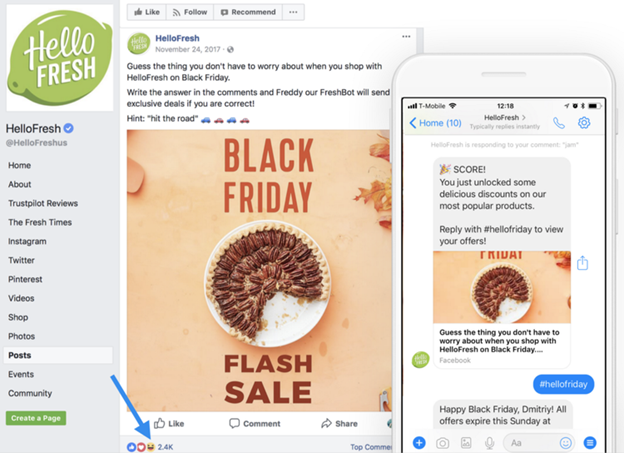 Here is how the Score uses a chatbot to provide fans with updates regarding their favorite teams.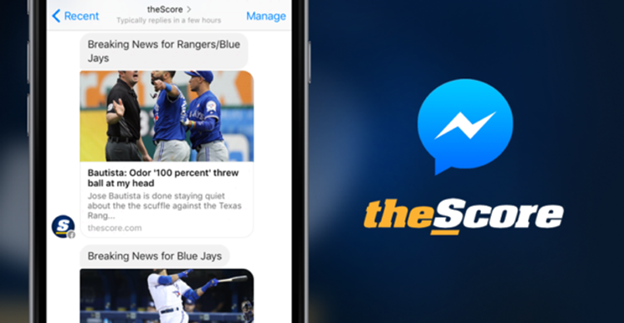 Eddy Travels bot allows users to find the necessary flight. Check out below.
Finally, HipMunk's Facebook chatbot helps travelers book flights and hotels quickly.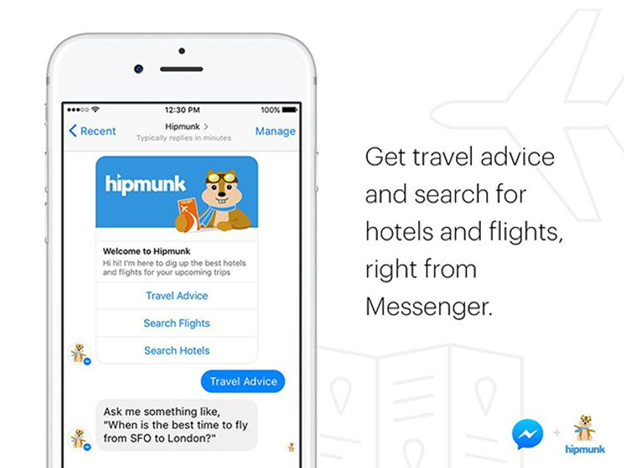 Chatbot Best Practices
Give the chatbot a personality
Give users reading time between messages
Know when to use buttons or quick replies
Use tactful quick replies to say no
Give the user a way to re-engage with the bot at the end of the conversations
Here are the best practices for building, testing, and using a chatbot:
Give the chatbot a personality. How people perceive the bot will affect how they converse with it. Simple things like giving it a face and a name can go a long way to enhance the user experience.
Give users reading time between messages. No wait times or short wait times make it frustrating for users to keep up with the conversation. So, set wait times depending on the length of the message and increase the wait times a bit more with each additional message.
Know when to use buttons or quick replies. Quick replies are written as the user responds to facilitate the conversation flow and usually disappears after use. Buttons, on the other hand, are written when the chatbot is talking and is used to navigate. They do not go away after use.
Use tactful quick replies to say no. Have polite negative quick responses that people can use without feeling bad about it.
Give the user a way to re-engage with the bot at the end of the conversations. Craft a response that allows the users to re-engage the bot later.
References
Here is the complete guide to chatbots for marketing. You'll find out how to get started with chatbots for social media.
This article sheds light on how to use chatbots for your business.
FAQ
🤖 What is a chatbot platform?
It is a service that allows you to create and manage chatbots connected to messengers and social media. If this technology is new to you, choose a chatbot platform with a free plan, like SendPulse, so you can learn how chatbots work and test them without investing a dollar.
💣 Can my subscribers break a chatbot?
This may happen if your chatbot has no pre-designed reply to specific user queries. If you run a chatbot on Facebook Messenger or Telegram set up a universal reply for all unknown messages. A chatbot created with SendPulse has the default reply "Our manager will contact you in less than an hour." Add buttons like "Go Back" and "Start Over" for better navigation with your chatbot. Register with SendPulse and create up to three chatbots free of charge.
Last Updated: 06.10.2023