How to Create and Connect a Telegram Chatbot
A chatbot is an automated multifunctional assistant, that can receive send and send triggered messages, and with SendPulse, your bot can save information as variables for future usage.
Follow the step-by-step instruction to create your first chatbot for Telegram messenger or connect an existing one to SendPulse for further configuration.
If you already have a bot, skip the first paragraph and take a look at the next section.
How to Create a New Bot for Telegram
Open Telegram messenger, sign in to your account or create a new one.
Step 1. Enter @Botfather in the search tab and choose this bot.
Official Telegram bots have a blue checkmark beside their name.
Click "Start" to activate BotFather bot.
In response, you receive a list of commands to manage bots.
Step 2. Choose or type the /newbot command and send it.
Step 3. Choose a name for your bot — your subscribers will see it in the conversation. And choose a username for your bot — the bot can be found by its username in searches. The username must be unique and end with the word "bot."
After you choose a suitable name for your bot — the bot is created. You will receive a message with a link to your bot t.me/<bot_username>, recommendations to set up a profile picture, description, and a list of commands to manage your new bot.
To connect a bot to SendPulse you need a token. Copy your token value and find more information about connecting your bot to SendPulse in the last section of this article.
How to Find a Token for an Existing Bot
Step 1. Go to the @BotFather bot and send the command /token.
You will see buttons with any bots that you have created.
Step 2. Choose the one you need a token for so you can connect it with Sendpulse.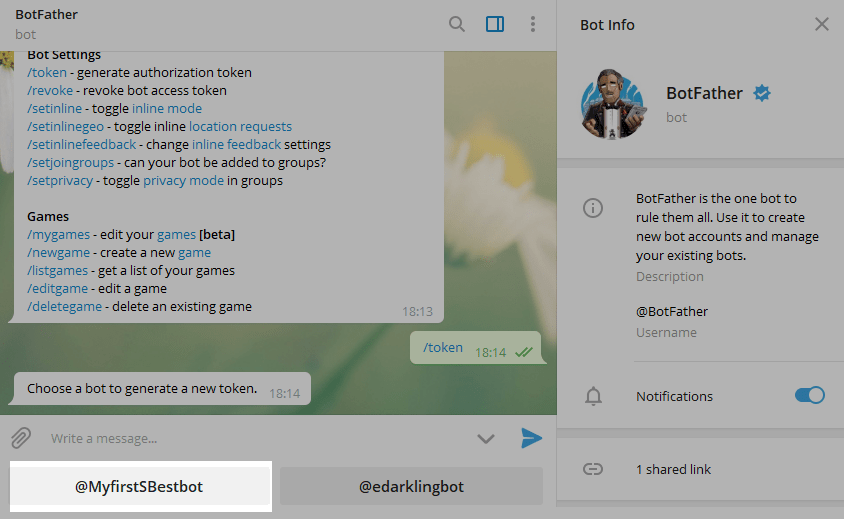 Copy the token value.
How to Connect a Bot to SendPulse
Go to the "Chatbots" section in your SendPulse account. If you have not previously had any channels connected, click Connect.
If you have already connected bots, go to the "Manage bots" section, and click Add bot. You can also click "Connect" next to the channel.
In the "Telegram" section enter your token from the necessary bot and click "Connect."
In the next window click the "Subscribe" button.
You will be redirected to the Telegram app, click on the "Start" button and you will be subscribed to your bot.
Once you have successfully connected your chatbot, you will receive its welcome flow, the bot will appear in your list of bots, and you can start creating welcome and triggered flows, or bulk campaigns.
Note, any existing subscribers are not imported to your SendPulse chatbot auditory. After you connect your bot you can collect subscribers with a website widget or share the link to your bot t.me/<username> directly.
Last Updated: 11.09.2023