A bulk email campaign is a method of internet marketing the aim of which is to delelop relationships with the clients and increase sales. It implies sending emails to multiple recipients and segmented groups at once. A special email service helps marketers get the most out of their marketing efforts. With SendPulse, you can send bulk email campaigns absolutely for free.
Bulk emailing is still one of the most popular internet marketing strategies for businesses because of the high ROI associated with it. Powerful marketing instruments make bulk email campaigns work. They vary from service to service but the most common include personalization, segmentation, custom email templates, email scheduling, A/B tests, user-friendly email campaign builder, detailed statistics, etc.
Hence, there's no need for marketers to spend hours and days on such tedious things like coding an email template, mailing list management, sending campaigns during non-working hours and many more. Just conduct some research and rely on a professional service that will take care of all the technical issues.
How to create a successful bulk email campaign
Bulk email campaigns have a lot of benefits for any business engaging in internet marketing. First, it saves money as a marketer only composes one message and sends to an unlimited number of people rather than manually creating an individual email for every contact on a list. It is also effective in reaching out to target customers, and easy to follow up.
However, poor bulk email campaign practices may lead to the email being classified as spam. To avoid violating the regulations, use a professional bulk email provider. Such services send thousands of emails at once without breaking any law. Be careful to choose a service with reliable servers and high reputation for your campaigns to land into the inbox.
To send a bulk email campaign in SendPulse, create an account, choose a template, add a mailing list and the relevant message and send. After sending, monitor the performance of the campaign in SendPulse statistics and reporting and use the insights to improve the next one.
Follow some useful tips:
Send only to those contacts who have opted in to avoid ending up in the spam folder or getting blacklisted by an ISP.
Plan the email content for each bulk email campaign in advance. This way, you will slightly move the contacts down the sales funnel.
Make your emails fit your brand design to increase brand awareness.
Craft mobile-friendly emails for your subscribers to have the best user experience. There's no need to make much effort since all SendPulse email templates are responsive.
Provide each email with a visible unsubscribe link. It will prevent your email from being marked as spam.
How to send a bulk email campaign in SendPulse?
Creating a bulk email campaign in SendPulse is an easy task. If your mailing list has less than 2500 subscribers, you may send 15000 emails every month absolutely for free. You're welcome to use personalization, mailing list segmentation, responsive email templates, track statistics at no cost.
If you still don't have an account, register. After that, follow these 3 easy steps:
Create a mailing list. You can either copy and paste the addresses or upload the list.
Choose an email template and edit it to your liking.
Preview your bulk email campaign and send.
Here you will find a more detailed guide on how to send an email campaign.
Bulk email tips
Every marketer wants to send emails that subscribers look forward to receiving. Follow these best practices to stand from the crowd.
Tell subscribers what kind of emails they're going to receive after joining your mailing list, as well as their frequency.
Let subscribers manage their email content preferences to receive the content they're interested in.
Segment your mailing list by using feedback from previous email campaigns and support tickets to understand the needs of your clients better. SendPulse offers ready-to-use segments.
Don't be too pushy. Avoid selling right from the first email. Instead, inform subscribers about the benefits of being a part of your brand. Send them educational content such as cases, video-instructions on how to use your product effectively.
Automate your bulk email campaigns. That will help to save time and send emails triggered by subscribers' actions.
Bulk email campaign examples
Forever 21's email announcing their Mother's Day sale with up to 50% discounts on sale items.
Bonobos bulk email campaign notifying customers of new items that have been added to the brand's spring sale collection.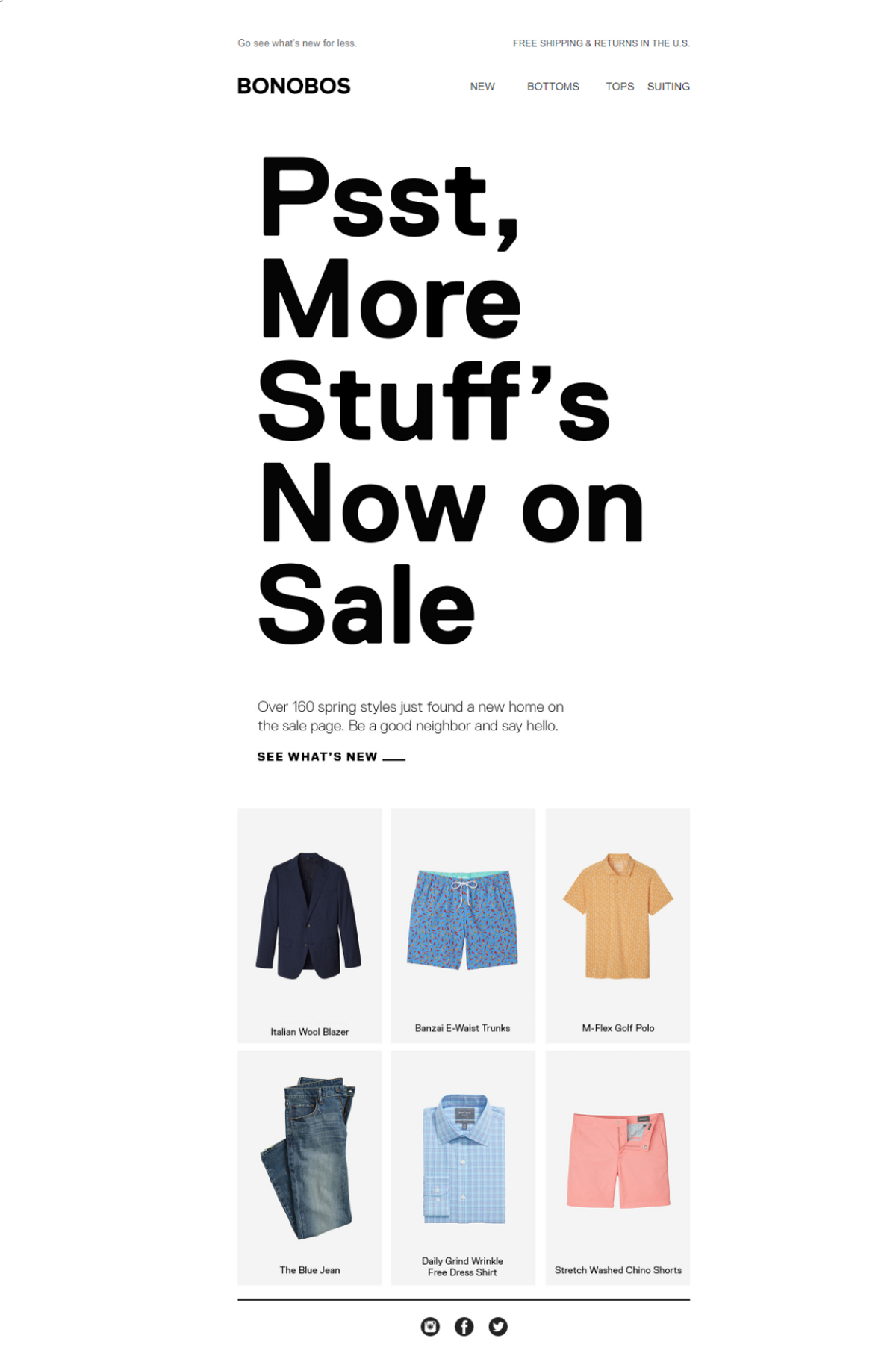 Nira Rubens uses a minimalistic approach to tell subscribers about their new sneakers.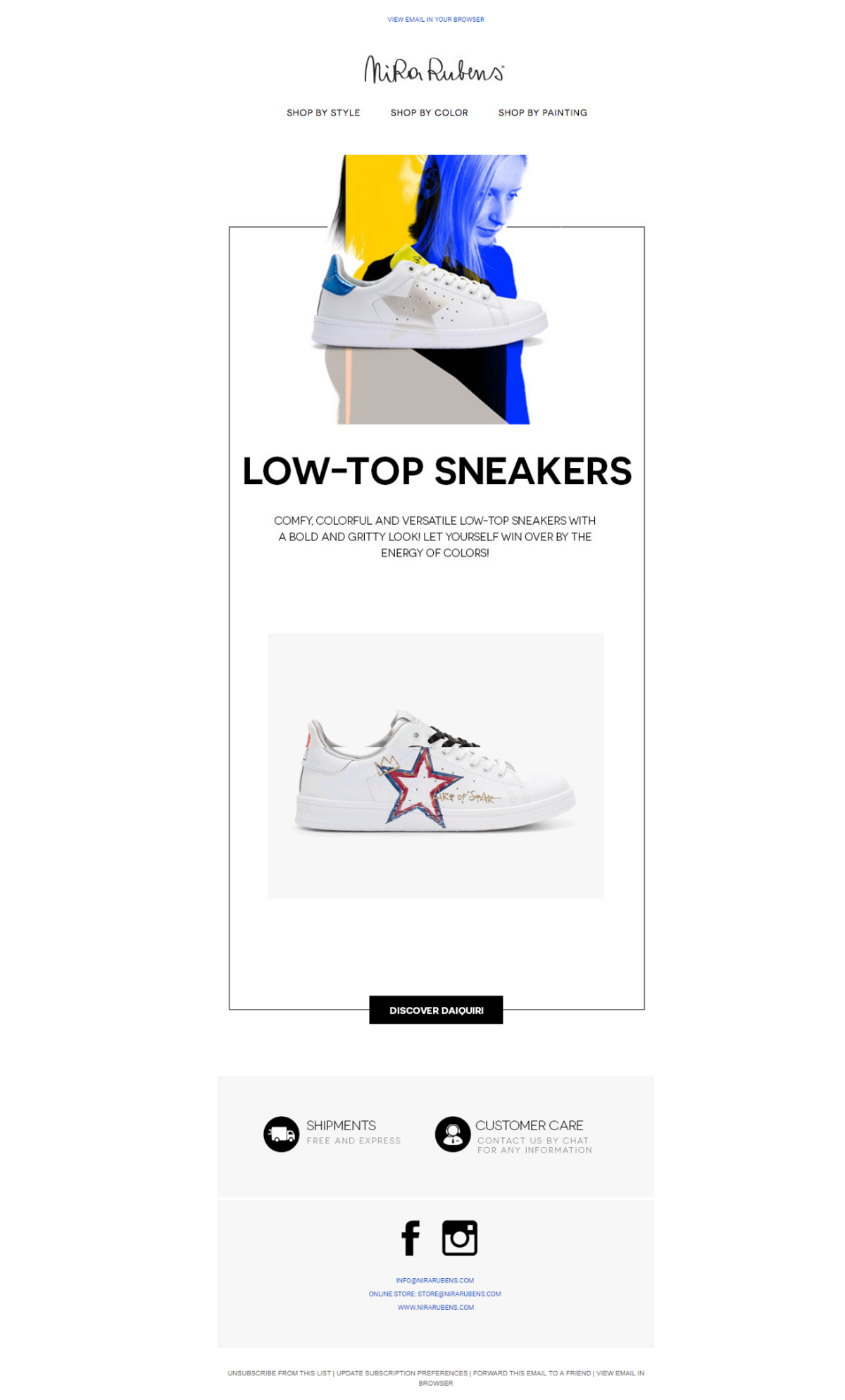 Ready to create a great bulk email campaign? Launch bulk email campaign in SendPulse.
Last Updated: 2019-09-19