Cloud marketing is the process of using digital platforms to provide customers with personalized experiences. The approach involves reaching customers online through social media, email campaigns, and websites and promoting certain products or services. Brands can improve buyer experience, increase visibility, and drive sales by tailoring their content to each customer's needs.
In this article, we'll unveil the advantages of cloud marketing and review the best cloud marketing platforms.
Advantages of Cloud Marketing
Cloud marketing is the number one way to effectively approach customers and make them engage. Customized content is customer-oriented, which means that targeted ads, personalized emails, and relevant campaigns are more likely to hook your audience and win its attention. These marketing tools help customers find solutions to their problems. Moreover, cloud marketing is beneficial for companies, as business owners can:
instantly connect with their target audience;
establish strong relationships with customers;
get to know their consumers;
personalize 

their 

emails, ads, and campaigns;
send only relevant content;
win customers' attention;
save costs on implementing traditional advertising methods;
quickly update 

their 

clients on upcoming releases, campaigns, and promotions.
Now that we have reviewed all the key cloud marketing benefits, we also need to talk about how to find a tool that fits your primary purpose. Let's review a few cloud marketing platforms so that you can choose the best one for your business.
Top 5 Cloud Marketing Platforms
In this section, we've gathered the most powerful services that can help your business sell online effectively. Let's begin with SendPulse, a multifunctional platform.
SendPulse
SendPulse is an all-in-one marketing automation solution that will come in handy for big and small businesses. Its well-developed products like bulk email service, chatbot builder, CRM, landing page builder, and web push service will help reach your customers in no time and promote your product.
SendPulse's chatbot builder is a perfect choice if you need to provide your clients with excellent customer support, onboard them quickly, and accept payments. Our service empowers you to set up Facebook Messenger, WhatsApp, Instagram, and Telegram chatbots. The most outstanding chatbot feature you can deploy is its ability to receive payments. This means that you can accept payments from customers via your bot. You'll only need a couple of minutes to create your own chatbot, add a payment button, and integrate the necessary payment system.
SendPulse's email service will empower you to tailor email templates to your liking with its drag-and-drop editor, customize your emails based on subscribers' preferences, and send campaigns at the right time. You can also make use of the most crucial platform features: personalization, segmentation, A/B testing, Automation 360, and email scheduling.
Below you can see one of the featured templates you can use to design your email campaign and customize it for your subscribers.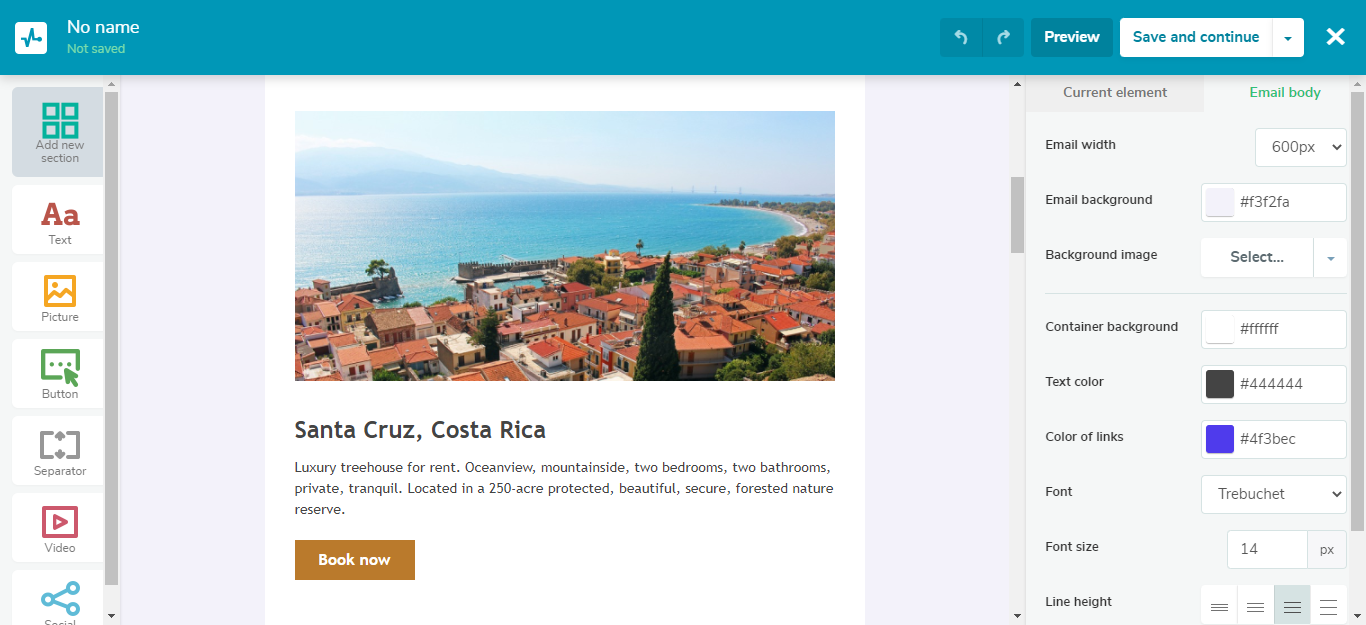 Free plan: Available forever.
Paid plan: Starting from $8 per month.
Cision
Cision is a cloud-based public relations service provider that helps businesses establish a positive image in the market and among consumers. The platform keeps you updated on your mentions, news, products, and competitors. With Cision, you can identify opinion leaders in your niche. You can pick the most suitable digital media platforms to share your content, win your target audience's attention, and create and send personalized pitches and campaigns. Monitor your performance statistics and make changes to your campaigns to establish strong relationships with customers.
Below you can see a dashboard where you can monitor your mentions, customer sentiment, and top publishers.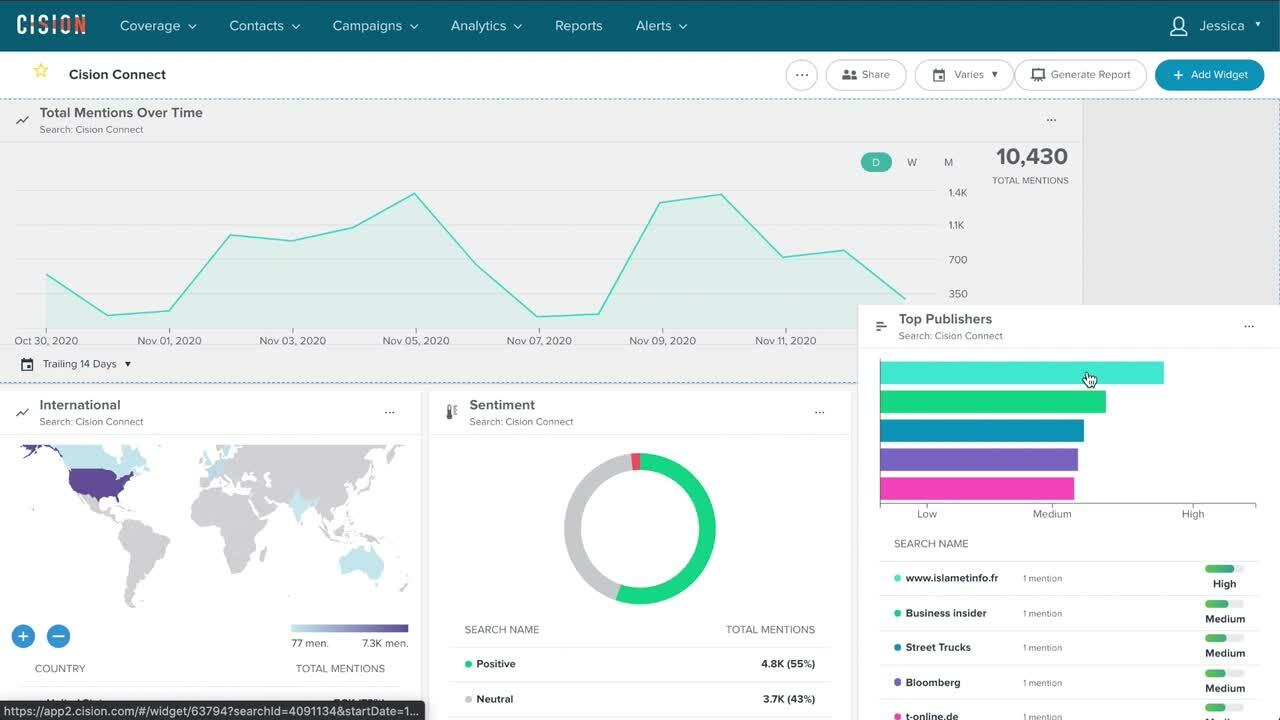 Free plan: —
Paid plan: Starting from $600 per month.
Salesforce
Salesforce provides you with all the necessary marketing tools for sales and relationship management. Startups and large enterprises can benefit from the service's customizable CRM system with built-in AI. The platform's Customer 360 feature captures data from all available sources that include emails, support channels, and calendars. You can always have access to your list of leads and their data. Salesforce is flexible, meaning that you can run your campaigns on multiple channels to win your customers' attention. Moreover, you'll be able to keep an eye on your sales funnel using the sales forecasting feature.
With Salesforce, you can create a personalized customer journey and ensure a seamless buyer experience. Salesforce helps manage campaigns successfully and improve their performance, send relevant newsletters to subscribers, generate leads and qualify them, assess mobile messaging, and analyze the results.
The dashboard below demonstrates a lead card where you can qualify your prospect.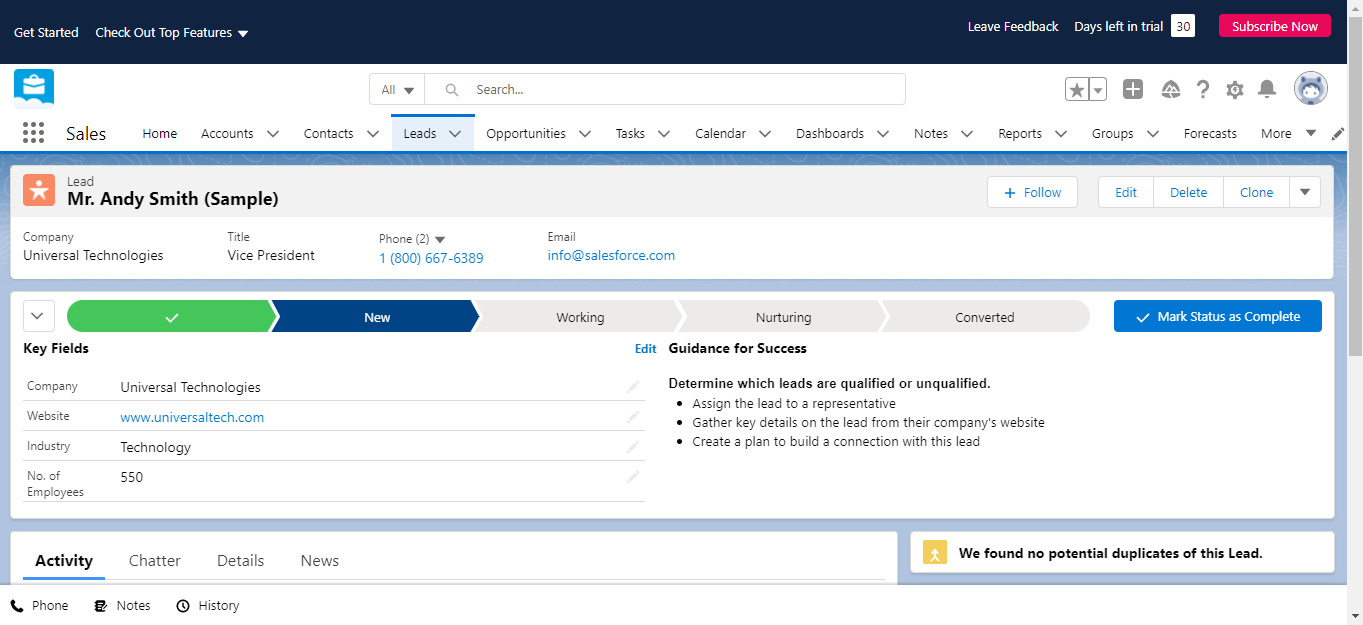 Free plan: 14-day trial.
Paid plan: Starting from $25 per month for each user.
Marketo
Marketo is a perfect solution for B2B sales. So, if you need to sell your product directly to customers, you should consider another platform. However, if you are interested in B2B sales, you can take advantage of Marketo's marketing automation, lead management, email marketing, and revenue attribution features. The platform allows its users to segment customers, personalize content, engage with audiences through different marketing channels, and nurture customers at every stage of their buyer journeys.
Below you can see Marketo's dashboard and list of customers sorted based on the profitability they bring.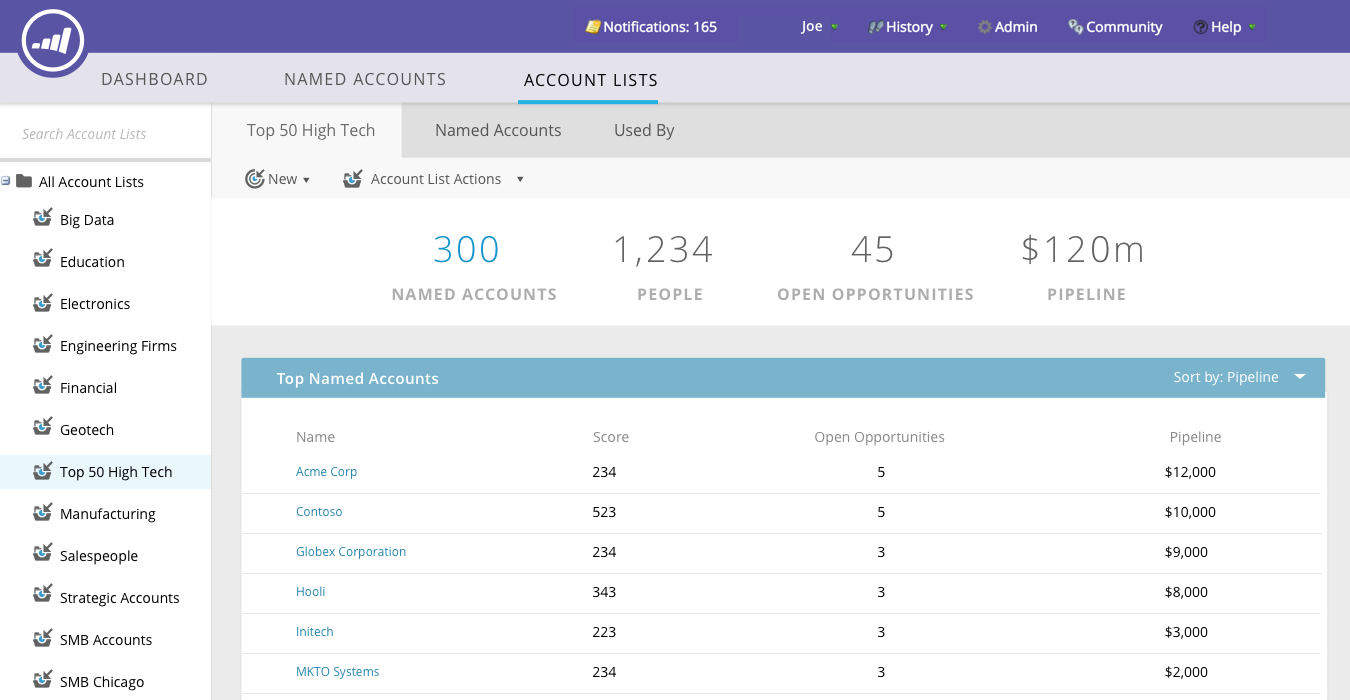 Source: Adobe Experience League
Free plan: —
Paid plan: Starting from $895 per month.
Oracle
Oracle is a multifunctional marketing solution that helps collect data on one platform, engage with customers, and communicate relevant messages to the right people. The service is a perfect fit for both B2B and B2C. This platform enables you to launch cross-channel marketing campaigns.
The platform covers email marketing, targeting, segmentation, A/B testing, and optimization. With its help, you can also launch web push, email, SMS, and social media campaigns. It also helps enhance your campaigns' performance and gain a high return on investment — Oracle's CRM is a leading product with ROI management tools. With its help, you can nurture leads and track your campaigns' performance.
Below you can see Oracle's homepage with pipeline analysis charts, appointments, contacts, opportunities, tasks, etc.
Free plan: 30-day free trial.
Paid plan: Starting from $75 per month.
In a nutshell, cloud marketing is a must for every business that wants to effectively reach its customers. As more and more people go online and use digital platforms, you should be ready to provide personalized emails and offers, targeted ads, and relevant campaigns. Cloud marketing platforms can help you improve the quality of your communication with customers.
References:
In this article, you'll find the best cloud marketing platforms.
This article provides readers with the definition and advantages of cloud marketing.
Last Updated: 22.03.2023