Webinar marketing is a set of techniques aimed at promoting specific goods and services, improving brand awareness, entertaining and educating your audience with the help of webinars. Hosting webinars helps brands show their expertise in a certain field and nurture leads.
According to the Content Marketing Institute, 58% of marketers use webinars to promote their products and services. Let's find out what makes webinars so popular.
Why is webinar marketing important?
Webinars retain viewer attention
Webinars help you warm up leads quickly
Webinars bring conversions
Webinars generate leads
Four factors prove webinar marketing can be a crucial piece of marketing strategy for some businesses. Here they are:
Webinars retain viewer attention. Unlike advertisements, webinars are not intrusive at all. People willingly tune into your webinar to learn the knowledge you share. According to MakeSocialMediaSell, 40% of users watch webinars from start to finish. This allows you to take your time and sell the idea that your products and services can solve people's problems.
Webinars help you warm up leads quickly. Users who attend webinars are interested in the topics you plan to discuss. Perhaps, they are in the awareness stage of the buyer's journey, which means they know about a problem, want to learn more about it, and find a fast solution. If you guide them through solving their issue, they are likely to remember your brand. 
Webinars bring conversions. While hosting a webinar, you can show your thorough expertise and prove how helpful your products or services are. Some people will be ready to order from you right after the webinar, especially if they need to quickly solve the problem.
Webinars generate leads. You can use webinars as a lead magnet to turn in new subscribers and leads. To do that, you need to place a lead magnet on your website and tell people about the value you are going to share. If this value is significant enough for users to share their email addresses and other data, they will join your webinar and become leads.
Let's find out when it's best to use webinars in your digital marketing strategy.
When should I use webinars in marketing?
When you know how to solve specific problems
When you have exclusive knowledge to share
When you need to teach users how to use your product
When you want to get personal with your audience
A webinar is a universal tool that businesses of any size or niche can utilize to their advantage. We've collected the four main reasons to think about using webinars in your marketing strategy. Here they are:
When you know how to solve specific problems. It's great to tell people how to cope with some issues, especially when your product is the best solution. Promoting your brand in a webinar is a piece of cake if you are sure that it carries value, and most importantly, solves attendees' problems. You can host a webinar to effectively nurture leads in the early sales funnel stage.
When you have exclusive knowledge to share. You can tell people about upcoming trends, share resources that have helped you become an expert, and help them become better by using your products. A webinar with a focus on providing knowledge won't bring many direct sales, but it will help you establish trustworthy relationships with your audience, which opens the way for conversions in the future.
When you need to teach users how to use your product. If your product is difficult to use or requires specific knowledge, it's a great idea to use a webinar as a guide. For instance, if you run a chatbot platform, webinars are a good chance to show people how easy it is to create a chatbot with no coding skills.
When you want to get personal with your audience. A webinar is a way to communicate with people directly. They can see who you are, how you talk, and what you think. In today's communication between brands and the audience, it's crucial to make your brand look as personable as possible. Webinars help you achieve that goal.
If any of these reasons resonate with you, let's learn how to create webinars.
7 Steps to Create a Webinar
Find a topic
Choose your team
Choose a webinar format
Organize webinar content
Select a webinar hosting platform
Set up your space and equipment
Promote your webinar
To create a webinar, you need to go through a few stages depending on your product's qualities and your target audience. Here is a universal guide that is an outline for any webinar.
Find a topic. It's best to choose one topic to dive into deeply. As a starting point for your search, review content you've already produced, and find out which topics your audience engages with most. When you choose a webinar topic, think about frequently asked questions that your speaker's experience can address during the webinar.
Choose your team. The more complicated your topic is, the bigger team you may need to conduct your webinar. You may need a facilitator to create the content for your webinar, a presenter to deliver a webinar presentation, and an assistant to take care of technical issues, FAQs, and everything that the presenter will not have time to do. When you do your first webinar, you can accomplish the tasks of these three specialists by yourself.
Choose a webinar format. The simplest option is to conduct an entire webinar with a single speaker. The webinar can also be an interview, a moderated discussion by various speakers, and a Q&A session. Pick the format that will help you deliver your message in the best and fullest way.
Organize webinar content. Make sure the presentation that you are going to share is full of interesting visual materials and demonstrations. Plain text won't do because it's hard for users to focus on for a long time. It's best to organize your text in lists and support it with relevant images and infographics on every slide.
Select a webinar hosting platform. There are various solutions to host a webinar. The most popular one is Zoom. Its free plan allows you to create webinars with up to 100 participants, though the time is limited to 40 minutes. The paid plan for a 100-member audience without time limitations costs $149.90. You can also consider trying GoToWebinar, BigMarker, Adobe Connect, or WebEx.
Set up your space and equipment. To succeed at conducting a webinar, you need to be calm and focused, especially if you are nervous speaking in public. Use a conference room or any other space without background noises. It's best to use a broadband internet connection and a headset microphone to ensure a stable signal during the event.
Promote your webinar. Use any digital marketing channels preferred by your audience to inform people about an upcoming webinar. We'll cover this topic in more detail a bit later.
After the webinar, you can follow-up the with attendees by sending exclusive discounts, quizzes, thank-you emails, etc. Let's see how to promote your webinar online.
How to Promote Your Webinar
Email Marketing
Social Media
Chatbots
The choice of promotion channels depends on the size of the audience you plan to attract to your event and your budget. There are plenty of free options to promote a webinar.
Email Marketing
Use emails to invite people to your webinar, send event reminders, and follow-up after the webinar with quizzes or a recording. This way you will provide your audience with a positive communication experience.
Here's an example of a webinar invitation email. It informs recipients about the webinar topic, tells the time and date, presents the speakers, and gives more details about the event. The message ends with a CTA leading to registration.
With SendPulse, you can send up to 15,000 emails monthly to 500 subscribers for free and serve invitations, reminders, and follow-ups to your audience using automation.
Social Media
Post about your webinar on your Facebook page so that some members of your existing audience can join it. To attract precisely targeted leads to your webinars, run paid Facebook Ads.
Facebook allows you to narrow your target audience down to San Francisco-based men interested in bodybuilding, aged between 18 and 40 y.o., which is a potential audience of 210 thousand people. This shows that you can tailor your webinar invitation to specific people using Facebook Ads.
Chatbots
Another way to promote your webinar is via chatbots on Facebook and Telegram. You can create a series of messages that will inform users about the webinar's topic, date and time, answer all FAQs, and guide them towards registration.
Here's an example of a chatbot flow created with SendPulse. Messages are connected in a series, each one has options that move your conversation in different directions. This chatbot flow allows you to find out users' intentions. In the end, the user can contact a manager who will already know why they are here based on the chatbot data.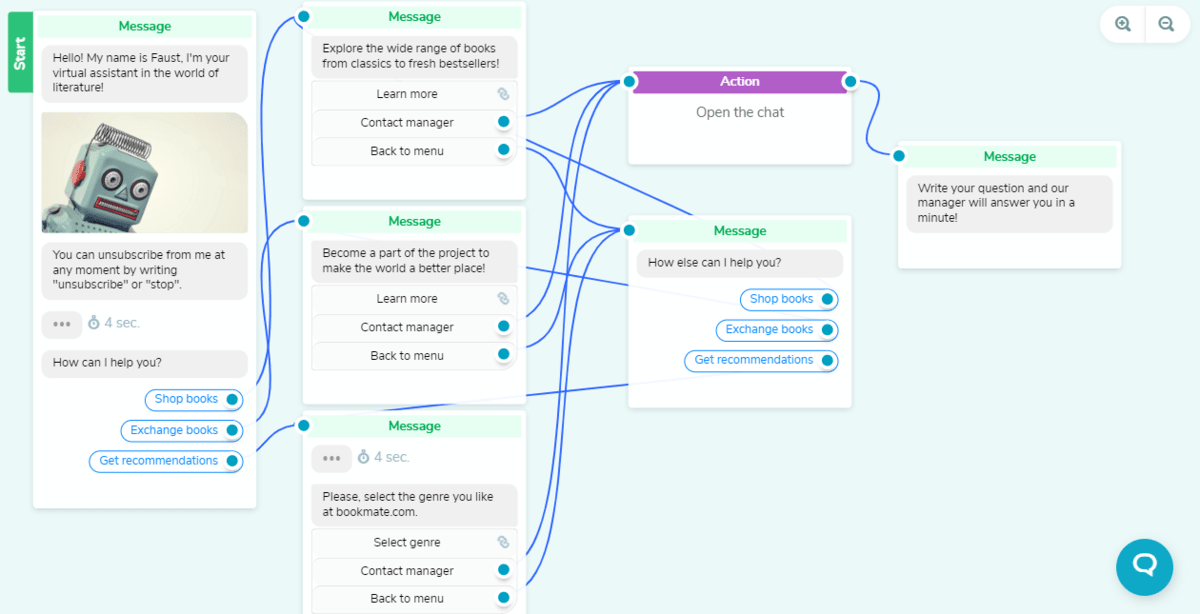 You can create up to 3 chatbots with SendPulse at no cost. Here's a guide on creating chatbots.
Let's finish this guide with some actionable tips.
7 Best Practices to Create Killer Webinars
Optimize for mobile
Create an eye-catching title
Pick an optimal date and time
Set the right expectations
Record your webinar
Don't be afraid to improvise
Make your webinar interactive
We've collected seven tips that will help you create exciting webinars. Here they are:
Optimize for mobile. Make sure the text in your webinar presentation is large enough to be easily visible on mobile phones. That's important because many people watch webinars from the comfort of their home, so they don't necessarily use a laptop for that purpose.
Create an eye-catching title. Your webinar's title should tell your audience about the topic, while also showing the value that is waiting for attendees. For example, the title "New Email Marketing Hacks to Try in 2020" clarifies the webinar is about email marketing and tells you what value to expect from attending this event.
Pick an optimal date and time. According to SEJ, around half of attendees prefer to watch webinars on Wednesdays and Thursdays. Meanwhile, webinars that start at 11 am, 1 pm, and 2 pm gather more registrants than other hours.
Set the right expectations. According to Medium, the average number of webinar attendees is 148 people. Don't expect thousands of people to join your first webinar, otherwise, this experience may disappoint you.
Record your webinar. You can use a webinar for lead nurturing. For instance, you can upload the entire video on YouTube and send it to those registrants who haven't visited the event. You can also edit the most exciting content from a webinar into smaller videos and post them on social networks or write blog articles based on the webinar recording.
Don't be afraid to improvise. Your webinar needs to be human. It's not a big deal if you make a few mistakes during your presentation. People's engagement level depends on how emotional you are when conducting your speech. A bit of improvisation and appropriate humor is a great way to make your audience tune in and be trust you more.
Make your webinar interactive. Choose a webinar platform that will allow your attendees to send messages in a chat. This way, your webinar won't just be a monolog, but rather a vivid discussion from which you will learn a lot about your audience's needs, pain points, and experience.
Congratulations, now you know how to create professional webinars to bring value to your audience and improve your relationships. SendPulse can help you collect leads for your webinars, send reminders and updates, and continue communication after the webinar.
Last Updated: 23.08.2023