Direct sales – a type of sales that implies direct contact between a seller and a consumer without involving any third parties. Direct sales occur in a non-retail environment – at home, cafe, online, office, etc.
Commonly, people associate direct sales with MLM-companies, such as Avon or Amway. However, many other businesses use this model. For instance, direct selling is popular in the B2B sector, where sellers communicate with their clientele personally.
In 2019, direct sales alone enriched the world economy with over $193 billion in total sales. The direct sales industry includes over 118.4 million representatives worldwide. 59% of them are located in Asia, 26% in North and South America, and 12% in Europe.
Advantages of Direct Sales
Maybe you are wondering why direct selling is so popular in different parts of the world? This business model has certain advantages. Most prominent of them are:
Promising business model. According to the World Direct Sales Association, direct selling has been experiencing sustainable growth during the last couple of years. Between 2015 and 2018, direct sales generated a compound annual growth rate of 1.7%.
Opportunity to adjust a product to customers' needs. Direct selling companies control the whole cycle, from manufacturing to a final sale, in-house. With this approach, a brand swiftly receives feedback from customers and can tailor its products or services to meet clients' needs and market demand on the whole.
Better personalization. By interacting with customers directly, sellers know their buyer persona better and can provide their customers with highly relevant and personalized offers. Consumers are more likely to shop with brands that make relevant offers and recommendations.
Better control at every stage of customer interaction. By not having middlemen, a company has full control over its product's price and can adjust it to customers' needs. Companies can strictly regulate customer experience during the purchasing process and have lower reputational risks.
Strong customer relationships. The foundation of direct sales is personal contact with customers. It allows representatives to use an individual approach to every client and build long-lasting relationships with them. It has a major impact on business – a 5% increase in customer retention enlarges profits by over 25%.
Higher margins. Another benefit of having no intermediaries is that all revenue goes back to the company. There is no need to divide it between the business and third-party vendors.
What is the difference between direct sales and indirect sales?
In a direct sales model, a brand interacts with customers immediately. An example of a direct seller is Boeing. The company offers its products directly to potential customers – airlines.
Indirect sale, on the contrary, include various intermediaries – distribution centers, wholesalers, regional representatives, and so on. For instance, Coca-Cola uses this model. That means that a customer can buy a Coke from a third-party vendor, but not from the company's website.
Top Direct Sales Companies
When it comes to the biggest direct sales companies, network marketing giants top the list. Below are the global top-five direct sales companies, by revenue.
Amway. An American company that sells health, beauty, and home care products.
Herbalife Nutrition. A global MLM-corporation that develops and sells dietary supplements.
Avon Products, Inc. A multi-level marketing company headquartered in the U.K. specializing in beauty, household, and personal care products.
Vorwerk. A brand from Germany that sells appliances, clothing and accessories, cosmetics, home decor, kitchenware, and personal care products.
Natura. A global company from Brazil with 6,400 regular employees and 1.7 million salespeople. This brand sells cosmetics and personal care products.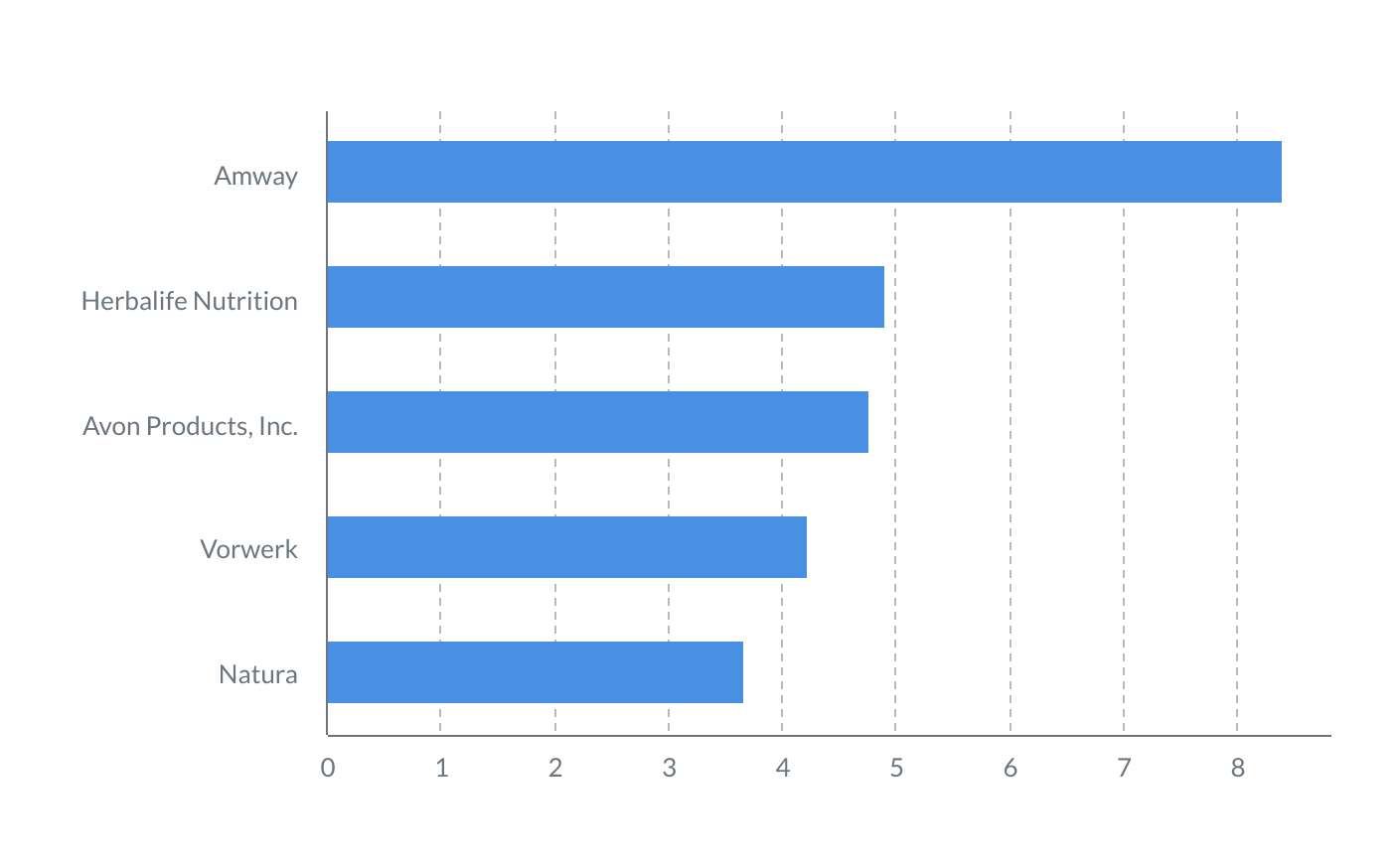 Types of Direct Sales
Information about the types of direct sales is inconsistent – people often confuse them with methods various companies use. Generally, the classification includes two categories:
Single-level sales. In single-level sales, a salesperson earns a commission for trading products. For instance, an advertising agency's employee gets a certain commission from the sum of services they sold.
Multi-level sales. A representative not only sells products but also recruits new salespeople. They get remuneration both for their own sales and for sales made by people they have recruited. This approach is popular among MLM-companies.
Methods of Direct Sales
Salespeople use different communication approaches with their prospects. Let's shed light on some of them.
One-on-one sales. This method implies in-person communication between a seller and a customer. It occurs when a salesperson goes to an individual business meeting with a client or wanders from door to door to present their products to prospects.
Online sales. Single-level and multi-level sales companies both love this method. Huge international MLM-companies, as well as small businesses and local representatives, sell products and services through their own websites or social media accounts.
Host or party-plan sales. Here, a seller gathers a group of customers and presents a product to them. Such meetings often resemble parties – participants enjoy a laid-back atmosphere of celebration and become more and more inclined to purchase something. However, the presentation can also take place in an office environment. 
How to Do Direct Sales
Direct selling has its peculiarities. For instance, it should emphasize sales techniques and invest more in improving the team's sales skills. We've picked five tips on how to manage a business in direct sales from the very beginning.
Set your goals. It's impossible to do business without clearly defined goals. They are both motivators and the basis of success. For successful work, your goals should be specific and measurable, like "increase revenue by 15% in the third quarter."
Determine your target audience. Often businesses have a vague understanding of their audience. Meanwhile, knowing your prospects is the key to better sales and ROI. Start by identifying your buyers' personas – notice and include their occupations, lifestyles, habits, interests, and pain points.
Create a sales strategy and KPIs. To eliminate chaos, build a sales strategy. It will enable you to address the needs of your customers, increase ROI, and shorten your sales cycle. Include key performance indicators to make sure your business implements the strategy correctly and achieves its goals. Always keep track of KPIs – it will help you evaluate your strategy, spot the flaws in it, and find effective techniques.
Align sales and marketing. Marketing and lead generation are pivotal for any business, so develop a detailed plan on how to target potential customers. For achieving better results, join your sales and promotional efforts. Sales benefit from marketing by obtaining warm leads, and marketing improves their results by getting information about the customers from salespeople.
Learn and implement sales activities. Be aware of how to interact with your audience during each stage of the sales funnel. This includes being able to qualify a prospect as a potential buyer, present to them your product, work with their objections, close deals, and keep in touch with clients to turn them into returning customers. 
How to Promote Your Direct Sales Business Online
Start a blog
Use lead magnets
Go social
Benefit from email marketing
Promote your brand with influencers
Think about messenger marketing
4.57 billion people worldwide are active internet users, and they are ready to interact with brands online. Boost your direct sales by applying these digital marketing tools to your strategy.
Start a blog
No matter what industry you are in, blogging is an effective way to promote your business. That is the reason 55% of marketers make blog content creation their top priority. Blogging helps attract people, build strong, trustworthy relationships with them, and eventually turn them into your customers. To achieve it, make your blog informative and helpful for your target audience. Post not your company's news, but useful articles, like the social media posting service Amplifr does.
Use lead magnets
Once you have a blog or a website, make use of a lead magnet – a special offer for your audience in exchange for their email addresses. The lead magnet can be anything you're ready to suggest to potential customers like a: discount, gift with a purchase, e-book, check-list, additional service, and more. After a person fills in the form with a magnet, they can proceed down the sales funnel with an email or messenger campaign.
Create subscription forms for your lead magnets easily with SendPulse. Our drag-and-drop editor, simple but powerful, enables you to build free customized multichannel forms in minutes to sign up customers for your email campaigns, messengers, and chatbots.
Go social
Social networks are a wonderful channel for communication with your audience. Almost half of the global population spends around 2.5 hours on social media daily. Using social media, companies generate leads and increase their brand awareness. In 2019, 43% of internet users browsed social media when researching products before making a purchase.
Another reason for going social is building a strong community around your brand. Look, how one of the top direct selling brands, Avon, maintains its Instagram profile. To reinforce its relationships with clients, the brand offers them free online consultations, reposts their publications, and encourages them to share their thoughts about everything that matters. You can adopt these techniques for your social media marketing strategy or check out our article about social media marketing for more inspiration.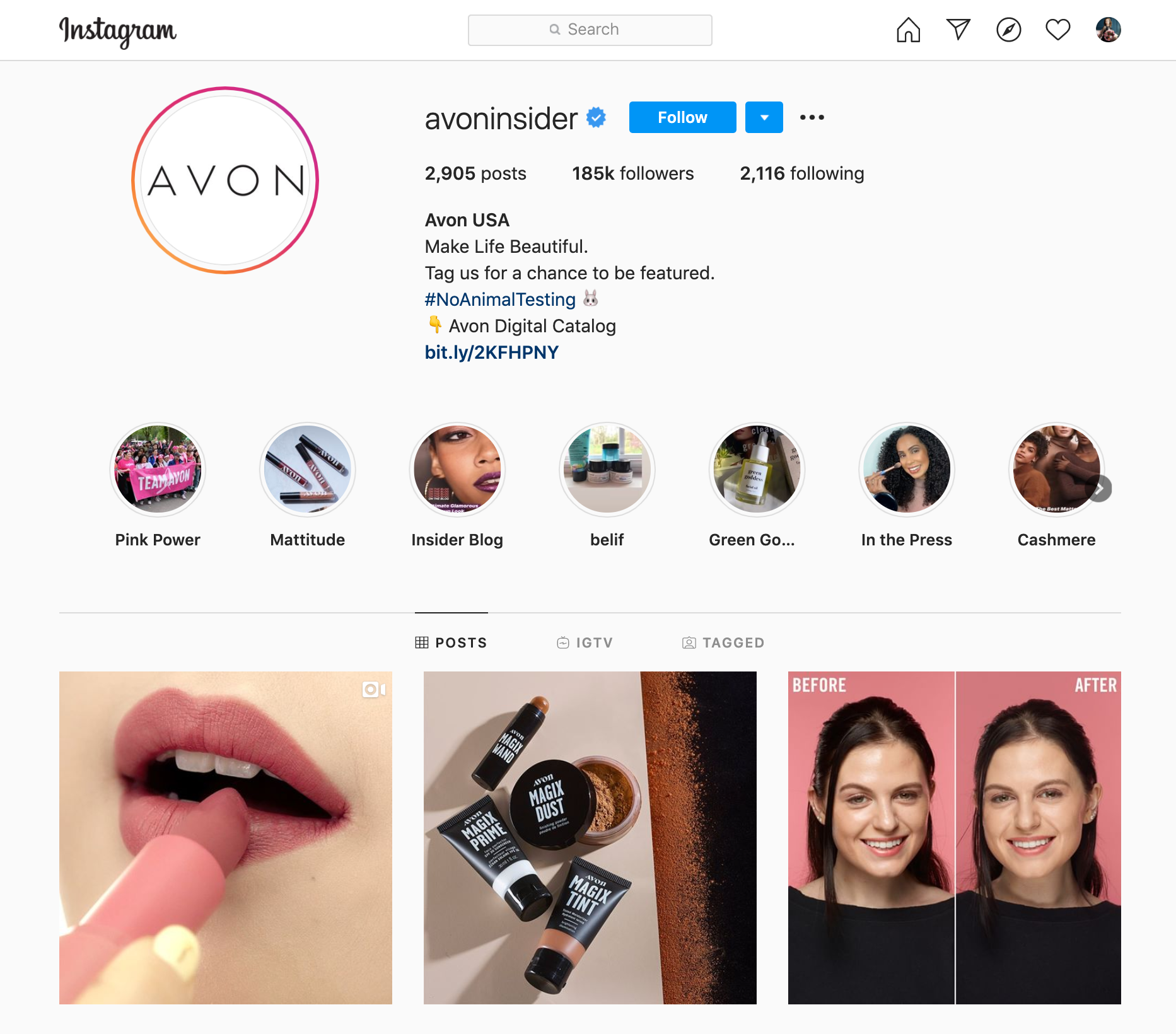 Benefit from email marketing
Email campaigns are one of the most powerful tools to boost your sales – in 2019, for every $1 invested in email marketing brands received $42 back. With this channel, you can both engage your customers and send them special offers. They will love it – 60% of people prefer to receive promotional messages via email.
To increase your sales with email campaigns, you can send collections of your best products, like Stitcher does in the email below, as well as seasonal offers, birthday or trigger emails, and more. To create beautiful and personalized automated email campaigns easily and send them right in time to each customer, register with SendPulse.
Promote your brand with influencers
Collaborations with bloggers and influencers is a promising promotional channel. 89% of marketers claim that ROI from influencer marketing is better or much better than other marketing channels, and 41% say it's comparable to other ways of promotion.
This practice is applicable in most industries, not only in cosmetics or wellness companies like Oriflame in the example below. Even if you do direct sales in B2B, there are likely some influences your audience appreciates. For instance, if you offer software for recruitment and HR, find an influential and respectable professional in this field on Facebook and get in touch with them.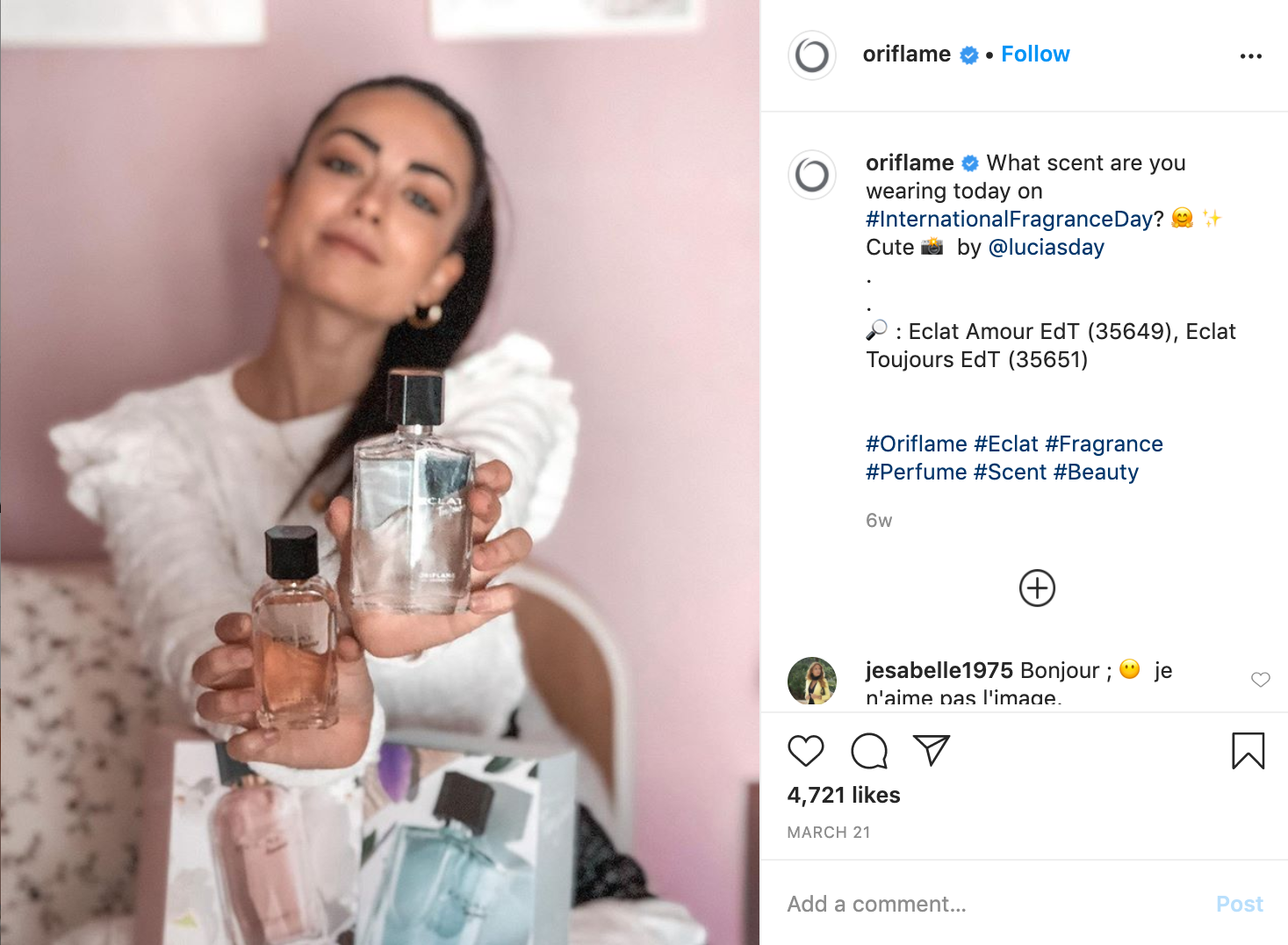 Think about messenger marketing
Over 1.3 billion people use Facebook Messenger monthly. And you can benefit from it by starting messenger marketing with chatbots. They allow a brand to interact with customers round the clock, provide clients with feedback in seconds, and support personal contact with a client.
Launching a messenger chatbot has never been as easy and cheap as right now. Start by creating your Facebook Messenger or Telegram chatbot with SendPulse and make the most of this marketing channel.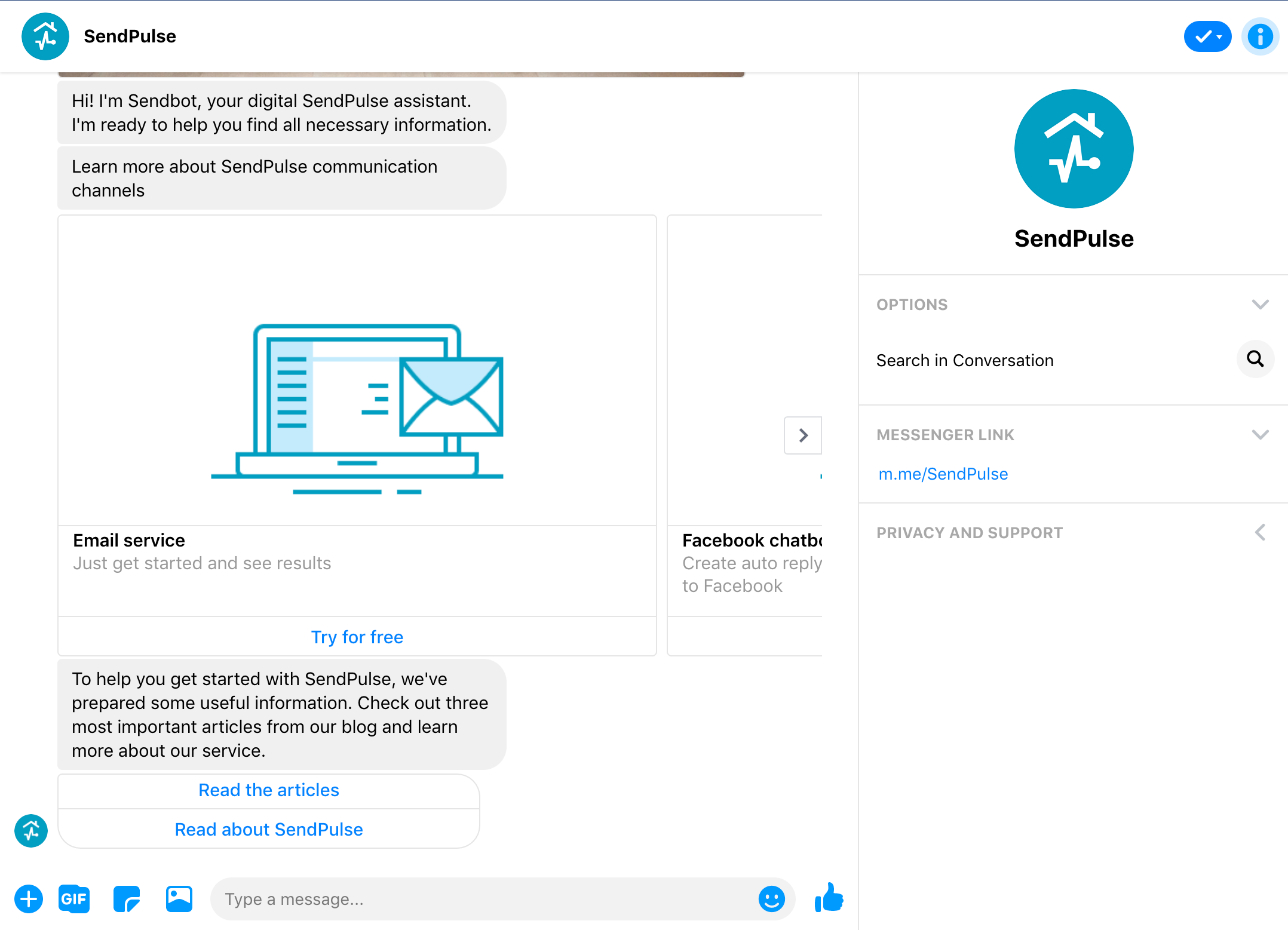 Five Direct Sales Techniques
With immediate contact between a salesperson and a customer, direct selling requires certain tricks. True virtuosos in this field can convince a client they're making the best decision by buying your product. To achieve this result, salespeople can use the techniques below.
FAB (features – advantages – benefits). The majority of scripts, landing pages, and promotional materials use this scheme. It implies consistently telling customers about the key features of a company or product, its main advantages, and positive effects on a prospect. This technique makes an offer crystal-clear for a consumer and boosts their interest.
BYAF (but you are free). Persistence is crucial for closing deals, but salespeople run the risk of going too far with it. As a result, customers often turn away from an overly-pushy brand representative after one purchase. To mitigate the pressure during negotiations, let your customer know they're free in their decisions. It's a popular technique for selling info-products and services.
The foot-in-the-door technique. The core of this technique, perfect for upselling, is to make small initial requests followed by bigger ones. Another option is to offer a low price at first, and then charge an extra sum for more profound services. For instance, if you're selling online English lessons for international students, you may offer them a cheaper level check at first, and then start negotiations about buying the whole expensive course.
SPIN selling. The most interesting subject for every person is themselves, not your product. Benefit from this tendency by using the SPIN technique. During negotiations, allow a customer to talk more than you do and ask them questions about their situation (S), problem (P), impact (I, or implication) of the issue on them, and the need for a solution (N, or need-payoff). Once moving through all these stages, you can introduce your product as the key to solving the prospect's issues.
The favor upfront technique. As social beings, humans tend to give something in return for the favors they receive. This trait lies at the core of the widely used reciprocity principle. To leverage reciprocity, give something in advance – a free trial period, discount, or additional service. This goodwill gesture will persuade the customer to accept your offer. 
You can apply these tricks not only for in-person communications with a client but in your digital marketing as well. Reinforce your direct selling business with amazing email campaigns, chatbots, SMS, and push notifications. Register with SendPulse to create them with a few clicks.
References
Last Updated: 04.12.2023